8/26/12



The first few rounds of the draft are often the most exciting, with everyone drafting big name studs and filling their starting lineups with household names. But the last few rounds, and sometimes even the waiver wire, are often where fantasy championships are won. A quick look at just last year helps to prove my point. Here are players drafted after the 10th round that far outperformed their ADP: Jordy Nelson (11.02), Aaron Hernandez (11.06), Antonio Brown (11.06), DeMarco Murray (13.05), and Cam Newton (13.10). Just one year later and all these guys are being drafted in the first five rounds! The following is my attempt to pick 10 guys who are being drafted after the 10th round that I believe have a good chance of playing like guys being taken five or more rounds earlier. Some of these are really deep sleepers, but that is part of the fun. Plus I'm tired of seeing every site labeling the same guys as sleepers, which makes them quickly become non-sleepers.

Note: ADP based on 12-team, standard scoring leagues.

QB Carson Palmer, OAK


ADP: 11.04



Palmer was placed in an almost impossible situation when the Raiders traded for him nearly halfway through the season last year. He was joining a new team after sitting out six weeks, and with almost no time to learn the playbook or develop any chemistry with his receivers. With all this considered, he actually had a decent year, averaging almost 300 yards per game in the final nine weeks. Palmer may be on the wrong side of 30, but he still has back-to-back 4000-yard seasons on his resume and a career completion percentage of over 60. In his favor are a young and emerging receiving unit led by Denarius Moore, Darrius Heyward-Bey, and Jacoby Ford, who all have near-elite speed and run-after-catch ability. Add that to a strong run game to take the pressure off the passing game and you have a situation where Palmer should be able to spread the ball around and put up some big numbers. Will he be a top 5 fantasy QB? Most likely not, but as a guy being drafted as a low-end backup, I believe a perfect storm may be brewing in Oakland where Palmer may just crack the top 10 of fantasy QBs, making him an absolute steal in the 11th round.

QB Russell Wilson, SEA


ADP: undrafted



Ok, so this one is not for the faint of heart, and unless you are in a huge (20-plus team) league, I would not recommend taking Wilson as your starter; but hear me out on this one. Wilson is short by NFL quarterback standards (5'11"), but if you have watched this guy play, you've probably gotten the feeling that he has that certain special something. I realize it's only preseason, but look at Wilson's stats through three games: 35 of 52 (67%), 464 yards, 5 TDs to 1 INT, and 10 runs for 150 yards (and 1 TD). I'm sure that like any rookie Wilson will have his growing pains, but his craftiness and mobility will get him out of situations in which others would get stuck. Wilson has the accuracy, legs, brains, and intangibles to succeed in this league, and it could start as early as this year. As for his situation, it's not as bad as some people may think. For fantasy QBs, Seattle has the sixth most favorable schedule this season while their receivers actually have the most favorable fantasy schedule. The Seattle offensive line should be better than most and, if healthy (a problem last year), could actually be near-elite. The playmakers around Wilson (Rice, Edwards, Tate, Baldwin, etc.) are not elite, but they are fairly deep. If they stay healthy also, they could be better than the average NFL receiving corps. Look, I'm not saying Wilson will be an automatic stud this year, but as a guy going undrafted in most leagues, he has the upside to be one of the best backup fantasy QBs in the game, with the potential to successfully start a few games for you in a pinch.

RB Daniel Thomas, MIA


ADP: 12.03



A year ago Thomas was considered one of fantasy's top rookies and was being drafted in the seventh round. Fast forward through a pretty awful rookie season and a breakout year from Reggie Bush as the Dolphins' starter, and Thomas is basically an afterthought come draft time. While he probably isn't going to be the next Arian Foster, there is reason to believe that Thomas could go from dud to near-stud in 2012. The only real company he has in Miami is Reggie Bush and rookie Lamar Miller, both of whom have checkered injury histories and lack the power potential that Thomas possesses. While we all know Bush is an excellent receiver out of the backfield, Thomas actually has pretty good hands himself and could be a three-down back if the cards fall the right way. With his new coach and offensive scheme this year, Thomas should be given a chance to start fresh and perhaps push Bush back to more of a third-down role. In my mind, the Dolphins, who greatly lack dynamic playmakers, may actually be better off splitting Bush out wide and having Thomas be the feature guy in the backfield. While Miami is not likely to produce a top 10 RB this year, I believe Thomas has a decent chance of far outperforming his average draft status as the 48th RB off the board.

RB Mikel Leshoure, DET


ADP: 10.11



As the guy with the highest ADP on my list here, Leshoure may actually have the most to overcome—but also perhaps the highest ceiling. Besides having to recover from a torn Achilles, he is already suspended for the first two games of the season for drug possession, and he is in a three-man running back committee on a pass-first team. While it's possible that he will not fully recover from his injury or will be stuck on the bench most of the year, I prefer to look on the bright side of what-if. Kevin Smith and Jahvid Best, the only running backs on the team who have any real shot at getting more touches than Leshoure, are two of the more injury-prone backs in recent memory. Best, in fact, will begin the season on the PUP list, and there are rumblings that he may even miss the entire year due to his concussion history. A 2011 second-round pick, Leshoure has the combination of size, speed, burst, and hands that led many scouts to believe he could be a feature NFL back someday. Even in a pass-heavy offense, Leshoure has the ability to catch passes and the power to punch it in from the goal line, which the Lions should be close to plenty this season. With an elite group of skill players in the passing game, Leshoure should not see many loaded boxes when he gets his opportunity, and lots of early leads may mean a little more running the clock out for the high-scoring Lions. While you won't be able to count on Leshoure the first few weeks of the season, he certainly has the skill and situation to propel him from a late 10th-round pick to a guy who produces like a top 15 RB in the last 12 to 14 weeks of the 2012 season.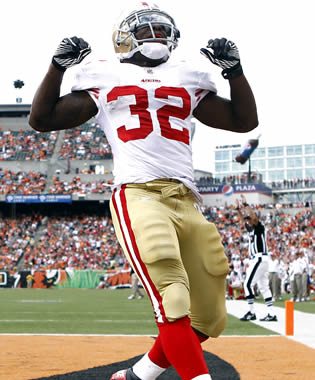 Kendall Hunter: A rising star in the 49ers backfield.

RB Kendall Hunter, SF


ADP: 13.08



With Frank Gore as the 49ers' starting running back, the team's drafting of LaMichael James, and their signing of Brandon Jacobs, Kendall Hunter may be a forgotten man in the minds of many fantasy managers. Hunter might be in the middle of a traffic jam in the 49ers backfield, but I believe he has an excellent chance of ending up as their best fantasy RB. In a limited backup role last year, Hunter displayed excellent burst, great vision, and surprisingly decent power. While Gore played a ton more snaps, Hunter trailed him in receptions by just one and actually put up 81 more receiving yards. Hunter has also been having one of the best camps of any 49er, and Coach Harbaugh singled him out as someone who "could have a big year." Gore's health is always in question (he has played a full 16 games in only two of his seven seasons in the league), James is a rookie, and Jacobs is basically washed up, so Hunter actually has a shot at being a workhorse type of back for at least part of the season. On a conservative, run-based team with a stingy defense, any running back who gets a handful of touches each game is worth something, but with Hunter, I believe the sky's the limit if the situation presents itself. As a Gore owner I would consider Hunter one of the better handcuffs in the league, but even without Gore on my roster, I'd take a flier on Hunter as a high-upside, low-risk backup.

RB Lance Ball, DEN


ADP: undrafted



Nobody will mistake Lance Ball for the next Barry Sanders; he has average acceleration, marginal power, and pedestrian speed. What Ball does have, however, is a roster spot in a backfield that could produce decent fantasy numbers. His competition is a one-dimensional, near-31-year-old (McGahee), a former first-round bust coming off an ACL tear (Moreno), and an unheralded rookie who has missed most of training camp with injuries (Hillman). With the addition of Peyton Manning, many believe the Broncos will become more pass-heavy, but John Fox will still likely lean on the run, especially until Manning can prove that he's still an elite quarterback. While Ball is not an elite talent himself, he is consistent and reliable in the details of the game: catching the football, pass blocking, and gaining positive yardage. Ball has looked good this preseason and should open the year as the No. 2 running back behind McGahee, and he'll probably receive some touches on third downs right away. If Denver does become more pass-heavy, Ball may see even more time on the field and become a decent flex play in larger leagues. If you have the bench space, take Ball in the final couple of rounds and watch Denver closely the first few weeks. If Ball gains the trust of Manning and the coaching staff, he may just be the Denver RB to own this year.

WR Donald Jones, BUF


ADP: undrafted



I know the Bills offense doesn't exactly get fantasy team owners overly excited, but the fact remains that they are going to throw the ball a good amount and somebody other than just Steve Johnson is going to have to contribute. Donald Jones is not going to turn into the next Megatron anytime soon, but he does have some things going for him this year. First, he is the starting receiver opposite Johnson in the Bills offense, which should lean more toward the pass in Chan Gailey's scheme. Second, Jones is entering his third season and has had a full training camp at full health to develop chemistry with Ryan Fitzpatrick and the rest of the offense. Finally, as a decent-sized (6'0'', 209) wideout with smooth route-running ability and good body control, Jones has flashed some playmaking ability in limited action, including a 100-yard effort against the Patriots last year. By all accounts, he is a hard worker who blocks well and always gives good effort, meaning he should be on the field a ton this year. I look for Jones to get 85 or more targets and a handful of touchdowns, making him a decent WR3 or flex play most weeks— much better than the 15 to 20 WRs that are currently being drafted ahead of him.

WR Eddie Royal, SD


ADP: undrafted



Eddie Royal has had a very unusual career thus far. After putting up 91 catches and nearly 1,000 yards his rookie year with Denver, he basically disappeared his second year, then had a decent bounce-back season in his third, only to disappear again and get hurt last season. Nothing like a good change of scenery to fix what may be hurting you, I say. In San Diego, Royal should be the Chargers' primary slot man while Meachem and Floyd operate on the outside. To me this is the perfect situation in which a guy like Royal can thrive. Meachem and Floyd have some natural talent but neither has lived up to their hype, even though they both have had excellent quarterbacks throwing to them (Brees and Rivers). That being said, they, along with stud tight end Antonio Gates, should certainly do enough to keep defenses honest and open up a lot of underneath routes for Royal in what should be a pass-heavy attack. Also, many have questioned whether Rivers' arm strength is diminishing rapidly. If their speculations are correct, Royal would benefit because Rivers may feel more comfortable dumping it off to him and letting him get some major yards after the catch. Finally, it is worth noting that in his only great fantasy season (2009) Royal had an excellent quarterback throwing to him (Cutler), but since then he has had way below-average talent behind center (Orton, Tebow, etc.). Philip Rivers may be just what the doctor ordered to revitalize Royal's career. If all things fall into place the way I believe they will, Royal could be a poor man's Wes Welker this year, approaching 90 targets and gaining close to 1,000 yards. Between his talent, the situation around him, and his change of scenery, I think Royal could surprise many and outperform the 20 or more receivers being drafted ahead of him this year.

WR Steve Smith, STL


ADP: 14.03



Although it's only been three years since Smith caught 107 balls for 1,220 yards for the Giants, it seems like twice as long, since he basically disappeared for two subsequent seasons after undergoing microfracture surgery. He does not possess ideal size, quickness or speed for a wide receiver, but his route running, concentration and hands probably rank among the game's best. Although the injury that made his last two seasons forgettable has sapped a bit of Smith's athleticism, he is still only 26 years old and has thus far received nothing but positive reports this summer, both health-wise and in terms of production. The Rams drafted Brian Quick this year to be their eventual No. 1 receiver, but he is very raw and will take time to develop. The rest of the Rams' receiving corps is underwhelming, so Smith should be able to crack the starting lineup without much problem. The offense will not approach the passing numbers the Rams compiled back in the day with Kurt Warner, but they do have a promising (and finally healthy) young quarterback in Sam Bradford and just enough of a run game to keep defenses honest. While I'm not expecting numbers anywhere near Smith's '09 campaign, I certainly can see him having a great rebound year and finishing in the top 40 WRs, making him an excellent value considering he's being drafted as the 61st WR on average.

TE Kyle Rudolph, MIN


ADP: 13.05



The opinion on Rudolph this year ranges from potential stud to "Who is Kyle Rudolph"? You can count me among the former group because I believe Rudolph, as the 16th tight end off the board, is a steal who will end up in the top ten. He is big (6'6'', 260), has soft hands and runs very well for a guy his size. Before getting injured in college, he was projected as a first-round talent. Then, with a rookie quarterback and a shortened offseason, he faded into the background even more his first year. Besides Percy Harvin, the Vikings are lacking consistent targets in the passing game, and Christian Ponder has really seemed to develop a chemistry with Rudolph this summer. The Vikings also signed John Carlson in the offseason, but he has been banged up for much of the summer and will be far behind Rudolph by the time he gets back and comfortable on the field. While others in your league are drafting TEs in the fifth through eighth rounds, wait a few more rounds and jump on the Rudolph bandwagon with me. He will almost certainly put up similar numbers to those TEs, but at a much better value.



Suggestions, comments? E-mail me.