Every season coaching changes affect players and fantasy owners, either positively or negatively. Sometimes a new coaching staff can mean an increase in production for a player, while other times it means a decrease in playing time or taking on a different role in the offense.

Here are seven players whose fantasy value will be altered in one way or another by coaching changes in 2013:

Jamaal Charles, RB, Kansas City Chiefs – It's not like Charles isn't already a fantasy stud. Despite playing on one of the worst offenses in the NFL last season, Charles rushed for 1,509 yards and five touchdowns. Sure, the five scores were disappointing, but that's about how many touchdowns the Chiefs scored as a team in an entire month. The guy simply didn't have a lot of scoring opportunities in 2012, but that should change this season with Andy Reid in town.

The main reason Reid's arrival could mean a boost to Charles' overall production is the running back's increased role in the passing game. Despite being one of the most dynamic open-field runners in the NFL, Charles has been vastly underutilized as a receiver by previous Kansas City coaching staffs. That will change under Reid.

Charles set a career high in receptions (45) and receiving yards (468) in 2010 when Charlie Weis was the offensive coordinator in Kansas City. Reid has admitted to studying the way Weis moved Charles around in the offense and said he plans on using him more as a receiver. Keep in mind that when Reid was in Philadelphia, LeSean McCoy averaged 4.28 receptions per game, making him a fantasy monster in PPR leagues.

New Chiefs offensive coordinator Doug Pederson recently confirmed that Charles would be more involved in the passing game. "You've seen him sprint out of the single receiver set, and he'll come out of the backfield," Pederson told Fox Sports, Kansas City. "He's a guy that needs to move around and one you can put in different positions, motion out the back, shift him from the backfield. He catches the ball so well that you have to take advantage of that offensively."

Add all this up and Charles should smash his career high for receptions in 2013.

Adrian Peterson is the consensus first pick in fantasy drafts this year. There's a debate as to who should be the second pick after AP. Charles deserves to be in that discussion. In his last two full seasons, Charles has rushed for 1,467 and 1,509 yards. Now toss in 60-plus receptions and an improved Chiefs offense and you have a bona fide Top 3 pick on your hands.

Fred Jackson, RB, Buffalo Bills – Jackson has been a strong fantasy player since 2009, but that will change this season. As long as C.J. Spiller remains healthy, Jackson will be relegated to a pure backup role.

New head coach Doug Marrone has already stated that he prefers to use one back and that Spiller will be used in goal-line situations, which has to be music to fantasy owner's ears. Jackson is still a talented runner, but Spiller has shown he's a special player when the ball is in his hands.

Last year Spiller ran for 1,244 yards, caught 43 passes and scored a total of eight touchdowns. And he did that in a season in which he had more than 20 carries only three times in 16 games and was often taken out near the goal line. Now imagine the kind of numbers Spiller will put up if Marrone is true to his word and makes him the feature back.

This is no longer a committee situation. Jackson is now 32 years old and he's coming off season-ending knee injuries in back-to-back years. What it comes down to for Jackson is that the Bills have a very talented second-string running back that will get a few carries a game to spell their starter, but it is Spiller's time to shine in Buffalo.

In early fantasy drafts Jackson is getting selected in the Round 7 area. That's awfully high to start drafting handcuffs. Jackson is being over-drafted based of his name and past production, but fantasy owners should be prepared to see a whole lot of Spiller this year.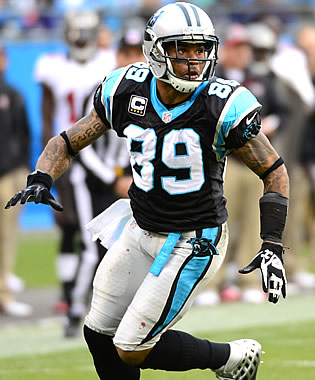 Steve Smth and the Panthers offense could be on shaky ground with Mike Shula calling the shots.

Steve Smith, WR, Carolina Panthers – You can pick any member of the Carolina Panthers to see a decline in production now that Mike Shula has been inexplicably hired to call offensive plays. I decided to go with Smith.

Cam Newton is the obvious choice to struggle under Shula's reign of terror, but he'll always be a strong fantasy player because of his running ability. The two things all of Shula's inept offenses have in common are that they lack imagination and don't create big plays downfield. That's why I think we'll see Smith not only struggle mightily but come out publicly against Shula at some point this season.

First, let's take a look at Shula's resume so we can establish that he's still getting promotions only because of his last name.

He was fired as the offensive coordinator of the Buccaneers after Tampa Bay failed to rank higher than 22nd in offense during his four-year tenure.

After being fired by Tampa Bay, Shula was hired as a quarterbacks coach by—you guessed it—the Miami Dolphins. He was then hired as the head coach at Alabama where he compiled an unimpressive 26-23 record and had one of the most predictable offenses in the country.

Since then Shula has been a quarterbacks coach with Jacksonville and Carolina. Do you notice I keep writing that Shula has been a quarterbacks coach? So maybe the guy is a good quarterbacks coach, but then people like Ron Rivera give him jobs that Shula has proven are beyond his capabilities. Trust me, the Panthers are in for a long season on the offensive side of the ball.

Smith is one of those receivers that can probably play until he's 50, and while he doesn't mind going over the middle, he excels at getting down the field and making big plays. Smith won't get many chances to do that in Shula's three-yards-and-a-cloud-of-dust passing attack. I think Newton is going to struggle throwing the ball in Shula's conservative system, thus Smith's numbers will decline as well.

Like I said, Shula may be a good quarterbacks coach. Paul Hackett was a good quarterbacks coach but an atrocious coordinator and head coach. Some guys are just what they are, and the Panthers are about to find out Mike Shula isn't an offensive coordinator.

Jeremy Maclin, WR, Philadelphia Eagles – With Chip Kelly in town, the Eagles' offensive players are popular choices among fantasy owners this summer. However, Maclin is slipping through the cracks a little bit. Once again, DeSean Jackson is getting drafted higher on average over Maclin.

Jackson may be the most overrated fantasy player of all-time. He's barely topped 1,000 yards just twice in his career, he's never gone over 62 receptions, nor has he recorded one season of double-digit touchdowns. However, because Jackson once returned a punt to beat the Giants late in a game and because he makes a big play here and there, some people still believe in perception over reality.

The bottom line is Jackson has never improved his game since coming into the NFL. He's never put on any weight or improved his route running. He is basically a fly pattern or bust, and corners have figured him out. Maclin is the better overall receiver, and that's why he has outproduced Jackson since coming into the league. While Kelly will move Jackson around and maximize his big-play ability, I expect Maclin to be the one who really benefits from playing in the new offense and will once again produce the better numbers of the two.

One thing Kelly did in college is use the running game to exploit man coverage with his receivers. He didn't do that just with big plays down the field but with short passes that allowed his receivers to run after the catch. Because Maclin is such a better route runner than Jackson and is used more across the middle of the field, I think this is the area where he'll excel in Kelly's offense.

Maclin is one of those guys who has been a good fantasy receiver but is on the verge of busting out and taking that next step if a couple of things fall into place for him. If Kelly's offense clicks and the Eagles get consistent quarterback play, this could be the year Maclin takes that next step. He offers great upside as a receiver being selected in the seventh or eighth round area.

Marcedes Lewis, TE, Jacksonville Jaguars – Sometimes a player is just in the wrong place at the wrong time. That's the case with Lewis. After starting his career off slowly, Lewis finally got on track in 2010 and made the Pro Bowl after catching 58 passes for 700 yards and 10 touchdowns. Then the bottom fell out in Jacksonville and Lewis has only found the end zone four times in the last two years.

Obviously, things haven't been fixed on the offensive side of the ball for the Jaguars, considering Chad Henne and Blaine Gabbert are still battling for the starting quarterback job and Louisville's Teddy Bridgewater is already looking for homes in the area. However, the good news for fantasy owners is the new Jaguars coaching staff wants to get Lewis much more involved in the offense than he was last season.

The thing about Lewis is he is such a physical beast that he creates mismatches with most safeties and linebackers, especially in the red zone. On a touchdown reception against Houston last year Lewis was covered tightly by two defenders, but Henne just threw the ball up to him. Lewis used his big body to shield the defenders and his long arms to go up and grab the ball for a score.

Regardless of who the Jaguars quarterback is, it's a good sign that new offensive coordinator Jedd Fisch wants to throw the ball more to Lewis because those are the types of plays he can make if given the opportunity. Lewis is such a problem near the goal line that he just needs the ball thrown his way more often. Even if he's covered there is a good chance he will come down with the football because of his imposing size.

It's hard to trust any offensive players on Jacksonville right now, but Lewis has a shot to be a TE2 with upside this year. He has all the physical skills to put up strong fantasy numbers, now Lewis just needs more opportunities to make plays.

Jordan Cameron, TE, Cleveland Browns – Cameron is one of the hottest names heading into fantasy drafts but it's for good reason. When you combine Cameron's physical skills with how new head coach and former tight end Rob Chudzinski likes to utilize the position in his offense, the writing is on the wall for Cameron to have a breakout season.

Not only does Chudzinski like to feature the tight end, so does new offensive coordinator Norv Turner. Then when you look around at Cameron's competition for playing time, it's wide open for him to really gobble up virtually all the targets as the Browns' pass-catching tight end. The only people standing in his way are Kellen Davis and Gary Barnidge. So if I said I was standing in Cameron's way for playing time, it would basically amount to the same thing.

When looking for a breakout candidate you have to weigh talent and opportunity. Sure, the Browns still have questions at quarterback, but Cameron has ability and he's in a perfect situation to catch 50-plus balls this season as the Browns' starting tight end, especially with receiver Josh Gordon suspended for the first two games of the year.

Like I said, Cameron will be hyped by a lot of fantasy people this summer, but everything is in line for him to have a breakout 2013 season under the new coaching staff. His arrow is definitely pointing up with TE1 potential.

Coby Fleener, TE, Indianapolis Colts – You can count on one hand the TEs that have had a big fantasy impact as rookies. Yet Fleener was vastly over-drafted last year because owners fell in love with the idea that he would be catching passes from his former college quarterback, Andrew Luck.

It's hard to say that Fleener really disappointed in 2012; he missed four games to injury yet put up numbers (26 rec, 281 yds, 2 TDs) similar to other rookie tight ends that went on to be stars. It's not his fault people expected too much from him. Fleener was also asked to block a lot under old offensive coordinator Bruce Arians, who likes to spread the field with receivers and use his tight ends to stay in and pass protect.

Arians is now the head coach in Arizona, and a major reason Fleener could see a big bump in production is because he not only has his former college quarterback throwing him passes, he has his former college offensive coordinator calling the plays. Chuck Pagano brought in Pep Hamilton to replace Arians. With Hamilton directing the offense at Stanford, Fleener was used more like a wide receiver, catching 62 passes for 1,107 yards and 17 touchdowns over his final two seasons.

Expect Hamilton to use Fleener and Dwayne Allen more as receivers instead of blockers in 2013, giving both players much more fantasy value than last season. Pagano even predicted that Fleener would double his reception total this year. That could just be coach talk, but 50 receptions seems like a reachable goal for Fleener with Hamilton calling plays.

Fleener enters 2013 as a TE2 but he is a candidate to see a big increase in production. He was over-drafted as a rookie but he'll be under-drafted this year. He makes for a great value pick later in the draft.