Even stud fantasy players can have a less-than-stellar year for one reason or another. Here are five players that let fantasy owners down last year but are primed to have bounceback seasons in 2013.

Jay Cutler, QB Chicago Bears – Cutler has never really put up great fantasy numbers in Chicago but that could finally come to an end now that Marc Trestman is calling the shots.

I have no idea if Trestman will be a good NFL head coach, just like I have no idea if Chip Kelly will be a good NFL head coach. What I do know is that both those guys understand offense and how to get the most production out of their players on that side of the ball. Cutler really needed a coach like Trestman and, to be honest, it's one of the main reasons Trestman got the job in Chicago.

Lovie Smith is a good coach but the Bears have invested a lot in Cutler and the offense had grown stagnant over the last couple of seasons. Hiring Mike Tice to be the offensive coordinator certainly didn't help matters. Last season Cutler threw for 3,033 yards and 19 touchdowns with 14 interceptions. That's not awful production…10 years ago. However, this is now a passing league and a quarterback with Cutler's ability should smash those pedestrian numbers.

One of the things Trestman's quarterbacks have been known for in the CFL is getting rid of the ball quickly, which is something the Bears tried to do with Cutler last year. The difference is that Trestman has an actual system to accomplish this goal, he isn't just drawing plays up in the dirt like Tice was. I'm sorry, but having two receivers go out in pass patterns really doesn't qualify as a "quick passing system."

Getting rid of the ball quicker should help Cutler cut down on the number of sacks he takes. The season before they named Trestman their head coach, the CFL's Montreal Alouettes surrendered 68 sacks in 625 pass attempts. The next year, with Trestman's offense, Montreal reduced that number to 22 sacks in 712 pass attempts.

The other reason I expect Cutler to bounce back and have his best season in Chicago is that Alshon Jeffery is going to be a stud. The Bears finally realized Devon Hester can't play receiver, so it's going to be Brandon Marshall and Jeffery on the outside. If both stay healthy, they'll make up one of the NFL's most feared duos by season's end.

The Chicago passing attack will be one of the most improved in the NFL. That sets up Cutler not only to have a bounce-back season but to be one of fantasy football's top value picks at QB.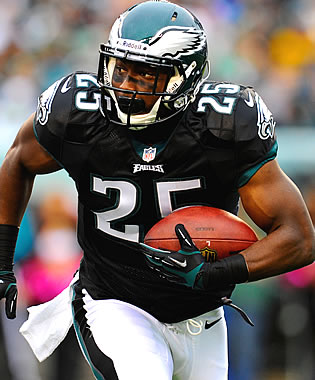 Fantasy owners are looking for LeSean McCoy to return to RB1 status in Chip Kelly's offense.

LeSean McCoy, RB Philadelphia Eagles – McCoy was a Top 5 pick in virtually every competitive PPR league last season and in the majority of non-PPR leagues. So when he finished the year rushing for just 840 yards and two scores in 12 games, fantasy owners were obviously disappointed.

McCoy did salvage some weeks in PPR formats thanks to his 54 receptions, but overall it wasn't the season fantasy owners were expecting out of the stud running back. Things should change this season when Chip Kelly installs his fast-paced offense, which will center on McCoy and the running game.

Kelly tries to do many things to opposing defenses, but the main goal he wants to accomplish is to wear defenses down. Kelly has said this on many occasions. He believes that even if the opposition stays close for three quarters, his offense will pull away late because the number of plays they run will tire the defense. If Kelly's offense is successful in the NFL—and I believe it will be—McCoy will benefit for a couple of reasons.

McCoy won't see 300 carries, but he won't need them. Both McCoy and Bryce Brown will get carries in the Philadelphia offense, but McCoy will see quality carries, which will lead to more production. Often last year McCoy was getting hit as soon as he got the ball, so the number of carries he got was irrelevant. This season, if the Eagles offense is humming, defenses will be so tired that McCoy will be maximizing his carries, even if ends up with only around 200.

The other thing I love about Kelly's offense is that he never takes the foot off the pedal. Think about how many fantasy points owners get from New England players in the fourth quarter when the game is already decided. Kelly showed in college that he doesn't take his starters out regardless of score. I mean, sure, he did when it was 70-0 at halftime, but you get my point. He keeps playing fast even in the fourth quarter, which means fantasy owners will have an opportunity to get those valuable garbage-time points from McCoy. Never underestimate that aspect of fantasy football.

McCoy is a great player who can produce in any system. Last season was just "one of those years" in Philadelphia. McCoy missed four games and played hurt, the offensive line was decimated by injuries, and the team eventually imploded. This year, even if Kelly's offense is just average, McCoy will return to RB1 status. But if Kelly's offense is as good as advertised, McCoy will be back among the elite in 2013.

Rashard Mendenhall, RB Arizona Cardinals – Mendenhall never got going last season. He came back slowly from a knee injury, battled with other injuries throughout the year, and then fell out of favor with the Steelers coaching staff.

Now Mendenhall is hoping for a fresh start in Arizona, and he's going into a perfect situation. There's very little standing between Mendenhall getting the majority of his teams carries this season and that's becoming less common in the NFL today.

I loved Ryan Williams in college and thought he was going to be a stud in the NFL, but he has the look of one of those guys that just can't stay on the field. Every time he starts to show flashes, he goes down with a major injury. I have a hunch Williams is going to be a back that had a lot of talent but was kept from reaching his full potential by injuries.

Other than Williams there really isn't anyone on Arizona's roster to challenge Mendenhall for playing time in 2013. Stepfan Taylor is a rookie back with upside, but he isn't going to eat into Mendenhall's touches this season as long as the veteran is producing reasonably well. This job is basically all Mendenhall if he can stay healthy, and considering he's being selected in the Round 7 area of fantasy drafts as of late June, he is a steal.

Mendenhall is never going to be a flashy fantasy running back. He'll churn out his yards and score his touchdowns for you. However, when you look at backs around the league and their situations, Mendenhall is in line to be one of the steadier second-tier running backs in fantasy football this year.

Right now he is being drafted behind guys like Giovani Bernard. I'm a Bernard fan, but let someone else make that reach on draft day while you laugh all the way to the bank by selecting Mendenhall.

Larry Fitzgerald, WR Arizona Cardinals – Let's stay in Arizona. Instead of trying to be a genius when making predictions, sometimes it's better to just shoot fish in a barrel. This is one of those times.

After last season, in which Fitzgerald had to endure some of the most atrocious "NFL" quarterback play in recent memory, along with Ken Whisenhunt's unimaginative offense that basically lined his star receiver up in the same spot on every down, Fitz is all but a lock for a strong comeback season.

First, let's look at the positives from 2012. I view Fitzgerald as one of the top receivers of my lifetime. When you consider the numbers this guy has put up with the quarterbacks he's had throwing to him, it's astonishing. However, last season things finally caught up with him, and not even his greatness could overcome the ridiculous quarterbacks Arizona put under center.

This led to Fitzgerald posting 71 catches for 798 yards and four scores. The touchdowns were a career low and the yardage was Fitzgerald's second lowest by 18 yards. It was just a miserable season all-around for one of the all-time great receivers. Luckily, things are looking up for Fitz this season.

Say what you want about Carson Palmer, but he's light years ahead of any quarterback the Cardinals had last season, and that's all Fitzgerald needs to once again post elite fantasy numbers. I know some people are worried about Palmer staying healthy all year. I'll take 10 or 11 games. If we can get that, Fitzgerald will catch 90 balls for fun. I mean he caught 71 passes last year with high school quarterbacks throwing to him.

Now let's turn to Whisenhunt. If you follow me you know it's my opinion that Whisenhunt is one of the most overrated offensive coaches on the planet. I compare him to Jim Fassel. He basically rode a hot Kurt Warner to a Super Bowl appearance, but if you look at Whisenhunt's overall resume, it's far from impressive. Last season he hit a new low.

It's one thing to abide poor quarterback play, but to do nothing to help free up a star receiver and allow corners to basically just sit on every short route is a flat out joke. Heck, every time Fitzgerald broke free he was wide open because corners where biting on everything short, and his quarterbacks still missed him. Whisenhunt showed no imagination in Arizona both with how he developed young quarterbacks and with how he ran his offense.

That won't be a problem this year with Bruce Arians now running the offense. Arians has forgotten more about offense than the overrated Whisenhunt has ever known. Arians already has Fitzgerald learning three different receiver spots, so he can line him up in different formations and make his top offensive threat more difficult to defend. Wow, what a concept! You mean Fitzgerald doesn't have to line up in the same spot on every play? Who knew?

Sometimes even the greatest players have a down year because everything on their team goes wrong and there's nothing they can do about it. That was the case with Fitzgerald in 2012. The Cardinals offense was a mess from the quarterbacks to the offensive line to the running backs to the coaching, and Fitzgerald's production paid the price. Expect him to return with a vengeance this season.

Vernon Davis, TE San Francisco 49ers – It's only human nature for us to remember the last thing we saw a player do. In his last two games of the 2012 season—The NFC Championship Game and the Super Bowl—Davis combined to catch 11 passes for 210 yards and a touchdown.

While his performance in those two games helped the 49ers almost hoist the Vince Lombardi Trophy, it did nothing to erase the awful fantasy season Davis delivered to those owners who spent a high draft pick on him. He was one of last season's biggest fantasy busts, and most weeks his lack of production was downright perplexing.

How bad were things for Davis's owners last year? He caught a total of 41 passes for 548 yards and five scores. He had nine games with two receptions or less. From Week 12 on, Davis caught a total of six passes for 61 yards and didn't score. It was downright ugly.

I always call out bad coaches. I do so because they keep making the same mistakes over and over again. The difference between bad coaches and good ones is that a smart coach might make a mistake, but he learns from it and doesn't do it again. That's the difference between being Todd Haley and Jim Harbaugh. I know it's hard to criticize the 49ers; they had a great season. But no way should Davis ever be catching only one ball a week. He's simply too talented.

Harbaugh is an excellent coach and he doesn't need me to tell him that Davis is too big of an offensive threat and a matchup nightmare not to be utilized more. On half of the offensive snaps Davis played last season he was used as a blocker. I trust Harbaugh will make the proper adjustments and get Davis more involved in the passing game this year. And now that Davis and Colin Kaepernick have had an offseason to work together, I think you will see a huge increase in his production.

The other thing I like is that Davis has been working at receiver. Now, he isn't going to play receiver like some have speculated. That's ridiculous. What it says to me is that the 49ers plan on moving Davis all over in their offense to take advantage of his athleticism and make him tougher to defend. Now that Michael Crabtree is injured, those one-catch weeks from Davis are going to be a thing of the past.

As you've likely noticed, I base a lot of my fantasy projections on coaching. I believe in good coaches and I expect Davis's production to almost double this season across the board. He's my pick to be THE Fantasy Comeback Player of 2013.