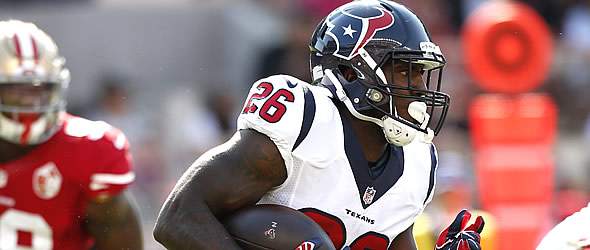 Prime Trade Target: Lamar Miller is 4th in rushing attempts and his remaining schedule is favorable.




Week 5 Review



Let's start out by taking a look at last week's results…



Hits:



(Sell) Dontrelle Inman: Inman fell from grace this week after a monstrous game last week. His 3 targets resulting in 1 catch for 3 yards surely left your trade partner with remorse. Good job if you sold high here.

(Sell) John Brown: Like Inman, ďDowntownĒ Brown suffered a similar fate (1 catch for 11 yards on 4 targets), and if you were able to dump him you certainly made out. Both of their production for the rest of the season will be a rollercoaster that is replaceable on the waiver wire.

(Buy) James White/Dion Lewis: Brady threw the ball 40 times in a game where Jimmy Garoppolo mopped up garbage time. Six of his throws were to James White who caught 4 for 63 yards. He also added 5 carries for 26 yards. This volume and usage will only increase. The better long-term buy is clearly Lewis, but owning both has its advantages as who knows when Lewis will come back (if ever). If he doesnít, White becomes a premier PPR back. The good news is you probably didnít have to give up much to land either. Keep buying if you can.

(Buy) Julian Edelman: With a team leading 10 targets, Edelman ended up with 5 catches for 35 yards. Iíve been hard on myself in past weeks on grading hits and misses, but Iím taking the W here considering his targets and the instant upgrade once Brady stepped onto the field Sunday. If you were able to pry him away, cheers to you! If not, keep trying.



Undecided:



(Buy) Cam Newton: Newton remains a buy. Another week out because of his concussion will only lower his asking price in most situations so weíll keep him here until he comes back, likely this week against the Saints.

(Sell) Hunter Henry: Iím still not sold on Henry being a hold, even though Antonio Gates is getting old. Rhyming aside, 3 for 74 and a score every week would sure be nice, but itís not realistic with Gates coming back into the fold. If anything, you might be able to sell high on him now (especially in keeper leagues) to get solid talent this year.

(Buy) Kenneth Dixon: I wonít bother talking about stats with Dixon as they are clearly easing him in. Terrance West had another impressive game so Iíll hold off on judgement at this time. With Marc Trestman out and Marty Mornhinweg in it will definitely change the style of this offense so letís see what happens here. Dixon remains a buy considering his upside and even lower asking price after last week.

(Buy) DeAndre Washington: Washington and Jalen Richard split the load 50/50 last week, and turned out similar results on the ground and in the air. With Latavius Murray back soon, this backfield could turn into a full-blown RBBC. Weíll keep him in the undecided section until this situation shakes out. He remains a buy at this point as he has tremendous upside. Again Ė his price went down like Dixonís so buy at a bargain.

(Buy) Jordan Matthews: My favorite buy-low candidate from last week had a pedestrian showing catching all 4 of his targets for 65 yards. Rookie QB Carson Wentz has been throwing the ball 34 times a game, and Matthews is still the target leader. He also remains a buy-low this week and should turn it around against Washington in Week 6.



Misses:



(Sell) Matt Ryan: After beating the Broncos in Denver without throwing an interception, I think itís only fair I take the loss here. He didnít wow us with his numbers, but the offense was efficient against a Denver Defense that has shutdown opposing QBs like no other over the past year and a half. If you sold, Iím sure you either got back a decent QB or had one. You probably were handsomely rewarded with a solid flex start as well.

(Buy) Golden Tate: Another ho-hum game for Tate is worrisome to say the least with Eric Ebron out, and no running back but Theo Riddick healthy. I ended up buying low in one league (Dontrelle Inman for Golden Tate) and selling in another (Charles Sims and Golden Tate for Theo Riddick and Tyler Eifert) so I think I made the most of this terrible situation. Hopefully you did too!

(Sell) Isaiah Crowell: Crowell has done very well since I recommended his sell high in Week 3. He had his worst week against the Patriots rushing 13 times for 22 yards and was basically replaced by Duke Johnson in an absolute blowout. They also lost their ďstarting QBĒ in Cody Kessler so I canít hold this game completely against him. I have a feeling his best games are behind him considering the state of the Browns, but we will check back Week 8 during the midseason review.


Trade recommendations after five weeks...

As always, I will reevaluate this data on a weekly basis. I have also decided to do a mid-season review during Week 8 to discuss the hits and misses based on trades executed that I've either been a part of, have witnessed, or have been emailed about based on feedback from readers.

Week 6

And now on to Week 6…

The Bait:

Cameron Artis-Payne: 18 carries for 85 yards and 2 scores was more of a product of Cam Newton and Jonathan Stewart being out than anything else. He was not involved in the passing game (0 targets), and has little to no value with Stewart coming back. You must sell now.

Ryan Mathews: A costly fumble which lost the Eagles the game this week, and the talent around Mathews leaves me to believe his role will decrease. After a game where he saw decent volume (16 total touches), 5 catches and a score, he is a sell high. If you can pair him with another decent player in a deal, do so.

Adam Thielen: With Stefon Diggs out Thielen showed he can be a solid performer at the NFL level (7 for 127 and 1 score). The problem with him going forward is his volume of targets and Sam Bradfordís injury/performance history. Diggs is the clear No.1 receiver and should be back in Week 7. Package him up and try to buy into a solid commodity.

Buy-Low Candidates:

Lamar Miller: Millerís attempts (101 Ė 4th overall), lack of alternative backfield talent, and catching ability make him my prime buy-low candidate for this week. He gets the Colts defense thatís given up 109 yards per game and 5 rushing touchdowns on the season. According to FantasyPros.com, the Texans have the 8th easiest SOS for running backs the rest of the season.

Kelvin Benjamin: For a player starting the season with 13 for 199 and 3 scores, Benjamin has been quiet outside of a TD in Week 3. Most of it has to do with Cam Newton being out so this is a premier time to buy-in. He might have another week of Derek Anderson and then a bye so you could be waiting until Week 8 until he has a chance at solid production, but heís worth a look at the right price.

Alshon Jeffery: 22 for 394 through five games with no scores should be concerning to owners. His health on a weekly basis is also a cause for concern. Take a stab at owners this week in light of Cameron Meredithís big game and see if you can buy-in on the ground floor. This will be a gamble, but clearly his best games are in front of him.

Darren Sproles/Wendell Smallwood: These buy-low candidates are more of a product of Ryan Mathews instability with the football and his health concerns. Iím trying to own one in each of my leagues as they have high upside.

I'm constantly wheeling and dealing so hit me up on twitter, the comments section, and/or email for advice.

As always keep those conversations active and hopefully you can land some premier talent!


---
Follow me on twitter @ZeroRBJoe for any questions about trades, lineups, or anything fantasy football related.