It's easy to focus on the collateral damage caused by noteworthy NFL developments over the past two weeks. The departure of Sammy Watkins from Buffalo, for example, presumably reduces Tyrod Taylor's value. The replacement of Ryan Tannehill by Jay Cutler in Miami makes Jarvis Landry less of a PPR lock than he has been in recent years. And what about the impact of Ezekiel Elliott's suspension on poor Dez Bryant? Defenses will be sure to key on Dez with no Zeke to distract their attention.

However, this article will focus on the opposite of collateral damage by examining 4 players (1 QB, 1 RB, 1 WR, & 1 TE) who deserve a rankings boost as a consequence of the Elliott suspension, the unexpected change at quarterback in Miami, and Buffalo's release of Sammy Watkins and acquisition of Jordan Matthews. Wherever Dak Prescott, Todd Gurley, DeVante Parker, and Zach Ertz were in your rankings in early August, they should all be a little higher now (a phenomenon we can call "collateral boostage").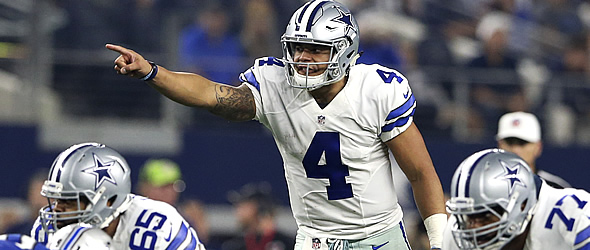 Zeke's absence could be an opportunity for more goal line sneaks for Prescott, boosting his value.


QB Dak Prescott (beneficiary of the Elliott suspension)

Part of the credit for Prescott's impressive rookie campaign goes to another phenomenally talented rookie: Elliott. Without Zeke to keep defenses honest, the Cowboy offense will sputter in 2017 in ways that it didn't in 2016. But so what? What will that sputtering look like for Prescott's stats? Will there be garbage time yardage? Plenty. Moreover, Prescott ran for 239 yards in 2016. With Elliott MIA for six weeks, do you expect that total to go up or down in 2017? I'll take the over. Elliott was efficient with carries inside the 5-yard line, scoring on 7-of-11 attempts. Therefore, Elliott's absence smells to me like an opportunity for more goal line sneaks from Prescott, who should improve on the 6 rushing TDs he had as a rookie.

There are possible downsides, of course. Defenses will have an easier time taking Bryant away from Prescott, but he knows how to use his other overlooked weapons, including receiving backs such as Darren McFadden and tight ends such as Methuselah (at least I think that's his name). Sure, it's possible that in the absence of Elliott, Prescott will have a complete meltdown in 2017, exposing his 2016 campaign as nothing more than an extended opportunity to ride Zeke's coattails. However, I don't think that's in the cards for Prescott, who achieved a phenomenal 104.9 passer rating as a rookie and threw an average of 1 interception for every 4 games played. Prescott's got game; he should have been high in your rankings even before news of the suspension broke. He should be higher now.

RB Todd Gurley (beneficiary of Sammy Watkins stretching the field)

Sammy Watkins' departure from Buffalo sent shockwaves through my draft board. Even though Watkins spent his time as a Bill being healthy only on days not ending in -y, he established a chemistry with Tyrod Taylor that is vastly superior to anything we can expect him to develop with Jared Goff in Los Angeles. Theoretically, one could argue that Goff's value improves by miles with the arrival of Watkins, but one would be wasting one's breath—since no one was within a continent of drafting Goff anyway.

The real beneficiary of the Watkins trade is Todd Gurley, who must feel like he has a new lease on life with Jeff Fisher gone and a bona fide star wide-out doing the work that used to be split between a No.2 impersonating a No.1 (Kenny Britt) and an athletic stuntman impersonating a WR (Tavon Austin). One fair knock on Gurley is that he was ineffective in 2016 whether defenses stacked the box against him or not, so Watkins stretching the field may not be the answer to all of Gurley's prayers. But if you remember anything about Gurley's rookie season, you know that the talent is there. That talent slumbered into despair last year for reasons that were all too obvious. In my opinion, what Gurley needed more than anything else in 2017 was hope, and that hope has come in the form of a new head coach (Sean McVay) and an instant transformation of the passing offense (courtesy of Watkins).

WR DeVante Parker (beneficiary of Cutler taking over for Tannehill)

Jarvis Landry had 94 receptions in 2016—almost as many as DeVante Parker (56) and Kenny Stills (42) combined. Tannehill was effective enough in the Adam Gase version of the Air Coryell offense to help the Dolphins make the playoffs last year, but he was far more comfortable throwing shorter balls to Landry than longer balls to his very talented outside WRs.

If Cutler can do one thing better than Tannehill in Gase's system (and it's possible that he only does this one thing better), it's delivering the deep ball to tall, athletic receivers. The best year of Culter's career came under Gase in Chicago, when his targets included Alshon Jeffery (6'3"), Brandon Marshall (6'4"), and even TE Martellus Bennett (6'6"). Height never tells the full story, but it's worth noting that DeVante Parker is 6'3", Kenny Stills is 6'0", and Jarvis Landry is 5'11". It doesn't hurt that Parker is entering his third year as a pro—or that he reported to camp in the best shape (and with the best work ethic) of his career. As anyone who owned Alshon Jeffery back in the day knows, Cutler likes to glom onto a favorite receiving target. No one can predict who Cutler's favorite target will be in Miami in 2017 (not even by listening carefully to that futuristic song by Billy Joel), but Gase knows it should be Parker, and he's probably a good enough coach to see to it that Parker becomes Cutler's go-to option. Wherever Parker is on your draft board, move him up.

TE Zach Ertz (beneficiary of Jordan Mathews' departure for Buffalo)

Jordan Matthews missed two games in 2016. In those contests, Ertz led the Eagles in targets (31) as well as receptions (22).

Nelson Agholor is currently expected to take over the slot, with Carson Wentz being challenged to throw more outside balls to Philadelphia's two newly acquired stud WRs (Alshon Jeffery and Torrey Smith). There's no reason to doubt that most of the targets that went to Matthews in 2016 will find their way into the hands of Jeffery and Smith, but Ertz will soak up plenty of the short-and-over-the-middle-targets that always went to Matthews in the past. Don't get carried away; Ertz won't be quite as good as he was in the games Matthews missed last year (when the only other important receiver on the field was Nelson Agholor), but his average performance on the season should improve over what it was through the 14 games when Matthews was healthy—which was already solid for a TE. Bump him up.

Do you have better candidates for the collateral boostage tag at these skill positions? If so, let me know who (and why you think so) by emailing me or posting a comment below. And if you've been waiting to post your overvalued players based on ADP in 2017, share those insights as well.


---
Mike Davis has been writing about fantasy football since 1999--and playing video games even longer than that. His latest novel (concerning a gamer who gets trapped inside Nethack after eating too many shrooms) can be found here.