Last Week's Question: How did the mid-season NFL trades impact your league?

In my column for Week 9, I invited readers to chime in on the fantasy impact of some high-profile mid-season NFL trades. I expected different answers to focus on different players, ranging from those who moved on (e.g. Jay Ajayi and Kelvin Benjamin) to those who stayed behind and saw their prospects improve (e.g. Kevin Funchess, Kenyan Drake, and Damien Williams).

Except for a perturbed note from Pete about how the Dolphins should not have split Ayaji's workload between Drake and Williams, the feedback focused almost exclusively on Funchess. But the subject matter itself was the only matter of consensus, as opinions varied widely. According to Steve,
I picked [Funchess] up a few weeks back. He was starting to slide and I actually had a waiver request to drop him when the trade occurred and quickly voided my transaction. Funchess will most likely be in my starting lineup the rest of the year as my WR 3.
BeMo also sees Funchess as a WR3, but only if a better option isn't available:
I will be starting Funchess this week but consider him the weakest link in my lineup. . . . I suspect that the residual "fallout" from the Benjamin trade will end up being merely a lateral move for Benji [and] a slight downgrade for Funchess, while the production of Shepard and Mathews will go up.
Even if BeMo isn't as excited about Funchess' prospects as Steve, at least he thought Funchess was worth a start in Week 9. Not so for RDB: "Until I see how this plays out Funchess will ride the pine."
For what it's worth, FFToday founder Mike Krueger was at the opposite end of the enthusiasm spectrum from RDB. He didn't decide whether to start Funchess or not in Week 9 based on his other options at WR; he was excited enough about Funchess' situation to send me this note: "I know Funchess will be in all of my lineups in leagues where I own him."
I made the mistake of asking for feedback on the fantasy fallout of the trades before the Week 9 games had been played, so if anyone had an especially interesting outcome in their league because of the unexpected change, please share your story with me via email or the comment section below. My thanks go out to everyone who responded.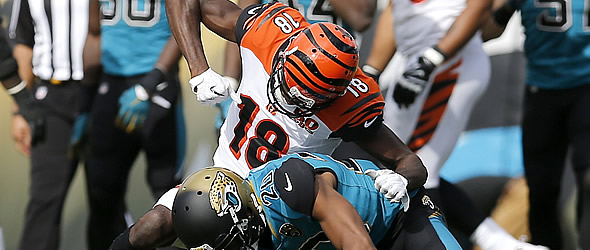 A.J. Green finished with one catch for 6 yards after being ejected late in the 2nd quarter against JAX.





This Week's Question: Do ejections deserve any special handling in fantasy leagues?



A reader named Hugh is a bit steamed about the A.J. Green ejection:
It makes zero sense for Marvin Jones to rack up points on my bench while an ejected A.J. Green remains in my starting lineup. Did Marvin Lewis just leave Green's spot on the field empty after the ejection? Obviously not. He put in the best replacement available. Ejections should trigger replacements in fantasy, just like they do in the NFL. Jones was the best replacement available on my bench, so he is the substitution I would have made. I'm not even asking to disregard Green's rotten first half (since he wasn't ejected until nearly halftime), but shouldn't I be entitled to the second half Jones had? Isn't that the most reasonable way to handle ejections in fantasy?
Hugh has my sympathy, but I don't see how an ejection is any different from an injury for fantasy purposes. If your QB gets hurt on the first snap and you're a head coach, you put in the backup QB. If you're a fantasy owner, you usually take a zero at that position.

Admittedly, some leagues (those who draft a team QB rather than a specific player) automatically substitute the backup QB. That's an option that might appeal to Hugh, but it's not nearly as sophisticated as adding the points scored by one player in two quarters to the points scored by another player in another two quarters on the basis of a presumption about which player would have been used to replace the starter.

But just because I can't think of an easy solution to Hugh's problem doesn't mean that someone else hasn't already implemented one. Maybe there are leagues that do handle ejections differently than injuries. If your league has an unusual way of handling ejections, please email me or use the comment section below to explain your policy.


Survivor Pool Picks - Week 10 (Courtesy of Matthew Schiff)

Trap Game: Carolina over Miami

The Panthers are only 1 game behind the New Orleans Saints, who haven't lost since Week 2. On paper, Carolina is in a favorable matchup against the worst offense in the league (Miami), but in reality, the Dolphins may well have mastered the art of addition through subtraction. Jettisoning Jay Ajayi to the Eagles transformed Miami's running game, which took pressure off Jay Cutler and allowed him to post a passer rating of 120 (albeit in a losing effort). Both of these teams are "underwhelming" in the offensive category, but the X factor will be Christian McCaffrey. If the Panthers use him properly, they should win. But I would only take the Panthers if I absolutely had to.

#3: Pittsburgh at Indianapolis (4-5, BUF, TB, CLE, NE, NYG, ATL, PHI, MN, SEA)

Gone are the days of Peyton Manning, and maybe even Andrew Luck. In their place stands Jacoby Brissett, a former Tom Brady understudy who currently has a QB rating of 85.4 with 1900 yards, 7 TDs, and just 4 picks . . . along with a lousy 3-6 record to show for it. Unfortunately, the Colts are at the bottom of their division because they can't score more than 18 points a game on average, and their defense is last in points allowed (28.9/game) and second to last in total yards allowed. Yes, they beat a Houston team that looked like it had found its direction, but if not for Deshaun Watson's torn ACL (which he sustained during regular practice, and which cost yours truly his #1 survival pool pick last week), the Colts would have been lit up and licking their wounds coming into this home game against the Steelers. The Pittsburgh offense hasn't been lighting the world on fire this season, ranking only 20th overall. But the latest version of the Steel Curtain, the 3rd youngest defense in the NFL, is shutting opponents down and yielding only 16.4 points a game. This is a safe bet, even on the road. Take the Steelers on the road.

#2: Los Angeles Rams over Houston (6-3, NE, SEA, PIT, ATL, PHI, HOU, TN, CIN, JAC)

How quickly things change in the NFL. This game should have been a matchup of two future NFL stars in Jared Goff and Deshaun Watson, but now it's more likely to play out as the Goff and Gurley show. Even under the most favorable conditions, Tom Savage is no Watson—and unfortunately for Savage, playing facing the Ram defense isn't anything close to a favorable condition. Optimists might say that DeAndre Hopkins and Will Fuller are as good as they ever were, but if they really believe that, then why aren't they trying to trade for Hopkins and Fuller in their fantasy leagues. (Hint: It's because Hopkins and Fuller are better players when a better QB is throwing them the ball.) It will take a better effort than normal for the Texans to beat a Rams team that is first in overall offense and put up 473 yards and 51 points in the Meadowlands in the rain. These teams are definitely headed in opposite directions at this point in the season. Look for the home team to win this one – literally running away.

#1: Detroit over Cleveland (6-3 ATL, OAK, NE, SEA, PIT, DEN, DAL, PHI, HOU*)

The division-leading Detroit lions host the hapless Cleveland Browns who are welcoming back Josh Gordon from his protracted suspension for substance abuse. Lo and behold, Gordon admitted earlier this week that he was either high or drunk during every one of his NFL games and "wants to be the best receiver ever." Imagine what he could have achieved if he had kept his head screwed on straight from the beginning. In spite of his return, the Browns aren't up to the level that the Lions showed on Monday night. Look for Matthew Stafford and company to stretch the field and play strong defense against a Browns team that looks like it may have the #1 pick yet again. On another note, the most action in this game may be the amount of money that Martha Ford donates in support of community organizations specified by players who honor the flag by standing during the National Anthem. Kudos to the Ford family for listening and making a meaningful gesture to help address the players' issues.


---
Mike Davis has been writing about fantasy football since 1999--and playing video games even longer than that. His latest novel (concerning a gamer who gets trapped inside Nethack after eating too many shrooms) can be found here.