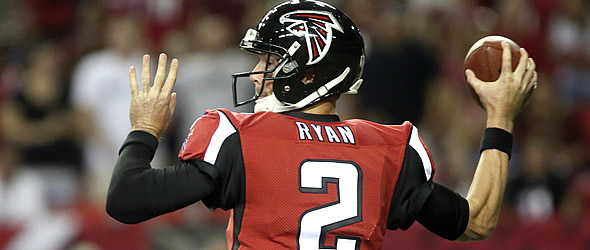 Matt Ryan's off the chart efficiency last season will have a lot of fantasy owners yelling regression.
QB Matt Ryan
(2016 QB Rank – 3, 25.7 FPts/G)
Matt Ryan finally put it all together in 2016 by becoming a top three fantasy signal caller in his ninth professional season. Surrounded by arguably his best supporting cast since being drafted as the face of the franchise in 2008, Ryan set career marks in completion percentage, passing yards, touchdowns and interceptions in route to the Super Bowl. The explosive nature of players like Julio Jones, Taylor Gabriel and Tevin Coleman led to 69 passing plays gaining 20-plus yards from scrimmage (3rd most in the NFL). Projecting players coming off career seasons usually involves regression but Ryan might not be in for as much as his detractors expect.
The off-season brought very little change to the offense but defenses will certainly be geared up to stop the defending NFC Champs. As a group, Atlanta's receivers are not as dominant as other highly regarded fantasy quarterbacks. The lack of a bona fide pass catching tight end also dampens the prospects of Ryan remaining inside the top five at his position. Nevertheless, the team's strong rushing attack will continue to allow the passing game to flourish with numerous scoring opportunities. As a result, fantasy owners should be able to pencil in at least 30 touchdowns and plenty of yardage to make the former Boston College Eagle a consistent QB1 in 2017.
RB Devonta Freeman
(2016 RB Rank – 7, 14.5 FPts/G)
As expected, Devonta Freeman's workload and production decreased in 2016 due to the presence of Tevin Coleman in the Falcons' RBBC. What wasn't expected was that Freeman still managed to be a top ten fantasy running back. The Falcons finished the 2016 regular season placing fifth in yards per carry (4.6) and yards per game (120.5) despite ranking only twelfth in rushing attempts per game (26.3). It's no wonder that the efficient work of Atlanta's ground game made them one of only four teams to score 20 rushing touchdowns. The lead dog in Atlanta has now posted back-to-back years with double digit touchdowns. Excluding his six-carry performance of Week 14 as an outlier, Freeman notched 7.95 fantasy points per game (standard scoring) in the seven regular season games he failed to score last season. Then again, when Freeman wasn't being asked to run the ball into the end zone he was being targeted in the passing game (17 red zone targets in 2016). After riding the ground game all the way to the Super Bowl, the Falcons only have more reason to let their horses run wild this year. Freeman's high ceiling, high floor and ability to be a RB1 despite being in a RBBC make him a sound investment at the back end of the first round.
RB Tevin Coleman
(2016 RB Rank – 15, 12.3 FPts/G)
It isn't often that fantasy owners can safely rely on the secondary option of a RBBC to be a solid weekly fantasy starter but that is exactly what Tevin Coleman was in 2016. Buoyed by eleven touchdowns on 149 total offensive touches, prospective owners of the former Hoosier are more decisive than ever heading into this season. He has always shown big-play potential with YPCs of 4.5 in 2015 and 4.4 in 2016. The coaching staff hasn't denied him his share of red zone carries either. Last year's high-octane offense allowed Coleman to accrue 21 carries inside the twenty-only a handful of carries less than Isiah Crowell (28) and Spencer Ware (27).
In a vacuum, his stats from a year ago appear inflated and unsustainable. Yet the player on the field looks like a perfect fit for the role he has been given in an offense that affords him more opportunities than most players. His touches come on a team that scored 71 more points than the next highest scoring in the team last season so you can't simply dismiss him as a part time player. The lack of a long track record and health issues are valid concerns. Coleman has now missed seven games in his first two seasons in the league. This would be more alarming if he was being drafted as your team's top running back, but his durability concerns are slightly mitigated by the RB2 price tag.
RB Terron Ward
(2016 RB Rank – 93, 3.2 FPts/G)
Buried on the depth chart, Terron Ward has struggled to remain healthy and offers very little fantasy potential. Now 25, he is two years removed from his lone fantasy worthy outing. He lacks the skill set to push the coaching staff for more playing time and won't be a factor in 2017 unless the injury bug hits Atlanta's top rushers. The Falcons added Brian Hill via this year's draft for additional depth and long-term backup potential. Hill possesses some explosiveness to his game and could become a safeguard for the Falcons as they deal with future contracts for Devonta Freeman and Tevin Coleman.
WR Julio Jones
(2016 WR Rank – 4, 12.6 FPts/G)
Julio Jones has gone from being arguably the top fantasy receiver to merely being one of the top ten options for fantasy managers to consider on draft day. From 2012 to 2015 the Falcons attempted at least 600 passes during the regular season. That number dipped to 537 last season; a total less than 25 other NFL teams. This helps explain why Jones' targets per game dropped below double-digits for the first time since the 2012 last season. The lower target load not only had an impact on his overall fantasy scoring, it made Jones a little less consistent as a fantasy asset posting five games with 6 or less fantasy points. Turf toe and recurring hamstring injuries are additional red flags fantasy owners must consider as Jones has only played in all sixteen games once over the past four seasons. The Falcons frequently let him play at less than full health to keep defenses honest which makes him a potentially tough lineup choice during the fantasy campaign. He had surgery on his foot during the off-season so there is hope that he can put some of his lower body injuries in the rearview mirror. Despite the risks, Jones possesses elite talent on one of the highest scoring teams in the league yielding the potential to be one of the game's best overall fantasy players in 2017.
WR Mohamed Sanu
(2016 WR Rank – 67, 6.0 FPts/G)
Mohamed Sanu rebounded from a poor 2015 to post fantasy totals that made him ownable in deeper formats last year. However, the emergence of Taylor Gabriel as the team's second best big-play wide receiver limited Sanu to only 653 receiving yards and four touchdowns in a year that saw almost everyone in the offense post gaudy numbers. That doesn't bode well for his 2017 fantasy outlook. He has enough size to be a factor in the red zone, but remains the third or fourth best option in those scenarios as well. The former Bengal posted fewer than five fantasy points in eight of the 15 regular season contests during his first year in the offense. As a result, fantasy owners should once again view him as matchup dependent player that offers some value in deeper leagues.
WR Taylor Gabriel
(2016 WR Rank – 20, 8.8 FPts/G)
Taylor Gabriel scored seven touchdowns over a seven-game stretch during the second half of the 2016 season to make him one of the best midseason fantasy pickups of the year. The Falcons brought him back as a restricted free agent and he is set to open the year third on the depth chart. He provides Matt Ryan with a great secondary deep threat to exploit defenses focused on Julio Jones and the formidable running game. He was limited to only twelve games last season and dealt with a leg injury early this off-season. At five-foot eight-inches and 167 pounds, Gabriel isn't going to threaten Mohamed Sanu for playing time but he could return value over short stretches making him a bye week filler for deep league owners. Further down the depth chart, 2015 fourth-rounder Justin Hardy will battle veteran Andre Roberts as depth options. Neither are expected to make a fantasy impact in 2017 but the winner of this battle will likely be a more likely fill in on the outside if Jones or Sanu were to miss time with an injury.
TE Austin Hooper
(2016 TE Rank – 33, 4.1 FPts/G)
Last season, Atlanta leaned on Levine Toilolo more so than 2016 third rounder Austin Hooper. The more offensively gifted Hooper should take another step forward in 2017 but it might not be large enough to make a difference in the fantasy game. Toilolo is the more experienced player and better inline blocker so he will still see his share of the snaps. However, this scenario greatly limits Hooper's chances of having a true fantasy breakout this season unless a long-term injury to Toilolo occurs. For now, Hooper is best viewed as a fringy TE2 with modest projectable upside if he can carve out more playing time and stay on the field. The Falcons used a fifth-round draft pick on TE Eric Saubert in April. He is viewed as a development project at least a few years away from sniffing the fantasy scene.