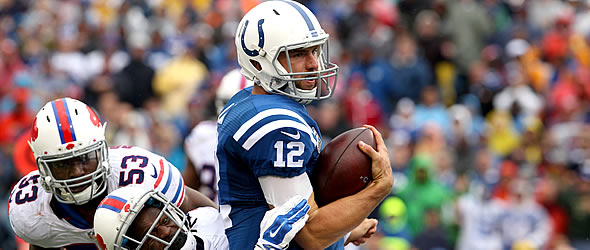 Luck rebounded nicely from an injury plagued 2015 season to finish last season as a top 5 fantasy QB.
QB Andrew Luck
(2016 QB Rank – 4, 25.5 FPts/G)
Andrew Luck rebounded quite nicely from his injury plagued 2015 season to finish last season as a top five fantasy quarterback. Luck's ceiling is tantalizing and over the past three seasons, he has averaged just over 26 fantasy points per game and has never averaged less than 21 fantasy points per contest.
The Colts offense boasts quality pass catchers in T.Y. Hilton and Donte Moncrief as well as a solid all around tight end in Jack Doyle. Additionally, the holes on the defensive side of the ball (ranked 30th in yards allowed and 22nd in points allowed) should keep Luck throwing the ball deep into games this year. It is rare to consider more passing attempts as a negative but when you factor in an offensive line that allowed its quarterbacks to be sacked the fifth most in the league this scenario represents the exception to the rule. Asking a subpar offensive line to pass block more in 2017 increases the injury risk of a player that has yet to begin throwing after off-season shoulder surgery. Luck's delayed rehab schedule may cause him to miss a good chunk of training camp; possibly lingering into the regular season. It's too soon to move Luck outside the top ten quarterbacks but he carries significant risk for a fantasy player routinely being forecast as a top five player at his position. Scott Tolzien is slated to hold the clipboard this year so the Colts are truly pushing their luck at the NFL's most demanding position.

UPDATE 8/7/17: Luck has been placed on the preseason PUP list by the Colts as he continues to rehab from off-season shoulder surgery. The surgery on Luck's throwing shoulder isn't taking longer than a typical recovery, but it does mean that the optimistic six-month schedule is not happening either. It's too early to know whether Luck is in danger of opening the regular season on the PUP list but fantasy owners should be aware of that possibility prior to taking him in drafts this season. The team's lack of movement to bring in an experienced backup quarterback hints at how the team expects Luck's availability to play out. It is doubtful that the Colts would be willing to ride Scott Tolzien for a month or more into the year without adding another worthwhile NFL quarterback to learn the offense and be the team's backup to open the year. More likely, Luck avoids the PUP, misses two or three games to build strength in his throwing shoulder and gives fantasy owners top ten fantasy numbers for about three quarters of the fantasy season.
RB Frank Gore
(2016 RB Rank – 19, 11.1 FPts/G)
Frank Gore has become an "old standby" for veteran fantasy managers in recent seasons but even they would admit that the end may be near for the 34-year-old running back. Barring a significant injury, Gore will become only the eighth NFL player to attain 3,000 career rushing attempts (he will enter this season with 2,967 career carries). Gore's fantasy ceiling is significantly lower than other RB2 types but there is still a lot to like about his chances of being a productive fantasy asset in 2017. Where the team lacks in pass protection, they have excelled in run blocking so Gore's shouldn't have trouble posting a YPC just under the 4.0 mark. Indianapolis didn't bring in a clear short-term upgrade to challenge Gore as the lead horse in the backfield. 1,037 rushing yards are all that separate Gore from moving into fourth place on the NFL's All-Time rushing yards leaderboard. He has averaged 1,032 rushing yards per season over the past three years and you can bet the Colts will give him every chance to get there if he stays healthy. If your league mates fail to recognize Gore as a RB2 he makes for a great mid-round selection.
RB Robert Turbin
(2016 RB Rank – 68, 5.5 FPts/G)
Prior to scoring eight touchdowns last year, Robert Turbin had three career touchdowns. Consequently, there is tepid enthusiasm surrounding his chances of making a larger impact in his second year with the team. With the Colts looking to keep Gore upright for another season, the coaching staff is undoubtedly hoping one of the younger running backs steps up this preseason to earn more carries. Turbin will have the first shot to impress during training camp as Frank Gore gets the "veteran" treatment this summer. Proving he can be effective inside the red zone could lead to a fantasy friendly "vulture" role. Rookie Marlon Mack will also be in the backfield mix so fantasy owners will want to pay attention to this battle over the course of the preseason. If Turbin emerges as the primary backup, he would offer mild upside as a handcuff making him a worthwhile stash in deep leagues.
RB Marlon Mack
(2016 RB Rank – N/A)
Marlon Mack has a Darren Sproles skill set that the Colts will likely deploy all over the field. He should be fun to follow this preseason but it's unlikely that he will slide into consistent carries in his rookie campaign. Mack's ability to catch the ball out of the backfield could force 2016 UDFA Josh Ferguson off the roster prior to the season. Ferguson attempted to fill the pass catching role in Indy but lacks the vision and explosiveness this offense wants from a multi-dimensional running back.
WR T.Y. Hilton
(2016 WR Rank – 7, 9.3 FPts/G)
T.Y. Hilton remains one of the hardest players to cover in the NFL. As Andrew Luck's favorite target in the Colts passing game, Hilton finally surpassed the 150-target plateau in 2016 on his way to a top ten fantasy finish amongst receivers. Slightly under-sized compared to many of the game's great pass-catchers, Hilton has been remarkedly durable having played in every game over the past two years. The former third round pick led the NFL in receiving yards last season while posted five 100-plus-yard performances. He benefitted from Donte Moncrief's seven-game absence so anyone investing in Hilton this season should expect slight regression. The real limiting factor to Hilton's fantasy ceiling is the lack of elite touchdown potential. Hilton lacks the size to be difference maker on "jump ball" routes and Andrew Luck frequently looks to his tight ends near the goal. As a result, Hilton is one of the safest fantasy picks at his position after the top five or six are off the board, making him a low-end WR1 in all formats.
WR Donte Moncrief
(2016 WR Rank – 33, 8.1 FPts/G)
Donte Moncrief has now dealt with injuries in two of his first three seasons in the NFL and will need to stay on the field to avoid the "injury-prone" label. Moncrief was able to catch a touchdown pass in seven of the nine games he played in 2016 making him a very attractive target for fantasy owners hoping for a full season breakout. A closer look at his numbers reveals only two games with over six receptions in 2016 and five in 2015. Low reception totals make Moncrief far more inconsistent than his numbers indicate on the surface. Nonetheless, the talented receiver out of Ole Miss has little competition to his playing time and will have plenty of room to work playing opposite Hilton. The stars might align to allow Moncrief to take a leap into fantasy WR2 territory yet a simple step forward should make him a solid WR3. Either way, simply staying on the field for most of the season should yield career high production across the board in 2017.
WR Phillip Dorsett
(2016 WR Rank – 95, 4.4 FPts/G)
A former first round draft choice in 2015, Phillip Dorsett has struggled to earn snaps early in his pro career. He has flashed some big play potential but his failure to impress in the wake of Donte Moncrief's injury a year ago are an indictment on his ability to be anything more than a part time player. Another disappointing start to the year would leave the door cracked for Chester Rogers or former Raven Kamar Aiken to emerge as the third receiver in the offense. Rogers showed far more chemistry with Andrew Luck than Dorsett and may become a deep league flex option if given more snaps in 2017. Meanwhile, Aiken has a useful fantasy season under his belt and brings experience to a relatively young group of receivers.
TE Jack Doyle
(2016 TE Rank – 22, 5.5 FPts/G
For a team that uses its tight ends with as much success as the Colts, they haven't been able to produce a worthy top ten fantasy option for years. Last season, Dwayne Allen and Jack Doyle combined to catch 94 passes, rack up 990 yards and scored 11 touchdowns. A year ago, it was Jack Doyle who emerged as the secondary tight end to squash any hope of Allen climbing the ranks following the departure of Coby Fleener. Although fantasy owners were left to deal with another tight end by committee in 2016, Doyle's emergence sparked two key off-season decisions that will have a large impact on the upcoming fantasy campaign. On March 7th, Indianapolis re-signed Doyle and the very next day traded Allen to the New England Patriots. The clear path to more targets point to Doyle becoming a worthy fantasy starter in most formats this season but don't forget the history of this offense. Sitting behind Doyle is a very athletic six-foot five-inch Erik Swoope. The Colts' backup tight end is of the "basketball player turned NFL tight end" mold and although he might not replace the overall production of Allen in 2016 he will likely eat into Doyle's red zone targets throughout the year.