Welcome back for the instant analysis of what just happened in fantasy football courtesy of TMB! There's always plenty to discuss after Week 1, so let's get started with ten buzz-worthy observations…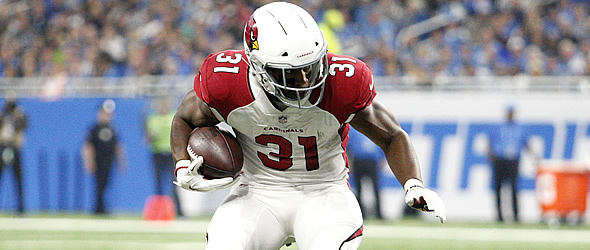 Theres' no replacing David Johnson but there are a number of waiver wire options to help ease the pain.


1. The Lead Story is a Bummer

Iíd much rather start re-capping with something exciting, but the truth is, David Johnsonís wrist injury is the biggest news that took place this past weekend. While we donítí have a definitive announcement from the team, it appears he will miss multiple weeks. There is no ďnext man upĒ in Arizona from a fantasy perspective as the two guys who will likely split time in DJís absence (Kerwynn Williams, Andre Ellington) canít hold a candle to Johnsonís abilities. Hereís hoping that Johnson owners drafted Kareem Hunt (see below). If not, itís going to be a mad scramble on the waiver wire for the likes of Tarik Cohen, Chris Carson and Javorius Allen, with Johnson shelved for the foreseeable future.



2. Kareemed in Foxboro



In a week in which offensive production was difficult to find, one player stood out above all others. Kareem Hunt was drawing plenty of interest during the two weeks leading up to the season due to Spencer Wareís season-ending injury. Now, fantasy owners are wondering if Hunt can be a top-five running back for the remainder of the season after he exploded for 246 yards from scrimmage and 3 TDs on Thursday night. The answer to that for anyone who actually watched the game is yes. Most likely, Hunt is going to be a RB1 moving forward and if you got him for a bargain price on draft day, thereís no one in your league that is more excited about what is to come than you. Incidentally, the top QB and WR performances of the week also came from Chief players as Alex Smith and Tyreek Hill further carved up the Patriots defense. Their numbers are likely to come and go, however, based on game script. Not so with Hunt who will be a factor moving forward if Kansas City is playing from behind or ahead. What a draft day steal.



3. Bottom of the Barrel



Kansas Cityís offense in Week 1 was the exception, not the rule. In all, 7 teams scored 12 points or fewer on Sunday with the Bengals providing the floor netting exactly zero points vs. the Ravens. The struggles of Scott Tolzien, Brian Hoyer, Tom Savage, Josh McCown, and even Eli Manning (without Odell Beckham) were predictable, but how do you explain Andy Dalton? Dalton barely completed 50% of his passes and tossed four interceptions. Weíve seen this from Dalton before, but the addition of Joe Mixon and the clean bill of health for Tyler Eifert were supposed to insure some offensive stability from Big Red. Weíll see what Cincinnati can do on a short week vs. Houston who has offensive woes of their own. Until things get sorted out, I would recommend sitting Mixon and Eifert, but continuing to start A.J. Green without exception.



4. It Was a Great Sunday/Monday for Rookies



Itís days like Sunday that I wonder why I donít just use the second half of my fantasy draft to gobble up rookies. Even in a redraft league, there is enough upside to make the strategy worthwhile. In addition to Hunt, how about wide receivers Kenny Golladay and Cooper Kupp? Both rookie wideouts turned their 4 catches into touchdowns (2 in Golladayís case) and in doing so put up two of the top ten performances for the week at the position. At running back, Chicagoís bite-size sensation, Tarik Cohen, lit up the Falcons for 113 yards while Marlon Mack vultured a TD from veteran Frank Gore. But, the best of the backs not named Hunt was Dalvin Cook with 137 yards in a debut that was better than what Adrian Peterson accomplished a decade before. Another rookie RB had over 100 yards rushing...



5. Marrone, Fournette, and Robinson: The Perfect Storm



Prior to Week 1 we knew Doug Marrone-led teams run the ball. A lot. With Blake Bortles struggling to make even the simplest of throws, it became obvious early in the preseason that Jacksonville was going to be a running team. On Sunday, The Jags lost Allen Robinson for the season with an ACL tear. That came on the heels of rookie Dede Westbrook also being placed on injured reserve. So, what is a run-first guy like Marrone going to do now? Iíll give you a hint: Much, much more of what we saw on Sunday. Rookie Leonard Fournette ran the ball 26 times vs. Houston and even caught 3 passes out of the backfield. At that pace, Fournette will get 416 carries this season and catch 48 passes. I really think the days of RBs getting 400+ carries are probably over, but I do think Marrone will push Fournette to the brink of 400 if he stays healthy. Bottom line: The stars are aligned for league-high volume going forward for Fournette. Consider trading for him if the price is not too steep and hope that Marrone doesnít run him too far into the ground.



6. Roaring Like Big Cats in the Motor City



Itís really a shame that Calvin Johnson retired when he did, because Matthew Staffordís 2016 season plus the first game of 2017 are what happens when a quarterback finally reaches his potential. Stafford (290+ yards passing, 4 TDs) was one of the few players on Sunday that produced stud numbers and Iím left to wonder how he dropped so far in preseason rankings and August drafts? Ameer Abdullahís return was supposed to make the Lions offense more balanced, but when the going got tough this past weekend, the Lions just did what they do best- shred other teams through the air. Sure, Stafford plays 8 games on the road and some will be in sorry weather conditions late in the year, but you canít help but notice that he appears to have near total command of the offense. One note of caution: Stafford did open 2016 with a similar effort (300+ yards, 3 TDs) but the addition of Golladay seems to make production a more sustainable entity. If Eric Ebron can get healthy, this team could be scary good from a real world and fantasy point of view.

7. A Mix of the Strange and the Familiar for Pittsbugh

Prior to Sunday, I didnít read one report that expressed concern about LeíVeon Bellís long layoff. Maybe itís something I should have considered. Bell looked strangely sluggish in a matchup that last season rendered a 200+ yard game and a TD (he sat out the second game vs. the Browns). He didnít resemble his dominant self in any way, shape, or form. What was familiar was the sight of Antonio Brown making big plays downfield on his way to leading all wideouts in receiving yards in Week 1? No two players monopolize the production per team more than Bell and Brown. But, the difference between the two in Week 1 was stark. The guess here is that Bell will find his sea logs soon while Brown continues his dominance. Oh, and donít expect another multi-TD game from Jesse James this year. Those will eventually go to Martavis Bryant once heís fully acclimated to the offense.

8. Run For Your Life!

If you were able to catch the Packers-Seahawks game on Sunday afternoon you watched two quarterbacks scrambling to avoid a sack on nearly every pass play. Russell Wilson was especially forced into frantic mode and the offensive line in Seattle has begun this season resembling their 2016 effort. That's not good news for the running back group of Eddie Lacy, Thomas Rawls, C.J. Prosise, and Chris Carson. Of the four, Carson looked the most elusive, but wiggle will only get you so far behind arguably the worst line in the league. In theory, the inability to run means more points for Wilson, but I'm worried about him lasting all 16 games. If you're rolling the dice with him moving forward, make sure you have a backup plan. And, don't start a Seattle RB until further notice. Period.



9. I'm Digging ItÖ



Last night, we finally got to see another offense besides Kansas City fully in sync and surprisingly, it was the Minnesota Vikings. Stefon Diggs has shown flashes in the past of being an elite wide receiver only to follow up big performances with disappearing acts. Diggs and Adam Thielen were without question the best WR duo of Week 1, combining for 16 receptions, 250 yards, and 2 TDs (both to Diggs). While that is encouraging, it's important to note who the opposing defense was. It appears we can continue picking on the Saints defense. But, don't overestimate production when it's against the Saints. Last year, they were responsible for many players' best game of the year.



10. The Agony That is Bennie Fowler



Finally, an acknowledgment of the pain that Demaryius Thomas and Emmanuel Sanders owners feel this morning. Maybe you stayed up half the night needing only a few more points from your guy to edge out an opponent. There are few things certainly more agonizing than seeing Trevor Siemian find Bennie Fowler for not one, but two TDs in the red zone while Thomas and Sanders labor in vain. I guess wide receivers can vulture TDs, too.

---

That will do it for this week. Look for offenses to strike back in Week 2… just not on Thursday night when the first team to ten points will win the Texans and Bengals matchup.