Good morning fantasy enthusiasts - it's time for another edition of TMB! This week, we explore both the highs and lows that make fantasy football such an intriguing hobby. We'll start with a bounce-back game from Tom Brady…

1. Ten Days to Simmer

Sunday marked ten days since the Chiefs dismantled the Patriots on the opening night and you had to know Tom Brady was dying to get back on the field and attack a soft defense. And attack is exactly what he did. Knowing that no lead was safe against Drew Brees (356 passing yards, 2 TDs in his own right), Brady stormed out of the gates and ultimately produced 447 yards passing and 3 touchdowns. Even with wide receivers dropping like flies, Brady still seems to find a way to make things happen in the passing game. It looks like heíll be leaning heavily on Rob Gronkowski (see below) and James White moving forward if this game is any indication. Bradyís performance was impressive, but it did come against the Saints, who made Sam Bradford look like Tom Brady in Week 1. Keep that in mind when setting expectations in the weeks to come.



2. Again, A Lot Can Change in Ten DaysÖ(Gronk and Kelce)



So many players put up good numbers in the NE-KC tilt that itís easy to forget how quiet Rob Gronkowski and Travis Kelce were. Both were held under 50 yards receiving and neither found the end zone. In Week 2, neither guy was held under 100 yards, and both scored touchdowns, signifying that all is back to normal at the tight end position. With Greg Olsen out indefinitely with a foot injury and Jordan Reed struggling to get off the ground, Gronk and Kelce look like the blue chippers at the position (along with possibly Zach Ertz and Delanie Walker). Owners of both might have been wondering why they spent such a high draft pick on their elite TEs after Week 1. They got a reminder why this time around.



3. Black Sunday for Top Running Backs



Without a doubt, the biggest negative coming out of the weekend was the significant lack of production from some of the projected top running backs. Ezekiel Elliott managed just 22 yards from scrimmage vs. Denver. DeMarco Murray carried the ball only 9 times while Derrick Henry touched the ball 5 more times and did much more with his opportunities (92 yards/1 TD). LeSean McCoy couldnít even muster up 10 yards rushing against Carolinaís resurgent defense. Ditto for Jordan Howard, who like Murray, is losing touches fast to a teammate. Even LeíVeon Bell, who got a full workload on Sunday, still couldnít find the end zone or net 100 yards on 31 touches.

If you listen real close, you can hear Vince Lombardi somewhere begging for clarity. Simply put, Elliott and Bell are too talented not to begin producing at an elite level very soon. Iím a little more worried about McCoy as heís the only weapon Buffalo has and teams will game plan to stop him all season long. Iím really worried about Howard and Murray, though. Weíve seen lots of RBs over the years excel in Chicago as rookies only to fade as sophomores (Salaam, Langford, etc.) and Henry looks more than capable of relegating Murray to a borderline 2/3 back for fantasy purposes. Itís all very unsettling right now at fantasyís most coveted position.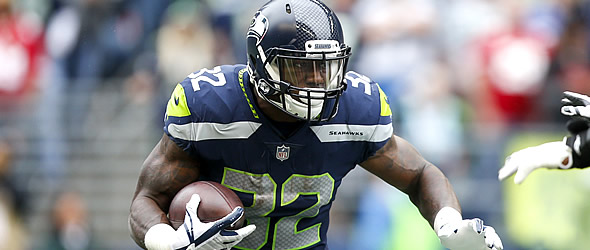 Seattle used Chris Carson as their featured RB in Week 2 while Eddie Lacy watched from the sidelines.
4. Has Seattle Found its Man?

Itís hard to say from week to week whatís going on in Pete Carroll land, but anytime a RB can muster up 94 rushing yards on 20 carries behind that swiss cheese line, itís worth noting. Thatís what rookie Chris Carson, did on Sunday as he out-touched Thomas Rawls 20-5 while Eddie Lacy was a healthy scratch. Carson doesnít project to do much in the passing game, and Seattle likes to throw it near the goal line (see Butler, Malcolm), so expectations for Carson should remain modest for now. Itís just good to see something develop finally out of a situation that to date had been confounding at best.

5 . Mile High Rejuvenation

If I had said prior to the season beginning that Broncos QB Trevor Siemian would have 6 TD passes after two weeks and another TD running the ball, would anyone have believed it? What if I said that C.J. Anderson (154 totals yards, 2 TDs on Sunday) was going to be a top-five RB? Well, all of that is either true or appears to be imminent as Mike McCoy has brought his magic to the Mile High city and the offense is thriving. Given how good Denverís defense is, expect the Broncos to continue to have lots of red-zone opportunities with WRs Demaryius Thomas and Emmanuel Sanders netting good first-half point totals while C.J. Anderson wears teams down after halftime. As for Siemian, I donít think heís fantasy starter material just yet, but the situation bears watching. Itís an amazing transformation for an offense that was downright stagnant at times last season as they attempted move forward without Peyton Manning.

6. But, this Guy is Fantasy Starter MaterialÖ

Iím talking about Carson Wentz of the Eagles after another 300+ yard passing performance. The Eagles didnít even attempt to run the ball against the Chiefs on Sunday outside of 10 carries for Darren Sproles, opting instead to throw 46 passes. Seven of those were complete to Alshon Jeffery whose chemistry with Wentz is growing quickly. Another five were to Zach Ertz, who is looking like a top-5 tight end going forward after being the most productive fantasy TE in the business for the latter half of 2016. If you drafted Wentz as your backup, it might be time to see what you can get for your intended starter at the position, and begin rolling the dice with him instead. The team is clearly lacking any sort of RB prowess with LeGarrette Blount looking like a poor fit in the offense. Itís going to be throw, throw, and throw some more in Philly this year and Wentz, Jeffery and Ertz are going to make some fantasy owners very happy as a result.

7. Promising Signs in Los Angeles

The last thing in the world that I want to do is give Todd Gurley owners false hope after all of last seasonís disappointment. Can I at least say, though, that Sundayís effort vs. Washington was encouraging? Gurley will get all the goal line carries for the Rams no matter what - this we already knew. But, 136 yards from scrimmage and a receiving TD to boot was more than any Gurley owner probably expected coming out of Week 1. With this offense now finding ways to move the ball outside of just slamming Gurley into the line and hoping for the best, Gurleyís career appears to be once again headed in the right direction. If you stuck with him in a keeper/dynasty league, I salute you.

8. PPR Gold Mines

Anybody notice that the two WRs with the most receptions on Sunday came from the same NFL game? The Dophins and Chargers produced a close game with a photo finish, but also gave us Jarvis Landry (13 receptions) and Keenan Allen (9 receptions). Landry and Allen has always been target monsters when healthy and Jay Cutler clearly thought Landry was his best short-range option this weekend. Philip Rivers has long felt that way about Allen who is on pace for 110+ catches after two weeks. Consider both PPR must-starts every week no matter who else resides on your roster. On a side note, the only other player to have 9 or more receptions on Sunday was none other than Jason Witten, TE for the Cowboys. With Dez Bryant getting near constant double teams, Witten is settling into a resurgent role as Dak Prescottís most trusted target. Until that changes, he better be in all PPR lineups every week.

9. Michael and the Jets

With apologies to Benny and Elton John, this title is a tip of the cap to Michael Crabtree, who found the end zone no less than three times on Sunday vs. the hapless Jets defense. Congrats to Crabtree, thus, and here are some additional observationsÖItís going to be hard to know from week to week which Oakland WR will break out. Crabtree looks like the more consistent of the two, but Amari Cooper is prone to the bigger yardage games. Both should always be in lineups, though, given the prowess of the offense as a whole. As for the Jets, they appear to be a juicy matchup week in and week out. They let LeSean McCoy run wild in Week 1, let Crabtree do his thing in Week Two, and made Jalen Richard look like a viable fantasy option after he tore off 109 yards and a TD on just 8 touches. Next up for the Jets: Miami. Jay Ajayi owners rejoice.

10. Will He or Won't He?

Finally, Monday night was the culmination of a confusing week for Odell Beckham Jr. owners. For those that had to plug him into their lineups by noon on Sunday, there was relief when it was announced he would indeed play. Then, there was likely frustration with what actually took place on the field. Beckham accounted for only 36 receiving yards on 4 catches and was taken out of the game on red zone opportunities. It's impossible to know how much his health affected his snap count, but add Beckham to the growing list of first-round fantasy picks who have flopped the first two weeks. This already feels like a strange year, which means a return to normalcy is just around the cornerÖ I hope.

---

That's a wrap for this week's Buzz. Who knows what next week will bring- whatever it is, we'll be right here detailing it for you. Until then...