Last week, I examined the Top 10 quarterbacks, running backs, and wide receivers from 2011 in hopes of identifying who among them might be primed to disappoint and fall from the ranks this upcoming season. This week, I'll take an educated wag at who, conversely, might be ready to emerge (or perhaps reemerge) in 2012 to snag the vacated spots. Some of the names won't surprise you, I'm sure, but some certainly might. After all, did anyone peg Victor Cruz for a Top 10 run before the start of last season? Here goes nothing…..

Note: All rankings are based on FFToday's default standard scoring.

A quick reminder of the Top 10 fantasy QBs from last season...



Peyton Manning, DEN: Too obvious, right? Letís play devilís advocate first. Heís 36, past the age most quarterbacks not named Favre or Elway start to decline. Heís coming off a serious neck injuryóand three surgeriesóthat scuttled his entire 2011 season. Heís traded the climate-controlled fast track of Lucas Oil Stadium for some bona fide grass and the great (if unpredictable) outdoors of Mile High. Heíll be taking over the reins of an offense that led the league in rushing attempts last year. Yes, Manning faces some stiff headwinds as he recommences his Hall of Fame career.

And, no, it wonít matter. Weíre talking about Peyton freakiní Manning here! You know, the guy who practically invented the Top 10 list. Since the turn of the century, heís only failed to achieve that status once (last year) and has averaged a #3 overall ranking at the position during that span. Heís thrown for over 50,000 yards and nearly 400 touchdowns, good for third on the all-time list in both categories. Heís been the picture of consistent production under center for nearly 15 years. Will a change of scenery and a year off really change all that?

The ďscenery,Ē by the way, isnít as bad as it might appear. John Fox is still an NFL throwback (think ground and pound), but heís also desperate. Manning is his best chance to keep the job. Additionally, the Broncos arenít entirely bereft of passing-game talent. Eric Decker and Demaryius Thomas, two third-year targets, are capable and may, as others have before them (e.g., Austin Collie, Pierre Garcon, etc.), rise from relative anonymity to fantasy glory with Peyton at the helm. Should they falter, he can still rely on a couple of buddies from Indy: Jacob Tamme and Brandon Stokley. Finally, Manning is arguably the least mobile alpha quarterback since Dan Marino ruled the roost in the eighties. Thus, the neck injury, it would seem, should only continue to affect him if it robs him of arm strength or range of motion. Early indications from Denver are that it hasnít.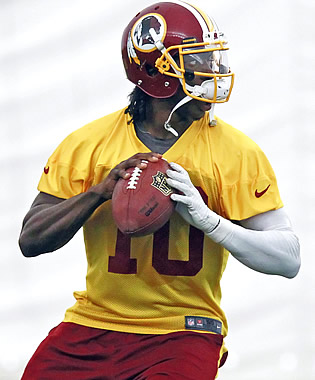 RGIII: Another rookie ready to crack the top ten?

Robert Griffin III, WAS: I actually got to see RGIII in person last September as he kicked off his Heisman campaign against TCU in Waco. Hereís what I saw: a supremely gifted athlete with a cannon for an arm, laser-like precision (especially on deep balls), and Michael Vick-esque speed and slipperiness when plays broke down. Well, for three quarters, at least. Little Bro, who gets bored when games get out of hand (it was 47-23 at that point) or donít feature beer concessions (Baylor is a Baptist institution), convinced the rest of us to leave. Whoops. We only missed a furious (though unsuccessful) TCU rally, 28 more points, and a last-second field goal in ESPNís first ďInstant ClassicĒ of 2011. On the bright side, Little Bro earned a hilarious new nickname.

Griffin now takes his game to the NFL, where his tantalizing skill set already has fantasy owners salivating. Itís probably asking too much of him to reproduce Cam Newtonís record-setting rookie numbers of 2011, but heís already a better passer than Newton will likely ever be and heís even more explosive when running with the ball, if not as devastatingly powerful. Indeed, the only real knock on RGIII, his somewhat narrow frame, is something he has basically no control over.

Of course, he also has no control over the situation heís landed in. The Redskins upgraded the wide receiver position in the offseason but still lack depth and quality along the offensive line. They also canít seem to figure out who will be shouldering the load at running back. Worse, they donít really seem to care. Whoís coaching this team, anyway, Mike Shanahan? RGIII faces some challenges, but I believe his overwhelming physical gifts will be a sight for sore eyes in our nationís capital and the reason he threatens to crack the Top 10 in this, his inaugural professional season.

Carson Palmer, OAK: Not who you were expecting, right? I could probably write an entire article about Mr. Vickís prospects for 2012 (donít tempt me) but, suffice it to say, Iím just not convinced heíll be the dual-threat he once was. And letís face it: Take away Mike Vickís legs and he starts to resemble, statistically speaking, guys that arenít even close to as good as guys like Carson Palmer. The latter sports a career 86.3 passer rating. Vickís hovers right around 80. Palmer has topped the 3500-yard mark four times in his career. Vick? He hasnít done it. Palmerís thrown for more than 20 touchdowns five times. Vickís managed the feat only twice. Oh, and the clincher? Michael Vick, despite missing two complete seasons, has actually appeared in more career games than the former Heisman winner.

Even setting aside the comparisons with Phillyís triggerman, Palmer is significantly underrated coming in to 2012. The reasons for that are varied and probably somewhat justified. He was inconsistent his last couple of years in Cincy. He hasnít always been healthy. He still throws too many picks. He provides nothing in the ground game. So, heís not perfect. Got it. He did, however, manage to tally oodles of yardage in his abbreviated 2011 stint. The 275.3 yards-per-game figure he posted was, believe it or not, the highest of his career. Not hurting matters is the fact that Oakland possesses easily the speediest receiving corps in the league. Palmer has always thrown a nice howitzer, and with guys like Denarius Moore, Darrius Heyward-Bey, and Jacoby Ford running under his bombs, it wouldnít shock me to see the Raiders lead the league in home runs this season. Somewhere up there, Al Davis is smiling.