Last week, I examined the Top 10 wide receivers from 2011 in hopes of identifying who among them might be primed to disappoint and fall from the ranks this upcoming season. This week, I'll take an educated wag at who, conversely, might be ready to emerge (or perhaps reemerge) in 2012 to snag the vacated spots. Some of the names won't surprise you, I'm sure, but some certainly might. After all, did anyone peg Victor Cruz for a Top 10 run before the start of last season? Here goes nothing…

Note: All rankings are based on FFToday's default standard scoring.

A quick reminder of the Top 10 fantasy WRs from last season...



Greg Jennings, GB: It's probably not fair to call a guy an underachiever when he ranks 18th among all receivers despite an injury-abbreviated season. Nonetheless, I suspect most of Jennings' owners were at least slightly grumpy about the usually reliable vet's fall from his rank of fourth in 2010. To make matters worse, Jennings' loss became his stable mate's gain, as Jordy Nelson, the unsung farm boy from K State, came out of nowhere to finish second in the final rankings. When you draft the No. 1 receiver from arguably the most prolific passing offense in the league, you expect a Top 10 performance at the bare minimum. You don't even consider the possibility of his missing the Top 10 and being outperformed by a previously unheralded sidekick, to boot.

Of course, we may be looking at this all wrong. What if Jennings' established success is precisely what created more opportunities for the surprising Nelson in the first place? Simply, what if defenses geared up to take away the man they most feared and, as a result, left the very capable Nelson to wreak havoc against single coverage? Doesn't it stand to reason that, now a well-known commodity, Nelson could reciprocate the favor for Jennings this coming year? As if Aaron Rodgers needed more talented hook-ups, and NFL secondaries more potential headaches.

There are certainly more mouths to feed in Titletown than there are in most NFL cities (Jennings, Nelson, Jermichael Finley, Donald "Twinkle Toes" Driver, James Jones) and this is even before factoring in one of my super-sleepers for 2012, Randall Cobb. Nevertheless, there will always be plenty of grub in NE Wisconsin so long as Mr. Rodgers is the guy dishing it up. Moreover, I still think the favorite target of the league's best quarterback is a Top 10 lock and, for this year at least, that guy is still named Greg Jennings.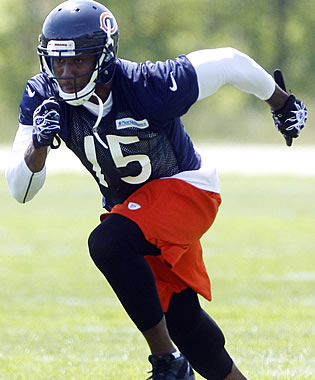 Brandon Marshall will get plenty of love in Chicago and from fantasy owners this season.

Brandon Marshall, CHI: Marshall, the once-favored target of Rodgers' NFC North nemesis, Jay Cutler, is being reunited with his former battery mate in the Windy City this season. I can't speak for Lions and Vikings fans, but that prospect actually scares me. His tenure with the Dolphins may have been marked by plenty of drama (he is Brandon Marshall, after all), but the guy still produced at a fairly elite level despite teaming up with Chad Henne and then Matt Moore, two guys you won't remember in about five years. He became expendable when the Fish decided to go with the West Coast offense, a system ill-suited for someone so demanding of a quarterback's undivided attention.

Marshall will get plenty of love in Chicago, where he gets to play catch with his favorite pitcher again, the equally enigmatic and occasionally misanthropic Mr. Cutler. Somehow, the double dose of surly seems to work well for these two. In fact, Marshall's three best seasons, 2007-2009, occurred when they last teamed up in Denver. During that span, he tallied a whopping 506 targets, easily besting all comers (only Larry Fitzgerald was close). He also, not coincidentally, ranked 9th, 11th, and 9th in fantasy points over that stretch. Feed Marshall the pigskin and you absolutely will be rewarded.

No analysis of the Bears' main diva would be complete, however, without warning you of the obvious risks associated with drafting him. Simply put, he's a knucklehead. For that reason, he's always at risk of antagonizing teammates, coaches, upper management, media members, girlfriends, Roger Goodell…. Did I cover everyone? The league is now considerably less tolerant of its more "colorful" players, so be forewarned: If you draft Marshall and catch even a whiff of trouble heading his way, find your most gullible league mate and offer him up. League discipline won't be far behind.

Julio Jones, ATL: Here's my first big boy prediction for 2012: Either Julio Jones or A.J. Green, both second-year stallions, will end up in the Top 10 ranks when it's all said and done. The hard part, of course, is actually figuring out which one has the better chance of achieving that status. You already know which horse I'm backing, but…it sure wasn't easy. They both possess prototypical size for the position. They're both phenomenal, fluid athletes. They both have great hands and a fifth gear that allows them to stretch opposing defenses. Green is probably a more technically sound wideout at this point, with slightly better hands; Jones is bulkier and, not surprisingly, considerably stronger. So, how to break the deadlock?

Green was the primary target in Cincy from the get-go last season and, appropriately, notched a bunch of targets (115). Though he only tallied 65 receptions (56% of the balls thrown his way), there were expected to be some growing pains since his quarterback, Andy Dalton, was also a rookie. This year, it's safe to say Green is going to command even more targets (a good thing) but also more attention from opposing defenses (not so good) because his cohort, Jerome Simpson, "puffed" his way out of a job. Accordingly, I think he posts very similar—and maybe only slightly better—numbers in his sophomore season.

Jones, on the other hand, has to share targets with one of the NFL's best, Roddy White. As we've seen in the case of the Packers, however, that's not necessarily an impediment to success. On the contrary, dueling threats can, and usually do, cause major-league headaches for opposing defenses, especially when the guy throwing passes is as good as Matt Ryan. Whereas Cincy's opponents can safely blanket the dangerous Green and dare Dalton to throw elsewhere, the Falcons' foes will only double Jones (or White) at their peril. Since White is still the more accomplished and productive of the two, my guess is that the precocious Jones will be facing more than his fair share of single-coverage in 2012. Giddy-up!