With drafting season upon us, it's time, in true cynical Shot Caller fashion, to start throwing out caution flags. Repeatable stellar performance seems to elude even the best and the brightest the league has to offer and this year, if history holds, will be no exception to that role. It will. It always does. Put another way, the guys everyone's talking about this August will be the same guys we'll be talking about next August in this column as we autopsy what went wrong. Let's just save a step and future grief by talking about them now, shall we?

Note: All rankings are based on FFToday's default standard scoring.



Who Missed the Cut in 2016 (8/10): Adrian Peterson, Doug Martin, DeAngelo Williams, Todd Gurley, Lamar Miller, Chris Ivory, Matt Forte, Latavius Murray

Le'Veon Bell is determined to change the way running backs get paid, but he's a deeply flawed crusader. Like many of the backs who missed the Top 10 cut in 2016, Bell missed it in 2015 for the precise reason Pittsburgh isn't willing to pay him like a stud edge rusher or a lock-down cornerback in the first place: He doesn't play nearly enough games. The reliability of an NFL running back is poor and the shelf life brutally short, so investing lots of money in the position doesn't make good economic sense. It's sad and unfair but also reality.

Take, for instance, the eight backs who failed to maintain their Top 10 status in 2016. Of a possible 128 games they could have appeared in collectively, they only managed to appear in 88. Only one of them, Todd Gurley, put in a full 16-game slate and he deserves hazardous duty pay for sharing a backfield with the league's worst starting quarterback. In sum, the eight 2016 dropouts only showed up for the job they get paid to do 69% of the time. You think my boss would settle for a 69% attendance rate?

To be fair, their job is a little more dangerous than my job. Adrian Peterson tore his meniscus in Week 2 and was essentially done (both for the year and as a Viking). Doug Martin suffered a bum hammy and then got suspended, a sentence he'll continue serving this season. DeAngelo Williams sustained a knee injury and is now a free agent. Lamar Miller (ankle), Chris Ivory (calf/emergency hospitalization), Matt Forte (shoulder), and Latavius Murray (turf toe) succumbed to the typical bumps/bruises which often derail running backs' seasons. Bottom line? You draft who you like and hope they last for the duration. But they probably won't.



Most Likely Candidates to Fall from the Top 10 This Year:



Ezekiel Elliott, DAL: I figured we could safely ignore any discussion of Zeke Elliott this preseason after his lengthy suspension was handed down from Commissioner Goodell. Then I started digging into ADPs, watched with my own two eyes as a league mate in our FFToday staff league grabbed him in the third round, and thought…what in the ever-loving deuce is going on around here? The third round? For a guy who will see his first game action in Week 8? What am I missing here, folks?

I suppose I can follow the logic. Le'Veon Bell missed four games last season and still ended up comfortably in the Top 10 (No.4 overall). Zeke is a very comparable talent playing behind a better offensive line. Ergo, he still has a very good chance of slipping into the RB penthouse despite an abbreviated seven or eight-game season. There's just one problem with this line of reasoning: No, he doesn't. Let's say, for the sake of argument, the Dallas meal ticket was able to average 20.7 points per game, what last year's No.1 RB, David Johnson, averaged. That puts him at roughly 207 total points on the season, just barely above the Top 10 Mendoza line in 2016. In other words, he needs to be at least as good as Johnson was last year to even have a legitimate chance of maintaining his Top 10 status in 2017.

I love this guy's skill set and, provided he keeps his nose clean, he'll be back to wrecking opposing defenses on a full-time basis in 2018. Just be very realistic about what he can and can't do for you this year. He can help you win a chip down the stretch. He can't make you competitive before Week 8 unless his suspension gets delayed so draft accordingly in larger leagues.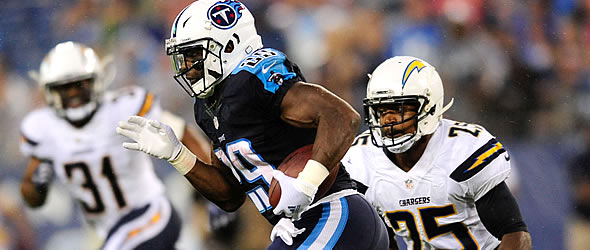 With Derrick Henry lurking and age creeping up, Murray's stay in the top ten may be short-lived.



DeMarco Murray, TEN: I love what the Titans have done to rebuild a once-proud franchise and am, frankly, surprised they did it so quickly, especially after retaining the uninspiring Mike Mularkey as head coach. I'm also surprised at how they did it, by installing a Stone Age offense (what Mularkey cryptically labeled "exotic smashmouth") with Space Age personnel (Marcus freaking Mariota!). Whatever it was worked as Tennessee ranked 11th overall in total offense, a marked improvement over the previous two years (29th and 30th in 2014 and 2015, respectively).

Murray was a huge part of that offensive renaissance in Nashville, rushing for almost 1,300 yards and nine scores (three more as a receiver), so there aren't many good reasons to think he couldn't reproduce those numbers in 2017. The offensive line is young and good, Mariota is a star in the making, and Murray is healthy, something you never take for granted at the position, as previously discussed. Nevertheless, there are a couple reasons to be pessimistic about him, even as the team rides a general wave of optimism.

First, Derrick Henry is lurking behind Murray on the depth chart. The former Heisman winner is younger, much bigger, and seems ideally suited for the role of goal-line TD vulture. He only carried the ball 110 times last year and I think he doubles that this year. Second, did I mention Mariota is a star in the making? The Titans went out and grabbed him three shiny new toys this offseason (Eric Decker, Corey Davis, and Taywan Taylor), two of them early in the draft. You don't draft wide receivers in the 1st and 3rd rounds of the draft so they can ride your bench. Murray's still valuable, but I suspect he'll be sharing Tennessee's newfound wealth more often in 2017.

LeGarrette Blount, PHI: The aforementioned Henry is actually the "one that got away" in our staff league draft, though I have nobody to blame but myself for that. Looking to add a more traditional ground-pounder/touchdown-creator to pair with my hybrid starters, Christian McCaffrey and Ty Montgomery, I opted to grab the more proven commodity, LeGarrette Blount, instead of the up-and-comer, Henry, I promised myself I'd bring home before the draft began. Oh, the pre-draft promises we make to ourselves, right?

This, of course, puts me in the awkward position of now explaining why I landed a guy I'm officially downgrading ahead of a guy I desperately wanted when both were available. In short, I was willing to secure more certainty at the cost of a lower ceiling and, since it was the 6th round, I felt I was coming away with a pretty good value either way. I don't have the draft report in front of me as I type this (I'm currently airborne on my way to a destination draft in Austin, TX), but I seem to remember the running back ranks being pretty thin at that stage. I definitely remember thinking, "Henry AND Blount are still around?" Yippee!

The latter's value has obviously been depressed by the fact he's no longer playing for Bill Belichick or with Tom Brady. Though I'm pretty confident he can reach double-digit touchdowns in Philly?especially since there's no Ryan Mathews to contend with in the Eagles' backfield?there ain't no way he's scoring 18 again. That is where most of his value lay in 2016. If we needed further proof there's no such thing as "indispensable" in Foxboro (unless your name is Brady), look no further than LeGarrette Blount. Oh, and good luck figuring out who replaces his production for the Pats this year.


Next: Wide Receivers