It's Week 3 of the NFL preseason, featuring so-called "dress rehearsal" games. As such, the once-cloudy picture of who we ought to be targeting in fantasy drafts starts to come into focus. If you're worried about some of the big names underperforming this year…well, you should be. They always do. The best way to ensure you're prepared for this inevitability, however, is to make sure you grab some guys who could end up being next summer's big names. Following are the list of guys I believe we'll all be talking about a year from now.

Note: All rankings are based on FFToday's default standard scoring.

A quick reminder of the Top 10 fantasy WRs from last season...





Wide Receivers Most Likely to Rise in 2017:



Dez Bryant, DAL: Maybe itís the number of games heís missed the last couple years (10), but there doesnít seem to be a lot of buzz surrounding Bryant this year. I guess thatís understandable (players canít help us if they donít actually play), but trying to avoid risk in fantasy football, specifically injury risk, is kinda like trying to avoid traffic during rush hour: not realistic. Football players get hurt because football is dangerous. End of story. All things being equal, we should be grabbing the most talented players we can grab when itís our turn to do so and Bryant is still one of the most talented players we can grab at the WR position. Heís also 100% healthy, which should scare opponents.

You only have to go back to the 2012 through 2014 seasons to see how dominant this current and former Cowboy (Okie State) can be. He ranked no worse than No.5 at the position those three years and was twice the third-best option (2012 and 2014). Thatís probably because he scored 41 touchdowns (!!!) over that time period. Bet you can guess how many wide receivers scored more. When Dez is healthy and playing with a legitimate battery mate, thereís basically no way youíre keeping him out of the Top 10. This just in: Dak Prescott is a legitimate battery mate.

The looming suspension of Ezekiel Elliott is another reason to get excited about Bryant this year. If Zeke loses his appeal, the Cowboys will be without their star meal ticket for half the fantasy season. Think that might lead to more targets for Dez? Even if they shorten it to four games, youíre still benefiting from a monthís worth of a Dez-centric Cowboys attack. Forget the matchup analysis (pessimistic) making the rounds. Heís too good.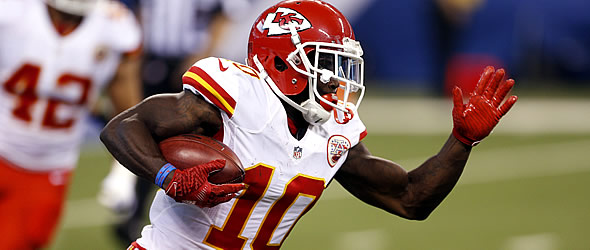 Increased usage plus elite quickness and speed makes Tyreek Hill a threat to crack the top ten in 2017.



Tyreek Hill, KC: This other Oklahoma State product was easily the most exciting player in the NFL last season, parlaying a part-time role in the Kansas City offense and a full-time role as the Chiefsí specialty teams ace into 140 total fantasy points, good for 15th overall at the WR position. Note that this doesnít even account for the three return TDs he scored (two punts and one kick), which may be bonus points for many fantasy owners, depending on the scoring system. And yet, there seem to be whispers heís actually overvalued heading into the 2017 season.

Most pundits are cautioning Hillís 2016 touchdown rate is unsustainable and, to be fair, theyíre probably right. He was only used on 40% of the Chiefsí offensive plays and scored nine touchdowns from scrimmage. Thatís insane. But wait! He was only used on 40% of the Chiefsí offensive plays??? Whatís gonna happen when that number approaches something closer to 70%, which it probably will now that Jeremy Maclin has moved on to Baltimore? I get the skepticism about his unsustainable TD rate. I get the skepticism about his size and the accompanying fear of injuries. I get the skepticism about his ability to be the focal point of an NFL passing game. I guess Iíd counter all that withÖhave you seen this guy run?

There isnít a faster/more explosive player than Hill in the league and the NFL is stocked with fast/explosive players. If anyone can figure out how to get the most out of this type of weapon, itís a guy like Andy Reid, whoís been doing it for a long, long time. Even if Coach Reid unplugs him as a kick returner and uses him judiciously on offense, Hill is guaranteed more touches this year. More touches = more points.

Terrelle Pryor, WAS: Like the aforementioned Ty Montgomery, it took a position switch in order for Pryor, once a star college quarterback, to come into his own as an NFL player. Last season, his first as a full-time starter at receiver, he managed to surpass even the wildest expectations by tallying over 1,000 yards, four TD receptions, and 132.8 fantasy points, good for 22rd overall at the position. He even managed to garner eight rushing attempts and play a little quarterback on the side. Like Montgomery, and some others on this list, what made the former Buckeye so intriguing was his ability to produce in so many different ways.

He wonít do that this year, unfortunately, but thatís not necessarily a bad thing. Washington doesnít need Pryor to play quarterback. They have Kirk Cousins for that. They donít need him to carry the football. They have a bevy of running backs (Rob Kelley, Samaje Perine, and Chris Thompson) to do that. What the ĎSkins need Pryor to do is replace the production of two guys, DeSean Jackson and Pierre GarÁon, who accounted for almost half the receptions/yards the team produced in 2016. Tall order, right?

Yes, it is and I donít think heís actually up for it. That doesnít mean he canít outperform his 2016 numbers and still fall short of now loftier expectations. Pryor is still new at this, after all, and will be playing with a new, albeit better, quarterback in an entirely different system. Nevertheless, heís got ideal size to be a matchup nightmare in the red zone and precocious ball-winning skills down the field. If Kirk Cousins loved throwing the ball vertically to the speedy Jackson, heís gonna love laying Ďem out for the speedy, and significantly larger, Pryor. Last year was no fluke. Grab him.



Next: Quarterbacks