It's Week 3 of the NFL preseason, featuring so-called "dress rehearsal" games. As such, the once-cloudy picture of who we ought to be targeting in fantasy drafts starts to come into focus. If you're worried about some of the big names underperforming this year…well, you should be. They always do. The best way to ensure you're prepared for this inevitability, however, is to make sure you grab some guys who could end up being next summer's big names. Following are the list of guys I believe we'll all be talking about a year from now.

Note: All rankings are based on FFToday's default standard scoring.

A quick reminder of the Top 10 fantasy QBs from last season...





Quarterbacks Most Likely to Rise in 2017:



Ben Roethlisberger, PIT: We already know Tom Terrific's taking somebody's Top 10 spot this coming season, so it seems like a waste of ink to talk about why. I'd rather talk about a guy who could easily have achieved Brady-esque success had he managed to stay just a little bit healthier in his 13 professional seasons. Big Ben came into the league in 2004, the same year Philip Rivers did. While he's been significantly more successful than Rivers (two Super Bowl rings), he's missed exactly 17 more starts since the start of the 2006 season. Making matters worse, those DNPs have been spread out over a lot of years, meaning he rarely plays a full 16-game slate. Naturally, this makes Roethlisberger difficult to trust.

If we can set that fragility aside, however (which sounds ridiculous to say about a 6'5", 241-pound man), it's hard not to see him as anything other than an attractive, possibly even undervalued, option at the position. For starters, he's been a Top 10 option before and as recently as 2014 (No.5). Additionally, he's been a Top 10 performer on a per-game basis in every season since 2013. Yes, you've gotta play enough games to actually be a Top 10 performer, but you get the idea: The upside is obviously there. While we're on the subject of upside….

Name me one quarterback in the league who has a more lethal assortment of pass catchers to target than Pittsburgh's super-sized triggerman. Antonio Brown is an All-Pro. Le'Veon Bell is the best receiving running back in the league. Martavis Bryant (provided he gets reinstated for good) is possibly even more explosive than either of them. Only another nagging injury is keeping Big Ben out of the top 10 in 2017, folks, so find a way to land him.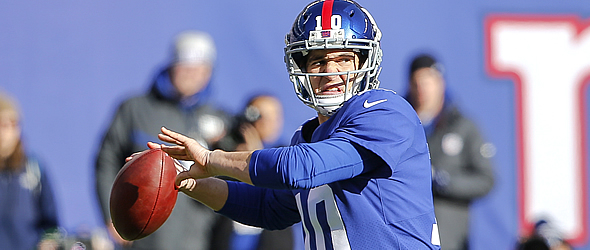 Eli dropped from the top 10 last season but an improved receiving corps could make him a reliable QB1.



Eli Manning, NYG: Turns out that 2004 class of quarterbacks was pretty solid, huh? Manning, the third (and last) great QB from that year's draft, has managed to combine Rivers' durability (no missed starts since Day 1) with Roethlisberger's on-field success (two Super Bowl rings). What has eluded him, however, is year-over-year consistency, especially from a fantasy perspective. While Rivers and Roethlisberger have averaged more than 20 points per game eight times each as professionals, Peyton's kid bro has only done so four times. Last year, in fact, he was just the 20th-ranked player at the position, barely worth starting in larger two-QB leagues.

So, why assume the 20th-ranked player can make a huge leap into the ranks of the elite signal callers? Well, like Roethlisberger, he's been there and done that. Like, recently. Manning was No.7 and No.8 at the position in 2015 and 2014, respectively. Though his first year in Ben McAdoo's offense was certainly marred by poor line play and too many turnovers, he still managed to post 4,000+ yards and 26 TDs, solid numbers that would have looked a lot more solid next to a couple hundred rushing yards and some rushing TDs. Problem was, Manning rushed for the fewest yards of any QB in 2016 (a career-worst -9) and zero scores. Yikes!

We probably can't expect huge gains in ground-based production as he's just not that mobile. Even a slight uptick there, however, and several more passing TDs would put Manning in contention for a return to the Top 10. I think the additions of Brandon Marshall and Evan Engram, two huge, talented red-zone targets, should be worth at least 8-10 more scoring strikes. He's already playing with the best receiver on the planet and a sophomore stud (Sterling Shepard), so…get back on the Eli bandwagon.

Marcus Mariota, TEN: Seems almost everyone's jumping on the Marcus Mariota bandwagon these days. The former Heisman winner showed lots of promise as a rookie in a bad offense, notching 21.2 points per game. Then, he showed vast improvement in his sophomore season, scoring the most fantasy points at the position from Weeks 5 through 12. If there's one thing that's held him back thus far, it's an inability to avoid injury. He missed four games in 2015 and another last year. Just one more game of 20+ points in 2016 (he averaged 21.7) would have guaranteed him a spot in the Top 10 and made this conversation moot.

Oddly, the one thing that could endanger Mariota again come 2017 is the one thing he needs to do, IMHO, to vault into the quarterbacking stratosphere: run the ball more. I never thought I'd say that about a guy who ruined collegiate defenses with uncommon quicks and terrific top-end speed, but the fact is he hasn't been the elite dual-threat we envisioned when Tennessee made him the second pick in the 2015 draft. Marcus seemed to realize this after last season's injury, making a conscious decision to drop weight and get faster this season, defying the advice of the Titans' shot callers. His logic? Nimbler, more elusive QBs don't get hit as much. I think it pays off to the tune of 500 rushing yards and two more running TDs this season.

Not that Mariota and Tennessee can't be successful employing last year's formula, tweaked to account for a significantly upgraded receiving corps. Eric Decker brings great size, great hands, and great experience to the position while Corey Davis, Taywan Taylor, and Jonnu Smith inject youth and athleticism. By ground or by air, Marcus becomes a Top 10 option this year.


Next: Running Backs