Every year, rest assured someone at some point during each your draft will utter some variation of the words "value pick." But what exactly is a value pick? What is value? Value is a relative term that changes based on public perception. When I consider value, I'm looking for a positive return on my investment. Just because a player has an a fourth round ADP and is still sitting there in the sixth round does not make him good value. At the same time, taking a player a round or two above his ADP is not necessarily bad value. Again, everything is relative. My goal in every pick I make is to take a player I believe will have a higher ADP the following season. Last season, Melvin Gordon had a fifth round ADP. This year, he has a first round ADP. Gordon gave owners one hell of a positive return on investment. On the flip side, Brandon Marshall had a second round ADP. This year, he has a sixth round ADP. That's the type of pick we all hope to avoid.
Let's take a look at which QBs I expect to outperform their ADPs and which I expect to fail.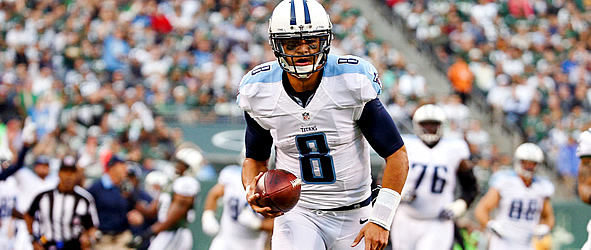 Tennessee drafted 2 WRs and signed Eric Decker. It's time to get on board the Marcus Mariota train.
Undervalued
Marcus Mariota, Titans
ADP: 9.06, QB12
The case for Mariota being undervalued: He's arguably the best young quarterback in the league on a rising offense and complements his passing numbers with steady rushing numbers.
The case against Mariota being undervalued: The Titans are a run first, run second team, forcing Mariota to rely on efficiency over volume.
Verdict: I love Marcus Mariota. However, I was completely not a believer of him coming out of Oregon. I thought he would be a low-end NFL starter or strong backup. Oops.
I currently have Mariota ranked as my QB5 and I can't figure out why he's going as the QB12. He's being drafted behind all three of the QBs in the "overvalued" portion of this article. Why do we typically draft players like Aaron Rodgers, Tom Brady, and Drew Brees well before the rest of the quarterbacks? It's because they have years of elite production with overall QB1 upside and week winning capabilities. If you choose to pass on one of them, how about taking a player with that same QB1 value and week winning upside in the ninth round? From Week 5 to Week 12 last year, Mariota was the number one fantasy scorer at the position. If you recall, the Titans' coaching staff made the mindboggling decision to push Andre Johnson and Tajae Sharpe early in the season despite a superior Rishard Matthews being on the roster. In Week 7, the Titans unleashed Matthews and he rewarded them handsomely down the stretch. In addition, the Titans drafted the best WR of the 2017 class (Corey Davis) along with one of the most underrated talents (Taywan Taylor) and, oh yeah, they signed some player named Eric Decker. The Titans are a team trending upward.
Mariota may not get the volume of other QBs, but the Titans should be in scoring position more often this season and Mariota has the skills and talent to take advantage and improve upon last year's performance.
Dak Prescott, Cowboys
ADP: 11.02, QB15
The case for Prescott being undervalued: He burst onto the scene as a fourth round rookie and only stands to improve in year two.
The case against Prescott being undervalued: The Cowboys' offense runs through Ezekiel Elliott with Prescott being used as a game manager.
Verdict: He's the QB15 right now according to ADP. He was the QB10 by average fantasy points per game last season. At worst, he will be a low-end QB1 this year.
Prescott got off to a slow start in 2016 which makes sense, given that he was a rookie thrust into a starting role. He didn't throw his first touchdown until Week 3, but once he did, it was all systems go. He threw or rushed for a touchdown in every game thereafter, including multiple touchdowns in each of his next nine games. He's also very effective on the ground, usually good to tack on a fantasy point or two per game based on rushing alone. Prescott protects the ball, throwing just four interceptions as a rookie. And he did all of this without Dez Bryant for roughly half the season and with Bryant being clearly hindered by injury when he returned. The Cowboys faced the easiest schedule in the NFL in 2016. This year, they now have the most difficult. That actually serves to benefit Prescott because he will be in situations where he has to throw more. His efficiency may take a hit, but the volume should increase. The start of the season is tough (NYG, @DEN, @ARI), but once you get past Week 3, eight of the next 10 matchups are against pass defenses that shouldn't provide much resistance. Prescott is the perfect "wait on a QB" option.
Tyrod Taylor, Bills
ADP: 12.04, QB18
The case for Taylor being undervalued: Taylor is being drafted a full ten spots lower than where he finished in 2016.
The case against Taylor being undervalued: There is no case against him being undervalued – it's just a fact – he can have a terrible year and still meet his current ADP.
Verdict: What is going on here? Taylor was the QB16 in 2015 and then the QB8 in 2016 (ESPN scoring). His rushing totals in his two years as a starter: 568 and 580. In four point passing TD leagues, the man essentially provides an extra touchdown per week via his rushing yards. He's not going to chuck the ball 50-plus times and throw for 400 yards. But he's usually good for 200 yards passing, about 40 rushing yards, and a touchdown or two. His weekly floor is high and while he won't win you many weeks, he will rarely be the reason you lose. I recently heard a stat about Taylor: over the past two seasons, Taylor leads the league in top 15 weekly finishes. I realize that top 12 is what we're looking for, but for comparison purposes, the QB15 averaged just 0.5 fewer points than the QB12 in 2015 and just 0.6 fewer points in 2016. Essentially, Taylor has been a high floor QB1 for the entirety of his starting career, yet he's being treated as if he's a weekly streaming option, at best. There's just no realistic scenario where he doesn't out-produce his ADP.
Overvalued
Derek Carr, Raiders
ADP: 7.04, QB6
The case for Carr being overvalued: He was the QB11 last year and any improvement is built into his price.
The case against Carr being overvalued: He's been a good real life QB and perhaps that will translate into more fantasy success.
Verdict: Yet another ADP that makes no sense. Derek Carr is being drafted ahead of the likes of Russell Wilson, Kirk Cousins, and Marcus Mariota. Why is the fantasy community so enamored with Carr? Both Wilson and Mariota supplement their passing numbers with rushing numbers. Carr is a literal zero in the rushing department. His 63.7 completion percentage ranked 17th. His 48.9 red zone completion percentage ranked 25th. He completed 34% of his passes under pressure, which was 13th. By all accounts, Carr has been a slightly above average QB. He threw 28 touchdowns last year in 15 games. In just under half of those games (7), he threw for one or zero scores. Other than his Week 11 game against Houston last year, all of his big games came against weaker pass defenses. Carr is a matchup dependent option on a team that just brought Marshawn Lynch out of retirement so they can run the ball more. At QB6 you are paying for Carr's ceiling. At best, you will get par value for your pick. At worst, you've wasted a 7th round pick on a player and likely could've chosen a more productive QB five rounds later.
Ben Roethlisberger, Steelers
ADP: 8.09, QB8
The case for Roethlisberger being overvalued: The man is a very old 35 and injuries appear to be catching up with him.
The case against Roethlisberger being overvalued: With a full off-season to get his body right, he can potentially return to 2015 glory.
Verdict: I understand Big Ben's ADP. He's been around the block and has a track record. There are no doubts about his talent and ability to produce elite QB1 numbers in the right conditions. Here's the problem: he really did look old last season. The variety and amount of injuries Roethlisberger has suffered is considerable. I have little doubt that he was quite serious about retirement this past off-season and I believe 2017 will be his final season. He was the QB9 in 2016 so his draft position amongst QBs isn't unreasonable. He just doesn't present enough of an upgrade over a number of quarterbacks going after him. You can get the same, if not better production in the double digit rounds. And let's not forget how poorly Roethlisberger was on the road last season. He threw 29 touchdowns last season and 9 of them came in back-to-back weeks at home against the Chiefs and the Jets. He also had three games with zero touchdowns and another three games with one touchdown. Aside from Week 1 at Washington and Week 12 at Indianapolis, Roethlisberger was just plain bad on the road. He had 20 TDs against five interceptions as home with 9 TDs against 8 interceptions on the road. If you're going to have a QB you can use half the time, there's no reason to spend a mid-round pick on him.
Cam Newton, Panthers
ADP: 9.02, QB10
The case for Newton being overvalued: He's coming off his worst season as a pro and Ron Rivera wants to scale back Newton's rushing.
The case against Newton being overvalued: He's just a year removed from being the top fantasy quarterback.
Verdict: Cam Newton seems indifferent about football and I wouldn't be surprised to see him retire by 2020. Newton posted career lows in completion percentage (52.9%) and rushing yards (359) last season. He threw 19 touchdowns against 14 interceptions. He finished as the QB14, which was the first non-QB1 finish of his career. In the off-season, the team drafted Christian McCaffrey and Curtis Samuel, two players who are likely to be more involved in the run game and short passing game. Mobile quarterbacks tend to use their legs in lieu of dump-offs and short passes. If Newton runs less and has his goal line carries are scaled back, his fantasy value will suffer. His 35 passing TDs in 2015 appears to be an outlier. Even if he combines for 25-28 rushing and passing scores, without the rushing yards to supplement his stats, he's not going to be a QB1. Let's give him 3,500 passing yards, 20 passing TDs, and five rushing TDs. That would give him a total of 250 fantasy points, not accounting for turnovers. Last year, 250 fantasy points would've been the QB19. If he adds 500 yards rushing, he will vault into the top six at the position. Cut the rushing yards in half and at best you're getting a low-end QB1. It all comes down to value over replacement and once again you can find a quarterback with similar production in the double digit rounds. There's no advantage to be had by drafting Newton early in Round 9.