Pick 1.10
8/13/11
This is the third mock draft in a series of four organized by FF Toolbox. You can read how the first two shook out, here and here.

We are using flex lineups, starting 1 QB, 2 RBs, 3 WRs, 1 TE, 1 RB/WR/TE, 1 K, and 1 DEF. The scoring is standard performance plus one point per reception, for all positions. There are 12 teams.
This draft started on Monday July 25th, just prior to the start of free agency, so it definitely had a wild west feel to it with news breaking rapidly and hopes that my picks landed on the right side of fluctuating player value. I've added some follow-up notes to my player commentary where appropriate.
For some time now I've felt there are two kinds of fantasy owners in terms of how they draft their team. One group of drafters are talent evaluators, putting a lot of emphasis on ranking players and opining Player X is better than Player Y who is better than Player Z for reasons A, B and C. Just look at his burst, pad level, hands, mechanics and all that scout-speak. Talent evaluators are very passionate about their player rankings.
The second group is what I like to call the value drafters. Value drafters don't put as much emphasis on evaluating each player's pure skill and working up black and white rankings, but they can sure spot a bargain when they see one. The rankings are more fluid, with players of roughly equal skill level and roughly equal opportunity expected to produce roughly equal results grouped together.
The best fantasy players are going to wear both hats – talent evaluator and value drafter. If we consider both skill sets on a spectrum, most of us are going to naturally lean more one way then the other.
I'm in the value drafter camp. I watch football and look for that wow factor from players, to disseminate the next potential elite level players from the average Joes. My better skill, however, is weighing a player's upside and downside, understanding I'm not overpaying with my available draft pick and adding the most positive value to my team.
All that said, (I know, I know, get to the picks already MacGregor), I admitted on Tony Ricciardi's podcast that I was "screwing around" a little in this mock draft. I thought before the draft started, you know, why not take a QB really early and see what happens? I waited until the third round, but still, I wouldn't normally do that.
I also drafted a handful of players I wouldn't normally give much if any consideration for. Rounds two through six fell victim to this, short of the Philip Rivers pick in the third. Why? I don't know. Like I said, I was screwing around a bit.
This team still looks pretty decent to me. The WR position is weak after Hakeem Nicks and Anquan Boldin and that is a concern. The news of the Bears adding Roy Williams came after the drafting of Johnny Knox, so that hasn't helped. All in all, this isn't shaped like a team I would normally draft, so you can take it one of two ways.
If you like the team, try to make yourself a better value drafter, learning to give consideration to some players you wouldn't normally draft.


If you don't like the team, then take from this a lesson to not, "screw around" when drafting.
Either way, I hope you enjoy the read.
A bit of a toss-up here between Hakeem Nicks and RB Maurice Jones-Drew. In fact, Mike Krueger and I were near simultaneously emailing the first pick in for Team FF Today with Mike Krueger saying MJD and me with Nicks. My choice made it in by a hair. With recent news about MJD's knee recovery not being as rosy as I'd like to hear, I'll go with Nicks who has tremendous potential entering his third season. My big debate with him is whether to put him at the bottom of Tier 1 or top of Tier 2 amongst WRs.
Forte is not the most talented guy in the world, but he gets the most out of what he brings to the table. He is an excellent pass catcher and couldn't be in a better system for that, adding 50-500-3 on the receiving side to his 1,000-6 on the ground last season. Forte is an unheralded but solid and safe option, especially in PPR leagues.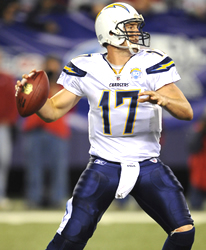 If you're going to take a QB early, Rivers is a good gamble.
I was very tempted to take a QB in the 1st or 2nd round and make this my "let's take a QB early and see what happens" mock. Well, I couldn't bring myself to do it, but I'll grab Rivers here and see what it costs me at RB or WR down the line.
Note that I bypassed on both Drew Brees and Peyton Manning to take Rivers. I could take either Rivers or Tom Brady and be equally happy. I'm a little edgy about the negatives associated with Brees (Marques Colston's knee, logged a ton of passes) and Manning (neck, logged a ton of passes). Maybe the concerns aren't big enough to separate these four by a full tier, but if I'm taking QB and have some options, I'm going to utilize my preferences. Ideally, you can let four or five QBs go off the board and then nab Rivers or Brady.
There are some really good RB choices at this spot – Best, Ahmad Bradshaw, Shonn Greene and Felix Jones – but if I pass all of them for another position, I don't expect any to make it back to me. I'll grab Best based on upside and hope the Lions' offensive potential we've been talking about for a few years now finally finds its stride in 2011.
[Follow-up: News of Mikel Leshoure's torn Achilles' tendon happened well after this pick, and in fact, soon after the entire mock draft finished. On the surface this is a plus for Best with less competition, but he's still going to need someone to handle a decent portion of the carries. Only if the Lions can keep Best fresh and healthy can we expect to get the most out of him fantasy-wise, not unlike Jamaal Charles last season coming off the bench behind Thomas Jones.]
This one should play out one of two ways. One, Boldin earns heavy targets and receptions because he is the only reliable receiver on the roster, or two, he gets extra attention from defenders because the other receivers are no threat, and Boldin struggles as a result. I'm going to take a stab at the former. I'd like to see Boldin's receptions back over 80 in his second year working with Joe Flacco, and now a thin receiving corps behind him. The Ravens released Derrick Mason and Todd Heap, so Flacco and Boldin need to be on the same page early and often or this offense could go south quickly.
It seems like the Devin Hester as a WR experiment is at an end, or at least, has hit its ceiling. There are rumblings about Earl Bennett having a bigger role in the offense, yet he remains the WR3 on the Bears' depth chart. The team brought in Roy Williams, a signing that happened after this draft pick, but the one player who just keeps chugging along as a reliable option for Jay Cutler is Johnny Knox. Knox had modest reception totals through his first two seasons – 45 and 51 – but nearly topped 1,000 yards last season with 5 TD. Entering just his third season, and perhaps with the help of Williams stretching the field opposite him, Knox seems to be in a good position to elevate his fantasy output.
[Follow-up: This commentary was written soon after the pick was made in July. There has since been news out of Bears camp that Hester will start with Knox and Williams competing for the other starting spot, with Williams the favorite. Bennett is locked in as the slot receiver. The Knox pick looks terrible at this point if that news is accurate.]
7.10 - RB BenJarvus Green-Ellis, NE
I still need a starting TE but would rather bolster depth at RB and WR with some decent, yet dwindling, choices at each position. Green-Ellis had a good season last year, yet is understandably going to be overlooked based on how the Pats use their RBs. He should continue to get the bulk of the carries in this high-powered offense, and for that he makes a nice add as a third RB.
I don't entirely agree with the high projections for Amendola courtesy of FF Today's Mike Krueger, but he sticks out like a sore thumb on my Cheatsheet Compiler & Draft Buddy so I'm compelled to take him just in case. He is expected to be a high-catch receiver, ideal for a PPR format league. This pick occurred prior to the Mike Sims-Walker signing by the Rams.
I actually prefer Aaron Hernandez athletically and as a long-term fantasy option at the TE position, but I can't disrespect what Gronkowski accomplished last year. The guy was more of a complete package at TE, and the Pats used that to their advantage getting him on the field a lot more. Most importantly, Tom Brady loved him in the red zone to the tune of 10 TDs. I didn't divulge this at the time, but my plan is to draft both Gronk and Hernandez since this is a Draft Masters format and I don't have to choose which to start each week. Gronk should be the first TE off the board between the two, so I'll start with him.
10.03 - TE Aaron Hernandez, NE
This strategy nabbing both Gronkowski and Hernandez might have been more difficult to pull off if I didn't have a draft pick close to the turn. I expect the combined production of the Pats' TE duo to outperform the cost of a late ninth and early tenth round pick. Hernandez will probably be more inconsistent between the two, but could be in line for some of the bigger games overall given his more natural receiving skills and athletic ability. Hopefully he's worked on becoming a better all around player so it isn't so obvious to opposing defenses the team is passing when he is on the field.
With Philip Rivers in tow, I could afford to wait a little longer on my second QB, but I'm still pretty happy to get Sanchez as the 23rd QB off the board. Here is a guy with zero job security issues, on a top contending (although admittedly rushing and defensive focused) team, entering his third season with pretty decent receiving options. I'm not that thrilled with the Plaxico Burress addition over Braylon Edwards, news that broke after this selection, but I still think Sanchez outscores at least a half dozen of the QBs drafted in front of him.
[Follow-up: The team since added Derrick Mason to replace Jerricho Cotchery, a plus for Sanchez.]
12.03 - RB Rashad Jennings, JAC
With concerns about Maurice Jones-Drew's knee, Jennings is one of my key later round draft targets this year. Even if MJD turns out to be healthy, Jennings can still be a decent contributor in this league format. He had some solid games last season late in the year, even on limited carries and catches. I expect the Jaguars to be one of the better running teams in the league as they invested heavily in the offensive line in recent years.
I never do this, but this mock has seen me do a few things I rarely or never do, so let's keep that theme rolling with the first defense off the board. I can see the argument for taking a top defense. I can see the argument for waiting and waiting. The Packers have an impressive young corps of players, offensive and defensive, which should help them continue to earn strong fantasy points in their quest for back-to-back championships.
This pick sponsored by Matt Waldman's Rookie Scouting Portfolio blog. A long shot, sure, but I'm going for a young upside pick here and Decker fits the bill.
I had Tony Moeaki and then Montario Hardesty pre-drafted. They slid a while and then got scooped just before this turn. I'm not in love with this pick but I'll take the insurance on Forte.
[Follow-up: No matter how much you buy in to Decker as a viable WR5 option, this team is weak at WR right now. I didn't really want to draft Barber but the pick made some sense to handcuff Forte and the WR options were not good from here on. This isn't surprising for a PPR league, so consider it a reminder to invest in WR early.]