Who is fantasy football's number two wide receiver?

7/16/12



If there is a ranking on the internet that doesn't have Calvin Johnson listed as the No. 1 WR, I'd like to see it. While I consider myself fairly open-minded and try to never speak in absolutes when discussing fantasy football, there isn't any legitimate argument against ranking Megatron atop the list of fantasy WRs for 2012. Yes, I know he was chosen as the cover boy for Madden 13, but do we really want to stoop to believing in video game curses?

The question then becomes "Who is the No. 2 ranked WR?", which is more difficult to answer. My belief is that there isn't any real consensus on the Top 5 WR rankings across various sites or magazines. I will attempt to make the case for the No. 2 spot based on my individual projections and beliefs while taking all risk into consideration. Please be aware that these rankings are done with PPR scoring in mind, based on my predictions as to how they will finish. When drafting, ADP should come into play of course, but sometimes you do need to take your guy while you can, or you may miss out.

Let the countdown begin.

No. 5 – Hakeem Nicks, New York Giants

Pros: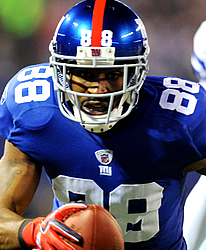 Injury risk knocks Hakeem Nicks out of the running for Number 2.
Great start to his career
Over the last two seasons—his second and third in the league—Nicks has averaged 77.5 receptions for 1,122 yards and 9 touchdowns despite missing four full games. Those two seasons came after a fairly productive rookie campaign where he showed plenty of promise in a more limited role. This will be Nicks' fourth year in the league and he's certainly capable of improving upon his previous seasons.
You can't spell "elite" without "E-L-I"

Eli Manning famously declared himself an "elite" quarterback, in the same tier as a Tom Brady, on a local New York radio broadcast in September, and then spent the 2012 season backing up those claims. Manning has thrown for over 4,000 yards in each of his last three years, including a career-high 4,933 yards last season. The offense in New York now belongs to the younger Manning brother, and he has shown to be more than capable of supporting elite fantasy WRs. In addition to Nicks, receivers Steve Smith, Plaxico Burress, and Victor Cruz have all put up productive seasons with Manning.
Less mouths to feed
Gone are tight end Jake Ballard and wide receiver Mario Manningham, who combined for 1,127 yards and 8 touchdowns in 2011. The Giants signed former Dallas Cowboy tight end Marcellus Bennett to replace Ballard, but Bennett showed up to offseason workouts weighing 290 pounds and has been a career under-achiever to date. The Giants will look to replace Manningham with veterans Domenik Hixon, Ramses Barden, Jerrel Jernigan, and rookie Rueben Randle. None of these guys look capable of matching Manningham on a talent level; and rookies, as we know, can take some time to develop. Expect Manning to lean even more heavily on Nicks and second-year wide receiver Victor Cruz in 2012.
Cons:
Speaking of Cruz

Nicks wasn't even the most productive fantasy WR on his own team last season, as second-year phenom Victor Cruz caught 82 passes for 1,536 yards and 9 touchdowns. However, bear in mind that Nicks went for over 100 yards in three of the four playoff games for the Giants last season, re-establishing himself as the dominant wide receiver in this offense. Nevertheless, Cruz was a playmaker for the Giants last season as well, so he'll remain a major part of the game plan. Many experts will have Cruz ranked ahead of Nicks, which needs to be taken into consideration if you have to choose between the two of them.
Injuries
Nicks has missed six games during his first three seasons in the league and always seems to be banged up. In fact he broke a bone in his foot in late May and will miss a good portion of training camp. He is expected back in time for the regular season, however. Personally, I've always been an opponent of the "injury prone" label, as I believe any player can get hurt at any time. But there is a track record here. If Nicks' foot takes more time to heal than expected, he should obviously drop off this list and be replaced by one of the honorable mentions listed below.
Verdict: I realize there is a risk in taking Nicks when there will be safer options on the board, so while he's surely capable of finishing as the No. 2 WR when all is said and done, I can't suggest taking him as the second WR off the board—but with an early third-round ADP, you won't have to anyway.
Pros: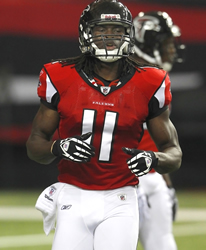 Julio Jones: A star on the rise.
Rookie season even better than it looks
Jones had a very productive rookie season by any measure (54-959-8), and that was through only 13 games. He also left Week 5 after one quarter and after catching only one pass. And he was held without a catch in his first week back after missing the tenth game of the season. Just prorating for the three games Jones missed, though, his rookie season could have been 66-1,180-10 if he hadn't missed any time. He improved as the season went on, as well, instead of hitting the rookie wall. He caught 20 balls for 393 yards and 6 touchdowns in the last four weeks of the season. Wow!
May typically face No. 2 cornerbacks
Roddy White will likely still get the respect of opposing defenses and draw the No. 1 cornerback from those teams—at least early in the season. White is still a top-level receiver in his own right, but even he admits that his targets will decrease in 2012 as Jones' role grows. With White and veteran tight end Tony Gonzalez in the mix, any "too many mouths to feed" issues will be offset by the veterans drawing coverage away from Jones and opening up space. Jones has shown big-play ability, having averaged 17.8 ypc in his rookie season.
New pass-heavy offense is expected
New offensive coordinator Dirk Koetter has promised a more up-tempo passing offense for the Falcons in 2012, even promising to go with a no-huddle at times. Quarterback Matt Ryan can handle that tempo and has the confidence to produce under those circumstances. The team has vowed to move away from the offense that featured Michael Turner and instead feature the passing game. With a very good, young quarterback, the offense should be able to support two Top 10 fantasy WRs—and Jones, who was awarded the MVP of mini-camp, should be featured prominently.
Cons:
Sophomore slump?
Jones may have taken some defensive coordinators by surprise last season, and teams will be able to game plan for him more with a full season's worth of film. There's always the chance that last year's success along with all the offseason accolades could make Jones complacent heading into 2012. I wouldn't anticipate any of the preceding having any kind of major impact, but it needs to be mentioned if we want to present all angles.
Verdict: Jones' size and speed is a deadly combo and the sky is the limit for this kid, but with "safer" options on the table (i.e. consistent producers), can you really grab Jones as the next WR right after Calvin goes off the board?
No. 3 – Andre Johnson, Houston
Pros: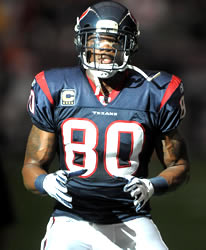 Andre Johnson is the lone receiving target in a run-first offense.
Top 10 WR in three out of the last four seasons
Andre Johnson played in only seven games in 2011 but earned a Top 10 finish in 2008 (No. 2), 2009 (No. 1), and despite missing three games, 2010 (No. 9). Johnson has been a beast and a consistent fantasy performer. In the three-year span preceding last season, he averaged 100 receptions, 1,453 yards, and 8.3 touchdowns per season. That type of production should not be taken lightly. His disappointing 2011, due to injury, has likely soured some owners on the former Hurricane, but don't forget that Johnson came back strong in the playoffs for the Texans, catching 13 balls for 201 yards and a touchdown through his two games.
The only game in town
Houston's offense has become run heavy in featuring Arian Foster, but when they do throw, the plan is to get the ball to Andre Johnson. Houston has failed to find an impact wide receiver to line up opposite Johnson for a long time. Big-bodied Kevin Walter has held onto the job—as he's a hard worker, solid blocker, and sure handed—but he isn't going to make Matt Shaub forget about No. 80 anytime soon. Houston drafted a couple of rookie wideouts this offseason and is hoping second-year receiver Lestar Jean can step up his game, but don't think for a minute that anyone will be stealing targets from Johnson when he's on the field.
Cons:
Injuries have been an issue
People will point to Johnson's age and recent injury history as negative factors, so I will list them as "cons" in order to give the full picture. Johnson turned 31 on July 11th (Happy Birthday, Andre!), passing the dreaded 30-year-old barrier that some owners place great stock in. He's also missed 12 games over the last two seasons and has a reputation for being a slow healer. These attributes may knock Johnson down a few spots on draft day, and it will be up to the individual to determine how risk-averse they wish to be when on the clock.
Verdict: Have you seen his three-year average during his last three healthy seasons? He's a guy you want on your team. 31 is not old for a wide receiver, and injury histories can be overblown in fantasy circles. He's one of the few WRs that legitimately has a shot to knock Calvin down a peg in the final rankings after this season plays out.
No. 2 – Brandon Marshall, Chicago
Pros: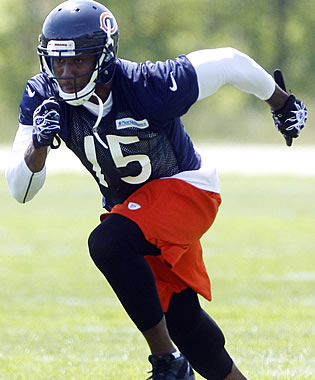 Sparks will fly in Chicago now that Brandon Marshall is reunited with QB Jay Cutler.
Reunited and it feels so good

In his last two seasons after being traded to Miami, Brandon Marshall fell from a perennial 100-catch receiver to averaging "only" 83 receptions per year. Burdened by less than stellar quarterback play, he also scored only 9 touchdowns over his last two seasons with Miami. In his three previous years with Jay Cutler, however, Marshall had 307 receptions and 23 touchdowns. Now that Marshall has been reunited with his former quarterback, expect the big numbers he put up earlier in his career. His talent level has not decreased...and neither has Cutler's, after all.
NFC North = No Pass Defenses
Green Bay, Minnesota and Detroit were the 32nd-, 26th- and 22nd-ranked pass defenses in the NFL last season, respectively, and miraculous turnarounds should not be expected. Chicago and Marshall will match up five times against these teams this fantasy season (the second Detroit game will be in Week 17), including twice during what will be most leagues' fantasy playoffs: Week 14 at Minnesota, and home to Green Bay in Week 15. Anyone upset about that?
The Bears are dying for a stud wide receiver
The Bears have not produced a 1000-yard receiver since Marty Booker back in 2002. That's 10 years. In the new passing era of the NFL, the Bears need a go-to wide receiver, and they went out and acquired Marshall to be the guy.
Cons:
Marshall is a knucklehead
Marshall's time in the NFL has seen him make as much news off the field as on it. His list of transgressions is too long to even list, but they range from being a disruptive force in practices to alleged domestic assaults. There's a reason the talented and productive Marshall is already on his third NFL team at only 28 years of age.
New Team
Some wide receivers have struggled transitioning to a new team, which may cause some owners pause. However, Marshall was able to catch 86 balls his first season with Miami, and as previously stated, he already has a good rapport with Jay Cutler. I'll list it as a con, but it shouldn't really be a major concern.
Verdict: We're talking about a redraft here, so the knucklehead factor isn't as daunting, as Marshall should be on good behavior in his first season with a new team. In his last three seasons playing with Jay Cutler, Marshall caught 101, 104, and 102 balls, so you know he's going to see a good share of targets in Chicago. His floor is his last two seasons in Miami, which weren't bad at all; but I'm conservatively projecting 98 receptions for 1,295 yards and 9 touchdowns for this season, which would put him behind only Calvin Johnson at season's end.
Honorable Mentions:
Marques Colston, Roddy White, Wes Welker, Larry Fitzgerald and Victor Cruz.