Quarterly Stock Report




10/8/09



Aggressiveness is a characteristic that tends to reward fantasy owners more times than not. In the NFL, an offensive line will sometimes hold up long enough to give the quarterback enough time to beat man coverage down the field and make the defense look foolish against a fierce pass rush. More often than not, though, when a defense brings the heat and forces the action, crisis management becomes the name of the game for the opposing team.

In that same vein, I hope to apply that same kind of pressure to the owners in all of my leagues by beating my opponents to the punch in regards to personnel moves. Sometimes, reaching a conclusion about a player too quickly is much like trying to blitz Peyton Manning – dangerous and painful. However, coming to a correct conclusion two weeks or two minutes quicker than your opponents is considered foresight. Fantasy owners can be a uneasy lot, knowing that one two-or-three-game losing streak can wreak irreparable damage to his/her team's chances to make a visit to the fantasy postseason. But just as it is in the NFL and in life, it's hard to land the big prize by playing scared. Thus, I will strive each week to help each of you become a smart blitzer, so to speak.
---
NFL coaches are fond of saying how they like to break down the regular season into four four-game segments. At the end of each quarter, they not only like to be at least .500, but also to have a fair gauge on what players are going to carry the team's momentum into the next part of the season.

Except in some rare cases, only two fantasy teams per league get a chance to play 16 games in a season. Still, I buy into the methodology of taking the pulse of your fantasy team after four games. By now, some trends are starting to emerge, players are in regular-season shape and owners can get a pretty good sense of where their team's strengths and weaknesses lie. As a result, trading at this point of the season doesn't seem as rushed or cutting bait with an unproductive player doesn't seem as hasty.

Much as I suggest in my open each week, I'm an aggressive owner, one who trusts his preseason ranking of players well into the season, all while putting a fair amount of weight into what has transpired so far. I typically don't wait until Week 4 to trade because I feel I am reasonably sure about a player's prospects before then, especially if his early-season production is matching up with what I forecasted for him in July and August. (Certainly, as we enter into the back end of the second quarter of the season, what a player is doing in that season becomes more and more important than my preseason rank or analysis of that player.) My belief is that while the risk of a player letting you down is higher with a small sample size early in the season, the reward for buying low is worth the chance. For example, the time to grab someone like Donovan McNabb, Tom Brady or Andre Johnson at a slightly discounted rate is running out.

Quite often, fantasy sports - football in particular - is compared to the stock market. While it is highly unlikely that any player will take off like a tech stock in the late 90s and earlier part of this decade, some players provide incredible return to their investors in a short amount of time. But while some stocks are built for the long haul, others will come crashing back down quickly. As easy as it is to sell low, almost no owner wants to sell high (despite advising others to do so) and deal a player performing at the highest level for fear they will miss out on a historic season and look foolish in the process. And it makes some common sense, but not good investment sense. No one likes to part with the next big thing, but think about it...if a $15 stock is performing at the level of a $50 stock, do you really believe that stock will continue on to $100? It might, but history suggests it won't barring a perfect storm of events. And if that same stock holds steady at the $50 level and you were able to re-invest in two more stable $25 stocks, didn't you do yourself a favor? Like investing, fantasy sports can often be won by diversifying your portfolio, in other words, spreading the risk and reward in equal parts over your entire team instead of counting on Adrian Peterson or Drew Brees to carry your team each week.

On the other side of the spectrum, other players' value tanks so quickly that owners can't get out fast enough, almost to the point where they are forced to hold onto that investment in hopes that the disappointing player can regain some value before the end of the fiscal year. But using that same $15 stock mentioned above, is it worth giving up on when that same stock is performing at a $2 level? If it can rebound to $10 by the end of the year, the answer is probably no.

Seeing as how the investment year is broken down into quarters - just as coaches break down the season - now seems as good of time as any to conduct a quarterly stock report. Which skyrocketing stocks are destined to fall? Which underperforming ones will rise? Who are some of the best buy-low and sell-high players? Let's take a look...

Stocks Destined To Lose Value Quickly

Without a doubt, the "new Steve Smith" is the surprise player of the year so far. It's not as if we didn't expect career numbers out of the former USC standout, it's more that we didn't expect him to reach those totals by Week 6. As Eli Manning's security blanket in 2008, Smith was destined to produce this season as long as he could convince his QB that he was the same reliable route-runner he has been for well over a year now. So why will his stock take a tumble? Besides history suggesting that no one can maintain the pace he has set (136 catches for 1,644 yards and 16 TDs), take a look at the G-Men's schedule to date. Tampa Bay (3rd), Kansas City (5th) and Dallas (7th) are amongst the friendliest teams when it comes to defending fantasy WRs. Something tells me that Oakland (20th) and New Orleans (21st) will have a little more luck in keeping Smith in check over the next two weeks, not to mention the Eagles (17th) and possibly the Chargers (25th) in the two weeks leading up to the Giants' Week 10 bye. Even if his current 34-411-4 year-to-date line leads to a 90-catch, 1,200-yard, 10-TD season - mind-boggling totals for a Giants' WR - it means he will catch no more than 56 balls for just under 800 yards and six scores over the final 12 games. Now while those numbers are still great for a player drafted as a WR3-WR4 in the later rounds, why accept those numbers when you may be able to trade Smith as part of a deal to land a proven WR1 like Andre Johnson, who is about to embark on a fairly user-friendly fantasy schedule the rest of the way (more on that later) and is a pretty good bet to log about 80 catches and 1,000 yards over the final 12 games.

Believe it or not, I was ready to place Smith in this category even before Eli Manning was diagnosed with plantar fascitis, but his injury is not good news for the Giants' passing game. Plantar fascitis is not only a painful injury, but one that continues to baffle doctors in terms of how best to treat it; therefore, I don't like Manning's chances of making it through another full season in 2009, let alone taking every snap. He's already proven his toughness, but these types of injuries are not ones that a player can just "man up" and "tough it out". Basketball players diagnosed with this injury often are quite limited in their performance for the entire season and the fact that the injury is on Manning's right foot is even worse. HC Tom Coughlin suggested on Monday that he just aggravated a prior injury, but I'm not buying the low-key approach. The fact there was significant pain and swelling on a non-contact injury such as that one sure sends up a red flag. While David Carr is no longer in Houston and is a capable NFL QB2, he would be an obvious downgrade to Manning.

Jones is one of the few backs in today's game that has much of his team's backfield workload in his hands. As good as he has looked in two home games, he has been equally unproductive in two road games. Combine that with the continued erosion of the Seahawks' offensive line (Walter Jones - knee, Sean Locklear - ankle, Rob Sims – ankle – all of which are likely out until sometime in November) and there is reason to believe that Seattle may struggle to open holes for Jones or keep QB Matt Hasselbeck healthy enough to play out the schedule. At the very least, Jones is very likely to have more down games over the next month than he will good games. The schedule appears to be favorable for the run game as the season winds down, but how many skill position players will go down in the meantime? Jones is worth keeping around for owners who already have two rock-solid RBs on their roster that can afford to play him as a flex or use him as a bye-week filler. Otherwise, if an owner is willing is pay a nice price to acquire the #11 overall RB in traditional PPR leagues, make the move.

Other noteworthy players who could see their value drop quickly: Mario Manningham (Hakeem Nicks will have a bigger role going forward provided he can stay healthy), Ricky Williams (over the next four weeks, the Dolphins have a bye, face the Jets twice and Saints once - a schedule that will likely limit Miami's entire running game but, more importantly, one that could expose Williams and limit his touches while allowing Ronnie Brown to gain a more beneficial workload split)

Highly-Rated Stocks Unlikely To Perform Up To Expectations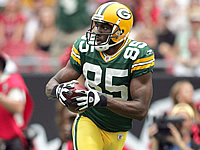 The Packers weak O-line is hurting Greg Jennings and his fantasy owners.

After a mostly uneventful Week 1 game vs. Chicago, Jennings saved his owners with a late game-winning 50-yard bomb from Aaron Rodgers. Jennings' 0-fer in Week 2 appeared to be an accident before he provided an odd-looking, two-catch, 103-yard performance vs. St. Louis in a game he should have had his way in the catch department. Then came Week 4's 3-catch, 31-yard performance vs. Minnesota on MNF. Sometime during that game, I noticed that Rodgers barely even looked Jennings' way after the first quarter. Why? Despite a lack of elite straight-ahead speed, Jennings is one of the game's best deep threats and that is how the Packers choose to use him for the most part. However, being a great deep threat doesn't mean much if the line can't hold up long enough to protect the quarterback. After allowing six sacks vs. Cincinnati and eight more sacks vs. Minnesota, it's becoming pretty clear the Packers have abandoned the deep ball for obvious reasons, which has led to possession WR Donald Driver being the Packers' best fantasy WR over the past three games. Now, not all of the 20 sacks allowed by Green Bay after four games can be placed on the o-line, but if owners want Jennings to revisit the totals he posted in 2008, he'll need to do it as more of a possession receiver until the Packers solidify the left side of their line, if they even can. Green Bay has a Week 5 bye to recover and its early post-bye schedule should allow to Jennings' owners to revisit the good old days (Detroit, Cleveland and Tampa Bay are three of the team's first four opponents coming out of the bye) for a bit, but ultimately, LT Chad Clifton will need to be fully recovered from his high ankle sprain in two weeks if the Packers have any hope of keeping Rodgers healthy all season, which obviously affects Jennings in a major way.

The point to be made here is that Jennings is not "slumping" - he is merely a product of the offensive line's struggles. Those struggles extend to the run game, which is also dragging Jennings' value down. Since Ryan Grant is having limited success as a runner, defenses don't feel much need to react to play action or load the box and, thus, bring a safety in to stop the run as opposed to playing back to prevent a deep ball. Jennings will catch more than the 44 balls he is on pace for, but it wouldn't be a bad idea to shop Jennings around after Week 7 once the Packers' pass offense has had a chance to get going a bit vs. the Lions and Browns. Because his fantasy point totals haven't taken a complete nosedive, he may still bring a lot back in a trade. I may be one to roll the dice a time or two during the fantasy season, but a line that can't stop a pass rush is bad news for just about every player on offense.

RB LaDainian Tomlinson, San Diego

This was probably a given considering he missed two games due to injury and came back against one of the league's best run defense, so it's fair to say he will play a maximum of 12 1/2 games. As a side note, I'm not exactly sure what LT ever did to the fantasy world to deserve the backlash he has received this season but there are those out there that would have you believe he's a broken-down, old-man RB who is just painfully riding off into the sunset. What I saw on Sunday night vs. Pittsburgh was a RB who could have easily matched Rashard Mendenhall's mind-blowing rushing total if he had received anywhere close to the same effort from his offensive line that Mendenhall did and was able to run against the lackluster Chargers' run defense. For the first time in nearly two years, I saw explosion, better quickness than I expected and his trademark jump-cut. He even threw in a nice stiff-arm or two for old times' sake. Although he is 30 and is not lightning-quick anymore, he is still more elusive than most of the starting RBs in the league. But sometimes, physical talent doesn't win the day. Right now, all the factors I thought LT would have going in his favor entering this season are all failing him in a big way. The offensive line is atrocious at run blocking right now (part of which stems from All-Pro C Nick Hardwick's absence), the defense is already beat up (HC Norv Turner revealed that his team has been forced to go with a four-man rotation on the defensive line over the past two games due to injuries – almost unheard of in today's NFL) and getting pushed around while Darren Sproles has taken at least some of the third-down duties, which significantly cuts into the one area where LT used to be able to make up for a poor rushing day or poor run-blocking up front. All of this has caused LT to press and miss the few creases his line has given him in the two games he has played in so far. I'm not ready to give up on him as a RB1 just yet, but I no longer believe he will produce at the top-five level that I thought he could prior to the season. For him to play at a fantasy RB1 level the rest of the way, some - if not all - of the aforementioned factors must get ironed out.

A lot of times in fantasy football, you are buying the team as well as the player. And, in this case, the only feather in the Chargers' cap is the passing game. After four contests, San Diego is averaging just 54 yards/game on the ground, making the 2008 Arizona Cardinals' ground game (73+ yards/game) look like a juggernaut by comparison. (However, it should be noted that San Diego has faced the top three rushing defenses in succession – Baltimore, Miami and Pittsburgh.) At this rate, the Chargers will rush for 864 yards on the season, which would be the worst total by far in a non-strike season since the league went to the 16-game schedule prior to the 1978 campaign (the 2000 Chargers - one season prior to drafting Tomlinson - rushed for a meager 1,062 yards, an average of 66 yards/game).

As much as many in the fantasy community want to blame LT for the running game's struggles, if Sproles was the answer, he should be rushing for more than 2.4 YPC (compared to Tomlinson's 3.5). History suggests that the ground game is not going to get worse or even stay the same for that matter, but until one or both of San Diego's lines improves, LT will either not have the opportunity to get to the second level of the defense and/or the Chargers will have to abandon the run early in games more often because of the score. The bye week comes at a very good time for San Diego because while HC Norv Turner's offenses have always passed the ball well, they have always been able to get it done on the ground as well, so a full two weeks may go a long way in getting the Chargers' young roster some valuable reps in practice and give the veterans a chance to heal up. Because the Broncos, Chiefs and Raiders (San Diego's first three opponents coming out of the bye this week) all possess middle-of-the-road offenses at best, the Chargers should have more opportunities to get LT 15-20 carries in those games. Despite his mention as a potential early-round disappointment, LT's price tag isn't going to be this low again all season long. (Who would have thought a month ago we would be talking about Tomlinson as a questionable flex play?)

Other noteworthy players drafted early who may not live up to their draft spot: Tony Romo (a more balanced offense isn't going to lead to a more productive offense and the schedule will do him no favors), Steven Jackson (the Rams don't appear to be willing to use him in the same fashion the Eagles used Brian Westbrook and the offense is even worse than predicted), Terrell Owens (no apparent chemistry between T.O. and his QB; preseason toe injury and late coordinator change destroyed just about any chance for Owens to blend in with the offense)

Undervalued Stocks Likely To Maintain Or Exceed Their Current Market Value

WR Mike Sims-Walker, Jacksonville

Barring injury, Sims-Walker should be late-round money-in-the-bank, but then again, staying healthy has been his biggest hurdle since he came into the league in 2007. Of course, his injury history and lack of long-term success should be some of the several points that you should make in your pitch to acquire his services. The fact of the matter is that he has seen nine, ten and 11 targets over the last three games, respectfully, and I highly doubt he will see a significant drop anytime soon. His schedule? Only the Seahawks, Rams, Titans and Chiefs over the next five weeks (with a Week 7 bye) figure to keep him fantasy-relevant for a while. I'm not ready to predict that Sims-Walker is about to become the next big thing at WR, but Jacksonville has a pretty fair combination of good quarterback, marginal defense and just enough other threats on offense to allow MSW to continue on his path to fantasy stardom. Certainly, Maurice Jones-Drew remains the centerpiece of the offense, but Sims-Walker has already shown that average pass defenses have little chance of stopping him. And since most of the teams left on the Jags' schedule are average pass defenses at best, Sims-Walker may very well be the missing piece to your WR rotation. Assuming good health, I'm willing to predict 70+ catches and right around 1,000 yards and eight scores, numbers almost unheard of for a player that may was probably sitting on the waiver wire a week or two ago in most leagues.

For all those folks that watched the playoffs last season, Celek is no stranger to big fantasy totals. After three games, his fantasy-point-per-game average is a point higher than Dallas Clark in PPR leagues. Granted, games against Carolina and Kansas City have buoyed his production (as did catching passes from his roommate - Kevin Kolb - over the past two games), but in Philly's pass-heavy offense, he may be on his way to a Jason Witten-type season (you know, before the Dallas offense went Romo-friendly). Now before each of you sell the farm for Celek, understand that his consecutive eight-catch, 104-yard games aren't going to become the norm when Donovan McNabb returns this week, but he will still be heavily involved. And in just about any league - especially PPR leagues - that is a huge bonus from the tight end position. I expect he will finish in the second tier of TEs, just short of the Dallas Clarks and Antonio Gates of the fantasy world. From a player who was typically drafted in the 10th-12th round area, getting Chris Cooley or Tony Gonzalez-like production from that late of a pick is a definite luxury. The upshot of Celek's reliability in the short game to the entire offense allows the likes of DeSean Jackson, Jeremy Maclin or Kevin Curtis to make defenses pay for it down the field.

Other noteworthy players who may sound the rags-to-riches horn: Sidney Rice (not necessarily a out-of-nowhere name, but unowned in too many leagues; like Bernard Berrian, he will benefit greatly from Brett Favre's arm and a friendly schedule after Week 7), Marcedes Lewis (with Sims-Walker emerging, Torry Holt serving as a reliable possession WR and MJD carrying the ground game, Lewis is set up for PPR success against most of the Jags' remaining opponents)

Stocks On The Way Up

Last week, I touted Berrian as a player who was most likely to benefit from Brett Favre's arm after seeing the most targets of any Vikings' WR since he recovered from his preseason hamstring injury. Hopefully, that advice didn't fall on deaf ears or blind eyes because his price is likely to go as high as it ever has. In Week 4, Berrian saw 10 passes thrown in his direction and showed a much better chemistry with Favre than he had in the first three games. According to FF Today's Fantasy Strength of Schedule feature, the Vikes don't face a negative WR matchup in the passing game again until Week 15. Obviously, that can change, but only Pittsburgh and Cincinnati appear to be defenses that have the personnel necessary to cover Berrian with a single CB. And with Adrian Peterson drawing all the attention in the running, Berrian is not going to see double coverage.

As is the case with any non-elite WR, Berrian isn't going to produce 70 yards and a score every week, but he should be in line to explode at least a handful of times over the final 12 games of the season simply because of his talent, his QB, the schedule and one of the league's best running games. Assuming his hamstring injuries don't resurface, Berrian is a pretty solid bet to match or exceed his career-best totals across the board and be a pretty fair WR2 for the remainder of the season.

It may be wrong for me to assume that Johnson's value has slipped at all, but for many owners who invest a first-round pick into a WR, the natural inclination is that the player will not turn in one WR1-type game and three WR2-like game a quarter of the way through the season. However, the perfect storm of teams and matchups has contributed to AJ's slow start, at least by his standards. The Jets' defense has absolutely controlled every passing game it has faced so far while very few WRs have exploited Raiders' CB Nnamdi Asomugha in coverage in recent years, so only the Jags' game stands out as a minor surprise. In the coming weeks, Houston faces Arizona and Cincinnati - two teams that have talented defensive backfields but are also matchups the Texans and Johnson should be able to exploit if they concentrate on getting their best weapon involved. Looking ahead to the rest of the schedule, there isn't a negative matchup for Houston the rest of the way. The fantasy playoff schedule looks particularly appealing with Seattle, St. Louis and Miami on the docket in Weeks 14-16. In the event that the AJ owner in your league is sitting at 0-4 or 1-3 and needing a boost, make a strong effort to acquire Johnson. Because he has already exploited the incredible vulnerable Titans' secondary once this season, his owners will still likely demand a hefty price for him, but they won't be able to ask for as much in return as they could have before the start of the season.

Other noteworthy players about to see their value go up: LeSean McCoy (obvious given his new split role in Eagles' backfield), Anthony Gonzalez (a risky pick considering the emergence of Pierre Garcon, but if he was the clear #2 WR prior to his injury, there's little reason to believe he won't return to that place if/when he is 100%), Eddie Royal (I'm basing this recommendation on a Colorado Springs Gazette article I read in which Kyle Orton suggested he actually has a better rapport with Royal than any other Broncos WR; he's not reaching 91 catches again this season, but he easily climb into the WR3 conversation before long)

Next week, the Blitz will return to its normal programming. In the meantime, e-mail me with any questions/comments.