Divisional Playoffs
1/15/10
---
Whether you are still basking in the success you enjoyed in cruising to your fantasy league's title, still smarting over your teams' inability to close the deal in your fantasy postseason or just aren't ready to hang up your owner's hat quite yet, playoff fantasy football may be just the thing you need to end this season right.

I'll be the first to admit that playoff fantasy football doesn't appeal to me quite as much as the usual 16-week animal, but that doesn't mean I don't still enjoy it. And coming off my most profitable fantasy season yet, I'm looking to make a great season even better. For better or for worse, I want to share my experience with you (no matter which category mentioned in the first paragraph you may fall under) in hopes that some of you can end this season on a definite high note.

For the first time in my "fantasy career", I'll be taking part in multiple playoff leagues this year. I will compete in one free league with CBS Sportsline and two money leagues with Fuzzy's Fantasy Football. My goal over the next four weeks will be to help each of you through your decision-making process as you attempt to boost your bottom line.


Sportsline

Scoring

Offensive Statistics
All TDs = 6 points
Passing Yards - 1 point for every 25 yards
Rushing/Receiving Yards - 1 point for every 10 yards
Two-point conversion = 2 points
Interception - 2 points
Fumble Lost - 2 points
Field Goals 0-49 yards = 3 points; 50+ yards = 5 points
Extra Point = 1 point

Defensive/Special Teams Statistics
Touchdown = 6 points;
Safety = 2 points
Interception = 2 point
Fumble Recovery = 2 points
Sack = 1 point

Points Allowed
0-6 = 8 points
7-13 = 6 points
14-20 = 4 points
21-27 = 2 points
28+ = 0 points

Yards Allowed
0-49 = 12 points
50-99 = 10 points
100-149 = 8 points
150-199 = 6 points
200-249 = 4 points
250-299 = 2 points
300+ = 0 points

The Rules

Choose a starting lineup of eight NFL players. You will have 300 units (or salary cap dollars) to "spend" assembling your team. You will be able to change your lineup, without penalty, until the lineup setting deadline for the Wild Card Playoff Round. Once your lineup locks for the Wild Card Playoff Round, you will have eight lineup moves to make for the remainder of the postseason. You may use as many of the moves allotted in any round as you would like, however, you will not be able to exceed the eight moves allotted for the remainder of the postseason. In case there was any doubt, the number listed by each player is their "cap number".

What this means for you: Pick as many winners (team, not individual) as you can for your lineup this week. For the most part, it's not good strategy to use any more than three players from any one team simply because an upset or two can severely hamper your ability to make roster moves later. Of course, you are also trying to score the most points each week, so there is a delicate balance between the present and the future. Generally speaking, if you can get at least four players on your Wild Card week roster that you would be willing to keep on your roster all the way through to the Super Bowl, you'll probably be in good shape. Ideally, I'll need about three roster moves next week, two for the AFC and NFC Championship Games and the last three for the Super Bowl. But at least for this week, the goal is to get the highest-scoring lineup out there that the cap will allow and contemplate the future when this week's games are decided.

Position Requirements: 1 QB, 2 RB, 2 WR, 1 TE, 1 K, 1 Defense/Special Teams

Wild Card Weekend Results - 136 points

Quarterbacks
Drew Brees, vs ARI 86
Peyton Manning, vs BAL 82
Philip Rivers, vs NYJ 75
Brett Favre, vs DAL 74
Tony Romo, @ MIN 72
Kurt Warner, @ NO 63
Joe Flacco, @ IND 58
Mark Sanchez, @BAL 36

First Cuts: Brees, Manning, Rivers, Favre, Romo, Flacco, Sanchez
The Final Choices: N/A


Warner: Ride the hot hand.
The Call: Warner. In the first of several responses that may sound like a broken record, roster moves are limited and this is no time to be making moves just to make moves. Then again, why would I opt for another QB when the one I chose last week threw for over 300 yards and five TDs (and is the cheapest option of the legit starters)? Furthermore, he'll get to play under a roof once again against a Saints defense that has slid considerably over the second half of the season. The key to getting to any QB - young or old - is getting quick pressure, preferably up the middle. With DT Sedrick Ellis probably still operating at less than 100% and DE Charles Grant out for the rest of the season, that pressure isn't likely to happen without blitzing. While the Saints don't mind doing that, CB Jabari Greer will likely still be rusty from his long injury layoff. The point to be made here is that Warner & Co. should be poised for another strong offensive game, although the running game is sure to be more prevalent against a New Orleans' defense that struggled to stop the run down the stretch. This won't be a repeat of the historic Wild Card Week shootout, but a 38-24 or 38-31 game wouldn't come as a total shock. No matter what, Warner is going to post a line comparable with any of the other QBs he is listed with above.

Running Backs
Adrian Peterson, vs DAL 63
Ray Rice, @IND 56
Thomas Jones, @SD 50
Joseph Addai, vs BAL 47
Pierre Thomas, vs ARI 37
Marion Barber, @ MIN 34
LaDainian Tomlinson, vs NYJ 36
Beanie Wells, @NO 33
Darren Sproles, vs NYJ 29
Tim Hightower, @NO 28
Reggie Bush, vs ARI 27
Willis McGahee, RB BAL @NE 26
Chester Taylor, vs DAL 19
Felix Jones, @MIN 19
Tashard Choice, @MIN 16
Donald Brown, vs BAL 15
Shonn Greene, @SD 13
First Cuts: Peterson, Barber, Tomlinson, Sproles, Hightower, Bush, McGahee, Taylor, Choice, Brown
The Final Choices: (RB1) Rice, T. Jones, Addai, Thomas (RB2) Wells, F. Jones, Greene

The RB2 Call: Felix Jones. This may seem like a classic case of chasing last week's numbers, but Dallas has made getting Felix more touches a priority for the last few weeks. Including the Cowboys' upset win at New Orleans in Week 15, Jones has touched the ball between 14-18 times in each contest. With his big-play ability and that many touches, he is liable to explode for at least one big play a game (or more, as evidenced by the team's blowout win during Wild Card Week vs. the Eagles). In all honesty, I would have preferred to leave Wells here this week against what has become a soft Saints' run defense, but I wanted to upgrade/replace my RB1 and TE from last week (Thomas Jones, Jermichael Finley) and it wasn't going to work under the cap if I left him in that spot. Of course, since Arizona refuses to keep Wells in the lineup in the high-leverage situations most of the time, it's quite likely I'll be getting similar production from Jones at a more reasonable rate. As for Greene, he is evolving into the back I thought he was going to be at the beginning of the season, however, I don't foresee him having near the game vs. the Chargers as he did against an injury-plagued Bengals' defense last week. Plus, since I expect San Diego to win, I would be wasting one of my valuable roster moves on a backup RB (committee RB at best) for one week.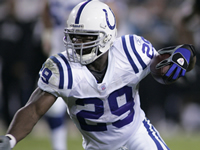 The affordable Jospeh Addai.
The RB1 Call: Addai. Addai's season - up to this point - has been a bit mind-boggling. He didn't have a single 100-yard rushing performance (only topped 100 total yards twice) and was held to 3.8 YPC. Yet, he finished No. 9 overall among fantasy RBs in non-PPR despite sitting out the final five-plus quarters of the season - finishing only five points ahead of Jamaal Charles and four points ahead of Jonathan Stewart - in large part due to 13 total TDs. But all this does is show you what a good, consistent workload can do for a RB in a highly proficient offense - Addai received 16 or more touches in all but two of the Colts' first 14 games. In the end, Addai gets the nod over Rice and Peterson because of his affordability, but truth be told, what assurance do we have Peterson is going to see a heavy workload vs. Dallas? Rice should, but is he going to lose out on short scores to McGahee or Le'Ron McClain? Thomas was my favorite for this spot before the start of the playoffs, but his three broken ribs have me a bit concerned for his long-term playoff success. I like Thomas for one-week play (see below), but I have a better feeling that Indy will be playing next week than I do New Orleans.

Wide Receivers
Miles Austin, @MIN 45
Larry Fitzgerald, @NO 43
Reggie Wayne, vs BAL 43
Vincent Jackson, vs NYJ 41
Marques Colston, vs ARI 37
Sidney Rice, vs DAL 37
Derrick Mason, @IND 34
Robert Meachem, vs ARI 32
Anquan Boldin, @NO 30
Percy Harvin, vs DAL 29
Austin Collie, vs BAL 26
Pierre Garcon, vs BAL 24
Roy Williams, @ MIN 24
Jerricho Cotchery,@SD 23
Braylon Edwards, @SD 21
Steve Breaston, @NO 21
Devery Henderson, vs ARI 22
Bernard Berrian, vs DAL 19
Patrick Crayton, @NO 18
Malcom Floyd, vs NYJ 16
Mark Clayton, @SD 14
First Cuts: Colston, Mason, Meachem, Boldin, Harvin, Collie, Garcon, Williams, Cotchery, Edwards, Henderson, Berrian, Crayton, Clayton
The Final Choices: Austin, Fitzgerald, Wayne, Jackson, Rice, Breaston

The WR2 Call: Austin. The former undrafted receiver from Monmouth has already moved into the upper class of receivers after a breakout season. However, for a receiver to go from non-starter to Larry Fitzgerald territory is insane. Judging by his production from Week 12 on, he's actually been more consistent. He's scored in all but two of the seven games and has posted at least six catches and 71 yards each and every week. Beyond that consistency, it's hard not to like the matchup this week for Austin. Usually I would never say that about any WR about to face Antoine Winfield in primary coverage, but the Vikes' top CB is not healthy. Perhaps the bye week will help more than we know, but since returning vs. the Bengals in Week 14, Winfield has contributed to the opponent's WR1 stat line which has totaled 26 catches, 364 yards and two scores. Austin is playing at a higher level than either Steve Smith or Devin Aromashodu (the three WRs he faced in Weeks 15-17), so another huge game is quite likely against a reeling Vikings defense. Jackson is actually a consideration for this spot despite his matchup because Philip Rivers has proven time and again that he will throw the ball Jackson's way regardless of coverage. But, for all the reasons I just stated above, the easier route to a fantasy explosion this week will come by using Austin.
The WR1 Call: Fitzgerald. Both of my WRs from last week make the cut again this week. And why not? It's not as if either receiver's matchup is going to get tougher than it was last week. In Fitzgerald's case, he'll face some combination of the rusty but underrated Jabari Greer, Randall Gay and Tracy Porter one week after drawing Green Bay's Charles Woodson for most of the game. But honestly, I'm not sure anyone - including Darrelle Revis (although I'm glad I don't have to make that decision anytime soon) - could steer me away from using Fitzgerald for as long as Arizona is in the postseason. It's actually a bit frightening how consistent his numbers stay game after game, year after year. The fact that he gets a slight break in terms of his one-on-one matchup this week should just make his owners that much more comfortable with him again this week. I imagine a 7-120-1 line is a fairly good bet for him this week, with or without Anquan Boldin in the lineup.

Tight Ends
Dallas Clark, vs BAL 40
Antonio Gates, vs NYJ 37
Visanthe Shiancoe, vs DAL 25
Jason Witten, @MIN 24
Todd Heap, @IND 22
Jeremy Shockey, vs ARI 18
Dustin Keller, @SD 15
David Thomas, vs ARI 10
First Cuts: Shiancoe, Witten, Heap, Keller, Shockey, Thomas
The Final Choices: Clark, Gates

The Call: Gates. This one boils down to two of the game's best TEs, if not the two best. This is a close call but I'll opt for Gates because his cap number is a bit more palatable. Since I believe the Chargers are the AFC's best team, I may also be saving myself a roster move down the line if I am correct in that assessment. Now, I'm not typically in the business of rolling the dice against the league's top defense, but Darrelle Revis can only guard one player (and that player will be Vincent Jackson). Because of Jackson's supporting cast, New York won't have the luxury of doubling Gates, which is about the only way I expect Jets' safeties Kerry Rhodes or Jim Leonhard to hold up in coverage against him. Dallas Clark needed only a little about a half to post a 4-57 line vs. the same Jets secondary in Week 16, so I expect Gates to have similar success. Meanwhile, the last time Clark faced the Ravens in Week 11, he managed a single catch - a three-yard score. Baltimore isn't going to repeat that kind of shutdown performance, but I expect a less-than-average day from Clark.

Kickers
Nate Kaeding, vs NYJ 34
Ryan Longwell, vs DAL 29
Jay Feely, @SD 26
Neil Rackers, @NO 20
Shaun Suisham, @MIN 19
Billy Cundiff, @IND 18
Matt Stover, vs BAL 14
Adam Vinatieri, vs BAL 9
Garrett Hartley, vs ARI 8
First Cuts: Kaeding, Longwell, Feely, Rackers, Cundiff, Stover, Vinatieri
The Final Choices: Hartley, Suisham

The Call: Suisham. Once again, I'm in the business of saving roster moves. However, much like the other players I'm sticking with again this week, I don't see the need to make a change anyway. The Cowboys' offense is rolling, the Vikings' defense isn't as good as it was at the beginning of the season and Suisham is hitting his attempts. So, with a manageable cap number, it's hard for me to make a change here to someone like Hartley, who may be playing for a one-and-out team.

Defenses
Saints vs ARI 40
Cardinals @NO 28
Ravens @IND 27
Chargers vs NYJ 27
Jets @SD 26
Vikings vs DAL 26
Colts vs BAL 24
Cowboys @MIN 23
First Cuts: Saints, Cards, Ravens, Vikings
The Final Choices: Chargers, Jets, Colts, Cowboys

The Call: Cowboys. Second verse, same as the first. There is simply no need to waste a roster move when I already have the defense that is playing the best of any team remaining in the postseason and is a cheapest alternative available. It'd be nice if the Dallas defense would find a way to notch a return TD or two, but I'll settle for 14-17 points allowed, a couple turnovers and 3-4 sacks in the meantime.

Fuzzy's Playoff Leagues
(Two leagues)
Wild Card Weekend Results - 174 points (both leagues)

Fuzzy's playoff format is much more streamlined than Sportsline's. Fuzzy's uses traditional PPR scoring (all TDs worth six points) with no salary cap, no limit on roster moves between rounds and no yards allowed bonuses for the defenses. In short, your goal is to pick the highest-scoring lineup each week with no strings attached. The main difference outside of the ones I've already mentioned is that Fuzzy's leagues contain no more than 50 teams whereas Sportsline employs a one-man-against-the-world approach. As a result, 20% of the entrants into Fuzzy's playoff leagues will - at the very least - recoup their entry fee, with first through ninth place receiving a nice bonus for their troubles.
Position Requirements: 1 QB, 2 RB, 3 WR, 1 TE, 1 K, 1 Defense/Special Teams
(Because the players/matchups are same as they are above, I'll skip the step of mentioning each player again and get right to my choices.)
QB: Brees and Warner. Unlike last week, I will "diversify my portfolio" this week. In other words, my lineup will not look the same in both leagues. Much like last week, however, I will employ the same strategy when it comes to the tiebreaker element, which was using the QB from the ARI-NO matchup that I don't start as my tiebreaker. (Of the top 5-10 teams in each league - of which I am proudly a part of - I was surprised how few owners didn't use a QB from the Packers-Cards game last week as their tiebreaker option, but I digress.) As for as why I'm going with these two QBs, it should be fairly obvious, but I'll go into a bit of detail anyway. Quite simply, I like Rivers, but expecting huge numbers against the league's top defense that allowed eight passing TDs all season long is no way to go. Favre is a poor bet against a Cowboys' defense that has shut down an explosive Eagles' offense two weeks in a row. Romo is a fair play, but the Dallas offense is balanced enough that his numbers won't be off the charts. Flacco and Sanchez don't even merit consideration. As for why I'm going with Brees and Warner, both QBs play for offenses that don't mind ditching the running game and, in a game that should see around 65-70 total points, that is probably going to happen at some point.
RB: Rice and Peterson/Thomas. In PPR scoring, Rice is an obvious pick for both of my teams. If his team is leading, it likely means he is tearing it up on the ground. If his team is trailing, he and Derrick Mason are easily the top targets in the passing game. With 27 touches and 20.5 fantasy points scored in the Ravens' first meeting vs. the Colts in Week 11, I feel confident that Rice will once again live up to my expectations.
The other RB slot is a bit trickier. In large part because he doubled his previous career highs in receptions and receiving yards, AP scored double-digit fantasy points in all 16 games this season (which allowed him to actually be more consistent than Rice in that regard since Rice scored less than 10 fantasy points in the MNF game vs. Green Bay back in Week 13). But while Indy is no pushover on defense, Rice's matchup is a bit easier than Peterson's, which is why I feel better about Rice than Peterson this week. In other words, I'm willing to bet on Peterson, but no so enamored by him that I want to bet on him with both of my teams. On the other hand, there has been an awful lot of speculation that Thomas' limited use throughout the season was due largely to save him for the postseason for use as the Saints' feature back and I'd be foolish in not taking a shot with him against a Cardinals' defense that has to be lacking confidence. Mike Bell will be a threat to steal short yardage carries for as long as he is on the Saints' roster, but he was abysmal down the stretch and Reggie Bush isn't a great candidate for anything more than 8-10 touches. Even more in Thomas' favor, New Orleans would be wise to use the run throughout the game to slow down the pace both teams will be tempted to set, if for no other reason than to eat clock. And much like Felix Jones, Thomas is liable to explode for a big play at any time, so I feel confident that PT will reward my faith as long as he sees at least 15 touches.
WR: Austin, Fitzgerald and Wayne/Rice. As if you haven't noticed by now, I feel Austin and Fitzgerald are almost automatic plays at this point. Therefore, let's move on to my WR3, where I get to plug Reggie Wayne in as my last WR in one league and Sidney Rice in another. Understand that Rice doesn't quite belong in Wayne's class yet as a fantasy WR, but realize that unlike Rice, Wayne has another 100-catch play to compete for catches with on his own team in Dallas Clark. With that said, Rice has shown the tendency to get bottled up by some of the game's best CBs despite breaking out in a big way this year. Certainly, CB Terence Newman qualifies as an upper-echelon corner. So, I feel compelled to make sure I don't count too heavily on Rice despite the fact he is Brett Favre's favorite target by a long shot.
In some ways, I've already stated the case as to why I don't feel comfortable going all in on Wayne. I'm more fearful of Clark or perhaps Pierre Garcon being featured this weekend than I am of the Ravens' defense. Over the last five weeks of the season, Wayne only had one game worth getting excited about in fantasy (and that was against a sad Jags' secondary), although Weeks 16-17 weren't exactly his fault. Unlike Rice, Wayne won't have to square off against a top-notch CB and he does have a seven-catch, 89-yard game to his credit against Baltimore earlier this season. I can't imagine Wayne outperforming either Austin or Fitzgerald this week, but another 15-point fantasy week from him isn't asking the world.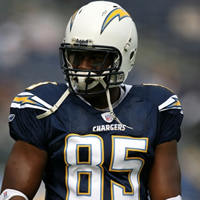 Gates: A physical mismatch.
TE: Gates/Clark. After looking at the other options available, it's not hard to understand why I would opt for two of the top three top PPR TEs in fantasy this season. Coming off a career-best 1,157-yard season, I would expect another huge game out of Gates if not for the fact that New York is so stingy in allowing TD passes. He might get one, but I don't foresee a Jermichael Finley-yardage line out of him. He's a physical mismatch for either one of the Jets' safeties, but I have to assume Rex Ryan will make Tomlinson or Malcom Floyd beat him as opposed to Vincent Jackson or Gates. Something in the neighborhood of 6-80-1 would be the most I expect from Gates this weekend.
Clark may have taken a back seat to Tom Santi the last time the Colts faced the Ravens, but I can't imagine that happening again. I like what Baltimore has at safety a bit more than I do the Jets, but Clark is a hard cover for a lot of CBs, much less safeties. Much like Gates, he won't come close to posting career highs in this game, but his track record is such that he won't let his owners down. Although he's a better bet to explode than Gates, I'm putting a bit more faith in Gates this weekend.
K: Kaeding. In a week-to-week format like this one, it's often good strategy to pick a strong-legged kicker who plays for a high-powered offense. Ideally, his team is facing a top-notch defense, which then requires his team to turn to him to kick at least two field goals. This week, I think that description best suits Kaeding, who posted eight double-digit fantasy point totals for San Diego this season using Fuzzy's scoring system. As is the case most weeks, I cannot come close to guaranteeing that he'll give us No. 9, but I foresee a pair of Philip Rivers' TD passes with the rest of the Chargers' points coming via Kaeding's leg. Whether that means he'll get two attempts or five remains to be seen, but I believe he has the best chance of any kicker this week to post a high number.
D/ST: Cowboys. I'm really not a fan of the Cowboys, but I am happy to support any unit playing as sound as Dallas is right now. The 'Boys are getting a high level of production out of the three key spots from the front seven of a 3-4 defense (NT Jay Ratliff; OLBs DeMarcus Ware and Anthony Spencer) while everybody else is at least playing to their potential. Just as the pass rush has picked up, the pass coverage has also improved greatly as Dallas is getting very good play from its CBs (Terence Newman, Orlando Scandrick and Mike Jenkins). It ought to be interesting to see if the Cowboys' rush defense maintains their play this week, however, as Adrian Peterson represents the most formidable RB this defense has faced all season. Since Dallas began its late-season run, it has faced a strong passing team (New Orleans, Philadelphia) or an inept offense (Washington) every time. In fact, the best fantasy back the 'Boys have faced up to this point of the season is Ryan Grant (No. 10 overall in PPR), so anyone looking for a chink in the improved Dallas defense may have to wait until this weekend to see if it exists. Nevertheless, the Cowboys are playing the best defense of any team remaining and it's not unheard of that Brett Favre has a multi-INT game in the playoffs, so Dallas is the clear choice for me this week.

e-mail me with any questions/comments.