Divisional Round
1/13/11
Whether you are still basking in the success you enjoyed in cruising to your fantasy league's title, still smarting over your teams' inability to close the deal in your fantasy postseason or just aren't ready to hang up your owner's hat quite yet, playoff fantasy football may be just the thing you need to end this season right.
I'll be the first to admit that playoff fantasy football doesn't appeal to me quite as much as the usual 16-week marathon, but that doesn't mean I don't still enjoy it. And coming off my most profitable fantasy season yet, I'm looking to make a great season even better. For better or for worse, I want to share my experience with you (no matter which category mentioned in the first paragraph you may fall under) in hopes that some of you can end this season on a definite high note.
After getting my first taste of owning multiple teams in playoff leagues last year (and making a bit of money from it, I'm expanding my horizons this time around. In addition to owning one NFL.com team, I will be taking part in several money leagues with Fuzzy's Fantasy Football. My goal over the next four weeks will be to help each of you through your decision-making process as you attempt to boost your bottom line.
NFL.com

For a complete rundown of how players will score fantasy points for your team, click on this link. However, much of the content immediately below is included on the "How to Play" page, so what I provide here should be more than enough to follow along easily.
The object of the game is to pick the players you think will perform best in their playoff matchup. Select one QB, two RBs, two WRs, one TE, one K and one D/ST. You will earn fantasy points based on their on-field performance during their game, and if your player's team wins, you will have the option to carry that player over to the next round, where he will earn a bonus point modifier to his score.
For example, if you pick Drew Brees in the Wild Card round and the Saints win, you can carry him over to the Divisional Round, and earn two times (2x) the points he earns in his divisional round game. If New Orleans wins again, you can carry Brees into the Conference Championships for 3x his points, and if the Saints win again, you can carry him into the Super Bowl and earn 4x his points. In addition, a user can select a player in the Wild Card round even if their team has a bye into the Divisional Round. In this case, the user would not earn any points for the Wild Card round, but would then be eligible to earn 2x points in the Divisional round, since the player was on the team's roster for 2 weekly scoring periods. Further bonus point modifiers would also apply as long as that player's team continued in the NFL Playoffs.

NFL.com Scoring System
Offense Statistic (QB, RB, WR, TE, K)
Fantasy Points
Rushing or Receiving Touchdown:
6 fantasy points
Passing Touchdown:
4 fantasy points
Field Goal:
3 fantasy points
Passing, Rushing or Receiving Two-Point Conversion:
2 fantasy points
Rushing or Receiving:
1 fantasy point per 10 yards
Passing:
1 fantasy point per 25 yards
Extra Point:
1 fantasy point
Defense/Special Teams (D/ST)
Punt Returned Touchdown:
6 fantasy points
Kickoff Returned Touchdown:
6 fantasy points
Fumble Returned Touchdown:
6 fantasy points
Interception Returned Touchdown:
6 fantasy points
Allowing 0 Points:
10 fantasy points
Allowing 2-6 Points:
7 fantasy points
Allowing 7-13 Points:
4 fantasy points
Allowing 14-17 Points:
1 fantasy points
Allowing 18-21 Points:
0 fantasy points
Allowing 22-27 Points:
-1 fantasy points
Allowing 28-34 Points:
-4 fantasy points
Allowing 35-45 Points:
-7 fantasy points
Allowing 46+ Points:
-10 fantasy points
Team Win:
5 fantasy points
Interception:
2 fantasy points
Fumble Recovery:
2 fantasy points
Blocked Punt:
2 fantasy points
Blocked Field Goal or Blocked Extra Point:
2 fantasy points
Safety:
2 fantasy points
Sack:
1 fantasy points
Before we get into the picks, let's briefly review the rules and how we may use them to our advantage: 1) passing TDs are four points, so passing yards are valued more highly here than in the Fuzzy's leagues I'll talk about later; 2) all field goals are worth three points, which means we are more concerned about volume of field goals than distance; 3) this is non-PPR scoring, which obviously favors the big-play threats; and 4) team wins are worth five points, so picking a "winning" defense is worth almost a touchdown and could be worth as much as 3.5 TDs if you pick a defense from this week and that team ends up winning the Super Bowl.
Given the bonus point modifier mentioned above, I could understand an owner making the decision to pass on selecting a defense this week and electing to get twice as many points from a defense such as the Steelers in the Divisional Round. (I'm not saying I would do that, just suggesting that it is a strategy to consider.)
Here are the most worthy candidates by position:
QBs
Tom Brady/Ben Roethlisberger/Matt Ryan/Jay Cutler/Aaron Rodgers/Joe Flacco/Matt Hasselbeck/Mark Sanchez
RBs
Rashard Mendenhall/Michael Turner/Matt Forte/BenJarvus Green-Ellis/Danny Woodhead/Ray Rice/LaDainian Tomlinson/Brandon Jackson/James Starks/Marshawn Lynch/Shonn Greene
WRs
Roddy White/Mike Wallace/Wes Welker/Johnny Knox/Deion Branch/Hines Ward/Earl Bennett/Devin Hester/Greg Jennings/Santonio Holmes/Braylon Edwards/Derrick Mason/Anquan Boldin/James Jones/ Mike Williams/Ben Obomanu/Donald Driver
TEs
Aaron Hernandez/Rob Gronkowski/Tony Gonzalez/Greg Olsen/Heath Miller/Todd Heap/Dustin Keller/John Carlson
Ks
Shayne Graham/Shaun Suisham/Matt Bryant/Robbie Gould/Nick Folk/Billy Cundiff/Mason Crosby/Olindo Mare
D/ST
Steelers/Bears/Patriots/Falcons/Packers/Jets/Ravens/Seahawks
Let's get to my picks and my rationale for each position:
QB: Rodgers. As I noted in some e-mail responses over the weekend, I believe this is the week to start establishing which players you think are headed for the Super Bowl in this type of scoring format where the bonus point modifiers really start making a difference. Because Aaron Rodgers was my selection last week (meaning I am entitled to twice his divisional round production) and I already feel he is the best fantasy QB, I am going to be hard-pressed to move away from him. Let's make the case against him anyway:
Green Bay lost in Atlanta back in Week 12. As far as I'm concerned, the Packers and Falcons are the best NFC team remaining. Let's not take anything away from Seattle or Chicago, but I feel pretty safe in saying that I feel that Green Bay is the most complete NFC team should it advance past the Falcons. My only hesitation in naming Rodgers the starter again this week is Brady, who seems like a lock for another Super Bowl run. However, as much sense as it makes to ride Brady as far as possible, it is hard to overlook the fact that Brady will face a repeat opponent no matter how this weekend plays out – if the Pats advance. (This week marks the third Pats-Jets meeting while New England already faced Baltimore and Pittsburgh this season.) If each eventuality did not lead back to a top-notch defense that should be able to play the Patriots better than they did the first time (or last, in the Jets' case), I might feel better about switching gears and using Brady.
Putting a cap on the QB conversation, I see no reason to even consider Flacco, Cutler, Hasselbeck or Sanchez this weekend over Rodgers. While the first two could easily move on to the Conference Championship round, I'd say the competition (in Flacco's case) and the new run-oriented Bears' offense (in Cutler's case) is enough to ignore them. Hasselbeck took advantage of a short-handed, non-aggressive Saints defense last week – let's see how Seattle handles Julius Peppers & Co. this week. Sanchez was awful last week, but New England fans likely remember how quickly the second-year QB can go from awful to stellar, much like he did in the same game when the Jets beat the Pats back in Week 2. Ryan and Roethlisberger seem like solid two-game bets, but the balance of Atlanta's offense –plus the presence of the Packers' defense – is enough reason to steer clear of him. The Steelers seem destined for another 17-14 or 20-17 type of game against the Ravens, meaning Roethlisberger's ceiling is probably two scores. Combine that with the risk that he could easily play just one game and it just isn't worth it in my mind.
RB: Green-Ellis and Forte. I must admit the first observation I made last week once the playoff teams were finalized was the absence of top-flight fantasy RBs. The second thought that must have crossed my mind was the number of elite run defenses. Without a doubt, the combination of the two has made analyzing this position for the purposes of this competition very difficult. Therefore, I feel somewhat compelled to select the best fantasy RB from the team most likely to reach the Super Bowl and a RB who has at least one solid matchup, even if I don't think his team will reach the big game.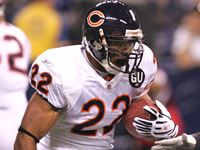 Forte: It's all about the matchup.
First, let's look at the first of those two RBs, BenJarvus Green-Ellis. It pains me to select a RB in this spot that I feel will not be his team's best fantasy RB in all three possible games. However, the "Law Firm" has been on a roll for most of the second half of the season, benefiting from an underrated run-blocking o-line and his team's nearly unnoticed desire to play physical football even against the stoutest run defenses. He's also the unquestioned goal-line RB on a very prolific offense and will likely see 18-20 carries every game he plays in, all of which makes him the best bet for multiple scores of all the RBs still left in the postseason. As for Matt Forte, this selection is all about his upcoming matchup with Seattle. While he's a questionable bet for a TD, Forte has once again shown he is a complete back and Seattle is easily the least stingy run defense vs. opposing fantasy RBs left in the postseason. Also keep in mind Chicago has found its identity running the ball and the Seahawks are a terrible road team. Further consider that Seattle has allowed the opponent's top RB to score double-digit fantasy points in every road game (in non-PPR scoring) this season. With the way the Bears have been able to run on the Vikings, Jets and Packers in recent weeks, I feel he is a solid bet for two games of very reasonable production.
If this were simply about finding the best fantasy RBs, I'd be tempted to lean toward Mendenhall and Turner, but I don't see either team making the Super Bowl or having standout games in either of the next two weeks. Rice is tempting given his 2x status in my lineup, but Pittsburgh is so stout against opposing RBs that doubling what might be a 6-7 fantasy-point total this week with non-PPR scoring just isn't worth it. I expect Tomlinson (and the Jets as a whole) to have a much better game than they did in Week 13's blowout loss to the Pats, but that doesn't mean I expect him to be the great play he was last week. If the Jets' win over the Colts did anything, it confirmed that LT is still the lead back in the Jets' committee backfield, which means Greene has no business in starting lineups either. As nice of a story as Starks' first 100-yard playoff game was, he's unlikely to make much of an impact against the fifth-stingiest defense vs. opposing RBs in non-PPR scoring. The same can be said about Jackson, who is dangerously close to going back to his pre-2010 role. Lynch's game-clinching run last week vs. the Saints was one for the ages, but don't believe for a second that Chicago will miss eight tackles on him all day, let alone on the same play.
WR: Jennings and Branch. In non-PPR formats, I often tend to favor the big-play wideouts over the possession receivers. Inexplicably, Greg Jennings lined up on the right side of the offensive formation (or left side of the defense) most of the time vs. Philly last week, which is where CB Asante Samuel almost always defends. Because Green Bay smartly avoided Samuel most of the time, it meant Jennings saw very little fantasy action. The Packers rarely took deep shots or put Jennings into motion against an injury-ravaged Eagles' secondary, which makes me a bit leery about marching him out again this week. However, Green Bay will not find near the success running the ball vs. the Falcons as it did against Philadelphia, so while CBs Dunta Robinson and Brent Grimes have emerged as a fine duo, they are not enough reason to believe Jennings will have a second poor game.
As for my second WR spot, this is where it gets a bit tricky. Mike Wallace was my first choice for the spot, but can I start him here knowing that getting three games out of him is unlikely? Likewise, Roddy White appears to have lost some explosion as the season has progressed and faces a Green Bay secondary that kept him in check in the teams' first meeting, plus I'm not sure Atlanta survives the weekend. Knox appears to be a good bet for two games, but Chicago has turned so run heavy that I may be fortunate to get more than one combined good game out of him. The same goes for Bennett and Hester, especially since they both stand in line behind Knox as Cutler's favorite receiver. Ward has seen Wallace overtake him as the preferred receiver in this offense and since he does not offer much in the way of explosive plays anymore, he should not start. The Jets' WRs are longshots to survive another week, much like the Seahawks' receivers (eliminating Holmes, Edwards, Williams and Obomanu). While Flacco was more than serviceable against the Chiefs, it's bad business to predict great things for a passing game that will see Steelers' DC Dick LeBeau this week and either Bill Belichick or Rex Ryan next week, so we should eliminate Mason and Boldin. Despite catching a TD pass vs. Philly, Jones is too unreliable and Driver has dealt with injuries for most of the season, meaning I can't endorse either Packer WR.
What we are left with is the battle of two New England receivers for one spot: Wes Welker or Deion Branch. While the obvious strategies would be: 1) keep Jennings and add Welker because he is Brady's favorite target or 2) play both Pats' receivers, I'm going against the grain a bit here. There is no doubt Welker is going to get his catches regardless of who is guarding him but, once again, I'm not one to tempt fate. We've already seen he can get his numbers against Darrelle Revis, but the Jets CB is healthy now. And if New England meets Pittsburgh in the Conference Championship, he'll likely draw CB Ike Taylor, who LeBeau has started using as a "shadow" corner on a more regular basis. If this were PPR scoring, I'd ride Welker, but since it is not and Welker will likely demand the opponent's top CB each of the next three possible games, I'll go the other way and select Branch, who is the better bet to break loose for a long TD in my humble opinion. Considering the verbal jabs Jets CB Antonio Cromartie has been throwing at Brady this week, it may not be too much of a leap to predict the Pats' CB may hit Branch more than a few times on the quick slant.
TE: Gronkowski. It literally pains me to select a New England TE, but I simply don't see another viable option. Throw in the belief that New England stands a decent chance at playing three games and has emerged as Brady's main threat in the red zone and I'm not sure I can go any other way at the position. I can't imagine Heap coming anywhere close to matching his 10-catch, 100+ yard performance again this week and Carlson's two-TD showing vs. the Saints is about as fluky of an occurrence as there is. Aaron Hernandez has seemingly been reduced to a part-time TE (which only means he will serve to make me regret choosing Rob Gronkowski). Gonzalez's yardage totals have become so meager that he is a TD-or-bust option nowadays and – as far as I'm concerned – Miller, Olsen and Keller are all extremely low-upside picks at this point.
K: Graham. I suppose it is only appropriate that I select the Patriots' kicker if I'm going to spend most of the column talking about how many top-notch defenses New England will face if the team ultimately makes it to the Super Bowl. If I was looking for a one-week kicker here, I'd be tempted to go with Gould, but the Bears don't feel like a Super Bowl team to me. I tend to believe that Suisham might be the best possible two-game kicker remaining (he has missed just one kick as a Steeler and has converted at least two FG attempts in five of his last six games), but I'm not getting a world championship vibe from Pittsburgh nor do I really want to count on a kicker kicking in Heinz Field this late in the season. Folk and Mare should be gone after this weekend, which means neither player should be used.
I have a sneaky suspicion that Baltimore is the best bet of the remaining AFC teams to knock off the Patriots, but this week's game against Pittsburgh doesn't figure to be all that high scoring. Once you factor in the game being a toss-up between two bitter rivals, it is just not worth using Cundiff. Green Bay has been so proficient of late that Crosby has attempted no more than one field goal in all but two games since the Packers' Week 10 bye. Similarly, Bryant hasn't attempted more than two field goals since Week 12, so the chances either Crosby or Bryant will put up big numbers look remote. Since I'd just as soon not touch this position again for the rest of the postseason, I'll ride with the kicker of the team most likely to make it to the big game. I'm comforted by the fact that Graham has scored at least seven fantasy points in every game since Week 10. Since I expect each remaining defense – on the AFC side of things anyway – to play New England more competitively than they did the first time, that could mean less extra points and more field goal opportunities, which obviously means more points for my lineup.
DST: Patriots. Because the "team win" component stands out at this position, it becomes quite advantageous to select a unit that will likely win unless a projected losing defense can be counted on to score on a return (which typically it cannot). After getting burned by a New Orleans defense last week that inexplicably did not blitz Seattle and its porous offensive line, I'll opt for a team this week in the Patriots, who has just about everything going for it the rest of the way (fantasy's top defense over the last five weeks of the regular season plus two more home games in all likelihood). In four of its last five contests, New England has held its opponent to seven points or less. Furthermore, the likelihood that Mark Sanchez will skate by another game without paying for his mistakes is fairly low, so I feel safe in making this selection and keeping it locked in for the rest of the postseason.
Despite Seattle's offensive outburst at home against the Saints last week and win against the Bears earlier this season, Chicago makes a fine one-week play. In fact, I wouldn't blame fellow NFL.com owners for locking in this defense this week solely because they get to face the Seahawks. Moving on, if I were to use the Steelers' defense this week, it would be with the idea they can win a road game in New England, which I don't think they can. Likewise, if I were to play the Ravens, it would be because I feel they can knock off Pittsburgh and New England, which I don't think they will. Again, forget the Jets and Seahawks for many of the reasons stated above in this column. By process of elimination, we are left with Green Bay and Atlanta, neither of which I care to commit to – because much like Steelers-Ravens – I feel the contest is a toss-up.
Fearless predictions for my selected team:
Rodgers: 245 passing yards, two passing TDs, 30 yards rushing (20 fantasy points x 2)
Green-Ellis: 75 rushing yards, one rushing TD, 10 receiving yards (14 points)
Forte: 120 rushing yards, one rushing TD, 25 receiving yards (20 points)
Jennings: 100 receiving yards, one receiving TD (16 points x 2)
Branch: 70 receiving yards, one receiving TD (13 points)
Gronkowski: 30 receiving yards (3 points)
Graham: three extra points, three field goals (12 points)
Patriots DST: 13 PA, two sacks, two INTs and a team win (13 points)
Projected Total: 147 fantasy points (includes 36 points via bonus point modifiers for Rodgers and Jennings)

Fuzzy's
Most of the scoring parameters used above apply here as well. The key differences are as follows: no bonus point modifiers (including team win points although more fantasy points are awarded to kickers who kick long field goals) and PPR scoring where all TDs are worth six points. In short, your goal is to pick the highest-scoring lineup each week with no strings attached. Additionally, each owner is asked to select a tiebreaker each week which will be used to break any ties following the Super Bowl. Fuzzy's leagues contain no more than 50 teams whereas most other major sites employ a one-man-against-the-world approach. As a result, 20% of the entrants into Fuzzy's playoff leagues will - at the very least - recoup their entry fee, with first through ninth place receiving a nice return on investment for their troubles. Follow this link for a complete list of the rules.
Position Requirements: 1 QB, 2 RB, 3 WR, 1 TE, 1 K, 1 Defense/Special Teams
Since I will be running several teams with Fuzzy's this season, I'll simply list my teams below and present a brief overview on my overall thought process. Depending on how strongly I feel about matchups in a given week, I may use the same lineup in more than one league, but in general, I believe in "diversifying my portfolio" in the postseason as well.

Before I get to the breakdown for Fuzzy's, I must make two confessions:

1) I made changes to my lineups after submitting last week's article and
2) overall, my teams fared poorly last weekend.
Note: I'll be more than happy to post my lineup updates in the forums or on Twitter if you would like to know what my final calls are on these teams.

Fuzzy Portfolio - Wildcard Round
Team 1
Team 2
Team 3
Team 4
Team 5
QB
Rodgers
Vick
Rodgers
Brees
Rodgers
RB
Rice
Charles
Rice
McCoy
Charles
RB
Charles
Rice
McCoy
Charles
McCoy
WR
Jennings
Jennings
Jennings
Jennings
Jennings
WR
Bowe
Garcon
Garcon
Maclin
Bowe
WR
Colston
Colston
Bowe
Bowe
Mason
TE
Tamme
Tamme
Tamme
Tamme
Tamme
K
Akers
Hartley
Hartley
Crosby
Mare
DST
Saints
Ravens
Saints
Saints
Ravens
Tie
Vick
Rodgers
Vick
Rodgers
Brees
Pt Tot
85.2
135.8
102.3
80.4
94.0
The lineup I thought was going to be my best one was among the worst (Team 1) with two zeroes in the lineup (Dwayne Bowe and the Saints with Jennings coming close). Team 4 fared even worse because my kicker provided negligible support, although that can be expected from time to time. Fortunately, I avoided both Bowe and the Saints' defenses with Team 2 and find myself third in that league, less than 10 points behind the leader. I am comforted by the fact that I rebounded from a slow start last year to finish in the money in one of my three leagues, but needless to say, falling nearly behind 60 points in two of my five leagues this year after one week isn't exactly what I had in mind. Thankfully, because I "diversified" my portfolio, I was able to get one team through this mess of a weekend, but I'll have some serious work to do to get three of these five teams in the money, which was my goal going in.

Fuzzy Portfolio - Divisional Round
Team 1
Team 2
Team 3
Team 4
Team 5
QB
Rodgers
Rodgers
Brady
Cutler
Brady
RB
Forte
Forte
Forte
Forte
Forte
RB
Turner
Green-Ellis
Green-Ellis
Turner
Green-Ellis
WR
Jennings
Wallace
Jennings
Wallace
Jennings
WR
Wallace
Welker
Wallace
Welker
Knox
WR
Welker
White
White
White
White
TE
Hernandez
Gronkowski
Gronkowski
Hernandez
Gronkowski
K
Gould
Graham
Gould
Gould
Graham
DST
Patriots
Patriots
Patriots
Bears
Bears
Tie
Brady
Brady
Rodgers
Rodgers
Rodgers
While he doesn't possess Michael Vick's natural athleticism and scrambling ability, Rodgers is about as safe of a play as there is from week to week regardless of competition because he's a top-flight pocket QB as well as an adept scrambler. Throw in the fact that HC Mike McCarthy shows no hesitation in running play-action passes or rolling Rodgers out of the pocket at the goal line and you have a QB who is a solid bet each week to combine for at least two scores. It is almost always a good idea to use the QB of the NFL's top scoring offense, so Brady will get the nod in at least two of my playoff leagues this week. Because the Jets and Patriots will be going at it for a third time this season, I am compelled to believe the rubber match of this series will be the lowest-scoring one of the three (42 total points in September, 48 total points in the December rematch). I expect the weather to play a slight role in the gameplans for each team and, as such, feel that the running games of each offense will decide the final margin of victory for the Pats in this one. Because a 27-13 or 30-10 victory for New England this weekend sounds about right (with Green-Ellis getting in for a short score), that means Brady may only be good for two scores and limited passing yards.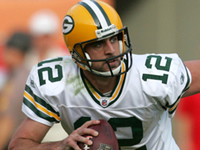 Rodgers: As safe as it gets.
Cutler probably seems like a foolish pick given the fact that Rodgers and Brady are both available to me, but I'm playing a hunch on that selection. Seattle has surrendered 34+ points in four of its last five games and six of its last eight. For the season, the Seahawks' defense has allowed over 29 points/game on the road. While the recent evidence appears to point to the contrary (including Seattle's road win Chicago back in October), I am convinced this week's matchup has blowout potential written all over it. Since I'm not willing to give Forte and the Bears' defense/special teams any more than two combined TDs, it could mean Cutler could be this week's Hasselbeck and be the unlikely QB to throw for 3-4 scores.
In my mind, Forte is a very sound selection for all my teams this week. It may seem odd that I am going somewhat Bear-heavy this week, but I'm convinced that Seattle has yet to turn the corner and will show itself to be the same road team it was for most of this season (2-6), getting outscored by an average of 12.5 points/game away from Qwest Field. Green-Ellis is far from an ideal selection in my mind, but I just don't see many fantasy points coming out of the running game from the Ravens, Steelers, Jets, Seahawks or Packers. In fact, the only legitimate candidates outside of the "Law Firm" in my mind are teammate Danny Woodhead (whose touches/game are much less well-defined than Green-Ellis) and Turner (who faces a defense who has surrendered rushing yards but not a great deal of rushing scores). Although I have a bad feeling Turner has a dud game this week, the matchup for him this week is slightly better than it for Green-Ellis (again, leaving the 45-3 debacle in Foxboro in its proper perspective), so I will roll with him in at least two leagues.
White, Wallace and Welker – at a position where consistency is hard to find, I believe starting this trio in at least two of my five leagues this week is a pretty solid move. There's virtually no chance any of these three will suffer the same fate Jennings and Bowe did last week because each has a very good QB (Bowe did not) or be avoided by his QB because of a matchup (like Jennings was because of Asante Samuel). Because Welker operates so often out of the slot, he will have space to separate from Revis – a tactic that NFL offensive coordinators do not use enough when a "shadow" cornerback is occupying the offense's best receiver for most of the day. I will still play Jennings because I expect a bounceback effort and also because I suspect Green Bay will not run the ball with the same effectiveness it did vs. Philadelphia, meaning more opportunities for the Packers' WR1. Much like Cutler, if anyone is going to benefit from his matchup this week, it should be Knox. Because I expect the Bears' ground game to be hitting on all cylinders this week, the play-action pass should free up Knox on more than one occasion for a deep score.
I really look forward to the day again when I have the opportunity to choose between TEs named Gates, Clark, Finley, etc. From my perspective, the best prospects this week at the position are the Patriots' rookies. Readers may be stunned that I included Hernandez in two of my lineups, but they may be surprised to learn that despite Gronkowski's second-half statistical barrage, it was the University of Florida 'tweener who was the better PPR player in both previous matchups against the Jets. So, in short, I'm using Hernandez as a chip to hopefully close the gap in last week's lowest-scoring leagues while hedging that bet by making the safe play with Gronkowski in the other leagues.
Since I already laid out the kicker position in detail above, I'll just say that I'll opt for Graham (kicks for the Pats' high-scoring offense) and Gould (matchup) this week. If the forecast calls for heavy winds in either game, I may be tempted to use the other in all five leagues. Because I already touched on Graham above, I'll go straight to explaining why Gould is a good choice. First of all, he's accurate and has a big leg. Second, the Seahawks are allowing the most points to fantasy kickers of any team still left in the postseason. And finally, since Chicago is abysmal at running the ball inside the red zone, a number of FG opportunities await for the kicker. I would not be surprised if Gould managed two extra points and 3-4 field goals this weekend.
My defensive picks come down to the Patriots and the Bears. Both have explosive special teams players, both have been performing well lately (with one exception each) in the scoring defense categories and both have matchups in which I feel their opponent may not score more than 10-14 points. I have zero confidence in Sanchez being able to seriously threaten the New England defense, so the Patriots get a slight edge over the Bears this week in terms of how many times I will be starting them.
As I stated last week, my tiebreaker picks each week figures to be my No. 2 choice at QB with very few exceptions. Not only do quarterbacks score the most fantasy points in this kind of scoring setup, but there are the best bets to post 20+ points each week. And as we are seeing this season, there just is not a great number of appealing RB, WR or TE options to use any other position in this spot, so Brady and Rodgers will get the call in each league this week.

Suggestions, comments, musings about the article or fantasy football in general? e-mail me.

Follow me on Twitter.