26 Rounds, PPR, Best Ball Format




8/2/11



Much like many other fantasy owners, I'm not the biggest fan of participating in random mock drafts. In a typical random 12-team mock draft, there is a pretty good chance there will be a healthy mix of amateur owners and auto-pickers with maybe a serious owner or two. What's worse is that many of the present owners draft with their own league rules and scoring in mind, even if a website like Fantasy Football Calculator puts the league scoring on its mock draft page.

With that in mind, rare is the time when a fantasy owner has the opportunity to take part in a serious late July live draft when each owner is well aware of the league rules and scoring. It becomes even more enticing and realistic when the league is part of a well-known competition. Last week, I was invited to participate in one of several "Pros vs. Joes" competitions in which representatives from six fantasy football websites (the Pros) square off against six serious players with no website affiliation (the Joes). The leagues use the "Draftmaster" format, which is essentially a no-transaction, best-ball league where the team you draft is the team you keep all season long. Although the idea of participating in a 26-round draft against serious fantasy minds (the team drafting out of the #9 slot was the $100 K winner in this competition last year) with limited preparation time was a bit daunting when I was first invited, I was quite pleased with the results. There are some worthwhile prizes in this little endeavor as well, providing even more incentive for each owner to draft well.

The one negative was the timing of this draft – it took place the same day the lockout was officially lifted, meaning the future destinations of all the free agents was still unknown at the time. Either way, in an effort to discuss some draft strategy – or maybe to defend my picks – I will take the next few minutes to review my team and some of the thinking that went into my draft.

Before I start, I want to give a big thanks to Mike MacGregor and his Cheatsheet Compiler/Draft Buddy. Because I have yet to begin my game-by-game projections, the CC/DB served as a wonderful resource.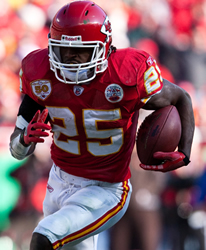 Charles is a safe pick at 1.02.
1.2 Jamaal Charles – Nothing like stirring the pot two picks into the draft, but Adrian Peterson (pre-McNabb) and Chris Johnson (possible holdout?) were not strong considerations for me at this spot. After Arian Foster, I saw Charles as the safest RB1 pick at the top of the draft simply because his role is set to grow after 275 touches in 2011. The schedule will be a bit more difficult this year than last – thus bringing down his mind-boggling 6.4 YPC – but now there is little question he is the centerpiece of an offense that is assembling an impressive number of offensive weapons to complement him. Ray Rice and LeSean McCoy made this pick a struggle, but I tend to believe Baltimore will still add a TD vulture to replace Willis McGahee while McCoy's production is too heavily tied into Michael Vick's health for my liking.
2.11 Maurice Jones-Drew – This is a pick I really did not want to make, especially in light of the knee issues that make Jones-Drew a question mark entering this season. But even with his knee issues, I could not pass up MJD as a RB2 when he is such a good bet for 325+ touches and 10 total TDs. Yes, I'm well aware the Rashad Jennings' bandwagon is gaining steam, but this is going to be MJD's backfield as long as is healthy. Based on the toughness he showed last season and has displayed throughout his career, Jones-Drew will play and play well. Considering his track record of production and durability prior to 2010, the upside of this pick was so much greater than the downside, making this pick a no-brainer.
3.2 Reggie Wayne – Wayne was the last of the elite WRs, so this was another no-brainer pick despite Wayne's second straight season in which he faded in the second half of the season. Because this is a total-points format (and not head-to-head), I am less worried about his second-half swoons – which I attribute in large part to the mediocre running game and offensive line play in Indy – and more concerned he eclipses 100 catches and 280 fantasy points in PPR, which he has done three of the last four seasons.
4.11 Wes Welker – The run on proven PPR assets continues. Now more than 18 months removed from his ACL injury, I expect Welker to come close to the 100-catch days he enjoyed with the Patriots in his first three years with the team. Even as New England continues its emphasis on running the ball more often again this season, there is little doubt that Welker is Tom Brady's go-to receiver. Welker's TD production is usually the biggest question with him, but his other fantasy numbers are so good and consistent that he is a solid WR2 on this squad.
5.2 Peyton Manning – Even in a league that devalues the importance of passing TDs (four points), I was shocked that I had the option of choosing Manning or Philip Rivers – let alone both players – at this spot. Manning enters camp coming off his second neck surgery in as many years, but the upshot at drafting him is that he has never missed a start and is the closest thing to guaranteed production as there is in fantasy football.
6.11 Daniel Thomas – Prior to HC Tony Sparano's announcement that Reggie Bush could be an early-down back or even before he joined the Dolphins, Thomas was the clear workhorse in this backfield coming into the season. One of the reasons I have been so high on Thomas all offseason is my belief that Miami would not bring in serious competition for the role the Dolphins had in mind for the rookie, so I'm as high on him now as I was before the trade simply because I expected the team to add either Bush or Darren Sproles when I made this pick. I'm perfectly happy with Thomas in one of my two flex spots.
7.2 Zach Miller – Perhaps it was his free-agent status or the plantar fasciitis injury that interrupted his highly productive season in 2010, but I was surprised by Miller's availability this late in a league that gives 1.5 points per catch at the TE position. With some offensive stability in Oakland, the 60-685-5 line he posted last year should serve as his floor for this season. I must admit the recent reports that have Miller ending up in Seattle makes this pick a bit dicey, but I'm still of the belief that he is good enough to produce at a TE1 level wherever he signs.
8.11 Steve Smith (CAR) – I have no problem taking any team's top receiver as my second flex player and WR3, even one from a team that doesn't figure to throw the ball a great deal or with that much efficiency. And I'll admit I drank my own cool-aid with my prediction of Smith landing in Chicago. As luck would have it, the addition of Greg Olsen should give defensive coordinators someone else to think about while preparing for Carolina's passing game for the first time since Muhsin Muhammad in 2008.
9.2 Ryan Williams – Let's get one thing out of the way right away: Williams was my favorite RB in April's draft. I'm not crazy about the situation he finds himself in (or the offensive line he'll run behind), but one of his potential roadblocks was removed over the weekend in the Tim Hightower trade. Thus, the path is clear for Williams to take over the Hightower role of the passing-down RB. If I'm really lucky, Chris "Beanie" Wells will continue to be an injury waiting to happen. Either way, I believe in this best-ball format that I will get at least two highly productive games each week from the combination of Smith, Thomas and Williams or any of the skill-position players I will discuss in a bit. At best, I have four potential feature backs, all of which can be used in my lineup each week.
10.11 Jerome Simpson – There's a very good chance that Simpson ends up being a better fantasy player than Steve Smith, especially if his performance in the final weeks of last season was any indication of his potential for 2011. Simpson's fantasy upside is obviously somewhat limited by the QB situation in Cincinnati (Andy Dalton and Bruce Gradkowski, as I predicted last week) but the presence of A.J. Green and Jermaine Gresham will ensure that he will not be receiving preferential treatment from the defense. I was very pleased to land my second straight high-upside pick this late, particularly one who has shown he can dominate when given the chance.
11.2 Malcom Floyd – I don't regret the pick of Floyd, but I thought I could wait one more round on Rashad Jennings or Beanie Wells, so if there is one pick I regret in this draft – it was probably this one. And so far in free agency, this is looking like a bad pick since Floyd has yet to find a suitor. Reportedly, his asking price is the reason he remains "free". At the time of the selection, however, it made a lot of sense to me that if Floyd did not return to San Diego, he would likely find another top offense that would take advantage of his 6-5 frame and ability to get deep. In a best-ball, total points format such as this one, it doesn't make much difference to me how inconsistent or injury-prone a player is at this point of the draft. If he can provide anything close to the 3-4 explosive games he had last year, it's a solid pick.
12.11 Montario Hardesty – With most of my regular starting lineup filled already, I wanted to use rounds 9-14 to stock the RB and WR shelves with as many high-upside players as possible that are in positions to succeed. The Browns' passing game is still a few years away, but the run-blocking is ready to support at least one – if not two – fantasy RBs. Peyton Hillis is easily the lead back in Cleveland, but a 60:40 split with Hardesty sounds about right.
13.2 Darren Sproles – Considering I expected Sproles to serve as Thomas' complement in Miami, it comes as a nice surprise that I picked up the player that New Orleans may use in Bush's old role. Granted, it's not as if I'm expecting the kind of production Bush put up in his rookie season, but I'm more than happy to grab a complementary player out of the Saints' offense as opposed to a role player in the Dolphins' offense.
14.11 Thomas Jones – I'm not generally in the market for 33-year-old RBs at any point of my drafts, but locking up Jones was important with my first-round selection of Charles. Jones fell off precipitously during the second half of last season, but the Chiefs' running game is too good for me not to protect my Charles pick with Jones. If my team stays healthy at the top, there's a good chance Jones never finds his way into my box score. But if something happens to Charles at some point, he probably will. That means despite the low upside, he's a necessary selection at this point of the draft.
15.2 Ravens DST – Unlike some owners, I value the importance of a tough and nasty defense in my fantasy lineup. Adding first-round CB Jimmy Smith – who the team intends to use as a "shadow" cornerback right away – to the defensive backfield should go a long way in shoring up the pass defense. With second-year DT Terrance Cody ready to become a starter, he will join Haloti Ngata in front of the ageless Ray Lewis to form a run defense that should be one of the best in the league once again. New DC Chuck Pagano figures to return the Ravens' defense to the blitzing unit the team became known for under Rex Ryan, but started to move away from under Greg Mattison. With upgrades in the secondary and Ed Reed still one of the better ballhawks in the league, sacks and turnovers should come early and often.
16.11 James Jones – Given the timing of this draft, I decided I would roll the dice on Jones landing a starting job with a team like Minnesota or maybe even Chicago. As it turned out, he should return to his WR3 role with the Packers. All things considered, grabbing potentially the second- or third-most productive fantasy Packers' receiver (assuming Donald Driver continues to fade) is very solid value in the 16th round. In these later rounds, all an owner can ask for in this best-ball format is to select a player who has a shot to contribute once or twice to the overall success of the team. I think I accomplished just that with Jones.
17.2 Kyle Orton – I played another hunch that I wrote about last week in believing Orton would start for Miami. I still believe that deal will happen before the start of the season, but one has to think his near $9 M cap number will ensure he'll begin the season under center for Denver or Miami. While I would prefer Orton ending up with the Dolphins, there is a pretty good chance I'm only going to need him for one week with Manning on the roster.
18.11 Mark Clayton – This pick was somewhat unfortunate on my part. News broke in the days following our draft that Clayton's recovery from knee surgery has either hit a snag or leveled off. The Rams were reportedly close to re-signing Clayton prior to the lockout. Then, he was a "slam dunk" to re-sign following the lockout, according to the St. Louis Post-Dispatch. In June, Clayton told the Tulsa World his knee was "wonderful", but in the days following this draft, HC Steve Spagnuolo indicated that his knee was not ready yet. Then, the Rams added Mike Sims-Walker, meaning the chances Clayton will automatically return to a starting role with the team – much less re-sign – have taken a hit.
19.2 Javon Ringer – In the 19th round, I was happy to take the first of two Titans' RBs who figure to benefit greatly should Chris Johnson continue to hold out for any length of time. My pick two rounds later – Harper – is probably the better fantasy bet to fill in for CJ long term, but both picks were made with Johnson's holdout in mind.
20.11 Alex Henery – This pick was quite simple – Henery steps into David Akers' old role as the kicker for one of the best offenses in the league. With a huge leg and proven accuracy, I have no problem saying this rookie should finish among the top five at his position.
21.2 Jamie Harper – See Javon Ringer above. Harper may have some low-end value as a part-time TD vulture if Chris Johnson's contract situation is resolved, but this pick was made to secure the Tennessee backfield in the event the holdout gets nasty.
22.11 Tim Hightower – Much like the Thomas Jones pick, Hightower was pretty much a "protection" pick in case Hightower retains his pseudo-starter status again this season at the expense of Beanie Wells and Ryan Williams. As it turned out, he's quite likely to figure into the RBBC in Washington, although he will probably start out as the Redskins' third-down back. However, with injury risks like Roy Helu and Ryan Torain in front of him, he could be a starter by midseason. In the 21st round, I can't ask for much more than that.
23.02 Lance Kendricks – Another high-upside pick. This year, new OC Josh McDaniels intends to steal New England's TE blueprint from last season in which Rob Gronkowski and Aaron Hernandez gave the Patriots a huge red-zone target and big-play option down the middle of the field, respectively. As it looks right now, Michael Hoomanawanui is slated for the Gronkowski role while Kendricks is expected to do his best Hernandez impression. The main difference – besides Tom Brady – between the Pats and the Rams is that Kendricks probably enters this camp as his team's most explosive playmaker whereas the New England TEs had two Pro Bowl receivers at the start of the 2010 campaign. It is also notable that Kendricks is a capable blocker whereas Hernandez was often left on the sideline last season when New England wanted to run the ball. These two qualities could very well allow Kendricks to enjoy a more successful rookie season than Hernandez.
24.11 Jerricho Cotchery – Fully expecting Braylon Edwards and Brad Smith to leave New York in free agency, I felt Cotchery was well worth a gamble at this point of the draft. The Jets are reportedly making it known Cotchery is available via trade since they signed Plaxico Burress, but if remains in New York, he would be serve as decent insurance should Burress not be able to produce right away like the team thinks he can. In New York, I don't see why another 40-50 catch season is out of reach.
25.2 Tony Scheffler – Another year, another chance on Scheffler. OK, the 25th round doesn't exactly count as a big leap of faith, but it makes sense that a receiving TE that can get down the field will benefit more from a healthy Matthew Stafford. Neither player has shown the greatest durability, so I'll accept this pick for what it is: a hope that Stafford can stay healthy. If both players can stay healthy, Scheffler has a good shot at decent TE2 value.
26.11 Jaguars DST – Of the five defenses remaining on the board at the time, Jacksonville offered the most upside. However, the main reason for my selection of the Jaguars DST over the other four was the fact they play Cincinnati during Baltimore's bye week, which appeared to be the weakest of the four opponents the remaining DSTs had that week.

Suggestions, comments, musings about the article or fantasy football in general? E-mail me.
---
Doug Orth has written for FF Today since 2006, appeared in USA Today's Fantasy Football Preview magazine in each of the last two seasons and served as a weekly fantasy football analyst for 106.7 The Fan in Washington, D.C. this past season. He is also a member of the Fantasy Sports Writers Association. You can also follow him on Twitter.