Stop yourself if you have said the following statement over the last few days: "What's wrong with ____?" (Fill in the blank with the names of players such as Cam Newton, C.J. Spiller, Alfred Morris, Trent Richardson, Marshawn Lynch, Lamar Miller, David Wilson, Ahmad Bradshaw, Calvin Johnson, Dez Bryant, Eric Decker and so on.)

I have purposely stayed away from the usual Week 1 chatter this year for a number of reasons, not the least being because Opening Week always has been and probably will always be the most unpredictable of weeks during any given NFL season. New coaches enter the picture every year, bringing along different philosophies and new schemes on both sides of the ball. Players who may have not seen the field for more than a half during the preseason are being asked to play full games. Adjustments cannot be made until coordinators and coaches have seen the new wrinkles actually play out – no matter how much they have been discussed in the media.

In other situations, players are being asked to fill new roles and not all of them are up to the challenge, especially when they are performing on the big stage for the first time (and they know it). Last but not least, there are still players on the other side of the ball whose main purpose is to make sure the other team's best offensive players don't succeed. In other words, it's Week 1 and a lot of mistakes can be made when fantasy owners make decisions based on a small sample size.

And in case there are those readers that believe I'm just recycling the same old tired "don't panic after Week 1" message year after year, it is because I experience it myself. Although I don't keep track of such statistics, I'd be willing to bet my lowest winning percentage of any week is Opening Week and it probably isn't even close. So when I say, "It will get better," to all the owners who are disappointed in their teams' Week 1 performance, it is because I tell myself that. I know I drafted well, but I'm hardly clairvoyant. And even if I was, it wouldn't change whatever opponent I am matched up against in Week 1.

In the coming weeks, I intend on passing along insightful pieces of information that goes above and beyond what readers typically expect from a fantasy column. Some will come via my own research methods and some will come by way of Pro Football Focus, which has become an incredibly useful tool in helping me make smarter lineup decisions. One of the areas I plan on discussing her is the different categories PFF charts in regards to cornerbacks. I am excited to do this since owners tend to make the most "mistakes" at the receiver position when setting their lineups. By researching which cornerbacks are targeted the most, surrender the highest passer rating or give up the most touchdowns, owners can get a good sense of which defensive backs are getting "picked on" the most. With the NFL evolving into a "matchup league", it can only help if we know what players offenses want to target each week.

For now, however, I'm going to avoid making rash judgments on what I saw play out last weekend and focus more on what I observed thanks to NFL Game Rewind. After each "observation", I will take some time to discuss the fantasy impact in the "Week 1 Reaction". I won't discuss every game, but rather highlight some of the more notable things that stood out to me.

---
There is no need for me to discuss Peyton Manning at the moment; there are plenty of other people already doing that. The most fascinating part of Denver's win wasn't the reaction to Manning tying an NFL touchdown record, but the notion that one game "proved" that Eric Decker is no longer a vital part of the Broncos' offense. Decker himself called his performance "ridiculous". The idea that the most-targeted red-zone receiver from a season ago – and James Jones owners may be feeling the same way about him this week – will simply go away in an offense that will probably average 70+ plays with a Hall of Fame quarterback is mind-boggling to me. Decker saw 7.6 targets on average (and didn't score until Week 4) in 2012; he saw seven targets in the opener despite his struggles. On the field, I was most perplexed by Baltimore's unwillingness to use top CB Lardarius Webb on Wes Welker in the slot (Webb's usual responsibility in three-wide packages) and leave him on Decker all game long. Not surprisingly, Manning attacked CB Corey Graham and FS Michael Huff relentlessly, each of whom allowed three touchdown passes.
The Broncos obviously trust Montee Ball with the ball; however, it is also very clear they don't trust Ball without the ball. The fact they brought him on during the clock-killing mode suggests the only thing keeping him off the field is the faith Denver has in his pass-blocking assignments (not exactly surprising news). Like Ahmad Bradshaw in Indianapolis, this is going to take a little bit of patience, even if it is for a much different reason.
Week 1 Reaction: Nothing to see here in regards to Decker. Perhaps his touchdown total goes down from 2012, but there's a much better chance Decker's a good buy-low candidate right now than a bust in this offense. As far as Ball is concerned, anyone who was following along in the preseason had a pretty good sense that his rise into the starting lineup was going to be more gradual than meteoric. It would be foolish of me to suggest I know exactly when Ball will earn the trust of his coaching staff as a pass blocker, but it seems pretty clear that is the one obstacle he needs to overcome in order to become Denver's lead back.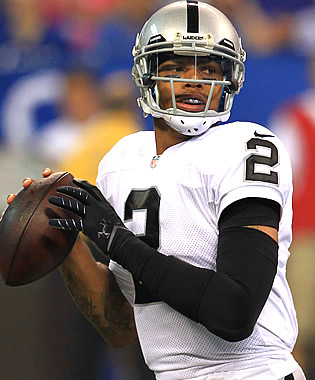 Terrelle Pryor may have a short run as a fantasy QB1.
The world may have known Terrelle Pryor was going to draw the start against Indianapolis, but the Colts sure didn't play defense like it. Pryor is a gifted athlete that lacks deep-ball accuracy, so why did Indy play its corners off all game (allowing Pryor to complete short passes) and consistently crash down on running plays when it was fairly obvious he would keep the ball about as often as handed it off?
Vick Ballard looked much lighter on his feet than he did last season and even during the exhibition season. As (should have been) expected, he saw nearly three times as many snaps as Ahmad Bradshaw (41-15). The ex-Giant saw his first action on the Colts' third series, came on again midway through the first drive of the second half and had the backfield to himself on the following drive. He did not see another touch for the rest of the game.
Week 1 Reaction: Pryor could have a short run as an impact fantasy player with Jacksonville and Denver next up on the schedule, but defenses that play with any discipline in the run game, recognize that he drifts to his right when pressured – like many young mobile quarterbacks – and aren't afraid to make Pryor burn them deep will probably have a field day against the Oakland offense.
The Ballard-Bradshaw situation will be one to monitor going forward, but Bradshaw owners should feel good that he touched the ball on eight of his 15 snaps while Ballard touched the ball of 14 of his 41 plays. That kind of ratio hints that Bradshaw will move into even timeshare status (or more) soon enough – at which point he should be a fine flex option or low-end RB2 in all leagues.
Calvin Johnson came within a few inches of one touchdown and could have scored another had the officials decided he was a runner at the point he fell to the ground and not a receiver "in the process" of a catch on his first potential score. Adrian Peterson, on the other hand, was oh-so-close to a 20-yard rushing performance. (In case you missed the highlights, he ran for a 78-yard touchdown on his first carry of the year and rushed for a total of 15 yards on 17 attempts thereafter.) Detroit routinely beat Minnesota's offensive line off the ball and generally played up to its considerable talent level.
Jerome Simpson has given us a spectacular show before, most notably at the end of the 2010 season with the Bengals. What he has never done is consistently play to his talent level. With that said, his 47-yard catch over-the-head catch down the middle of the field in the third quarter was exactly the kind of amazing play he used to make with Cincinnati, only to blow an assignment or drop the easiest of passes a short time later.
Week 1 Reaction: As snake-bitten as Megatron owners must feel over the last year or so in regards to his bad luck in the touchdown department, Matthew Stafford will continue to go to him and OC Scott Linehan will spend as much time as necessary to free him up against double teams as he has done time and time again in recent years. Peterson was without his usual lead blocker (suspended FB Jerome Felton), but that wasn't the reason why he was bottled up after his big early run. Had I not seen Detroit's run defense dominate at times in the preseason, I might be willing to dismiss this performance a bit more. However, as long as the Lions' talented front four stays healthy, their run defense will probably represent a below-average matchup for just about every opponent going forward.
Simpson might be worth an add in deeper leagues just to see if this is going to be the season the 27-year-old puts it together, but there is just too much history working against him at this point to suggest this may be the start of something good. Also working against him is OC Bill Musgrave and the Vikings' investment in rookie Cordarrelle Patterson, who will almost certainly overtake Simpson in the lineup (or split time at the very least) when he is ready.
Pittsburgh looked exactly like the same team I saw in the preseason – a team capable of holding an opponent to one offensive touchdown or less but unable to sustain offense. Of course, that was before the season-ending injuries to C Maurkice Pouncey and RB LaRod Stephens-Howling, who was acting as the team's every-down back after Isaac Redman's inauspicious start. Le'Veon Bell's return will help somewhat, but he isn't going to create holes on his own nor is he the type of back that will carry an offense for long stretches. The Steelers' offensive line appeared very much to be a unit in transition. Quite honestly, this was the worst offensive effort I have seen from a Pittsburgh team in as long as I can remember. Apparently, Tennessee felt the same way. Despite a 2.7 YPC and a long run of 11 yards, the Titans ran the ball 42 times and never showed an inclination to open up the offense even though they took most of the first half to score and never really pulled away in the second half.
Week 1 Reaction: The Steelers are in trouble and the problems go beyond the loss of Mike Wallace. The offensive line – which used to get unfairly blamed for yielding too many sacks when Ben Roethlisberger's propensity to hold on to the ball too long contributed as much to the high totals as much as anything – was getting manhandled in the passing and running game. The fact that Pouncey was lost because RG David DeCastro blindly dive-blocked into his knee was symbolic of the performance in general. Pittsburgh has the look of a 4-12 team right now.
Carolina has reason to be a bit optimistic, especially if the team follows through on opening up the offensive playbook after acknowledging it was too conservative against Seattle. DeAngelo Williams showed much more life in his legs than he did at any point in the preseason, The Panthers' defensive front seven did a remarkable job of containing the Seahawks' running game. The pass defense will continue to be Carolina's weakness, although Russell Wilson reaffirmed he is the real deal. His ability to improvise and turn a potentially devastating play into a positive one for the offense is remarkable for a second-year quarterback.
Week 1 Reaction: The Panthers began to field a respectable defense in 2012 about the time they moved Luke Kuechly from outside linebacker into the middle. The run defense was further bolstered last week when the team added S Quintin Mikell. However, their inability to defend the pass is likely to be their undoing as Josh Thomas and Josh Norman each surrendered a QB rating of 96.4 or higher in 2012 while Captain Munnerlyn was highly inconsistent despite a lower QB rating (76.6). I'd like to be a believer in D-Will, but ultimately think Jonathan Stewart will return at some point this season and make him somewhat irrelevant. I have little doubt that while Wilson may be a bit inconsistent in fantasy when the running game is working well, he'll also do enough himself to be a top-notch starter most weeks.
Marc Trestman may end up being the answer to Matt Forte and his owners' prayers. Michael Bush saw 14 snaps – compared to 52 for Forte – and all of his carries came in clock-killing mode. The Bengals' defense was incredibly impressive at times in the preseason and that carried over into Week 1, so it was rather surprising that Forte still managed 91 total yards and a score. If he is also going to remain on the field in most goal-line situations on top of usual in-between-the-20s work, he is going to live up to his fantasy draft status and then some in 2013.
Week 1 Reaction: So far, so good for those of us who took a chance on Forte in the first round of our drafts. Forte has been tagged as a poor short-yardage and goal-line back throughout his career, but I have long believed he was more a victim of Chicago's unwillingness to invest enough resources to fix their offensive line issues – which was also leading to Jay Cutler's inability to stay healthy. Furthermore, this year is the first time I can remember Forte actually have something resembling a solid supporting cast, so the fact he is now playing for a noted offensive coach makes it that much better.
The most impressive player in Jacksonville-Kansas City was...Ace Sanders? Three catches for 14 yards isn't going to turn the heads of fantasy owners, but nine targets in a quick-hitting offense that will be playing its fair share of garbage-time ball should raise an eyebrow. For those of you that missed Chiefs-Jaguars (go ahead and admit it, there's no shame in it), Sanders was originally credited with a 57-yard reception that was (correctly) brought back after replay for an 18-yard gain and a 33-yard catch that was wiped out due to an questionable offensive pass interference call on Cecil Shorts on a pick/rub play. This likely begs the question: Why I am mentioning these plays? Quite simply, the fact that the plays only resulted in 18 total yards doesn't take away from the idea he could have easily piled up almost 100 receiving yards. Jacksonville was not afraid to use him on the outside in addition to his normal slot duties, which was a bit of a shocker.
Staying on the receiver front, my late preseason fears about Dwayne Bowe were not squashed after watching this game. There could be any number of reasons why he posted a 4-30-0 line against the Jaguars, but six targets on 63 plays is a bad ratio for any lead receiver – especially one as good as Bowe in a plus matchup. Bowe played 55 snaps, so it wasn't because he didn't see much time. From my perspective, Alex Smith did a lot of checking down despite the fact the Jaguars didn't put a lot of pressure on him. The Chiefs don't face many stout pass defenses this season, but they aren't going to have a much better opportunity to open things up than they did against the Jaguars.
Week 1 Reaction: I get it; people are going to have a hard time wrapping their minds around a 5-7, 173-pound slot receiver in an offense led by either Chad Henne or Blaine Gabbert. And those fears are justified. However, let's remember that fellow rookie Tavon Austin may have an inch and a pound on him physically (and that's about it) and Jacksonville is now one of the many up-tempo teams in the NFL. Of course, I'm not suggesting Sanders is the same kind of prospect Austin is. However, more plays leads to more opportunities and the Jaguars will be spending a fair amount of time playing from behind. Teammates called Sanders the most impressive rookie during training camp and the preseason and I noted during my Big Board series that he was one of the players that stood out to me during exhibition action.
It's hard to believe that Kansas City's target distribution will be as balanced as it was in Week 1 every week (FB Anthony Sherman led the team in receiving yards and tied Bowe for the team lead in receptions), but this is the type of game that Bowe should have easily posted twice as many catches and yards than he did. Balance in this kind of game is acceptable when a team sits on the ball, but Smith still threw the ball 34 times even though the Chiefs had the game in hand for most of the second half. Furthermore, the talent gap between Bowe and every other Kansas City receiver is significant enough that Bowe should see substantially more targets than any other Chiefs receiver every week.
For those of you that don't mind playing ahead a little bit, I would start putting out offers for Bryce Brown. While LeSean McCoy isn't in any danger of losing his job, he's also not likely to withstand the kind of workload he put in during Week 1. There's no reason for Chip Kelly to back off his approach, but I'm pretty confident McCoy and Michael Vick will not carrying the ball 40 times like they did on Monday every week. Vick continues to talk about playing smarter, but he still finds way too much contact for someone trying to protect himself and he was already limping a bit after one game. If Vick is hurt and Kelly wants to continue running the ball 40 times per game, Vick's piece of the pie will have to fall on Brown – and not on Nick Foles or McCoy.
Week 1 Reaction: It seems unlikely McCoy will continue to see 32 touches every week, so buying into Brown is really more of an investment in the likelihood that Kelly isn't going to slow his tempo. Kelly routinely used multiple backs at Oregon and, if Week 1 was any indication, there will be large holes for Philadelphia running backs to run through. McCoy is the unquestioned best runner on the team (and one of the best backs in the league), but Kelly's attack figures to wear down his players as the season progresses as much as it figures to wear out the Eagles' opponents each week.
San Francisco – as far as Frank Gore is concerned – is a between-the-tackles running team. So when a defense is able to plug up the middle of the field like the Packers did in Week 1, Gore's impact will be limited. It became clear relatively early that Green Bay was going to stop the run at all costs and live with Colin Kaepernick beating its zone through the air, which he did. The reason I bring up Gore is because he – along with Steven Jackson – will be attempting to buck the trend of 30-year-old running backs falling off the fantasy map. One week isn't enough to draw any rock-solid conclusions (midseason will be a better barometer), but Gore looked exactly the same to me in this game as he did for the majority of last season.
Week 1 Reaction: Owners of Gore and the Packers' defense should actually be pleased despite a relatively poor fantasy performance on both ends. The nine-year veteran got what he could, handled 23 touches without incident and the Niners did a good job of sprinkling in enough Kendall Hunter as to not wear him out. San Francisco's opponents will have to pick their poison each week and, after last year's playoff matchup, Green Bay couldn't justify giving up 323 yards rushing and 256 yards passing again. An officiating mistake didn't help the Packers' cause this time, but they know they are close to solving the San Francisco riddle.

Suggestions, comments, about the article or fantasy football in general? E-mail me or follow me on Twitter.

---
Doug Orth has written for FF Today since 2006 and appeared in USA Today's Fantasy Football Preview magazine in 2010 and 2011. He hosted USA Today's hour-long, pre-kickoff fantasy football internet chat every Sunday this past season. Doug regularly appears as a fantasy football analyst on Sirius XM's "Fantasy Drive" and for 106.7 The Fan (WJFK – Washington, D.C). He is also a member of the Fantasy Sports Writers Association.