Amazingly, almost every owner in every league has everything figured out after four weeks. Peyton Manning will break Tom Brady's passing touchdown record and throw for nearly 6,000 yards. Doug Martin, Chris Johnson, Stevan Ridley and David Wilson are all busts. Tavon Austin and Vincent Jackson will undoubtedly disappoint the rest of the season while Antonio Gates is back, baby!

Make sure you aren't the owner that has it all figured out; in fact, if you are that owner, do what you can to change quickly. The chances are high the categories assigned to most of the aforementioned players will not apply to them in about a month. The first quarter of the season is just that; we don't decide games, leagues or anything else in sports at the quarter pole.

NFL coaches are fond of saying how they like to break down the regular season into four four-game segments. At the end of each quarter, they not only like to be at least .500, but also to have a fair gauge on what players are going to carry the team's momentum into the next part of the season. Minus the momentum bit, fantasy owners would be wise to do the same. While wins and losses are ultimately what we are judged by in our leagues, owners must recognize their job is to maximize their roster's potential; your league's schedule will usually take care of itself. If your team is scoring well week-to-week and sitting at 2-2 or worse, the answer may not be to "shake thing up". I still recall a team I owned nine years ago that started out 0-5 and didn't lose another game. It's an extreme example, but sometimes staying the course is the prudent move.

One of my best PPR money-league teams this season has surrendered 577.6 points while most of my opponents have yet to allow 500. The odds are long that kind of poor luck will continue; I cannot remember one team in any of my leagues ever giving up 1877.2 points during a 13-game season (what my team would allow at the current pace). Just like the stock market, fantasy football is often cyclical. In other words, if your portfolio has performed consistently thus far, it will probably stand the test of time while the good fortune of your fellow owners begins to dwindle as byes and injuries start eating away at their team's depth (or lack thereof).

With that in mind, no fantasy team is ever perfect. The bye weeks offer owners opportunities to make improvements. Sometimes, those changes can be made when an owner is willing to take a chance on a highly disappointing player. Other times, it involves dealing a player at the peak of his value when it is highly unlikely he will sustain his current level of success. Obviously, changes in a player's role or surroundings can throw all the buy-low, sell-high logic in the world out the window, but there are several such opportunities that exist in today's fantasy market. As each of my regular readers know, I believe perspective matchups plays a big role in identifying which players are about to see their fantasy stocks change in a big way, be it good or bad.

What follows is a fairly extensive list of players (by position) that have either have very favorable or unfavorable upcoming schedules over the next quarter of the season or are likely to see their values change significantly due to any number of factors – such as the likelihood of their own injury or the return of a key player from suspension or injury.

QBs I wouldn't mind acquiring over the next month:

Jay Cutler – The Mark Trestman era has begun in fine fashion and will get a nice little boost over the next month or so as three of the Bears' next four opponents currently rank second (Redskins), fifth (Packers) and sixth (Giants) in most fantasy points allowed to the quarterback position. Further strengthening Cutler's position as a fantasy asset is the Bears' somewhat leaky defense thus far and the incredible skill-position talent he has surrounding him. Each of Chicago's upcoming opponents will have enough on their plate trying to contain Matt Forte, meaning Cutler should be able to spread the wealth to Brandon Marshall, Alshon Jeffery and Martellus Bennett on a consistent basis in the coming weeks.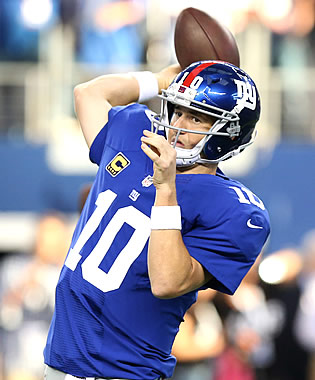 The schedule lightens up for Eli Manning including two matchups against the Eagles over the next 4 weeks.

Eli Manning – Let's face it: the Giants have been real bad of late. It probably doesn't help matters they are missing their regular center (David Baas) and right guard (Chris Snee), but they also haven't caught any breaks from the early schedule either. Denver and Kansas City have each been very good on defense thus far while Carolina's front seven is among the best in the league. However, it should get a little better in October as the Giants face the Eagles (twice) and Vikings before their Week 9 bye. Neither one of those teams have a legitimate shot at containing Victor Cruz and it could be argued that neither team will be able to keep up with Hakeem Nicks (or even Reuben Randle). Looking even further ahead, Manning will square off against Oakland and four other teams currently ranked among the top six teams in terms of most points allowed to the quarterback position. New York may not be able to dig out of its 0-4 hole, but between Week 6 (Chicago) and Week 15 (Seattle), it isn't going to see another defense nearly as good as the last two or three it has faced.

Russell Wilson – The second-year signal-caller with all the intangibles has been a much better quarterback in reality than fantasy this season, although he is one week removed from a four-touchdown game. Thus far, Seattle has been content to run the ball and play defense – a strategy that should have backfired in Week 4 were it not for an ill-advised back-footed throw across the field from Texans QB Matt Schaub to Seattle CB Richard Sherman. Be that as it may, Wilson is actually off to a better start than he was in a more conservative offense last season. Whether or not Percy Harvin returns ahead of schedule or not, OC Darrell Bevell knows he can open his offense up at any time and I believe Wilson's 77 yards rushing will serve as a reminder that he needs to get his quarterback some designed runs. (I'm aware most of his runs last week were scrambles.) The upcoming schedule isn't overly easy or difficult, so call this recommendation more of a feel and less of a stat-driven prediction.

Other quarterbacks to target going forward: Tony Romo, Brian Hoyer.

QBs I would consider dealing away over the next month:

Carson Palmer – Palmer teased us with a strong Week 1 showing versus the Rams, but the Rams aren't yet what we thought they were defensively while the Cardinals' last three opponents (Lions, Saints and Bucs) have all been relatively stout on defense. The problem for Palmer leading up to his Week 9 bye is that three of his next four opponents are teams with good or great running games, one with a defensive line that can expose Arizona's porous front five (Carolina) and another that has a defense capable of shutting down all of his weapons (Seattle). Although San Francisco is undermanned defensively, I would hesitate to say it qualifies as a positive matchup while Atlanta should be about as healthy as it is going to be by Week 8. In fact, the only solid-to-good matchups I see for Arizona the rest of the season are Jacksonville in Week 11 and St. Louis in Week 14.

Matt Ryan – It is about to get really cold for Matty Ice over the next few weeks if Roddy White doesn't make it back to 100% during the Falcons' Week 6 bye. Julio Jones is about to face a who's who of cornerbacks, most of which are among the top "shadows" in the league. While this statement isn't necessarily a belief that Jones cannot win his share of battles against Antonio Cromartie, Darrelle Revis and Patrick Peterson in the three games immediately before or after the Week 6 bye, it is an acknowledgment that Ryan probably isn't going to keep pace with the other top quarterback options in the league if he is playing with anything less than all the offensive weapons he expected to have at the beginning of the season. The next four games don't look particularly enticing either, which means Ryan owners may have to wait until Thanksgiving weekend before he can string together consecutive elite QB1 numbers.

Michael Vick – Few quarterbacks have a better remaining schedule than Vick, so if his owners have been riding him as a mix-and-match option (or would like to do so), a very strong case can be made to trade for him. And despite what some will say about the league catching up with Chip Kelly's offense, I would argue that Philadelphia has faced two of the league's better defenses in Kansas City and Denver over the last two weeks. The fear here is that Vick will not hold up; he is on pace for his most rush attempts since 2006. Vick is usually limping at the end of each game because he has less regard for his physical well-being than most of today's quarterbacks. Perhaps the weight he added in the offseason will give him a chance to play all 16 games for the second time in his career, but I highly doubt it.

Other quarterbacks to consider dealing sooner than later: Alex Smith, Sam Bradford.

RBs I wouldn't mind acquiring over the next month:

C.J. Spiller – At some point, I believe HC Doug Marrone and OC Nathaniel Hackett will come to the realization that Spiller is a space player who can run inside and not an inside runner who excels in space. All of the big runs I can remember from Spiller this season have come as a result of draws and delays. Spiller was as elusive as a back as there was in the league – a trait that he probably didn't just lose in the offseason. Furthermore, teammate Fred Jackson has more receptions than Spiller, which cannot and should not happen in an offense that stresses tempo and wants to create big plays. I took Spiller's 23-carry effort in Week 4 against a tough Ravens defense as a good sign of his future use, but am perplexed at the fact he has been targeted once in the passing game over the last two games. Spiller's schedule does ease up a bit, but this recommendation is based more on believing Marrone and Hackett will draw the same conclusions I have about Spiller's usage. Furthermore, Jackson is 32 and hasn't played a full season since 2010; I highly doubt Tashard Choice will assume Jackson's fantasy production if/when Jackson goes down.

Doug Martin – For anyone that watched the Bucs play Arizona in Week 4, they know I have no business making this recommendation. Here's the problem: no back has seen the workload Martin has this season. He has produced respectable numbers despite the fact he has not been helped a bit by the passing game and faced some pretty respectable defenses. Following this week's bye, however, Martin will have the pleasure of facing the Eagles and Falcons. The next two weeks (Carolina and Seattle) figure to be more difficult, but it is conceivable he will have smooth sailing thereafter – assuming the Bucs don't completely fall apart as a team. Owners who don't mind taking that risk should strongly prod the Martin owner in their league to see if his value has slipped into the low-end RB1/RB2 range.

Chris Johnson – What could I possibly see in a back coming off a 15-carry, 21-yard performance? Moreover, why would anyone want a speedster who is averaging 3.3 YPC and has four catches through four games? My answers: workload and light at the end of the tunnel. Generally speaking, it isn't going to get much tougher for any running back than Pittsburgh, Houston and the New York Jets in three of the first four weeks of the season. It also needs to be said that owner investing in him had better realize he isn't all that likely to fare very well for another three weeks, so don't make the mistake of trading a RB2 in exchange for him. By the time he has finished the first half of his season (with upcoming games against Kansas City, San Francisco and Seattle), it is likely his owner will be tired of his inability to score like a high-end RB2. Following his Week 9 bye, Johnson's schedule goes from ridiculously difficult to relatively easy with a game apiece against the Rams, Raiders and Cardinals as well as two each versus the Jaguars and Colts. The Titans have no plans on letting Johnson become a goal-line option anytime soon, so his ability to perform at a high fantasy level will be big-play dependent. Even with that caveat, I could easily see Johnson rip off 4-5 memorable fantasy performances over the second half of the season.

David Wilson – I'm going to keep this one short, in part because most of the same reasoning I provided for Manning above applies here as well. For the first time since the preseason, Wilson ran with confidence in Week 4 and actually managed a couple of receptions as well. Furthermore, Da'Rel Scott was let go during the week, which either signals the Giants want to speed up Michael Cox's development (possible) or allow Wilson to contribute in the passing game on a more regular basis (more likely). The offensive line is almost certainly going to play better than it has thus far and Wilson is the type of big-play back who needs a defense to make only mistake in order to have a productive fantasy day. I would characterize Wilson as a short-term buy, however, since I suspect Andre Brown will be just as valuable – if not more so – if/when he returns around Week 10 or 11.

Other running backs to target going forward: Ryan Mathews, Montee Ball, Jonathan Stewart, Shonn Greene.

Deep league special: Mike Goodson.

RBs I would consider dealing away over the next month:

DeMarco Murray – In my estimation, Murray is the Michael Vick of the running back position. He is multi-talented, explosive and can play like a top 10 player at his position. So what's not to like? Durability, or the lack thereof. Murray is an upright runner that takes more shots than he should and he's already 47.4% of the way to his career high in touches (196 last season). The third-year back has been injured off and on just about every year since his college days and it seems unlikely he'll hold up physically with more work. Just to be clear, owners lucky enough to land Murray as a flex should hold onto him and make sure to snag Lance Dunbar as a fairly solid handcuff option. However, if owners are riding him as a regular RB2 or even RB1, now is the time to see what he can bring back in a trade. I realize that most veteran owners will realize he is an injury risk as well, but almost every league has 1-2 owners desperate enough to deal for a high-upside running back hoping this is the year he stays healthy. Perhaps it is his year and he does play all 16 games; I just wouldn't be a lot on it happening.

Le'Veon Bell – The rookie made a splash in his first NFL game and it's already time to send him packing? As with everything, it depends. Most owners who drafted him after his preseason foot injury probably landed him as an RB4 and, in those cases, he is probably a pretty good stash. However, for any owner hoping for a regular starter, look beyond the two touchdowns against the Vikings and you'll see a rather ordinary 3.6 YPC. I understand one game isn't nearly enough to make a judgment, but I've already seen enough of the Steelers' running game. I don't think we can expect Pittsburgh to fix all of what ails its underperforming offensive line in the bye week. When they return to action, the Steelers will face the Jets and Ravens in back-to-back games. Owners that can wait at least three more weeks for decent production should probably hold, but Bell's high-scoring effort in London should be a catalyst to move him for some other back with an easier schedule, a better offensive line or both.

DeAngelo Williams & Bilal Powell – I'm going to combine the last two players because their stories are somewhat similar. Both backs are surprisingly among the league leaders in rushing (separated by one yard) despite being over-the-hill (Williams) or considered an average talent (Powell). The problem with both going forward is their more-talented backfield mates are set to join the team shortly, which could sink both of their values. Jonathan Stewart could be on his way back around Week 7 in Carolina while Mike Goodson has already returned to the Jets. There is going to be a small window (roughly the next 2-3 weeks) in which owners will have to get something of value for Williams or Powell. In the meantime, Williams' owners might just as well enjoy what should be rather soft matchups over the next three weeks. Goodson will probably begin working his way back into the good graces of Rex Ryan & Co. by returning kicks while Powell attempts to exploit a neutral schedule, but it shouldn't take long for the Jets to see Goodson has more explosiveness than Powell.

Other running backs to consider dealing sooner than later: Lamar Miller, Fred Jackson, Trent Richardson.

WRs I wouldn't mind acquiring over the next month:

Torrey Smith – Despite a huge game against Buffalo last week, there is still an excellent chance to land a high-end WR2 in Smith if you show a little patience. Over the next four games, Smith will square off mostly against Brent Grimes, Ike Taylor and Joe Haden. Admittedly, Smith is the one receiver to have any kind of success (relatively speaking) against Haden this season, but this is not a list of corners that any owner should expect Smith to have great success against regardless of the number of targets he is receiving each week. Thanks to the trade of Anquan Boldin, injury to Dennis Pitta and disappointing play of Ed Dickson, Smith has essentially taken over as the primary short, intermediate and long-distance threat. Additionally, Baltimore hasn't made Ray Rice a primary focus of the short passing game since the opener, further locking Smith into an average of 10.5 targets/game. Smith isn't going to get a lot of "easy ones" this year, but volume and his development as a receiver is probably going to allow him to finish among the top 15-20 receivers at season's end.

Alshon Jeffery – If Brandon Marshall wasn't already considered a top-five receiver, I would put him here as well. As I alluded to earlier with Cutler, Trestman's offense should have a relatively smooth ride for most of the rest of the season. After a home contest against New Orleans (a game that could get a bit high-scoring), Jeffery faces the Giants, Redskins and Packers – three teams that rank in the top 11 of most points allowed to receivers. But it goes much deeper than that: Chicago does not face another opponent that has a potentially negative matchup (according to the FF Today strength of schedule tool) the rest of the season.

Marques Colston – For whatever reason, Colston has been a slow starter throughout his entire career. Over the course of eight Septembers, he has averaged 66.2 yards and 0.36 touchdowns. In October through December, Colston's per-game marks are 74.2 and 0.60 TDs. Granted, Darren Sproles and Jimmy Graham haven't been around his entire career, but Colston's track record for coming on after the season's first month is strong enough. In a Drew Brees-led offense, there is more than enough passes to satisfy the top three targets and Colston will be one of those three for the foreseeable future. As teams continue to use more and more resources to make it as difficult as possible for Sproles and Graham to get off the line of scrimmage, it will be Colston who will benefit most. Since he also spends so much of his time in the slot, Colston will also avoid most of the opponents' top cornerbacks as well.

Other receivers to target going forward: Percy Harvin, Kendall Wright, Robert Woods, Jeremy Kerley.

Deep league specials: Ted Ginn, Jr., Andre Caldwell.

WRs I would consider dealing away over the next month:

A.J. Green – A word of caution before proceeding: Green is easily a top-five receiver in the real world and should only be dealt in exchange for a similar receiver in fantasy. With that said, QB Andy Dalton does not appear to be improving this season and might actually be regressing. Sure, the completion percentage is higher than last year and he's on pace for his first 4,000-yard season, but there is something missing here. At the very least, Dalton's ability to throw deep hasn't improved. He has connected on only seven of his 20 throws that have traveled more than 20 yards (35%), a mark that is worse than two quarterbacks with far less-talented weapons to work with in Christian Ponder (40%) or Tom Brady (41.2%). In the coming weeks, Green will see a lot of Aqib Talib (who did a fantastic job on Julio Jones last week), possibly Stephon Gilmore, Antonio Cromartie, Brent Grimes and Joe Haden (again) before the Bengals' Week 12 bye. If Dalton isn't able to go deep with a bit more success soon, it will eliminate a part of the Bengals' offense that should really be a strength. At any rate, Green should not be expected to thrive in more than 1-2 games before the bye.

Reggie Wayne – Depending on your perspective, Wayne is either the unquestioned top receiving threat in an offense with a great quarterback that will make defenses respect the run or a player that has become known for fading at the end of the season. As usual, I believe the truth is somewhere in between. Regardless of your stance, Wayne will be seeing plenty of Richard Sherman, Champ Bailey or Dominique Rodgers-Cromartie and Johnathan Joseph (who shut him down twice last season) in the coming weeks. If those three games aren't enough to convince you, then he should be a fine WR2 for the rest of the fantasy regular season. However, Houston (Joseph) and Kansas City (likely Brandon Flowers) in Weeks 15 and 16 are more reasons to believe another late-season fade may be on the horizon.

Kenbrell Thompkins – Eventually, the day will come when Rob Gronkowski and Danny Amendola return. At that point, owners will have to ask themselves: is there enough room for Tom Brady to make the owners of four Patriots receivers/tight ends happy? It goes without saying that Thompkins is more talented and a better outside receiver than Julian Edelman, but the rookie has caught only 15 of his 39 targets and will not see that kind of volume when New England is playing with a full deck. Making things even more difficult will be the upcoming schedule, which will feature a wealth of one-on-one battles with Leon Hall, Antonio Cromartie, Brent Grimes and Ike Taylor before the Week 10 bye. Thompkins is incredibly talented and should be expected to keep producing at an acceptable level, but he's unlikely to approach the level of production he has achieved over the past couple of weeks.

Other receivers to consider dealing sooner than later: Denarius Moore, Antonio Brown, Nate Washington.

TEs I wouldn't mind acquiring over the next month:

Jason Witten – Albeit for a much different reason than his spleen injury in 2012, Witten is off to another somewhat slow start after embarrassing the Giants in Week 1. However, if we have learned anything over the years, it is that Tony Romo can't help but throw the ball to Witten on a hook or out 8-10 times per game. Better yet, Witten will see a lot of Duke Ihenacho, Brandon Meriweather and Nate Allen over the next three weeks. Ihenacho and Allen have both struggled in coverage while the Redskins have surrendered a touchdown to the tight end position in every game thus far. Looking beyond the next three weeks, Witten gets another soft matchup against Minnesota before Dallas' Week 11 bye and will square off against the Giants, Raiders and Redskins in three of the final five games of the fantasy season. With the emergence of all the young and talented tight ends, Witten may not finish as a top-five option again this season, but he should come pretty close.

Another tight end to target going forward: Brandon Myers.

TEs I would consider dealing away over the next month:

Antonio Gates – How dare I try to knock fantasy royalty! Let's be clear: Gates will remain a focal point of the offense in light of all the injuries at the receiver position in San Diego. His schedule is actually pretty tame, enough that he probably belongs in the section above. Here's the problem: Gates hasn't played a full schedule since 2009 – which is the only reason why I think owners should move him. Several analysts have suggested that Gates has turned back the clock, but his big games thus far have come against Dallas and Philadelphia. The Cowboys, in particular, put on one of the sorriest exhibitions on guarding (if I can even call it that) a tight end that I have ever seen. There's a nice window in which to trade Gates as his matchups over the next month are favorable, but I'd see if I could trade Gates in a deal involving one of the young emerging studs at the position (Jordan Cameron and Julius Thomas are two that come to mind) before injury strikes.

Another tight end to consider dealing sooner than later: Owen Daniels.


Suggestions, comments, about the article or fantasy football in general? E-mail me or follow me on Twitter.

---
Doug Orth has written for FF Today since 2006 and appeared in USA Today's Fantasy Football Preview magazine in 2010 and 2011. He is also the host of USA Today's hour-long, pre-kickoff fantasy football internet chat every Sunday. Doug regularly appears as a fantasy football analyst on Sirius XM's "Fantasy Drive" and for 106.7 The Fan (WJFK – Washington, D.C). He is also a member of the Fantasy Sports Writers Association.