As the Denver-Dallas game played out to its riveting end last Sunday, I paused to consider if 51-48 is what the folks in the league office had in mind when they decided to invoke all their safety measures and give the fans what they asked for – more scoring. Little did I know at the time that injuries would rear their ugly head yet again.

While Dallas served as the home of a fantasy-point explosion last Sunday, Atlanta has quickly become the home of much pain and suffering. We've known for some time that Roddy White was going to be limited, but that was a reality most of us had accepted no later than Week 2, which is the same time Steven Jackson left his fantasy owners in a bind with a hamstring injury. Tony Gonzalez got off to a terribly slow start, but has rewarded his patient owners with back-to-back stellar games despite drawing an incredible amount of attention – especially at the goal line. The one unaffected piece of the Falcons' offensive puzzle had been Julio Jones, who was among the best players in fantasy through five weeks despite fighting through a knee injury that had dogged him for most of the season and hindered his ability to practice.

As most of us found out on Tuesday, Jones will be lost for the season due to a foot injury, reportedly breaking the screw in the same foot (right) that he had surgery on following the NFL Combine leading up to the 2011 draft. Adding insult to injury, White injured a hamstring against the New York Jets and his status is in question for Week 7 because of it (not the much-publicized high-ankle sprain), even after the Falcons come off their bye this week. Although he wasn't exactly tearing up the Jets before the injury, White was playing nearly every snap and possibly on his way to matching his one – if not both – of his season totals (10 catches, 84 yards) entering the contest.

At least Atlanta can say its suffering is mostly physical. In Houston, it is both physical and psychological. For all intents and purposes, Owen Daniels escaped Week 5 with no issues whatsoever and led the Texans with six catches for 60 yards. Around the middle of the day on Monday, HC Gary Kubiak revealed his starting tight end had "soreness" in his leg and that he would undergo tests. By Monday night, the team was worried he could miss "a few weeks". On Tuesday, he was diagnosed with a "non-displaced fibula fracture" and given a 4-6 week timeline. On Wednesday, he was placed on injured reserve/designated to return list, meaning he is out a minimum of eight weeks.

Matt Schaub broke a NFL record by throwing a pick-six for the fourth consecutive game in last week's loss to the San Francisco 49ers. Schaub has thrown at least one interception in eight consecutive games for a team that is among the best in the league at running the ball and playing pretty good defense (No. 1 in total defense at 260.2 yards per game, nearly 40 fewer than the second-ranked Jets). We don't have any reason to believe Calvin Johnson's knee injury is serious, but we also had no reason to believe he was in any danger of missing a game at this point last week either. Depending on the source, Michael Vick is either a possibility to start this week or a lock to miss multiple weeks.

Weeks like this one should remind fantasy owners that building a team is a continuous job that officially starts when you draft your team and doesn't end until the league championship has been decided. In short, owners that have two reliable – if not elite – options at running back or receiver need to constantly be thinking about how to land a third. Injuries will strike and fantasy teams that pull off trades while the iron is still hot off a breakout performance (like Alshon Jeffery, who is a good hold or sell right now, depending on what you can get in return) to build depth in a potential problem area are likely doing themselves a big favor.

As I have said in this area a time or two over the years, injuries create "ripple effects" in the way each team attacks an opponent and, by extension, the value of their teammates in fantasy. Because Atlanta and Houston are two fairly big fishes in the fantasy football pond, it makes sense to evaluate the new fantasy reality in both of those cities.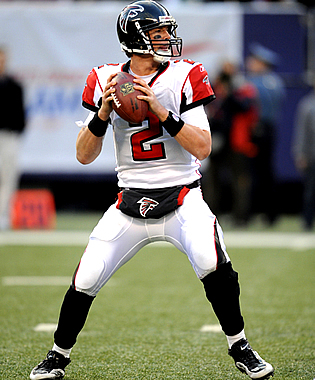 QB Matt Ryan's fantasy value takes a hit until Roddy White gets back to being 100% healthy.

Matt Ryan – Given all the depth-chart chaos in Atlanta, it could be argued that Ryan is playing as well as he ever has – at least in fantasy – with two touchdown passes in every contest and four 300-yard game to his credit. But let's be real: the loss of Jones pretty much takes Ryan off the high-end QB1 pedestal and makes him more of a borderline weekly starter, at least until White is 100% healthy. Since there is no certainty White will be healthy anytime soon, owners with strong quarterback depth should seek out the Ryan owner in their league. (But you knew that already…) I'm recommending that – depending on your roster dynamic – you make Ryan a priority in the trade back. Why? At the very least, Ryan has missed two games over his first five years and is a quarterback that will probably be spending a lot of time in catch-up mode. And there is upside: if White gets healthy, there is no reason why can't post the serviceable QB1 numbers he posted prior to the arrival of Jones.

Steven Jackson – Perhaps the player that sees the smallest amount of fantasy decline in White's absence – because no Falcon will benefit – is Jackson, who will almost be forced into heavy workloads once he is cleared to return. The Falcons' offensive line is among the worst in the league and doesn't figure to improve in 2013, but Jackson's ability as to extend drives and catch the ball out of the backfield will be important to Atlanta going forward. It is also very likely he will be used as much, if not more, as a receiver out in the flat and in the screen game than the team intended upon his signing.

Jacquizz Rodgers – The natural reaction to Jackson's return will be to drop Rodgers, but I'm not so sure that is the prudent move – assuming OC Dirk Koetter is willing to think outside the box. While Rodgers can't exactly evolve into a slot receiver over the remaining 12 weeks of the regular season, the Falcons could use him as a "satellite back" to help fill the huge reception void left behind by Jones. In fact, I'm not sure Atlanta has much of a choice but to use Rodgers in that fashion because Gonzalez isn't going to be the target for 15 of Ryan's 43.6 pass attempts (Ryan's average through five games) every week. Rodgers should maintain low-end flex appeal in 12-team leagues as a result upon Jackson's return.

Roddy White – At this point, it doesn't make a lot of sense to speculate on White going forward because we have yet to see him at anything close to 100%. If he gets to that point sometime during the season, it would not be surprising if he posted top-10 receiver numbers and re-emerged as the dominant force he was prior to Jones' arrival. However, we are at least 2-3 weeks away from that and probably more.

Harry Douglas – The de facto top wide receiver in Atlanta for as long as Jones and White are out, Douglas has always had the talent to be a serviceable receiver in the league. He will be pressed into top-dog status in all likelihood in Week 7 – if not beyond – and will see a much steadier stream of targets than he ever has over his five-year NFL career. As a non-featured part of the passing game for much of that time, the Falcons have never really needed to cater their gameplan around what Douglas does well on a consistent basis. Douglas needs to be on just about every fantasy roster for the foreseeable future, although he's going to be stretched as anything more than a low-end WR3 when White is out and low-end WR4 when White is healthy.

Drew Davis/Kevin Cone – Barring an injury to Douglas, it is hard to believe either back-end receiver will find their way onto most fantasy rosters. I'll give a slight edge to Davis in that battle as he has caught my eye more in limited action (preseason and regular season) than Cone.

Levine Toilolo – Tony Gonzalez will undoubtedly take over as Ryan's top target – at least until White is all the way back – but one reason why I think Jackson will have some success is due to the likely continued development of Toilolo. Offensive line struggles usually result in more tight end-heavy packages and given the current state of the Falcons' skill-position players, they may not have much of a choice. Toilolo hasn't exactly made his mark yet as a run-blocker, but the likelihood of two tight-end sets will help secure the edge for Jackson and probably lead to more snaps for the rookie outside the 20. The Stanford alum has caught two short TD passes over the last three weeks and is a huge man (6-8, 265 pounds) that has the chops to be a dependable safety valve for Ryan. While I doubt he establishes any considerable redraft value in 2013, it is clear that his quarterback already has a fair amount of trust in him in the red zone.

Matt Schaub – As much as some Texans fans want a change at quarterback, there really is no viable alternative to Schaub in Houston – and that isn't necessarily a bad thing. Let's remember that on a run-dominated team over the past three seasons (basically since the emergence of Arian Foster), Schaub has basically averaged 1.5 passing touchdowns. Over that same time, he has thrown for over 4,000 yards twice and, perhaps most importantly, 12 or fewer interceptions each season. Schaub hasn't lost "it", but defenses are baiting him into certain throws and he isn't showing the veteran savvy right now to avoid them. Along the same lines, San Francisco showed it was paying attention in the film room because all three Schaub interceptions were made on plays by a defender that either ran the route better than the receiver or picked up a tendency based on a formation, which means Kubiak and his staff could help their quarterback by self-scouting a bit better. Schaub is going to have his chance to get it right against St. Louis this week before a Week 7 showdown against Kansas City.

Garrett Graham – Perhaps I'm in the minority here, but it would not surprise me if the temporary loss of Daniels actually helps the offense in the long term. (Please note that I did not say Daniels' loss will make the team better.) First off, Graham has already proven he can be productive in limited action and is probably more fluid than Daniels, so he could easily step into his production. Kubiak gives his quarterbacks more "easy" throws that just about any offense in the league with the way his teams sell the run on play-action and rollout passes. Graham is a better athlete than Daniels at this point of his career, so it isn't unthinkable more Graham could mean a few more "chunk" plays.

DeAndre Hopkins/Keshawn Martin – For a player Kubiak compared to Rod Smith in the offseason, it seems odd that he and/or Schaub haven't allowed Hopkins to "rent space in the defense's mind" in much the same way the Chicago Bears have with Jeffery (someone to punish defenses for paying too much attention to Brandon Marshall). Part of the reason defenses have been able to get a bead on Schaub's throws lately is because Andre Johnson and Daniels always appear to be the only reads. Hopkins has the ability to snatch the ball in mid-air down the field, which is yet another element of the game that has been missing in Houston's passing offense. Either way, Hopkins could be the one player besides Graham who sees his fantasy stock increase with Daniels out. Martin is currently battling a shoulder injury and did not see a great deal of time earlier in the season thanks to the plethora of two tight-end formations Houston ran with a healthy Daniels, but the Texans could use many more three-wide sets because it seems unlikely raw rookie Ryan Griffin will play a key role as he continues to adjust to the NFL. Martin is an explosive player on an offense that needs that element, so perhaps he'll force his way into more snaps over the next eight weeks.

___________

One of the many benefits to watching all the games on NFL Game Rewind is to be able to identify the player – particularly cornerbacks – who are struggling or simply getting torched by opposing receivers. While the FF Today points allowed tool is helpful in determining if a team's receivers is likely to have success in a given week, it cannot account for likely individual matchups. This week, I'm going to focus on a few cornerbacks that have been victimized the most in my game study and what it means for the near future in fantasy.

Notes:
*Each NFL QB rating the cornerback has allowed is courtesy of Pro Football Focus.
*Each cornerback has seen at least 50% of his team's defensive snaps. Remember, 158.3 is a perfect QB rating.
*Receivers in italics are likely regular starters in 12-team, three-receiver leagues.

Cortland Finnegan and Janoris Jenkins, St. Louis – What was thought to be a daunting matchup for receivers at the beginning of the season has been anything but. Through five games, Finnegan has graded out as PFF's worst cornerback by a large margin while Jenkins has been better, but not substantially so.

NFL QB Rating: Finnegan – 158.3, Jenkins – 112.4

Likely upcoming matchups
Week 6: Andre Johnson/DeAndre Hopkins
Week 7: Steve Smith/Brandon LaFell/Ted Ginn
Week 8: Golden Tate/Sidney Rice
Week 9: Nate Washington/Kendall Wright/Kenny Britt/Damian Williams
Week 10: Reggie Wayne/T.Y. Hilton/Darrius Heyward-Bey

Robert McClain, Atlanta (Slot corner) – McClain hasn't exactly faced a who's who of slot receivers – Tavon Austin, Austin Pettis, Brandon Gibson, Julian Edelman and Jeremy Kerley are among them – and has been extremely poor in 2013 after being something of a revelation last season.

NFL QB Rating: 145.4

Likely upcoming matchups
Week 6: bye
Week 7: Vincent Jackson/Russell Shepard/Tiquan Underwood
Week 8: Larry Fitzgerald/Andre Roberts
Week 9: Brandon LaFell
Week 10: Doug Baldwin

Justin Rogers, Buffalo – To be fair, Rogers was pressed into a starter's role when 2012 second-half rookie sensation Stephon Gilmore went down with a wrist injury in the preseason. He has been burned for touchdowns by the likes of Ted Ginn, Santonio Holmes, Torrey Smith and Marlon Brown. Gilmore was limited in Wednesday's practice, but one would have to imagine he will probably need at least two weeks before he can handle a full game's worth of snaps.

NFL QB Rating: 142.3

Likely upcoming matchups
Week 6: A.J. Green
Week 7: Mike Wallace

Derek Cox and Johnny Patrick, San Diego – Without being too general, every Charger cornerback (including Shareece Wright and Richard Marshall) has surrendered a passer rating of at least 111.3, so fantasy owners can feel safe about just about every fantasy-relevant receiver they have going against the Chargers' defense.

NFL QB Rating: Cox – 127.8, Jenkins – 111.3

Likely upcoming matchups
Week 6: Reggie Wayne/T.Y. Hilton/Darrius Heyward-Bey
Week 7: Cecil Shorts/Justin Blackmon
Week 8: bye
Week 9: Pierre Garcon/Leonard Hankerson
Week 10: Demaryius Thomas/Eric Decker/Wes Welker

Mike Jenkins, Oakland – Unlike McClain, Rogers and Cox, Jenkins hasn't exactly been burned for touchdowns (the only he was charged with was Maurice Jones-Drew's score in Week 2). However, 15 of the 21 balls thrown into his coverage have been completed for 227 yards.

NFL QB Rating: 122.5

Likely upcoming matchups
Week 6: Dwayne Bowe
Week 7: bye
Week 8: Emmanuel Sanders
Week 9: DeSean Jackson
Week 10: Hakeem Nicks/Rueben Randle

Alan Ball, Jacksonville – Ball hasn't exactly seen a lot of targets (12) or given up many touchdowns (one), but quarterbacks are completing 75% of their passes in his coverage. Expect those numbers to increase dramatically in the coming weeks.

NFL QB Rating: 122.2

Likely upcoming matchups
Week 6: Demaryius Thomas
Week 7: Keenan Allen
Week 8: Anquan Boldin
Week 9: bye
Week 10: Kenny Britt/Damian Williams

Dominique Rodgers-Cromartie, Denver – DRC has actually held up well for the most part, but he got roughed up in the Mile High Shootout last Sunday, giving up touchdowns to Dez Bryant and Cole Beasley. If there was a corner of this bunch that I would say is a victim of small sample size right now, it would be him.

NFL QB Rating: 117.0

Likely upcoming matchups
Week 6: Justin Blackmon
Week 7: T.Y. Hilton/Darrius Heyward-Bey
Week 8: Leonard Hankerson
Week 9: bye
Week 10: Vincent Brown

Chris Owens, Cleveland – Joe Haden (60.1 QB rating) and Buster Skrine (68.1) have actually performed very well to this point and played more snaps than Owens, but he is the third corner and bumps Skrine into the slot in three-receiver sets. At any rate, he has played significantly less snaps since Miami abused him in Week 1.

NFL QB Rating: 115.4

Likely upcoming matchups
Week 6: Ryan Broyles
Week 7: James Jones
Week 8: Donnie Avery
Week 9: Torrey Smith
Week 10: bye


Suggestions, comments, about the article or fantasy football in general? E-mail me or follow me on Twitter.

---
Doug Orth has written for FF Today since 2006 and appeared in USA Today's Fantasy Football Preview magazine in 2010 and 2011. He is also the host of USA Today's hour-long, pre-kickoff fantasy football internet chat every Sunday. Doug regularly appears as a fantasy football analyst on Sirius XM's "Fantasy Drive" and for 106.7 The Fan (WJFK – Washington, D.C). He is also a member of the Fantasy Sports Writers Association.