For many years, it was a goal of mine to keep roughly 70 percent of the roster I drafted. Not only did this usually mean I drafted well, but it also typically meant my team stayed relatively healthy throughout the year. While that still may be a realistic goal for some, I no longer believe that number is a realistic goal in most competitive leagues. With more committees and spread attacks leading to a more equalized distribution of opportunities, the likelihood of players being able to contribute consistently goes down. Depending on the players involved, I have started to buy into the notion that I want the loser of a running back camp competition because there is a strong chance the winner of that competition will eventually succumb to injury, thereby leaving the "loser" as the new feature back. Perhaps five or 10 years ago, I think it is safe to say I believed more in the idea that fantasy success came to those showed patience and avoided injury. I'm not so sure that today's NFL supports that approach.

With that said, there is a fine line between being impetuous and patient when it comes to turning over a roster. Patience appears to be in increasingly short supply among fantasy owners as the years go by and doesn't appear to be rebounding anytime soon. In my biggest money league alone (in which every add/drop counts against the $1000 blind-bidding bucks we begin the season with), I have been able to acquire the likes of Eli Manning, Jordan Matthews and Travis Kelce off waivers due to impatient owners. While I acquired Manning with the intention of using him right away, I had no intention of using the other two in the week or so after I won the bids for their services. Long story short, many people like to talk about how fantasy football is week-to-week. There is a lot of truth to that, but owners that don't use some level of long-term vision with their rosters are doing themselves a disservice.

I had no intention of using Kelce when I acquired him prior to Week 3 as my third tight end, but he soon became a godsend once Kyle Rudolph went down and Charles Clay was unable to get back to full health. I have yet to use Matthews and probably won't for the foreseeable future, even though I bid a pretty fair amount to acquire him. As far as I'm concerned, it still seems like a pretty safe bet that either Jeremy Maclin will get hurt at some point or an inefficient Riley Cooper will see his role reduced significantly at some point. That is not some great recent insight on my part because I said the same thing during the offseason. In highly competitive leagues (especially in those that don't employ a waiver system that resets each week), successful owners need to be able to predict the future a bit and see what scenarios could occur as opposed to waiting for them to happen. Obviously, nothing in life is guaranteed to happen, but I like my chances of Matthews becoming a high-end WR3 at least should he receive a promotion due to a Maclin injury or Cooper demotion.

One of the most satisfying parts of being a fantasy football analyst is having the ability to speculate or predict about players most of America has never heard of and seeing those players take advantage of their opportunity days or weeks later. For example, I'm not going to pretend like I was very surprised that Branden Oliver had a good game in Week 5. He's a player that stood out to me in the preseason (as noted here) and was my top running back recommendation for deeper-league owners a couple of weeks ago. What did surprise me is that his breakout performance came against the New York Jets.

The reason I mention Oliver is not to pat myself on the back – it is my job to be a bit ahead of the curve in that regard – but rather to display the importance of understanding what backup players have some ability and are likely one step away from bursting onto the scene. One thing the fantasy football industry doesn't do a good enough job at – and I include myself in that group (although I think I do a better job than most) – is making sure the rest of the world knows about the players that might be on the back end of their NFL team's roster, yet capable of delivering potentially useful fantasy numbers if they ever get a chance to prove themselves. The point of this exercise is less about "being right" and more about making sure each of you are familiar with the next supposed no-name before he becomes the next, well, Branden Oliver.

As a result, I'm going to devote the rest of my time this week to discuss players that either have no business being on a fantasy roster right now or receiving such a light workload they are flying well under the radar BUT closer to fantasy relevance than you might care to recognize. I'm not going to force the fit here, so I will list two candidates for some teams and skip other teams completely because, in many leagues, owners are carrying the Cleveland Browns' No. 3 running back or the Green Bay Packers' No. 4 receiver. Some of the players below will be on rosters in deeper leagues and/or in dynasty leagues and others may be coming into some relevance this week, but the majority of them will be names that most are either not familiar with or only saw play in the preseason.

Arizona – WR Jaron Brown. It's admittedly hard to promote a fourth receiver for a team that will likely be faced with the possibility of turning to a raw rookie quarterback in Logan Thomas this weekend and possibly beyond. And let's not forget that Carson Palmer and Drew Stanton haven't exactly been doing the greatest job in making any one of the Cardinals' top three receivers consistently relevant. But don't think for a second that Arizona is not loaded at the position and doesn't have someone who could step up for Michael Floyd, Larry Fitzgerald or even John Brown in a pinch. Of the aforementioned top-three Arizona receivers, Jaron Brown most closely resembles Floyd and has a bit of explosiveness to his game as well as enough size (6-2, 205) to hold up as an outside receiver.

Honorable mention: RB Marion Grice. I wasn't exactly thrilled with his skill set in college and the Chargers needed less than a month to realize the undrafted Oliver was the better prospect. With that said, Arizona likely sees Grice as a more versatile weapon out of the backfield than Stepfan Taylor in the event of an injury to Andre Ellington, who doesn't possess the best track record for durability.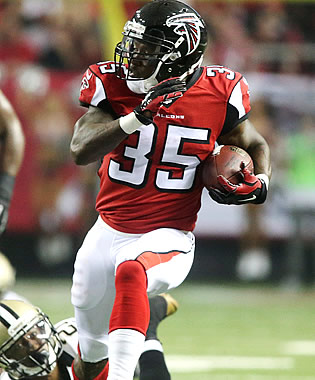 Antone Smith deserves a bigger role in the offense.
Atlanta – RB Antone Smith. Do you think for a second that politics, contracts or draft status doesn't play a role in playing time? The four-year veteran has 17 touches to his credit this year, yet has outscored the likes of LeSean McCoy, C.J. Spiller and even Falcons starter Steven Jackson. With an average of 3.4 touches, it goes without saying that Smith's production at his current touch rate is unsustainable. With that said, one has to wonder how much longer a player averaging 16.3 yards per touch will see fewer touches than Jacquizz Rodgers and Devonta Freeman. HC Mike Smith has already stated that Antone Smith has "earned more touches" and, while we all know how often coaches say one thing and do another, one has to wonder if the coach can seriously not give more touches to a player on a team that could very well be in a shootout just about every week.
Baltimore – WR Marlon Brown. The second-year veteran is one year removed from a 49-catch, seven-score rookie season, so he isn't exactly an unknown. What makes Brown a bit intriguing besides his size (6-5, 214) from a fantasy perspective is that he is a bit of a proven quantity that is probably closer to relevance this season than we might initially think. Maybe Steve Smith remains feisty and maintains his current pace all season; I think we've learned not to doubt him. But what if the 35-year-old starts feeling his age a bit in November and December? It's not out of the question and something owners need to consider.
Buffalo – RB Bryce Brown. Old habits die hard, I guess. Is Brown worth a pickup if Fred Jackson and C.J. Spiller stay healthy? Absolutely not. I think the fact he has been a healthy scratch all year answers that question. However, I think all bets are off if one of the two backs misses more than a week or two. Let's remember the Bills had no problem trading a fourth-round pick for Brown or suggesting how they see him as a potential starter shortly after they acquired him. Perhaps his time to shine doesn't come until 2015, although I could easily see him leapfrogging Anthony Dixon on the depth chart in short order if push comes to shove. Most teams like their third running back to be a special teams contributor and Dixon does that while Brown does not. If injuries strike, I would expect Brown to become the complementary back capable of getting 10-12 touches.
Carolina – TE Brandon Williams. I'm an unabashed supporter of the former college basketball player, who saw his first action of the season in Week 5 after showing well early in the exhibition season. Pro Football Focus graded him out as the best run-blocking tight end on the roster in the preseason (not to mention the best overall tight end on the team, for whatever that is worth in exhibition play), but it was his pure athleticism that stood out the most to me. In the event of a Greg Olsen injury, I suspect that Williams would become the best option at the position and a candidate to post top-15 numbers among all tight ends. Second-stringer Ed Dickson has already proven he isn't consistent enough to be anything more than a second tight end.
Chicago – RB Ka'Deem Carey. The insanely productive University of Arizona alum is a bit of an acquired taste. Carey is not overly flashy and his measurables won't exactly make him the talk of fantasy analysts everywhere, but perhaps no other back in May's draft gets more out of his ability than this fourth-round pick. He's not overly quick and stack move upon move on his defender, yet he is still elusive and knows when it is time to finish a run. He also is one Matt Forte injury away from potentially emerging as a fantasy RB1. Like Knile Davis in Kansas City, Carey isn't going to steal significant work from the more established back anytime soon, but he's good enough to hold the fort down if the starter cannot go.
Dallas – Joseph Randle. It is unthinkable to me that DeMarco Murray is on pace to tie the league record for most touches by a running back in league history and neither one of his backups (Randle or Lance Dunbar) are owned in the majority of leagues. In other words, the handcuff for the top-scoring running back in fantasy, who just happens to run behind one of the best offensive lines in the league and has yet to prove he can stay healthy for an entire season, is available and owners aren't falling all over themselves to stash him? This is extreme arrogance, ignorance or indifference and needs to change. How many more top-flight runners need to go down this year before the lesson gets learned that backs are not a good bet to make it through an entire season – especially ones on track to get 416 touches. Of all the players on this list, I consider Randle the top stash.
Denver – RB Juwan Thompson. Another player from my preseason watch list, I wouldn't be the least bit surprised if the undrafted free agent out of Duke emerges as the leader of the backfield committee that will try to fill the void left behind by Montee Ball over the next 2-3 weeks. To his credit, Ronnie Hillman is much improved over last season and will likely be first in line to establish relevancy in fantasy, but he has failed in this spot more than once already. C.J. Anderson would typically be my favorite to be the lead back in Ball's absence, although coaches tend to gravitate toward the most versatile players when push comes to shove. Thompson plays special teams (Anderson does not) and earned praise for his ability as a pass blocker (not exactly a strong suit of Hillman) prior to the season.
Detroit – RB Theo Riddick. The somewhat-overhyped 5-9, 200-pound scatback missed out on his chance in Week 5 for fantasy relevance due to a hamstring injury. However, he could be on track to return in Week 6 to a backfield that may be without Reggie Bush for a week or two and is hoping that Joique Bell recovers fully from a concussion. It is not unreasonable to think that even with a healthy Bell (assuming Bush does miss two weeks), Riddick picks up Bush's "satellite" back role in his absence, albeit to a slightly lesser extent.
Green Bay – WR Jeff Janis. For those poor souls that watched the Thursday Night Football game until the bitter end last week, you were blessed to watch 11 of the rookie's 12 snaps in the NFL. Although his two-catch, 26-yard performance wasn't exactly the stuff of legend, let's first consider that very few seventh-round picks from Saginaw Valley State make a practice squad, much less a 53-man roster. But at 6-3 and 220 pounds with 4.4 speed and 37.5-inch vertical jump, Janis isn't exactly a try-hard small-school guy who is just a feel-good story. QB Aaron Rodgers has proven year after year he can make three, if not four receivers, viable in fantasy. So with Jarrett Boykin out for the foreseeable future, Janis is one step away from being a top-three option in the Green Bay passing attack.
Houston – QB Ryan Mallett. I discussed the former Patriot two weeks ago and believe the majority of his accuracy issues stem from inconsistent footwork. It seems like a pretty good bet that HC Bill O'Brien – a noted developer of quarterbacks – is making sure he is putting Mallett through the paces behind the scenes. It is still very hard for me to believe anybody deeply involved with the Texans wants to see a full year of Ryan Fitzpatrick as the starter. If/when Mallett receives his promotion, I'd expect Andre Johnson and DeAndre Hopkins to quickly become much hotter properties in fantasy than they are at the moment simply because Mallett can push the ball down the field effortlessly.
Indianapolis – WR Donte Moncrief. I feel bad for even suggesting the rookie here because, quite frankly, he should already be on the radar of just about every owner in a 12-team (or bigger) league. Hakeem Nicks isn't quite as bad as he was in New York over the previous two seasons, but it is going to be hard for him to keep a freakish talent like Moncrief behind him on the depth chart all season. Still, the reason the rookie gets a mention here is because in the event of an injury to Reggie Wayne or T.Y. Hilton, I would expect Moncrief – and not Hicks – to see his fantasy stock soar.
Jacksonville – RB Storm Johnson. "How can you argue the fact that Storm ... showed up and did some good things," Jaguars HC Gus Bradley told The Florida Times-Union earlier this week about his seventh-round rookie after a four-carry, 27-yard performance. I can argue it, but it would require your belief in me that OC Jedd Fisch schemed up a nice counter run for the first time this year and managed to get Johnson into the secondary untouched for a 20-yard gain. At the end of the day, all coaches and fantasy owners want is production and few people (including the coaches) are going to remember or care that Toby Gerhart or Denard Robinson could have taken the same run 20 yards or more themselves. The point to be made here is that Jacksonville now seems to believe it may have its spark in the running game and it isn't Gerhart or Robinson. I'd be stunned if the Jags don't trot out Johnson as the early-down back and Jordan Todman as the change-of-pace/third-down back this weekend in a plus-matchup against the Titans. To his credit, Johnson showed good burst and cut-back ability on the four runs he did get, so I expect Jacksonville will not be shy about giving him at least 10-12 carries versus Tennessee to see if it can get its running game on track.
Honorable mention: RB Henry Josey. I'm becoming more and more convinced by the week the Jaguars don't have much of a clue about what they want to do in the running game. One reason for that harsh assessment has to do with keeping the undrafted free agent out of Missouri on the practice squad. Josey is a bit smallish (5-8, 194) to be anything more than a committee back, but in the absence of consistent blocking up front, it is often helpful for teams to use screens and swing passes to serve as an extension of the running game. In a backfield that is sorely lacking a dynamic playmaker that can do some things in the open field, Josey and his poor man's Darren Sproles-like skill set could make life a bit easier on rookie QB Blake Bortles.
Minnesota – RB Joe Banyard. The third-leading rusher in the 2014 preseason, Banyard is something of a fringe NFL talent. Then again, many have said the same thing about teammate Matt Asiata, who is currently a top-10 fantasy back in most leagues. If something were to happen to Asiata, the much smaller and shiftier Banyard may actually steal lead-back duties from Jerick McKinnon since the rookie still has much work to do as a blocker and receiver. At the very least, I think it is a safe assumption McKinnon and Banyard would split carries. If McKinnon were to get hurt, then I feel confident Banyard would essentially move right into the rookie's current role.
New England – WR Brian Tyms. The true inspiration behind this column idea (really). If not for a bye-week crunch in my dynasty league, Tyms would be on my roster as we speak. Trying to predict which receivers QB Tom Brady will connect with can sometimes be an exercise in futility, but the need for downfield playmakers in the Patriots' passing game has been evident more than ever this year. Enter Tyms, who was one of the standouts of the preseason and has the kind of athleticism that the rest of the New England receivers just don't possess. Perhaps he won't connect with Brady the same way he did with Jimmy Garoppolo during exhibition play, but I'd be willing to bet decent money that Tyms I saw in August – the 6-3, 204-pounder who ran a 4.48 with a 10' 10" broad jump and 39 ½" vertical at Florida A&M's 2012 Pro Day and graded out as PFF's top receiver in the preseason - will make an impact in redraft leagues before the end of the season.
New Orleans – RB Travaris Cadet. The Appalachian State product wasn't quite ready for prime time last year, but his recent snap counts are trending upwards in 2014. Cadet is the Saints' primary kick returner and yet another player that is a poor man's Sproles. New Orleans obviously did a fine job of filling that void by drafting WR Brandin Cooks, although Sproles is probably one Pierre Thomas injury away from being a relatively strong flex play in PPR formats.
Oakland – RB Latavius Murray. Despite the presence of two former fantasy studs in front of him on the depth chart, there's actually plenty of reason to believe Murray will be relevant at some point in the next month or two. First and foremost, interim HC Tony Sparano wants to commit to the running game (what coach doesn't?). Secondly, Maurice Jones-Drew and Darren McFadden may end up taking turns missing games with injuries given their recent history. Last but not least, Murray probably gives the Raiders a big-play threat out of the backfield that the older backs can't bring anymore at this point of their careers. Oakland would be wise to start playing for 2015 soon, so it wouldn't be the worst idea to give an extended look to the 225-pound size-speed specimen.
Seattle – TE Luke Willson. The second-year veteran out of Rice has the build (6-5, 252) of a tight end that should be a good receiver and blocker, but he is only the former at the moment. Willson played all but five snaps of the Seahawks' Monday Night Football victory over Washington and is likely to draw another start in Week 6 as Zach Miller works his way back from an ankle scope during the team's bye week. The matchup for Willson couldn't get much better this week as the Dallas defense that gives up the most fantasy points to his position comes to town.
Tampa Bay – RB Charles Sims. This feels like I'm cheating a bit, but as we approach Week 6, it is easy to forget how much the new Bucs' coaching staff raved about their third-round rookie prior to his ankle surgery in August. He's eligible to come off short-term injured reserve this week, although he is likely out at least another month. At any rate, it seems hard to believe Doug Martin or Bobby Rainey has done enough to this point to make Sims a non-factor if/when he returns. Much like the situation in Jacksonville, Tampa Bay's offensive line hasn't done much to help Martin or Rainey consistently succeed, so if Sims returns just as the Bucs begin to gel up front, they may feel some pressure to go with the "hot hand" at that point. (Side note: if any reader knew how much it aggravates me when coaches use the phrase "hot hand" in reference to how they intend on splitting up time in their backfield, you know just typing the phrase "hot hand" pains me. But that is a story for another time…)
Tennessee – QB Zach Mettenberger. Given HC Ken Whisenhunt's five-plus week crash course on improving Bishop Sankey's footwork, I have every right to do a write-up on him here. That would be too easy, however, so I'll turn to his draft classmate instead. It appears as if Jake Locker's body (or luck) isn't long for the NFL and I'm fairly certain Charlie Whitehurst has never been anything close to an average NFL starter, so thanks to process of elimination, we arrive at Mettenberger. While he isn't quite the prospect that Mallett was coming out of college, there are many similarities between the two tall and relatively immobile quarterbacks. If Mettenberger is handed the starting job at any point, it is possible that Justin Hunter would have a shot to be something more than the inconsistent fantasy WR3 he's been to this point in 2014.
Washington – WR Ryan Grant. Even if one or two of the top three receivers get hurt (Pierre Garcon, DeSean Jackson or Andre Roberts), there a strong chance the remaining top-three receiver and a combination of Jordan Reed and Niles Paul step up to fill the void. In other words, Grant has a lot of quality obstacles to overcome in order to become a potential fantasy contributor. Nevertheless, Grant was a preseason standout and someone who showed a fair amount of chemistry with QB Kirk Cousins in Week 2 after Jackson left early due to a shoulder injury. The bond a backup quarterback tends to build with a No. 3 or No. 4 receiver should never be underestimated by owners looking for an under-the-radar receiver (look no further than Minnesota with Teddy Bridgewater and Jarius Wright as a recent example). Just because Cousins has been working with the starters for a few weeks now, there is still a pretty good chance he would click with Grant again if the rookie from Tulane was to get more than a handful of snaps.

Suggestions, comments, about the article or fantasy football in general? E-mail me or follow me on Twitter.

---
Doug Orth has written for FF Today since 2006 and has been featured in USA Today's Fantasy Football Preview magazine since 2010. He has hosted USA Today's hour-long, pre-kickoff fantasy football internet chat every Sunday over the past two seasons and appears as a guest analyst before and during the season on Sirius XM's "Fantasy Drive" as well as 106.7 The Fan (WJFK – Washington, D.C). Doug is also a member of the Fantasy Sports Writers Association.