1.03 JAX – QB Blake Bortles
Bortles' selection ahead of a player that can generate a pass rush from the all-important LEO spot in the Jags' defense like Khalil Mack comes as a bit of a stunner. A bit like a young Ben Roethlisberger, the Jags hitch their wagon to a player in Bortles that OC Jedd Fisch hopes will morph into the second-best QB in the AFC South by 2015. Bortles did not perform well statistically against the best competition on Central Florida's schedule this season and needs some seasoning, but he is the quarterback in this draft that presents the highest upside with the highest floor. Chad Henne should be under center in Week1, but it is a good bet that Bortles will be the starter a month or two into the season. When that happens, he has low-end fantasy QB2 potential.
1.04 BUF - WR Sammy Watkins
The best draft-eligible receiver in at least the last two years, Watkins brings instant legitimacy to a Bills' receiving corps. Watkins is one of the few college receivers that enters the league as a "hands-catcher" and is dynamic after the catch, meaning Buffalo should expect (and rightfully so) a huge jump from EJ Manuel this season. The Clemson alum will begin 2014 as a rock-solid fantasy WR3 candidate and, while Buffalo isn't the greatest landing spot long term, it's not enough to bump him from the top spot in dynasty drafts.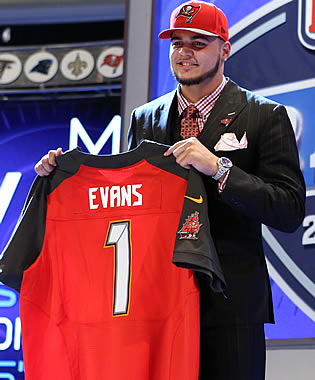 Evans is a Day 1 starter and a legit red zone target.
1.07 TB – WR Mike Evans
Evans draws a lot of comparisons to future teammate Vincent Jackson due to his size, but his game resembles Brandon Marshall's. He is a fierce blocker that will presumably allow Doug Martin to break off more long runs, but likely new QB Josh McCown will have a combo to throw to in Tampa much like the one he left in Chicago. Evans is a Day 1 starter that could conceivably enjoy more rookie-year success than Sammy Watkins because he is already an absolute monster in the red zone and should get solid quarterback play. He has a realistic shot to produce at least 900 yards and 7-9 touchdowns this season.
1.10 DET – TE Eric Ebron
The Lions aren't messing around on offense. At the moment, Ebron is a 250-pound slot receiver (and blocks like one) that should quickly make defenses quickly rethink about ganging up on Calvin Johnson. In all honestly, with Johnson-Ebron-Golden Tate-Reggie Bush to throw to, Matthew Stafford has absolutely no reason not to throw for 4,500 yards and 30-plus touchdowns for the next 4-5 years. Ebron's biggest issues are his below-average blocking skills (or unwillingness to block every snap) and "focus drops". However, as often as he makes the spectacular catch, the latter problem should become less of a problem as he matures. Ebron is very comparable to Vernon Davis with his ability to run and threaten defenses downfield. It goes without saying that his speed coupled with Stafford's arm should be a match made in fantasy heaven. Even though most tight ends aren't fantasy TE1s in their rookie season, Ebron should be the exception in this offense. In dynasty, he's should be a rock-solid choice after Watkins and Evans are off the board in rookie drafts.
1.12 NYG – WR Odell Beckham
Beckham has drawn comparisons to Victor Cruz throughout the draft process and now gets the chance to play opposite him while also filling the void left behind by Hakeem Nicks and possibly keeping Rueben Randle in the third spot. Beckham made his name as a deep threat at LSU and could easily enjoy the same role in New York, although he is extremely dynamic in the open field in the short and intermediate passing game. He should contribute immediately on special teams, although he should start ahead of Randle relatively quickly. Beckham is in a great spot for immediate and future fantasy value in new OC Ben McAdoo's West Coast offense and should be no worse than a mid-range fantasy WR3 as a rookie; the drop from Sammy Watkins and Mike Evans to Beckham is not all that great - in reality or fantasy.
1.20 NO – WR Brandin Cooks
If Cooks was about 2-3 inches taller and had about 10-15 more pounds of muscle on his frame, it would be hard to find anything to knock him on as a prospect. He should have no problem emerging as one of the league's best deep threats in his first year, but he is also among the best route-runners available in this draft. The Oregon State standout profiles as a less physical Steve Smith right now and may spend most of his first year in the slot, but a smart play-caller will know to move him when he's on the outside to avoid getting him squared up against a rocked-up cornerback. Cooks may never be a consistent touchdown-scorer in the league, but he should have little problem getting open in between the 20s. New Orleans has shown a tendency to be a receiver-by-committee team after Jimmy Graham and Marques Colston, but Cooks is a better receiver than Kenny Stills and could bring that committee approach to a stop by the end of his rookie year. (There's next to no chance he will end up being another one of the Saints' designated deep threats.) One other possibility: following the loss of Darren Sproles, the Saints could use a player that has the ability to make big plays on short passes like bubble/tunnel screens. Either way, Cooks to New Orleans has a chance to be a fantasy jackpot. His immediate fantasy slot is probably as one of the higher-upside WR3s in 12-team leagues.
1.22 CLE – QB Johnny Manziel
Manziel has generated an incredible amount of buzz for any number of reasons and I still believe he has the most boom-bust potential of any of the top four draft-eligible quarterbacks this year, but Cleveland was one of the few spots in the NFL where he has a shot to be a potential a potential fantasy stud because he is falling into the right situation. New OC Kyle Shanahan has already shown he can work with an "unorthodox" quarterback and Josh Gordon gives Manziel the same big-receiver, deep-ball element that Mike Evans did in college. Manziel's problem has never been arm strength, but winning from the pocket. In Shanahan's offense, it is a pretty good bet that he'll run a lot of bootleg and zone-read plays that Robert Griffin III did for Shanahan in Washington. With the Browns, Manziel has an outside shot at top-10 fantasy quarterback value in redraft leagues because the offense will be tailored to his running and deep-ball passing abilities. It's hard to imagine another quarterback that will get drafted this weekend will find a better fit than Manziel did here.
1.28 CAR - WR Kelvin Benjamin
It's hard to think of a better landing spot for Benjamin than Carolina. He's almost certain to begin the season as the lead receiver, has a phenomenal talent like Cam Newton throwing him the ball and a player like Greg Olsen around to make sure he doesn't feel the pressure to carry the receiving load by himself. It would be borderline stunning if Benjamin isn't a yearly threat to score 6-8 times in the red zone alone. With that said, the Florida State alum is plenty raw and comes with significant boom-bust potential as a result, but fantasy owners need to recognize the 6-5, 240-pounder takes a back seat to no receiver in this draft from a talent perspective. Preseason action will play a large role in whether Benjamin should be slotted as a low-end fantasy WR3 or high-end WR4, but if he shows any kind of chemistry with Newton in July and August, the former should be where owners rank him.
1.32 MIN – QB Teddy Bridgewater
Bridgewater essentially fell from being the draft's consensus top quarterback to the end of the first round for two reasons: his slight frame and a less than stellar pro day. While he isn't the prototypical Norv Turner quarterback in that he won't consistently stretch the field with a big-time arm, Bridgewater should quickly make a handful of teams regret letting him drop to the last pick in the first round because he has very few weaknesses as a decision-maker. The Louisville standout immediately steps into a great situation in that Turner almost always supplies his quarterback with a solid running game and will have players like TE Kyle Rudolph to pick apart defenses in the short passing game and WR Cordarrelle Patterson in the intermediate passing game. Bridgewater will probably start out behind Matt Cassel, but like most of the other first-round quarterbacks in this draft, it would be shocking if he weren't playing by midseason. When that happens, he should be a rock-solid fantasy QB2. In dynasty, he probably falls right behind Manziel in rookie drafts.

Suggestions, comments, about the article or fantasy football in general? E-mail me or follow me on Twitter.

---
Doug Orth has written for FF Today since 2006 and appeared in USA Today's Fantasy Football Preview magazine in 2010 and 2011. He is also the host of USA Today's hour-long, pre-kickoff fantasy football internet chat every Sunday. Doug regularly appears as a fantasy football analyst on Sirius XM's "Fantasy Drive" and for 106.7 The Fan (WJFK – Washington, D.C). He is also a member of the Fantasy Sports Writers Association.