As I have for the past five-plus years, I will continue sharing my thoughts on my NFL.com Playoff Challenge entry and playoff money leagues with Fuzzy's Fantasy Football as we head into the third week of our four-game, five-week adventure. Let's get right to it:



NFL.com



For a complete rundown of how players will score fantasy points for your team, click on the "Rules & Prizing" link on the NFL.com entry page. However, much of the content immediately below is included on the "How to Play" page, so what I provide here should be more than enough to follow along easily.

The object of the game is to pick the players you think will perform best in their playoff matchup. Select one QB, two RBs, two WRs, one TE, one K and one D/ST. You will earn fantasy points based on their on-field performance during their game, and if your player's team wins, you will have the option to carry that player over to the next round, where he will earn a bonus point modifier to his score.

For example, if you pick Tony Romo in the Wild Card round and the Cowboys win, you can carry him over to the Divisional Round, and earn two times (2x) the points he earns in his divisional round game. If Dallas wins again, you can carry Romo into the Conference Championship round for 3x the points and, if the Cowboys make the Super Bowl, you can earn 4x the points. In addition, a user can select a player/defense in the Wild Card round even if their team has a bye into the Divisional Round. In this case, the user would not earn any points for the Wild Card round, but be eligible to earn 2x points in the Divisional round, since the player was on the team's roster for two weekly scoring periods. Further bonus point modifiers would also apply as long as that player's team continues to advance in the NFL Playoffs.


NFL.com Scoring System
Offense Statistic (QB, RB, WR, TE, K)
Fantasy Points
Rushing or Receiving Touchdown:
6 fantasy points
Passing Touchdown:
4 fantasy points
Field Goal 0-49 yards:
3 fantasy points
Field Goal 50+ yards:
5 fantasy points
Passing, Rushing or Receiving Two-Point Conversion:
2 fantasy points
Rushing or Receiving:
1 fantasy point per 10 yards
Passing:
1 fantasy point per 25 yards
Extra Point:
1 fantasy point
Defense/Special Teams (D/ST)
Punt Returned Touchdown:
6 fantasy points
Kickoff Returned Touchdown:
6 fantasy points
Fumble Returned Touchdown:
6 fantasy points
Interception Returned Touchdown:
6 fantasy points
Allowing 0 Points:
10 fantasy points
Allowing 2-6 Points:
7 fantasy points
Allowing 7-13 Points:
4 fantasy points
Allowing 14-17 Points:
1 fantasy points
Allowing 18-21 Points:
0 fantasy points
Allowing 22-27 Points:
-1 fantasy points
Allowing 28-34 Points:
-4 fantasy points
Allowing 35-45 Points:
-7 fantasy points
Allowing 46+ Points:
-10 fantasy points
Team Win:
5 fantasy points
Interception:
2 fantasy points
Fumble Recovery:
2 fantasy points
Safety:
2 fantasy points
Sack:
1 fantasy points

Before we get into the picks, let's briefly review the rules and how we may use them to our advantage: 1) passing TDs are worth four points, so passing yards are valued more highly here than in the Fuzzy's leagues I'll discuss later; 2) all field goals under 50 yards are worth three points, which means we are more concerned about volume of field goals than distance – unless we can find a kicker who regularly converts from 50-plus; 3) this is a non-PPR format, which obviously favors the big-play threats; and 4) team wins are worth five points, so picking a "winning" defense is worth almost a touchdown and could be worth as much as 3.5 TDs if you pick a defense from this week and that team ends up winning the Super Bowl.

After a perfect first week of predicting the bracket, the Colts and Packers ruined my best-laid plans to keep my entire team intact for another week. This is a bit of an odd year in that I don't mind making the three changes I had to make this week because the likely Seattle-New England matchup in the Super Bowl figures to be low-scoring and doesn't have much in the way of no-brainer picks at running back or wide receiver beyond Marshawn Lynch. At any rate, let's get to my picks and my rationale for each position:


Quarterbacks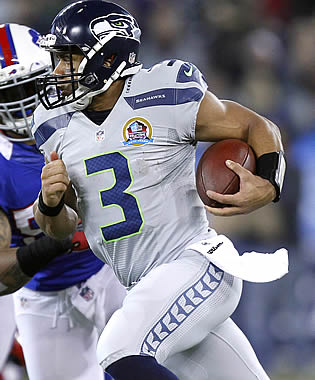 Wilson has been a no-brainer from the beginning.
Tom Brady/Andrew Luck/Russell Wilson/Aaron Rodgers
This week's games bring us a pair of regular-season rematches, which is a blessing and a curse when it comes to forecasting fantasy fortunes. On one hand, we have a ballpark from which to make projections. On the other hand, it is a stretch to say the least that either Green Bay or Seattle is the same team it was in Week 1 or that New England or Indianapolis is the same team it was in Week 11.
New England rode the running game hard in its regular-season shellacking of the Colts, who I am not convinced are in any better position to stop the Patriots' running game than they were in their midseason meeting. The result of that game was a modest 257 yards passing, two touchdowns and two interceptions for Brady and 303 yards passing, two TDs and one pick for Luck. I'd expect both totals to represent the floor for the AFC quarterbacks this weekend, with Brady possessing the higher ceiling.
The same can be essentially be said on the NFC side of things, where a healthy Rodgers posted one of his worst outings of the season in Seattle in Week 1 (189 yards passing, one score and one interception); Wilson enjoyed a typical fantasy day (191 yards passing, two TDs and 29 yards rushing). With Rodgers hobbled by his troublesome calf injury and Seattle's defense playing as well as it has all season, a repeat of Week 1 seems very likely for him. Wilson is certainly capable of surpassing his Week 1 totals if only because Green Bay figures to be a bit better against the run than it was in the first meeting. The fact that he has started delivering "special" fantasy numbers on a more regular basis of late makes it even more of a possibility that he could be the highest-scoring quarterback of the weekend.
The call: Russell Wilson (x3). Outside of starting a Drew Stanton or Ryan Lindley type, I would be hesitant to remove any quarterback with a 3x next to his name. This was the right call at the start of this challenge and I'm confident I will feel the same at the end of this week and again in two weeks.

Running Backs

Shane Vereen/LeGarrette Blount/Jonas Gray/Brandon Bolden/Dan Herron/Trent Richardson/Zurlon Tipton/Marshawn Lynch/Robert Turbin/Eddie Lacy/James Starks
Last week, I stated "New England doesn't seem like a particularly good bet for solid production in the running game" given its matchup with Baltimore. This week, it seems rather obvious the Patriots will want to test a Colts' defense that has given up 480 yards rushing and 10 touchdowns on the ground to New England in the last two meetings alone. Do I expect Indianapolis to stop the run better this time around? Yes. Do I proclaim to know which Patriots' back will be the next to run for four scores against Indy? No. With that said, the most reasonable bet is Blount (followed by Bolden) since Gray was essentially a healthy scratch last week. The one thing I do feel confident about is that New England will be relentless with the running game early on in hopes that it can play keep-a-way from Luck. Herron appeared to suffer a shoulder injury early last week, but he wasn't about to remove himself from the game. At this point, injury is about the only thing that will keep him from 20 touches each week. Tipton isn't anything special and Richardson, who could possibly be released in the offseason, has completely fallen out of favor.
Despite optimism that the loss of Panthers DT Star Lotulelei would make him the darling of last weekend, Lynch was bottled up by Carolina LBs Luke Kuechly and Thomas Davis. While the Packers' run defense has improved exponentially since using LB Clay Matthews inside on a regular basis, Green Bay still does not boast a Carolina-like run defense. I'm not ready to call Lynch the start of the week at running back – that honor could go to a New England runner if Patriots-Colts plays out like the last two meetings have – but I do feel confident that "Beast Mode" will easily top last week's effort. Lacy is on a nine-game streak of registering at least 100 total yards and has rushed for at least 97 yards in each of his last four contests. Asthma kept him sidelined for a part of last week's win, but I'd be stunned if Seattle's defense isn't the biggest roadblock to his success this week. Jonathan Stewart totaled 74 yards last week against the Seahawks – the most Seattle has allowed to any running back since Week 11 – and is arguably a better back than Lacy (on a team more committed to the run) when he is completely healthy.

The call: Marshawn Lynch (x3) and LeGarrette Blount. The Seahawks are even more likely to make the Super Bowl now than they were at the beginning of the playoffs, given how Rodgers' injury isn't getting any better. Lynch is a candidate for 25 touches this week and typically does a fair amount of fantasy damage with that kind of workload. Anybody that reads my columns on a weekly basis probably knows I have a healthy disdain for Blount, but he is both the most likely Patriots' runner to excel this weekend AND the best bet from the remaining three teams to play beyond this weekend.

Wide Receivers

Julian Edelman/Brandon LaFell/Danny Amendola/T.Y. Hilton/Reggie Wayne/Donte Moncrief/Hakeem Nicks/Doug Baldwin/Jermaine Kearse/Jordy Nelson/Randall Cobb/Davante Adams/Jarrett Boykin
When a quarterback attempts 50 passes and completes 33 of them, it is a good bet that multiple receivers will have 10-plus targets and as many as four receivers will come out of that game as solid fantasy plays. Such was the case last week for New England, which gave plenty of work to Edelman and Amendola while not forgetting about LaFell. Owners should expect a much more even pass-to-run ratio than 51:13 this weekend, however, which means Amendola and/or LaFell could become much less of a factor. This game does set up nicely for Edelman, however, as he should escape the coverage of outside CBs Vontae Davis and Greg Toler when he slides into the slot in three-wide packages; LaFell may not be as fortunate since Davis and Toler match up well size-wise with him. Even though Nicks has enjoyed a bit of a resurgence lately, the only Colts' receiver worthy of a second look in this challenge is Hilton. As one might expect, Pats HC Bill Belichick and DC Matt Patricia know he is the player they must stop and usually do a wonderful job of eliminating an offense's No. 1 option. Hilton managed only three catches for 24 yards in the Week 11 meeting. New England CB Darrelle Revis spent much of his time on Wayne in that game while the Patriots provided Brandon Browner and Kyle Arrington plenty of help to bottle up Hilton. Whether they switch things up on Sunday and use Revis as a shadow or not should not affect owners' decisions: Hilton is not a smart play this week.
Kearse had a day to remember against Carolina last week, but the balanced nature of the Seahawks' offense makes a repeat unlikely. The loss of rookie Paul Richardson (ACL) should free up more snaps for him, however. Baldwin is usually the best bet for production at receiver in Seattle, but his rollercoaster production since the Percy Harvin trade reflects how rarely the Seahawks feel the need to deviate from Lynch's power running or Wilson's ability to create something out of nothing. Owners with long memories may recall Boykin was thrown to the wolves in Week 1 when he lined up almost exclusively opposite Seattle CB Richard Sherman and Nelson was peppered with targets while Rodgers generally ignored the right side of the field. ESPN reported earlier in the week that Adams could play the role of Boykin in this matchup, although it would be shocking if the Packers don't challenge the trash-talking Seahawks' corner this time around. Regardless, expect much of Green Bay's offense to run through Cobb and Nelson (in that order). Owners need to monitor the one thing that could change that order this weekend: the health of RCB Byron Maxwell, who barely played against Carolina due to shortness of breath. Replacement Tharold Simon was roasted by Kelvin Benjamin last week and should be expected to experience similar struggles against either Nelson (who would likely spend the most time in Simon's coverage if Maxwell can't go) or Cobb.
The call: Julian Edelman and Jordy Nelson. I almost knew from the start I would regret not selecting Edelman or LaFell and, sure enough, I do. I don't regret my choice of either Dez Bryant or Demaryius Thomas, however, and really wasn't too far away from seeing either one (or both) of them pay off for me. Edelman not only has the best matchup this week in my opinion, but he also seems like the most likely candidate to succeed in a likely meeting with the Seahawks since there will be a heavy emphasis on getting rid of the ball quickly in that game. I was about to move forward with Baldwin as the other receiver, but will probably instead opt for Nelson or Cobb since I have little confidence that Baldwin will enjoy much success against the Patriots in the Super Bowl, which makes it more important for me to pick a receiver who I think will do well this week. Smaller and quicker receivers seem to have more success against "The Legion of Boom" than bigger ones do, so it sets up nicely for Cobb. Still, my choice between Nelson and Cobb will come down to the health of Maxwell.

Tight Ends

Rob Gronkowski/Tim Wright/Dwayne Allen/Coby Fleener/Luke Willson/Tony Moeaki/Andrew Quarless/Richard Rodgers
By now, it should be pretty obvious that Gronkowski is far and away the best choice, but let's consider the alternatives anyway. Allen and Fleener together would make a very nice fantasy tight end. Unfortunately, each player sabotages the other statistically and the Colts have thrown Jack Doyle into the mix more lately as well as defenses have started to wise up when it comes to defending the deep ball. Willson has opened some eyes over the last few weeks as well, but is like every other Seattle player in the passing game in that he can't always be expected to post 50-plus yards and a touchdown every week on 3-4 targets. Quarless and Rodgers each caught a TD pass last week and, based on the regular-season numbers, the Seahawks' weakness is defending that position. However, most of the production by opposing tight ends versus Seattle came in the first half of the season and has little relevance now that the Seahawks' defense is healthy.
The call: Rob Gronkowski (x3). Gronk remains the obvious call. Not only do the Colts struggle to stop opposing tight ends, but they also don't possess much in the way of personnel to handle a player like Gronkowski. Wright and Gronk combined for five catches, 73 yards and two touchdowns on seven targets in the regular-season meeting and I'd suggest that production should be the floor to what Gronkowski can do himself on Sunday.

Kickers

Stephen Gostkowski/Adam Vinatieri/Steven Hauschka/Mason Crosby
If you have believed the Patriots and Seahawks were going to square off in the Super Bowl all along, then you likely locked up Gostkowski or Hauschka a couple of weeks ago. Given the Colts' lack of a dominant red-zone force and/or stout running game, he's likely the best candidate for multiple field goals this week for any owner that wants to play this position week-to-week.
The call: Stephen Gostkowski (x3). While I do believe Indianapolis has improved defensively since the regular-season meeting, I'm not of the belief the Colts possess a solid defense. I don't think Indy will get blown out this time, but I do expect the Patriots will have plenty of scoring chances.

Defense/Special Teams

Patriots/Colts/Seahawks/Packers
As I have said in this space many times before, picking the best fantasy defenses in this contest is usually a matter of correctly predicting which teams will land in the Super Bowl, especially when one factors in the team-win bonus. The Patriots could end up being the best play of the week, but my confidence in them was shaken after watching Baltimore tear up what had been a very good secondary for most of the season. The Colts are the worst bet of the bunch to force pressure or generate turnovers and are probably the least likely of the four remaining teams to advance, which obviously makes them a poor choice this week and beyond. The Packers have been able to generate a fair amount of sacks in recent weeks and Wilson will run into a couple now and then, although I'd be quite hesitant about counting on any part of Green Bay's team thriving in CenturyLink Field.
The call: Seahawks (x3). There's no telling if the Seahawks will attempt to force the issue with Aaron Rodgers and attempt to knock him out of the game early. If he is compromised in any way – and he very well could be if Seattle gets to him early – the Seahawks could enjoy a bit of a feeding frenzy at Green Bay's expense. However, the reason to choose Seattle is because its defense is the most likely to dominate on a weekly basis.

Fearless predictions for my selected team:
Wilson: 235 passing yards, one passing TD, 40 rushing yards, one rushing TD (23 x 3 = 69 fantasy points)
Lynch: 90 rushing yards, one rushing TD, 25 receiving yards (17 x 3 = 51 fantasy points)
Blount: 115 rushing yards, two rushing TDs, 5 receiving yards (23 fantasy points)
Edelman: 80 receiving yards (eight fantasy points)
Nelson: 85 receiving yards, one receiving TD (14 fantasy points)
Gronkowski 110 receiving yards, two receiving TDs (23 x 3 = 69 fantasy points)
Gostkowski: four extra points, two field goals (10 x 3 = 30 fantasy points)
Seahawks DST: 20 PA, four sacks, one turnover and a team win (11 x 3 = 33 fantasy points)

Projected Total: 297 fantasy points

Fuzzy's
Many of the scoring parameters used above apply here as well, with the key differences being that Fuzzy's uses PPR scoring and there are no bonus-point modifiers or team-win points. Kickers get four points for field goals between 40-49 yards and six points for 60+ conversions while all TDs are worth six points. (Here is a link to the scoring.) Your goal is to pick the highest-scoring lineup each week with no strings attached. Additionally, each owner is asked to select a tiebreaker every week which will be used to break any ties following the Super Bowl. Fuzzy's leagues contain no more than 50 teams in a league whereas most other major sites employ a one-man-against-the-world approach. As a result, 20% of the entrants into Fuzzy's playoff leagues will - at the very least - recoup their entry fee, with first through ninth place receiving a nice return on investment for their troubles.

Position Requirements: 1 QB, 2 RB, 3 WR, 1 TE, 1 K, 1 Defense/Special Teams

In this section, I'll simply list how my teams did last week and suggest where I am leaning this week while presenting a brief overview on my overall thought process. Depending on how strongly I feel about matchups in a given week, I may use the same lineup in more than one league.

Fuzzy Portfolio - Divisional Round
Team 1
Team 2
Team 3
Team 4
QB
Luck
Luck
Luck
Luck
RB
Anderson
Anderson
Lacy
Anderson
RB
Lacy
Murray
Murray
Lynch
WR
Bryant
Bryant
Bryant
Bryant
WR
Nelson
Cobb
Edelman
Edelman
WR
D. Thomas
D. Thomas
D. Thomas
D. Thomas
TE
Gronkowski
Gronkowski
Gronkowski
Gronkowski
K
Vinatieri
Vinatieri
Vinatieri
Tucker
DST
Seahawks
Seahawks
Seahawks
Seahawks
Tie
Rodgers
Rodgers
Rodgers
Rodgers
WC Pt. Total
118.1
123.1
120.9
120.9
DR Pt. Total
122.4
143.7
142.5
140.0



Recap of last week:

As I have stated in years past, I will change my mind late in the week in certain cases and one of those played out last week with Edelman, who got the nod over Hilton and LaFell on Teams 3 and 4. Rolling with Nelson instead of Cobb or Edelman on Team 1 cost me about 15-20 spots in the overall ranking in that league, so I will be taking some calculated risks on that team this week in hopes that I can make up some ground. As you can probably gather from the totals above, I'm doing pretty well in the other three leagues as I stand fifth, ninth and seventh, respectively.


Fuzzy Portfolio - Conference Championships
Team 1
Team 2
Team 3
Team 4
QB
Wilson
Brady
Luck
Brady
RB
Blount
Herron
Herron
Herron
RB
Herron
Lynch
Lynch
Lynch
WR
Cobb
Cobb
Cobb
Cobb
WR
Edelman
Edelman
Edelman
Edelman
WR
Nelson
Nelson
Nelson
Nelson
TE
Gronkowski
Gronkowski
Gronkowski
Gronkowski
K
Vinatieri
Vinatieri
Vinatieri
Hauschka
DST
Seahawks
Seahawks
Seahawks
Seahawks
Tie
Brady
Wilson
Brady
Luck

I'm not against taking chances at quarterback in this format, but I'd prefer not to take them against secondaries that possess the quality of the Seahawks and Patriots. Rodgers and Luck will almost certainly put up starting-caliber numbers regardless, but average numbers don't win competitions like this – special performances do. I will almost certainly start Wilson in at least one league because I believe he offers the highest ceiling of the four quarterbacks and will probably wait to make my call on the other three (between Wilson, Luck and Brady) until Friday or Saturday. I think the natural inclination for many owners will be to lean on Brady because he's been there and done or Luck because he was fantasy's top quarterback this season. However, it is just as likely the Patriots will pound the Colts on the ground yet again, meaning I'd just as soon avoid a game where one quarterback is handing the ball off all day and the other one is forced to produce in garbage time.

Would it surprise me if a New England running back lapped the field in fantasy this weekend? Absolutely not. Can I say with any certainty that I know who that back might be if it happens? Not really. Unfortunately for owners, the AFC Championship will be the late game on Sunday, which means we probably won't have much idea about whether or not Jonas Gray will be active or not. I'm not so concerned about Gray being available as a realistic starting threat, but rather because I don't want anything in the way of Blount getting the majority of the "big-back" touches. With that said, a 20-carry day from Blount could easily shift the balance in a number in fantasy playoff leagues. Herron is pretty much a must-start in PPR scoring at this point given how likely New England will focus its attention on the intermediate- and deep-passing games. I don't think Herron's rushing upside is incredibly high (119 yards on 35 carries in the playoffs), but his 18 catches on 19 targets over that same span represent the kind of fantasy floor that I love my running backs to have. I only started Lynch in one of my four leagues last week and did not regret the decision. This week, I'd consider it a major upset if he didn't outperform Lacy. If I was to bet the farm on one back rushing for 100 yards and two scores this week, it would be Lynch, who will probably find his way onto at least three of my teams. I acknowledge I might come to regret it, but I doubt I will be using Lacy more than once. The teams that have beaten Seattle this season have all committed to the run, but none of the backs that have thrived against the Seahawks fit Lacy's profile (DeMarco Murray, Tre Mason and Jamaal Charles). Much like "The Legion of Boom", I think Seattle's front seven would much prefer to face a slower, more powerful runner than a quicker and more elusive back.

The health of Maxwell – as I referenced in the NFL.com section – will play a critical role in my decision to use one or two Packers, but the odds are extremely high as of now that I will go with Nelson and Cobb on all four teams. I'd be stunned if Cobb doesn't have a huge PPR game regardless, but a healthy Maxwell would remove some of the luster that Nelson would otherwise have running most of his routes versus Simon. I could easily see both Green Bay receivers in the 10-15 target range. I think Edelman is going to be another unanimous pick for me. As the team's primary slot receiver, Edelman figures to avoid Davis and Toler on the outside on anywhere from 50-75 percent of his routes. Colts slot CB Darius Butler is no slouch, but he's been up-and-down this year after emerging as a pleasant surprise last year. Just like I may be quick to close the book on an elite option like Lacy at running back, I might be willing to do the same with Hilton at receiver. Barring a huge error (a defensive back tripping over himself or Hilton catching a batted ball on a Hail Mary), I cannot imagine a scenario in which the Colts' top receiver will be able to get a big play deep. LaFell figures to see too much of Davis and Toler while Baldwin's targets are just too inconsistent for my tastes to roll the dice on him.

As I said last week: if you are determined to make a move in your league and feel the need to be a contrarian, do it at another position and play Gronkowski. There isn't even a close second-place option among the four remaining teams.

There's not a bad option at kicker and I could easily make an argument for all four players. Ultimately, I will probably stick with Vinatieri on most of my teams for the simple fact that he is extremely accurate – despite a miss last week – and plays for the team with the worst running game, which tends to be a big reason why many drives fail in the red zone. It wouldn't surprise me if the Colts pile up yards against the Patriots; it will surprise me if they convert more than two of their drives into touchdowns.

Rodgers and Luck don't make lot of mistakes – Luck has generally been taking what the defense has been giving him of late – so owners shouldn't expect much from any of the defensive units this week. With that said, I'd be stunned if the Seahawks don't do everything in their power (stunt and blitz a bit more than usual) to push Rodgers outside of the pocket in an effort to get him to push his injury as much as possible. Like I said earlier, I'm not expecting big numbers from any defense this week, but things could get ugly for Green Bay quick if Rodgers suffers an in-game setback and/or Matt Flynn is asked to take over.


Suggestions, comments, about the article or fantasy football in general? E-mail me or follow me on Twitter.

---
Doug Orth has written for FF Today since 2006 and appeared in USA Today's Fantasy Football Preview magazine in 2010 and 2011. He is also the host of USA Today's hour-long, pre-kickoff fantasy football internet chat every Sunday. Doug regularly appears as a fantasy football analyst on Sirius XM's "Fantasy Drive" and for 106.7 The Fan (WJFK – Washington, D.C). He is also a member of the Fantasy Sports Writers Association.