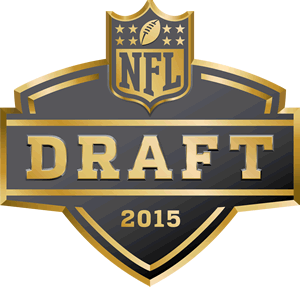 2.04 JAX – RB T.J. Yeldon
A bit of a poor man's Le'Veon Bell, the Jaguars scoop up their likely feature back for the next few years. Yeldon is a patient 220-pounder with the lateral agility of someone about 15 pounds lighter. Yeldon played through injuries for most of the 2014 season, but is probably the best bet of this draft's remaining backs to be a 250-carry runner on a consistent basis. The Crimson Tide standout is better in the passing game than his 46 career catches suggest, so while Denard Robinson will likely steal 5-8 touches per game from him, Yeldon's redraft floor is as a high-end RB3 or flex option. As for his dynasty stock, he belongs in the discussion to be among the first 5-6 players in rookie drafts.
2.05 NYJ – WR Devin Smith
Perhaps the most proficient deep threat in the draft, Smith gives the Jets a player that could emerge as this year's John Brown. And that is the role he should take on as a rookie as he slots in behind Eric Decker and Brandon Marshall in New York. His short and intermediate game could use some work, but he'll obviously have some time to mature in that area. His redraft stock is that of a WR5 at the moment since we have no way of knowing whether or not Geno Smith or Ryan Fitzpatrick can make three receivers viable in fantasy, even in an offense run by Chan Gailey. As a result, his stock in rookie drafts is probably mid-second round.
2.08 TEN – WR Dorial Green-Beckham
A man-child if there ever was one, DGB is a size-speed freak that would make Calvin Johnson proud from a physical talent standpoint. However, Green-Beckham was a bit of a mess off the field before getting kicked out of Missouri and is very raw as a route-runner. There may not be a more polarizing player in this draft and perhaps no other player has a bigger variance between his ceiling and floor in the NFL. The Titans would be wise not to rush DGB and build a package for him (preferably in the red zone) as he works on his craft and they figure out whether or not they can trust him. Green-Beckham's landing spot and myriad issues make him a late-round pick at best in redraft leagues. The same reasons make me lean toward putting a second-round value on him in rookie drafts.
2.09 CAR – WR Devin Funchess
One season after drafting a behemoth in Kelvin Benjamin, the Panthers double-dip by going with the 6-4, 232-pound Funchess. It would be a mistake to confuse the two as Funchess lacks Benjamin's aggressiveness or run-after-catch ability. Nevertheless, his addition gives Carolina two huge red-zone options. The Michigan product ran a 4.7 as well and played TE early in his career, but isn't going to make that transition here as Greg Olsen is one of the best at that position. Funchess is no threat to Benjamin's No. 1 status and will be no more than a low-end WR4 for redraft purposes. Similarly, he is an early-to-mid second-round option in rookie drafts.
2.22 DET – RB Ameer Abdullah
Were it not for the fact that he is 5-8, 205 with fumbling issues, Abdullah likely would have been this drafts' third first-round running back. With that said, the second all-time leading rusher in Nebraska history has just about everything else going for him - including wonderful intangibles and gamebreaking ability. Likely most ideally suited for a lead-back role (as opposed to a feature back), Abdullah is a wonderful complement to Joique Bell on a Lions' team that is trying to become more balanced on offense. Abdullah warrants flex consideration right away in redraft leagues and belongs right behind the top three backs (Gurley, Gordon and Yeldon) and top three receivers (Cooper, White and Parker) in rookie drafts.
2.23 BAL – TE Maxx Williams
A fascinating pick on several levels, Williams finds a team that probably needs to move on at tight end since Dennis Pitta is a huge injury question mark. The Minnesota alum is easily the draft's best tight end and has been favorably compared to Jason Witten for good reason. Assuming he is able to build the same kind of bond with Joe Flacco that Pitta did, Williams is a good bet to be a solid 8-10 year producer in Baltimore capable of making multiple Pro Bowls. Tight ends rarely thrive in their rookie year, so Williams is no more than a TE2 for redraft purposes. In dynasty, he warrants a late first-round grade.

---
Doug Orth has written for FF Today since 2006 and appeared in USA Today's Fantasy Football Preview magazine in 2010 and 2011. He is also the host of USA Today's hour-long, pre-kickoff fantasy football internet chat every Sunday. Doug regularly appears as a fantasy football analyst on Sirius XM's "Fantasy Drive" and for 106.7 The Fan (WJFK – Washington, D.C). He is also a member of the Fantasy Sports Writers Association.