As I have for the past six-plus years, I will continue sharing my thoughts on my NFL.com Playoff Challenge entry and playoff money leagues with Fuzzy's Fantasy Football as we head into the second week of postseason odyssey. Let's get right to it:



NFL.com



For a complete rundown of how players will score fantasy points for your team, click on the "Rules & Prizing" link on the NFL.com entry page. Much of the content immediately below is included on the "How to Play" page, although the information I provide below should be more than enough to follow along easily.

NFL.com Playoff Challenge scoring system



The requirements: one QB, two RBs, two WRs, one TE, one K and one D/ST. You will earn fantasy points based on their on-field performance during their game, and if your player's team wins, you will have the option to carry that player over to the next round, where he will earn a bonus point modifier to his score (which will be referred to as 2x, 3x and 4x from here on out).

For example, if you pick Aaron Rodgers in the Wild Card round and the Packers win, you can carry him over to the Divisional Round, and earn two times (2x) the points he earns in his divisional round game. If Green Bay wins again, you can carry Rodgers into the Conference Championship round for 3x the points and, if the Packers make the Super Bowl, you can earn 4x the points. In addition, a user can select a player/defense in the Wild Card round even if their team has a bye into the Conference Championships. In this case, the user would not earn any points for the Wild Card round, but be eligible to earn 2x points in the Conference Championships, since the player was on the teamís roster for two weekly scoring periods. Further bonus point modifiers would also apply as long as that playerís team continues to advance in the NFL Playoffs.

Before we get into the picks, let's briefly review the rules and how we may use them to our advantage: 1) passing TDs are worth four points, so passing yards are valued more highly here than in the Fuzzy's leagues I'll discuss later; 2) all field goals under 50 yards are worth three points, which means we are more concerned about volume of field goals than distance – unless we can find a kicker who regularly converts from 50-plus (DraftKings does not use kickers); 3) this is a non-PPR format, which obviously favors the big-play threats (both Fuzzy's and DraftKings are PPR); and 4) team wins are worth five points, so picking a "winning" defense is worth almost a touchdown.

It turns out I should have gambled on predictability in this challenge after all. Both No. 1 and 2 seeds made it to the Final Four, one season after both No. 1 seeds made it to the Super Bowl (marking the 11th time that happened since the playoff format began basing home field advantage on teams' regular season winning percentages in 1975). Moving on, here are my thoughts in regards to the NFL Playoff Challenge for Conference Championship week:

Quarterbacks

Cam Newton/Tom Brady/Carson Palmer

The call: Carson Palmer (3x). No change here. While I am perfectly happy with the 21 fantasy points (and 42 overall thanks to the 2x multiplier) Palmer scored last week, I was less than thrilled about how unsettled he looked in doing so. Not only were both of Palmer's interceptions bad decisions and bad throws, but his second touchdown pass to Michael Floyd in the fourth quarter could have easily been picked off as well. I'm willing to buy into the notion that he was putting a bit too much pressure on himself in order to get his first playoff win, but that alone doesn't excuse the fact he could have thrown four or five interceptions. Carolina's pass rush should be about as effective as Green Bay's was last weekend, but the Panthers' back end (especially CB Robert McClain) figures to get exposed in the same way it did in the second half against Seattle by a group of receivers much more accomplished and talented than the Seahawks used during their second-half comeback attempt.

Running Backs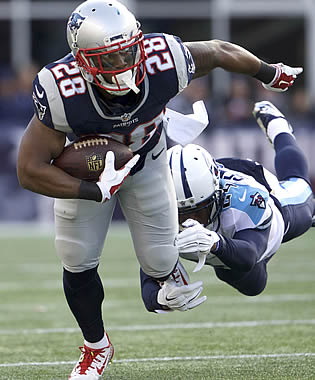 James White should be featured in the Pats gameplan.
Jonathan Stewart/James White/David Johnson
The call: David Johnson (3x) and James White. Johnson remains a no-brainer, so the choice for the second spot comes down to Stewart, White, C.J. Anderson and Ronnie Hillman. Since I am now predicting an Arizona-New England Super Bowl, it doesn't make much sense to insert any Panthers or Broncos into my lineup even though I'm fairly certain White has the lowest floor of the four other candidates. New England has already shown it has little interest in relying on a ground game against teams that can stop it like the Chiefs (last week) and Broncos (Week 12). White appeared to take over as the main passing-down back for the Patriots following their Week 12 loss in Denver, which yielded 96 receptions to running backs this season and a 4-84-1 receiving line to Brandon Bolden in the first meeting. It would be mildly shocking if White (and possibly even Bolden to a lesser extent) did not factor heavily into this week's offensive game plan.
Wide Receivers

Julian Edelman/Ted Ginn/Larry Fitzgerald/Michael Floyd/John Brown
The call: Michael Floyd (3x) and Larry Fitzgerald. Floyd is a carryover once again, but I do expect a down week from him this week since I suspect he'll see more of Panthers CB Josh Norman than any other Cardinals' receiver. With that said, it makes no sense to lose the potential 3x multiplier for a matchup I already prepared for (the odds were very strong entering the playoffs Floyd would either face LCB Norman or Seattle LCB Richard Sherman a lot in this round).
I obviously regret going with Brown over Fitzgerald last week based on how each player's final box-score contribution ended up, but it is worth noting that the future Hall of Famer was stuck on one catch and two targets until late in the third quarter. Brown and Fitzgerald figure to have the best matchups of the Arizona receivers this weekend (probably in the order I listed them), but I'm still going to make the change to Fitz anyway since last week was yet another reminder that Palmer trusts him more than any other player.
Tight Ends

Greg Olsen/Rob Gronkowski
The call: Rob Gronkowski. I strongly considered Gronkowski at the start of this challenge simply because he is so much better than any other player at his position. I put a fair amount of stock into his uncertain injury status, but I ultimately decided against him in order to stick with the
"contrarian Super Bowl" that was my focus this year. Let this be a lesson for all playoff challenge and/or DFS owners going forward: use uncertainty to your advantage when setting a lineup. Most folks are very hesitant (and rightfully so) to use injured players because they present too much risk. DFS owners, in particular, need to understand and be reminded occasionally that while players (especially superstars) with low ownership rates carry plenty of risk in any given week, the payoff can be much greater.
Kickers

Brandon McManus/Graham Gano/Stephen Gostkowski/Chandler Catanzaro
The call: Chandler Catanzaro (3x).
Defense/Special Teams

Broncos/Panthers/Patriots/Cardinals
The call: Cardinals (3x).
DraftKings/Fuzzy's
Since the pick-your-studs competition with Fuzzy's and the salary cap game of DraftKings essentially use the same PPR scoring (six points for passing touchdowns with Fuzzy's versus four fantasy points with DraftKings; three bonus points for 300 yards passing or 100 yards rushing/receiving versus no such bonus with Fuzzy's being the biggest differences), I'm going to essentially combine the two this postseason. I think by projecting each remaining team one week at a time, I will be able to kill two birds with one stone in this regard.
Below you will find my position-by-position projections. The players I have noted with an * are ones I feel should be roster staples. Please note I have included DraftKings' dollar value to each player I have projected, followed by their projected point total in that format (DraftKings and then Fuzzy's). Because I went into some detail above, I won't spend explaining each projection here - only some of the more notable ones. Each position is sorted by my DraftKings' projected point total.
Key for quarterbacks, running backs, receivers and tight ends:
P Yds - Passing Yards
P TD - Passing Touchdowns
INT - Interceptions
Ru Yds - Rushing Yards
Ru TD - Rushing Touchdowns
Rec Yds - Receiving Yards
Rec TD - Receiving Touchdowns
Rec - Receptions
Quarterbacks
Player
DK $
DK Pt Total
Fuzzy's Pt Total
P Yds
P TD
INT
Ru Yds
Ru TD
Tom Brady
$7,400
28.1
30.1
340
3
1
5
0
Cam Newton
$7,200
27.6
31.6
215
2
0
50
1
Carson Palmer
$6,800
19.1
22.1
290
2
1
5
0
Peyton Manning
$5,500
12.0
13.0
225
1
1
0
0

So much for getting a quarterback at a discount price this week. I can't imagine giving Manning a start under any circumstances, so owners are going to have to pay up this week. Fortunately, I think DraftKings has the prices right for the amount of fantasy impact they are likely to have this week. As I touched on above, the Patriots will very likely have a pass-heavy game plan (much like the 42:14 pass-run ratio they utilized last week against the Chiefs or the 42:16 pass-run ratio they had versus Denver in Week 12). For reasons we'll get into in the receiver section, a matchup against the Broncos' pass defense doesn't figure to be as difficult as it might appear on the surface - at least this week anyway. Russell Wilson has already shown us that a mobile quarterback can have his way with the Cardinals' defense, although Newton is more of an inside power runner while Wilson is more of an escape out-of-the-back-door scrambler. Having said that, Newton will need to be on top of his game as both a runner and a thrower because the Panthers may not have the receiving talent to take advantage of Arizona's cornerback situation after Patrick Peterson, who figures to see a lot of Ted Ginn this week. In salary-cap formats like DraftKings, I'll probably lean toward Palmer simply because of the $600 savings. While I recognize he probably has the lowest upside of the three, I would argue his matchup is probably the easiest of the bunch too. Seattle targeted Robert McClain endlessly in the second half last weekend and I don't know why Palmer wouldn't do likewise. As much as Arizona likes to go downfield, I'd be stunned if the Cardinals don't take repeated shots against McClain with John Brown (and/or Floyd if Peterson doesn't follow him). It is also asking a lot for slot CB Cortland Finnegan to bottle up Larry Fitzgerald, giving the Cardinals two very favorable matchups just about anytime they choose to go three-wide.


Running Backs
Player
DK $
DK Pt Total
Fuzzy's Pt Total
Ru Yds
Ru TD
Re Yds
Re TD
Rec
David Johnson *
$6,500
20.0
20.0
65
1
35
0
4
C.J. Anderson
$4,400
17.0
17.0
75
1
15
0
2
James White
$4,600
17.0
17.0
5
0
55
1
5
Jonathan Stewart
$5,900
10.0
10.0
85
0
5
0
1
Ronnie Hillman
$3,900
5.0
5.0
50
0
0
0
0
Mike Tolbert
$2,200
4.5
4.5
15
0
10
0
2
Steven Jackson
$3,000
4.0
4.0
25
0
5
0
1
Brandon Bolden
$2,600
3.5
3.5
0
0
15
0
2
Andre Ellington
$2,500
3.0
3.0
10
0
10
0
1
Cameron Artis-Payne
$2,700
2.5
2.5
10
0
5
0
1

To no one's surprise, Johnson should remain a roster staple. After that, we have a glut of backs that will probably profile as little more than RB3s during the regular season. Anderson is riding a three-game scoring streak and is the preferred option over Hillman in the passing game. It could also easily be argued that he has been outperforming Hillman for the better part of a month or two. I am much less certain about White simply because there is little game-to-game guarantee that he will be the main receiving back over Bolden. He should be, but if we have learned anything over the years, what should happen and what does happen in New England's backfield doesn't always make much sense for the majority of fantasy owners. I imagine the majority of owners will consider Stewart a roster staple given his 100-yard, two-score game last week, but those same people need to realize the Seahawks' defense was a shell of itself in the first half and Stewart's 59-yard run on the first play of the game accounted for more than half of his rushing yards. (Carolina gained just 81 yards on the 36 designed runs that followed Stewart's sprint.) That's not to say Stewart can't break 100 and score again versus the Cardinals, but I'm not buying the chances of him scoring twice inside the 5 again either. Those same runs have been Newton's for the majority of the year and, making matters worse for Stewart's supporters, he is now battling an ankle injury to boot. Hillman probably offers the most big-play potential of the backs that will be discussed here, although I'm not sure that's going to be enough in a game New England has better than 50-50 chance to control. If I was to gamble on one of two low-cost options at this position, it would either be Tolbert or Bolden.


Wide Receivers
Player
DK $
DK Pt Total
Fuzzy's Pt Total
Ru Yds
Ru TD
Re Yds
Julian Edelman *
$7,500
31.5
28.5
115
1
11
Larry Fitzgerald *
$6,900
22.0
22.0
90
1
7
Emmanuel Sanders
$6,300
19.5
19.5
85
1
5
John Brown
$5,200
17.5
17.5
75
1
4
Corey Brown
$2,800
14.0
14.0
50
1
3
Demaryius Thomas
$7,500
11.5
11.5
65
0
5
Michael Floyd
$5,300
5.0
5.0
30
0
2
Keshawn Martin
$2,600
5.0
5.0
30
0
2
Jerricho Cotchery
$2,400
4.5
4.5
25
0
2
J.J. Nelson
$2,000
4.5
4.5
35
0
1
Brandon LaFell
$3,300
4.5
4.5
25
0
2
Devin Funchess
$3,200
4.0
4.0
20
0
2
Jordan Norwood
$2,100
4.0
4.0
20
0
2
Danny Amendola
$4,400
4.0
4.0
20
0
2
Ted Ginn
$4,300
2.5
2.5
15
0
1
Cody Latimer
$2,500
2.5
2.5
15
0
1

It's a clear sign that the NFL has changed from even five years ago anytime two receivers known most for their exploits in the slot sit atop their positional ranking. Edelman should be a clear roster staple in part because he: 1) is so essential to the short passing game of the Patriots and 2) figures to see a lot of Chris Harris Jr. in the slot this weekend. Normally, drawing Harris would not be a positive, but the fact that Denver's slot corner is dealing with a left shoulder injury against New England's primary receiver sounds better than any other matchup New England is going to get at receiver. As such, expect Edelman to line up on the right side of the formation and work his way across the middle repeatedly to take advantage of Harris' inability to lift his arm without pain this weekend. Fitzgerald should see a lot of Finnegan, who struggled in his own right against Seattle when Russell Wilson wasn't targeting Jermaine Kearse in McClain's coverage. After that, it gets a bit trickier. With Thomas struggling so often with drops, it's probably safe to view Sanders as the Broncos' top receiver at the moment. New England has defended opposing No. 1 receivers with CB Logan Ryan and given him safety help over the top for most of the season while leaving Malcolm Butler to follow the No. 2 option, which figures to be Sanders in this case. Sanders was a force in the first meeting (6-113-0) while Thomas struggled mightily (1-36-0) on 13 targets, so recent history also suggests this could be a good week to fade Thomas.

Assuming John Brown sees more of McClain than any other Cardinals' receiver, he could easily prove to be the play of the week. For any DFS owner looking for a reasonably-priced receiver with a high ceiling, he is probably the best bet this week. Since I expect Arizona CB Patrick Peterson to spend a great deal of time defending Ginn, it opens the door for either "Philly" Brown or Funchess to have a huge game. I'm not here to suggest Justin Bethel isn't a capable cornerback, but if Brown and Funchess spent the majority of their day in his coverage and Peterson locks onto Ginn, Newton is going to force-feed Greg Olsen and either Brown or Funchess. Obviously, if we find out before game day that Peterson will not travel along with Ginn, then the well-traveled former first-round pick becomes a very savvy flex play. I wouldn't necessarily recommend avoiding Floyd just because I think Norman will be focusing on him, but the combination of that possibility and the tasty matchups of John Brown and Fitzgerald probably make him the least desirable Arizona receiver this week.


There's not really much to discuss here: Gronkowski and Olsen are the only legitimate options in any playoff format this week. Denver (11th-most fantasy points against tight ends) and Arizona (12th-most) each showed vulnerability against the league's top tight ends during the regular season and there's not much of a reason to expect that to change now. Gronkowski is always a good bet for at least one score and has more upside, so it is probably worth paying the extra $500 in DraftKings to lock him up. Olsen is no slouch and it should be noted that the Cardinals gave up productive or really productive PPR fantasy games to Kyle Rudolph (12.7), Zach Ertz (21.8) and Chase Coffman (12.9) in three of the final four weeks of the regular season. I'd side with Gronk simply because I suspect New England will throw more often than Carolina.



Key for kickers and defense/special teams units:




XP -

Extra point


FG -

Field goal


PA -

Points allowed


TO -

Total turnovers


TD -

Defensive/return touchdowns




Defense / Special Teams
Player
DK $
DK Pt Total
Fuzzy's Pt Total
PA
Sacks
TO
TD
Patriots
$3,100
9.0
9.0
20
4
2
0
Cardinals
$3,600
7.0
7.0
24
3
2
0
Panthers
$3,500
5.0
5.0
27
3
1
0
Broncos
$3,300
5.0
5.0
27
3
1
0


The way I see it, this is the rare week where spending less on defense is not only a cost-effective move, but also the prudent one as well. Manning can't help he was the victim of six dropped passes last week, but the fact remains he hasn't thrown for a touchdown in his last two-plus starts (came on in relief in Week 17) and was a turnover machine earlier in the year. The odds are strong Denver will need him to throw more than the 37 times he did last week. While I don't buy into the whole "Manning chokes in the playoffs" narrative that has been popular for years, I feel confident the people that do buy into it will have their case supported this week unless the Broncos' receivers (specifically Demaryius Thomas) can do a little more to help out their quarterback than they have for the majority of the season. I get the distinct sense Arizona-Carolina will be much more of a shootout than Denver-New England, which is another reason I would roll with the Pats in DFS.

---
Doug Orth has written for FF Today since 2006 and been featured in USA Today's Fantasy Football Preview magazine since 2010. He hosted USA Today's hour-long, pre-kickoff fantasy football internet chat every Sunday in 2012-13 and appears as a guest analyst on a number of national sports radio shows, including Sirius XM's "Fantasy Drive". Doug is also a member of the Fantasy Sports Writers Association.