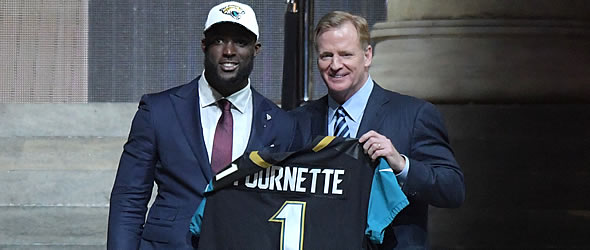 Chris Ivory is certain to see a backup role now that the Jags have Leonard Fournette in the mix.
1.02 - QB Mitchell Trubisky, Bears
Following one of Trubisky's workouts this spring, one scout said it reminded him of Aaron Rodgers. Trubisky doesn't need to play at that level to make this pick work, but this is a huge gamble for a team that has little to no history of being able to evaluate quarterbacks. It's even a question whether or not Trubisky's arm strength will be enough to hold up in December. He's not ready to start in Year 1 either, as the case with any quarterback who made 13 career starts in college. Furthermore, the duo of Cameron Meredith and Kevin White aren't exactly the pass-catching combination a young quarterback needs to develop confidence quickly. Putting aside Trubisky's second-round grade for a moment, he did show enough in his this season to indicate he could be the answer for a quarterback-needy team down the road. If there is one positive with this pick, it is that Chicago should be able to give him the opportunity to sit and learn in 2017 as Mike Glennon allows him to take his time adjusting to the NFL.
1.04 - RB Leonard Fournette, Jaguars
While the argument could be made a team with a quarterback concern, offensive line issues and Chris Ivory and T.J. Yeldon already on the roster, Fournette is the right pick here and automatically becomes viable to be a 300-carry threat on a yearly basis. Fournette occasionally gets knocked as a back unable to contribute in the passing game, but it is more because LSU chose not to use him very often in that area. Fournette brings instant credibility to the Jaguars' offense and is one of few backs in any draft who can be considered a tone-setter, as he is one of the most powerful runners in recent memory. Yeldon will likely settle in as a complementary/part-time third-down option, while Ivory will almost certainly move into more of a pure backup role.
1.05 - WR Corey Davis, Titans
Davis has drawn comparisons to Terrell Owens and Brandon Marshall, so it's not a surprise why Tennessee - a team which prides itself on physical football - would opt for him. The Western Michigan product dropped a few too many passes over his college career and is recovering from ankle surgery, but those are about the only dings on his prospect resume. While Rishard Matthews established himself as a very good receiver in his first year as a Titan, he'll likely take a back seat to Davis no later than midseason. Davis is one of the best route-runners in this draft, a physical blocker and should quickly emerge as the team's top red-zone threat.
1.07 - WR Mike Williams, Chargers
Los Angeles should have all parts of its aerial attack covered now, as Keenan Allen is a very good short-to-intermediate wideout when healthy, Tyrell Williams is a freakish run-after-catch player and Mike Williams is an Alshon Jeffery-like player in that he wins a lot at the catch point and in the red zone. With Antonio Gates nearing the end and Philip Rivers getting older, Mike Williams represents a move for the present and the immediate future. The fit is a good one, as the Clemson alum fits best in a vertical offense who needs to learn how to become a route-runner and diversify his route tree. Until that happens, LA will get a nice payoff from a player who may push for 8-10 touchdowns in his rookie season.
1.08 - RB Christian McCaffrey, Panthers
At first blush, this is not an ideal landing spot for McCaffrey given Carolina's preference for smash-mouth football. With that said, OC Mike Shula was creative (and flexible) enough to mold his offense around Cam Newton, and it seems like a good bet he'll do it again to make sure McCaffrey's vast talents won't go to waste. McCaffrey will likely start out his career as a backup to Jonathan Stewart, but it is quite likely he'll spend whatever time he would typically be on the sideline either in the slot or returning kicks. In other words, he won't be seeing much time on the bench. McCaffrey is perhaps this draft's best chess piece and makes for an intriguing option for Newton underneath while Kelvin Benjamin and Greg Olsen stretch defenses.
1.09 - WR John Ross, Bengals

At first, I hated this pick and felt it was a reach (because of his injury history). After a moment of reflection, I only believe the latter. Whether or not A.J. Green's absences last season played a role in this decision or Cincinnati made the choice to augment its top receiver with the fastest man in combine history, the Bengals are getting their replacement for (and an upgrade on) Marvin Jones and a player who is electric in the open field. Ross is the best deep threat in the draft given his obvious speed, but he is also already a pretty good route-runner, which only augments his ability to create separation. He is also a dynamic returner and will have an impact in that area for the Bengals as well.
1.10 - QB Patrick Mahomes II, Chiefs
Kansas City rarely drafts from the same board as most teams, and the Chiefs prove it again here, although Mahomes was gaining steam throughout the draft process. The Texas Tech product has the strongest arm in the draft and creates more off-script plays than any quarterback should have to, but he is perhaps the most undisciplined signal-caller too. HC Andy Reid has a long and proven track record of developing quarterbacks, however, and has earned the benefit of the doubt when it comes to evaluating the position. (For example, Donovan McNabb was a strong-armed option quarterback coming out of Syracuse.) Mahomes isn't ready to play in the NFL in 2017, but he lands in a great situation in that he has a durable veteran quarterback in front of him (Alex Smith) who is solid and durable enough to keep the rookie on the bench, but not so good the young buck can't take the job in 2018 if he shows enough progress in preseason action and/or relief duties. However, it is very possible Mahomes will still not be ready to start at the beginning of next season.
1.12 - QB Deshaun Watson, Texans
There are two things that stand out about Watson: 1) he played his best ball on the biggest stages and 2) Alabama HC Nick Saban, who had to go against him on both of those stages, called him "the best player in college football since Cam Newton" and once stated Newton and Watson were the two players who kept him up late at night. Watson was the most accomplished and best signal-caller in a weak draft for quarterbacks and throws too many bad interceptions, but there's something to be said for a player who not only put Clemson back on the map but was good enough to do the two things stated in the opening sentence. Like the two quarterbacks drafted ahead of him, Watson is not ready to start Day 1, but it's hard for Houston fans - not to mention Clemson alum DeAndre Hopkins - to feel good about the future with a clutch playmaker like Watson in the fold.
1.19 - TE O.J. Howard, Bucs
If you didn't like Jameis Winston as your fantasy quarterback before, you might want to reconsider. Tight end wasn't exactly a need position for the Buccaneers, but the thought of Mike Evans and DeSean Jackson opening up the middle of the field for Howard obviously was too appealing for them to pass up. Howard also turned himself into a very good blocker over the last part of his career at Alabama, meaning he won't be coming off the field very often for Tampa Bay. Rookie tight ends rarely perform well in fantasy, but Howard isn't going to be the typical rookie tight end. With Evans and Jackson on the outside and Winston having a history of leaning on his tight end, Howard is going to have a good chance to buck that trend. Cameron Brate will settle into a true backup role, and Brate's 2016 numbers should be considered Howard's floor as a rookie.
1.23 - TE Evan Engram, Giants
If Eli Manning can't perform with Brandon Marshall and Engram joining Odell Beckham Jr. and Sterling Shepard, then it may be time for him to retire. Engram isn't going to block very much or very well, but that is not the reason why New York is bringing Engram on board. The Ole Miss product is an offensive weapon and will cause major headaches for defenses who will already be stretched to account for Beckham and Marshall. At 6-3 and 234 pounds with 4.42 speed, he's going to be a nightmare matchup for linebackers and safeties alike. While he was rightfully considered a second-round prospect due to his blocking deficiencies, the Giants are a great landing spot because they won't ask him to do it all that much. Engram has Jordan Reed-like upside, and he could eventually realize that potential down the road if NYG continues to remain an up-tempo, quick-hitting pass offense.
1.29 - TE David Njoku, Browns
Even if the Browns can't support him with a good quarterback for a while, I love the value of this pick. And don't think for a second the trade up didn't have something to do with trying to keep him away from the Steelers. Njoku is as freaky of a talent at tight end as the draft has produced in a while. The Miami (Fla.) product is comparable to former Cane TE Jimmy Graham and could eventually turn into a perennial Pro Bowler so long as Cleveland finds even an average quarterback. As with any player relatively new to the game, Njoku will need to learn how to run routes (as opposed to leaning on just his athleticism) and become a better blocker, but he's probably further along than Graham was when he came out of the draft. Njoku may not overtake Gary Barnidge right away, but he should step in right away as a field-stretching option to take some of the attention away from Corey Coleman and Kenny Britt. The landing spot obviously is far from ideal at the moment, but his talent is undeniable.
4/29/17: Editors Note: TE Gary Barnidge has been released.

---
Doug Orth has written for FF Today since 2006 and been featured in USA Today's Fantasy Football Preview magazine since 2010. He hosted USA Today's hour-long, pre-kickoff fantasy football internet chat every Sunday in 2012-13 and appears as a guest analyst on a number of national sports radio shows, including Sirius XM's "Fantasy Drive". Doug is also a member of the Fantasy Sports Writers Association.