There is only a month left before the fantasy playoffs. This is no time to let down or rest on your laurels. Do the work. Prepare for this weekend as always and begin your "homework" for the playoff run.

Truths

The greatest homage we can pay truth is to use it.

- Ralph Waldo Emerson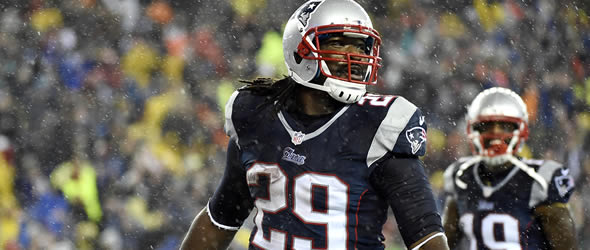 When the Pats blow out opponents by 11 points or more LeGarrette Blount is averaging 15.2 FPts/G.


1) LeGarrette Blount is the ultimate "feast or famine" option.

True. In typical Bill Belichick fashion, Blount's usage is seeming at the "whim of a mad man" (sorry for the "Speed" reference). In three games he has posted 27.2, 22.4 and 18.9 points and in four games 7.4 points or less. Here's a hint as to when to use Blount. When the Patriots have won by 10 points or less Blount averages 7.7 FPts/G. When the Pats blow out opponents by 11 points or more he is averaging 15.2 FPts/G. They are only favored by a touchdown over the New York Giants this weekend. This could change for the better, however, after the recent season-ending injury to Dion Lewis, but nothing is guaranteed. We will have to wait and see how the "mad scientist" uses running backs Brandon Bolden and James White this Sunday.


2) The San Diego Chargers average punt return this season is 0.027 yards (one inch).

Of the 36 times their opponent has punted the ball, San Diego has returned just eight of them for a net of one yard. The Chargers are one of eight teams without a punt return or kickoff return for a touchdown. Add in just seven turnovers and 15 sacks and it's easy to see why they are one of the worst fantasy D/ST in the league averaging just 3.4 FPts/G. Keep away from them along with Dallas, San Francisco, Chicago, Oakland and Washington – the six worst D/ST in the league.

3) The most disappointing fantasy quarterback not named Aaron Rodgers is Ryan Tannehill.

Over the last two seasons, Tannehill had made steady improvement and was a rising star on draft day, but he appears to have peaked and is likely to regress in a number of categories by the end of the 2015 season. Although he's on pace to set a personal mark for passing attempts and passing yards, his completion percentage is down and he's likely to throw less touchdowns and more interceptions. He's averaging 21.1 FPts/G, good for just 17th among quarterbacks and down from his career-best mark of 21.7 a season ago.

4) The Packers' James Jones continues to be the most efficient wideout … and underutilized.

Back in Week 5 I noted that Jones was averaging a league-leading 2.65 fantasy points per target. He's still on top of the charts with 2.27 PPT. Then No. 2, Travis Benjamin, has dropped significantly to No. 22. The six most efficient receivers after Jones are; Sammy Watkins (2.15), Tavon Austin (1.88), Allen Hurns (1.68), Martavis Bryant (1.63) and Larry Fitzgerald (1.60). Position points-leader, Julio Jones, is a volume producer with 138.9 fantasy points on 119 targets (1.16 PPT).

5) If one of your players has let you down over the first three quarters, you still shouldn't turn the channel if they play for one of six teams; Atlanta, San Diego, Indianapolis, Houston, New England or Buffalo.

True. These teams have scored at least 11 touchdowns on offense over the final 15 minutes. No other team has more than nine touchdowns. Don't touch that dial!

Lies

One of the striking differences between a cat and a lie is that the cat has only nine lives.

– Mark Twain


1) Being a backup running back means you can't be a fantasy asset.

The backup running back in Buffalo averages 2.7 FPts more than the starter. Talk about using limited opportunities to the fullest. Karlos Williams is averaging a stunning 14.8 FPts/G in the five games he has played while starter LeSean McCoy is averaging 12.1. McCoy has touched the ball 107 times and Williams just 56 times. Even if McCoy were completely healthy in Week 10 which is unlikely due to a shoulder strain, Williams would still be a viable fantasy option.

2) Being a backup running back means you can't be a fantasy asset - part 2.

The Chargers' backup running back Danny Woodhead is ranked 17th at his position in fantasy points per game (11.7) well ahead of rookie starter Melvin Gordon (5.9). Woodhead has the trust of his quarterback and with the Chargers' receiving corps in shambles, is Rivers' favorite target - even ahead of Antonio Gates. Woodhead is averaging 8.3 targets per game over his last three contests.

3) The Jacksonville Jaguars are once again at the bottom of their division with a 2-6 record therefore starting quarterback Blake Bortles must be having a bad season under center.

Actually, Bortles is playing at a top-10 fantasy level despite going through the hardest portion of his schedule. Through eight games, including contests with Carolina, New England and the New York Jets, Bortles is averaging 24.4 FPts/G (up significantly from 16.5 ppg last season). He's cracked the 30-point mark in three of the past four games. Over the next seven weeks he'll face five teams ranked 21st or worse in yielding points to opposing quarterbacks. I'm high on Bortles as long as the "Allen Brothers" (Allen Robinson and Allen Hurns) stay healthy.

4) Being touchdown dependent is a bad characteristic.

Only if you aren't scoring touchdowns! Cincinnati tight end Tyler Eifert has only caught 37 balls (11th –best among TE) for 434 yards, but he's third in fantasy points due to a league-leading nine touchdown receptions. More importantly, among those with at least 10 red zone targets, he's No. 1 in completion percentage at 76.9 percent (10-of-13). When Andy Dalton throws him the ball near the end zone, he catches it, and that's a very good thing.

5) Adrian Peterson and Marshawn Lynch are great options near the goal line.

Not so much. In the past, fantasy owners could rely on Peterson and Lynch to score when given the opportunity to take it in. In 2015, that is more myth than fact. Among 25 running backs with more than a dozen red zone attempts, AP and Lynch are ranked 20th and 21st, respectively. Peterson has scored in just three of 29 attempts and Lynch is 2-for-19. That's about 10 percent of the time for the two stars. There are eight players who score at least 20 percent of the time when handed the ball in the red zone; Jeremy Hill, Devonta Freeman, Chris Ivory, DeMarco Murray, Mark Ingram, Frank Gore, DeAngelo Williams and Blount.

---
Steve Schwarz served as the fantasy sports editor of The Sports Network and is the 2014 FSWA Football Writer of the Year.