If you have gotten this far and are still paying attention to fantasy football, you are either in your fantasy championship or playing DFS. Either way, it's about what a player can do for you this weekend, not over the long haul. It doesn't matter if he was your No. 1 draft choice or a waiver wire pickup. It only matters that he will perform up to, or exceed, expectations this weekend.

Truths

Truth is the property of no individual, but is the treasure of all men.

- Ralph Waldo Emerson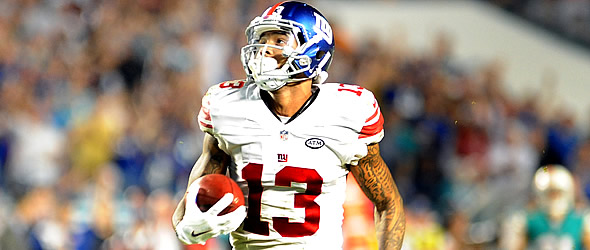 Odell Beckham Jr. has racked up some gaudy numbers but his WR1 status won't help you in Week 16.




1) Cam Newton leads all quarterback scoring over the past three games, averaging 38 FPts/G.



That certainly shouldnít surprise anyone. Heís playing at an MVP level. What might surprise you is that Tyrod Taylor (27.2 FPts/G), Kirk Cousins (27.0) and Ryan Fitzpatrick (25.8) are also in the top-10 over the past three weekends while Aaron Rodgers (22.0), Philip Rivers (17.1) and Matt Ryan (15.1) are not. Rodgers and Ryan have tough matchups this Sunday, Arizona and Carolina, respectively, so consider sitting them if you have a viable backup playing a weaker defense.



2) Likely waiver-wire pickup, David Johnson of Arizona, leads all running backs in production over the last three weeks with 71.2 fantasy points (23.7 FPts/G).



Johnson gave fantasy owners a scare just before half-time against Philadelphia when he took a blow to his knee, but he came back and put together an excellent second half to post a stunning 40.9 fantasy points. The third-round pick out of Northern Iowa this spring was no better than No. 3 on the depth chart to begin the season, but now he could be carrying your team to a fantasy championship. He is a perfect example of why late-round draft picks and early season waiver claims matter.



3) Odell Beckham Jr. (91-1396-13) owns a pair of million dollar hands and a 10-cent brain.



At least thatís what his fantasy owners will be thinking when they see him in street clothes due to his well-deserved one-game suspension while they are competing for a title this weekend without him. Only a successful appeal on Wednesday could save OBJís fantasy owners. Donít hold your breath. Rueben Randle could be a viable starter in Week 16 when Beckhamís suspension is upheld and is owned in just 50 percent of all leagues.



4) Over the past three games, the Seattle Seahawks have, not one, but two wideouts who are top-10 receivers.



True statement. The team that traded an All-Pro center to get a top weapon for quarterback Russell Wilson, might just have found out they had a couple of pretty good weapons already on their roster. Doug Baldwin has accumulated seven touchdowns in the past three games along with 221 yards on 15 receptions and leads the NFL with 13 touchdown receptions this season. Rookie teammate Tyler Lockett has added 18 receptions for 249 yards and three scores over the past three games. Did you know that Lockett is a free agent in almost 40 percent of all leagues?



5) In case you havenít been paying attention, the Kansas City Chiefs D/ST has posted double-digit points in four of their last six games.



Over their eight-game winning streak, they have amassed 28 sacks, 20 takeaways and turned four of the turnovers into touchdowns. They will face Johnny Manziel and the Browns, who rank 26th in turnovers having yielded 25 already this season, in Arrowhead Stadium. The Kansas City defense has turned the ball over at least once in every home game since Nov. 16, 2014.




Lies



''They say'' is often a great liar.

- Proverb

1) In baseball ďthey sayĒ good pitching beats good hitting. Around the NFL they say a good defense beats a good offense and wins championships.

That wasnít true last weekend in Pittsburgh where Antonio Brown again proved to be unstoppable. Despite being covered by Chris Harris, who had not given up a touchdown pass in two seasons, Brown ended the cornerbackís streak as part of his 16-catch, 189-yard, two touchdown afternoon. OK, Brown is only unstoppable when he has Ben Roethlisberger throwing him the ball. He has averaged 19.1 FPts/G with Roethlisberger under center and 6.0 when someone else is throwing him the ball. Thank goodness Big Ben is signed through 2020.



2) Statistics say Jordan Reed leads tight ends in scoring over the past three games, averaging 13.9 FPts/G, which would suggest heís a great play against the weak Philadelphia pass defense.



Not so fast. While the Eagles rank 24th in passing yards allowed and 30th in touchdown passes allowed (30), they are actually pretty good against opposing tight ends, yielding just 5.6 FPts/G. That has them ranked as the third-best in the league. It is speed receivers that light up the Eagles secondary like a Christmas tree. Think former Eagles speedster DeSean Jackson! Jackson has played well, when healthy, and is averaging 10.4 FPts/G in seven contest, including a seasonís best 6-153-1 effort, last week against the Bills.



3) During his weekly radio show, Matt Ryan said that Julio Jones surpassing Marvin Harrison's single-season receptions mark of 143 is possible.



Possible yes, probable no. Jones is a great receiver and has posted a league-leading 118 receptions in 14 games, but he would need 25 receptions over the final two games. Thatís too much to ask considering heíll face Josh Norman and the Carolina Panthers in Week 16. He was held to seven catches for 88 yards the last time these two met up in Week 14. The Falcons still have faint playoff hopes so canít just feed Julio the ball. At least not this weekend. Of course, if Atlanta is out of it by Week 17 (they would need to win plus a Seattle and Minnesota loss in Week 16 to stay alive) they could throw to Jones 25 times, but that wouldnít help most fantasy owners.



4) I almost always draft a kicker who plays indoors or in a warm climate because it will pay off when the weather turns ugly.



Iím still waiting for that bad weather. They tell me it will be a record 74-degrees on Christmas Eve day in Philadelphia. For this weekendís games, only the New York Giants-Minnesota game has a temperature forecasted to be below freezing. Very few games have been affected by snow this season. Thank you Mother Nature for eliminating one of my advantages.



5) When you used a high draft choice for a stud running back you expected it to pay dividends in the fantasy playoffs.



It hasnít been a good season for stud running backs. The top-10 running backs during your preseason draft were; Adrian Peterson, LeíVeon Bell, Eddie Lacy, Jamaal Charles, Marshawn Lynch, Jeremy Hill, C.J. Anderson, DeMarco Murray, Matt Forte and Justin Forsett. Four of the 10 are injured. Last seasonís rushing champion, Murray, has been demoted. Of the remainder, only Forte and Hill are ranked in the top-30 over the past three games. Perhaps a new strategy is due for next season.



---
Steve Schwarz served as the fantasy sports editor of The Sports Network and is the 2014 FSWA Football Writer of the Year.