Truths

For here we are not afraid to follow truth wherever it may lead …

- Thomas Jefferson

1) The two best running backs from the second half of 2014, Cincinnati's Jeremy Hill (829 yards rushing, 6 TDs over final eight games) and Denver's C.J. Anderson (1,001 yards from scrimmage and 7 TDs), are going to continue to be fantasy busts this season.

Both Hill (ADP 10.8) and Anderson (8.8) find themselves in shared situations with Giovani Bernard and Ronnie Hillman, respectively. In Hill's case, it is because Bernard is playing great football, averaging 5.7 ypg and 4.0 receptions per game. Anderson, averaging an ugly 2.3 ypc on 32 attempts, can't stay healthy, but is the more likely of the two to turn it around because Hillman hasn't been very effective either (3.1 ypc).

2) I was one of many "experts" caught up in the Josh Hill hype immediately after New Orleans tight end Jimmy Graham was sent packing to Seattle in a blockbuster trade.

It seemed logical after Hill racked up five touchdown catches in 14 receptions as a backup last season. Unfortunately, he has totaled two receptions for 12 yards on five targets this season and can't beat out aging Ben Watson for the Saints starting tight end role. At least the local writers did warn fantasy owners during the preseason. Hopefully you didn't waste a high pick on this underachiever. At this point he probably shouldn't be on any fantasy rosters.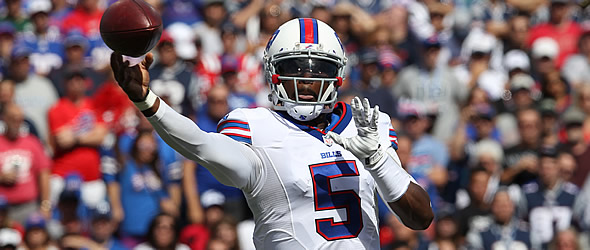 Buffalo QB Tyrod Taylor has played himself into QB1 value and has the schedule to make it stick.





3) Tyrod Taylor will continue to out-produce high draft picks, Marcus Mariota, Jameis Winston, Blake Bortles and Derek Carr.



Taylor currently has produced the most fantasy points among the quintet through three games (79.3), although he racked up a huge portion (34.4 points) in a wild second-half comeback effort against the Patriots. The three pass defenses he has faced so far (Indianapolis, New England and Miami), rank 17th or lower. The schedule is favorable for the Bills signal caller. He faces the New York Giants, Tennessee, Cincinnati, Jacksonville and Miami over the next six weeks (five games). Only the Titans (No. 5 at 194.7 ypg) rank in the top half of the league in passing yards allowed.



4) The Arizona Cardinals are the best defense/special teams this season.



There is always one team each season which develops a knack for scoring with their defense and this season it appears to be the Cardinals turn. They have already returned three interceptions for touchdowns and a kickoff. Plus they play very stingy defense led by Patrick Peterson and Tyrann Mathieu (299.7 ypg). They obviously won't be available to claim on waivers, but many owners don't realize how important defenses can be in fantasy and are willing to trade a good one for a "big name" player. It never hurts to ask.



5) The change in offensive emphasis for the Chicago Bears (from head coach/de facto OC Marc Trestman to OC Adam Gase) is killing Matt Forte's fantasy value, particularly in PPR leagues as many expected.



Gase's offense has completed just 10 passes to running backs (nine to Forte) over the first three games for 79 yards and no scores. Last season, Forte caught 102 balls for 808 yards and four touchdowns in 16 games. At this current pace, Forte's pass receiving production in PPR leagues will drop from 211.8 points in 2014 to 85.3 points. The Bears star running back would have to run for more than 1,000 yards more this season to make up the difference. That's not likely to happen in the Bears inept offense.



Lies



Facts are stubborn things, but statistics are pliable.

- Mark Twain



1) Tailback Matt Jones has surpassed Alfred Morris as the Washington back to have in your starting lineup.



Jones may be the more explosive runner, but the rookie has fumbled twice in just 36 rushing attempts. Sorry, but no head coach can put all his trust in an untested first-year player who puts the ball on the turf. He may well be the long-term answer, but for now expect Morris to maintain "top dog" status. Morris' limited passing game abilities, however, will keep Jones a viable handcuff, but don't go crazy based on the last game against the Giants when the rookie out-touched the veteran 11-to-6. The Redskins were in catch-up mode for most of the game after falling behind 12-0 in the first quarter.

2) Baltimore Ravens wideout Steve Smith should be untradeable.

Sure, Smith Sr. is coming off a "monster" effort (13-186-2) and has racked up 336 yards over the past two weeks, but after 14-plus seasons and 201 game the 36-years-old gets tired more easily. Fantasy owners only have to remember last season when he posted a 41-675-4 total for the first eight games and finished with 30 catches for 300 yards and two scores. It's actually an ongoing trend. From 2010-14, Smith Sr. has averaged 36-565-3 over the first half and 30-395-2 for the final eight games. Think "sell high."



3) The replacement for Ben Roethlisberger (MCL sprain/bone bruise), Michael Vick, will be a viable fantasy option until Big Ben returns at some unknown time and date down the road.



Sorry, but this isn't going to work out for fantasy owners hoping Vick will return to the "glory" of 2010 when he was the fantasy MVP. Since that magical season, Vick has been a turnover machine and injury prone. He's won just 13 of 40 games since that season amassing 42 turnovers. This experiment isn't likely to work out well for Vick owners or for that matter Antonio Brown and Le'Veon Bell owners.



4) The Vikings Teddy Bridgewater (50-of-74 for 505 yards, 1 TD, 2 INTs) will turn it around after three ugly games under center.



Minnesota has won two of their first three games this season, but it's been behind a stout defense and solid running game. We are still looking for the quarterback who went 6-6 in his rookie season and had all of us excited heading into 2015. Unfortunately, the Vikings have been busy integrating Adrian Peterson back into the offense at the expense of the passing game and it's worked. Bridgewater's favorite receiver, Charles Johnson (ribs), has also struggled early on. I expect head coach Mike Zimmer, a former defensive coordinator, to continue the strategy for run the ball and play good defense. You won't get much in trade based on Bridgewater's anemic 168.3 ypg passing, so let him ride your bench until something changes.



5) Patriots quarterback Tom Brady doesn't hold a grudge.



As we all know Brady was forced to take legal action to allow him to play this season and it appears he's taking out his pent-up anger at NFL commissioner Roger Goodell on opposing defenses. The two-time All-Pro is averaging a stunning 370.7 ypg with nine touchdowns and zero interceptions as he's led his Patriots to a 3-0 start and 39.7 ppg. The bad news for his fantasy owners is that New England has a bye in Week 4, so don't forget to remove all Patriots (and Tennessee Titans) from your lineup.


---
Steve Schwarz served as the fantasy sports editor of The Sports Network and is the 2014 FSWA Football Writer of the Year.