This is not a plug and play week. There will be a huge amount of firepower sitting on the sidelines in Week 7 due to byes (Green Bay, Denver, Cincinnati, Chicago) so it's imperative that fantasy owners do their homework to come up with the best possible lineups.

Truths

Every truth passes through three stages before it is recognized. In the first it is ridiculed, in the second it is opposed, in the third it is regarded as self-evident.

- Arthur Schopenhauer

1) Blake Bortles has been much improved in 2015 and fantasy owners can use him as a starter.

After a poor opener against what we now know is a pretty good Carolina squad, Blake Bortles has averaged 289 yards passing and 2.4 touchdown passes in his last five games. That's a 4,600-yard, 38-TD pace. He'll face a Buffalo Bills defense that is bottom-10 in both passing yards and passing touchdowns allowed. With Aaron Rodgers, Peyton Manning and Andy Dalton watching the action from the sofa like you and me, Bortles would be an excellent bye week fill-in as he's owned in less than half of all leagues.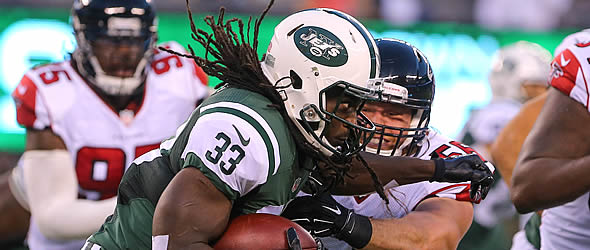 Even with limited work as a receiver, Chris Ivory has maintained his status as a top 5 fantasy RB.





2) Chris Ivory leads the NFL in rushing yards per game (115).



Chris Ivory is averaging 19.1 fantasy points per game, better than everyone except the other-worldly Devonta Freeman. Yes, that's better than Le'Veon Bell (16.9), Matt Forte (14.6) and Adrian Peterson (14.0). The Jets will play undefeated New England this Sunday and the most obvious way to slow down Tom Brady and his offensive juggernaut is to not let the Patriots have the ball … which means a heavy workload for Ivory.



3) DeMarco Murray is back.



No, not to the level of 2014 when the Dallas Cowboys rode DeMarco Murray like a rented mule to the playoffs, but over the past two games Chip Kelly has finally figured out a way to make him a productive option. He's averaged 18.2 fantasy points over that span. Murray looked particularly good in the second half against the Giants Monday night when due to injuries at wideout the Eagles frequently lined up in a double tight end formation. You should see plenty more of this formation against the undefeated Carolina Panthers in Week 7. Make sure Murray is back in your starting lineup.



4) Jaguars wideout tandem of Allen Robinson and Allen Hurns are for real.



Not only are they talented, but because their defense is ranked 30th in point allowed (29.3 ppg), the Jacksonville offense is more often than not forced to play from behind. It means throwing the ball and Bortles' 242 passing attempts is top-three among quarterbacks this season. Both Allen Robinson (leg contusion) and Allen Hurns (ankle) are a bit nicked up, but should be ready to go against the Bills in London Sunday morning. Hurns has scored in four straight games and Robinson in the last two. As long as they are active, they are must starts against a Bills pass defense that is ranked 26th against opposing wideouts.



5) In the "most disappointing receiver" award category, non-injury division, the "winner" goes to Lions wideout Golden Tate.



Coming off a 99-catch, 1,331-yard, four touchdown performance in 2014, much is expected of Golden Tate and through six games he hasn't delivered the production. He's still getting his opportunities (56 targets), but is averaging just .675 fantasy points per target. That's an almost 50 percent drop from last season's 1.19 points per target. Teammate Lance Moore has been more productive over the past two games and could continue to be valuable if tight end Eric Ebron is still sidelined.



Lies



I have a higher and grander standard of principle than George Washington. He could not lie; I can, but I won't.

- Mark Twain

1) Matt Cassel, will perform well in the substitute role just as he did for the Patriots in 2008 when he replaced an injured Tom Brady.

Sorry, this is 2015. Matt Cassel is a 33-year-old journeyman quarterback who won't have All-Pros Randy Moss (69-1008-11) and Wes Welker (111-1,165-3) at wide receiver or Bill Belichick and Josh McDaniels to guide him. Instead he'll be throwing to Terrance Williams (14-223-2) and Cole Beasley (22-214-0) in Dallas. He could be an emergency option in Week 7 against an injured New York Giants secondary, but then he would face Seattle, an improving Philadelphia defense and a surprisingly tough Tampa Bay defense which is ranked fourth against the pass.



2) The return of Chargers' tight end Antonio Gates from suspension has ended Ladarius Green's usefulness.



While Antonio Gates has been elite in the two games since his return, averaging 15.4 fantasy points, Ladarius Green's value hasn't been completely wiped out. He's caught eight of nine targets over the past two games for 85 yards and a touchdown and with both Keenan Allen (hip) and Stevie Johnson (hamstring) questionable for Week 7, Green's fantasy value could rise. He is a viable option during a week where Tyler Eifert, Martellus Bennett, Richard Rodgers and Owen Daniels are off.



3) Fantasy owners should be excited following Jonathan Stewart's two 1-yard touchdown runs last Sunday.



Unfortunately, this one game doesn't mean that the Panthers have changed their philosophy about Cam Newton running the ball near the goal line. Newton already has three red zone touchdown runs this season and 34 over his five-year career. Jonathan Stewart fantasy owners will have to wait until Newton starts walking with a severe limp before they can expect another big game from their running back. The running back is a "sell high" candidate this week.



4) When the Vikings' Charles Johnson returns from his rib injury he should be fantasy worthy once again.



In his absence Minnesota has discovered rookie wideout Stefon Diggs. Over the past two games, Diggs has posted 216 yards on 13 receptions. Teammate Mike Wallace compared his skill set to a former teammate - Steelers' Antonio Brown. While I won't go that far, I do think he's earned playing time and that's more likely to come from Charles Johnson's snap count than Wallace. For now, Diggs is worth a play in the next two games against two below average pass defenses – Detroit and Chicago.



5) Eddie Lacy is still the workhorse back for the Packers down the stretch.



Experts point out his slow start in 2014 and his strong finish (929 combined yards and nine touchdowns. The difference for me is the improved play of backup James Starks (112 rushing yards and two touchdowns against San Diego in Week 6). The bye week should give Eddie Lacy a good chance to get healthy, but when the Packers return from their break this looks more like a 55-45 workload split rather than the 75-25 workload of a season ago. I do not expect a repeat of last season's second half from Lacy.
---
Steve Schwarz served as the fantasy sports editor of The Sports Network and is the 2014 FSWA Football Writer of the Year.