The NFL exhibition season is in full swing and you are, and will be, bombarded with information and statistics from the games. Ignore all of it.

OK, maybe not 100 percent … ignore 99 percent.

Pay attention to injuries. It's just about the only thing that really matters. Touchdown passes, rushing yards, 100-yard receiving games … they mean almost nothing. You are not likely to find a "diamond in the rough." The late-round draft choice that astounds the team and media in May OTAs, then goes on to produce great fantasy numbers is just that … a fantasy.

I researched the top producers during the last six preseasons (2010-15) and of the top-five passers, rushers and receivers (a total of 90 players), only 12 of them (13.3%) were "start-worthy" during that regular season. (For me start-worthy equals a top-12 fantasy passer or tight end and a top-24 runner or receiver).

But even those numbers lie.

Of the two quarterbacks who made the list, both were veterans; Tom Brady in 2010 and Matt Ryan in 2012. Certainly no new findings there.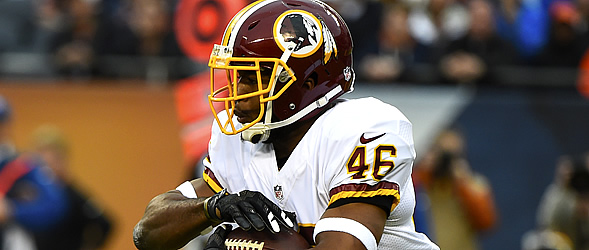 Alfred Morris flashed in 2010 when his 5.0 ypc during preseason games translated into fantasy success.


There were four running backs who made the list, but only Alfred Morris, a sixth round selection and Andre Williams, a fourth-rounder, could be considered "discoveries." Ryan Mathews was a first-round pick in his second season and Ronnie Hillman was in his fourth year as a pro.

The five receivers who were start-worthy, included; veterans Larry Fitzgerald, Josh Gordon, Julio Jones and Vincent Jackson. No headline story to astound your friends among those four. Future superstar Antonio Brown, however, was an undiscovered nugget who shone brightly in the 2011 preseason after posting just 16 catches for 167 yards the previous year.

The one tight end to meet our requirements was the Chiefs' Travis Kelce, a third-round pick out of Cincinnati, so he qualifies as a discovery.

That makes a total of just four fantasy-worthy starters who made their first appearances during the exhibition season. Four of 90 or 4.4 percent.

While it is slightly possible that you could outsmart your competition, who is "foolishly" enjoying the end of the summer at the beach, it's certainly not probable that all your preseason fantasy analysis of game statistics will pay off.

The good news for you, however, is that I've already assembled the best of the "long-shot" rookies who might help you this season (Ezekiel Elliott and all other first-round selections aren't a long shot) … so go spend the next three weeks on vacation and don't worry about a thing.

1) Tyler Boyd, WR, Cincinnati (selected 55th overall) - As with most rookies, opportunity is the key and Boyd fell into a huge opening when both Marvin Jones and Mohamed Sanu left town. He'll be the No. 2 guy behind five-time Pro Bowler A.J. Green, but that's not a bad thing as the secondary will always be doubling/leaning toward the big man. Boyd should be a possession receiver, who will accumulate catches and yards, and at least early in the season before tight end Tyler Eifert returns from ankle surgery, will have a chance to score too.

2) Devontae Booker, RB, Denver (136th overall) – Booker (if he can learn to pass block) should be the No. 2 back ahead of Ronnie Hillman and behind starter C.J. Anderson when the whistle blows for real. Considering that Anderson has never carried the ball more than 179 times in three NFL seasons or two seasons at California, it's hard to imagine a scenario where Anderson is a 350-plus touch workhorse. That leaves plenty of opportunity for Booker to shine.

3) Michael Thomas, WR, New Orleans (47th overall) – I expect Thomas to start opposite Brandin Cooks and once Brees gets confidence in a receiver they see plenty of targets. He's a big wideout in the Marques Colston mold and we know how well the Brees-to-Colston pairing worked. The Saints threw the ball 663 times last season and there is no reason to think it will be any less in 2016 and that's great news for any talented receiver.

4) Kenneth Dixon, RB, Baltimore (134th overall) – The Ravens' backfield appears to be a muddled mess. Justin Forsett should be No. 1, but the veteran really only has one good fantasy year (2014) on his resume in eight seasons. Dixon will also have to get past Terrance West, who is having a good camp and Javorius Allen, but long-term, the rookie might be the team's best option. He's likely to have little first-half value, but could come on strong around the fantasy playoffs.


Pre-Season Stat Leaders - 2015
QBs
In-Season
Rank
RBs
In-Season
Rank
WRs
In-Season
Rank
Landry Jones
48
Zach Zenner
131
Rashad Ross
120
Brett Hundley
x
Jarryd Hayne
128
Seth Roberts
56
Ryan Nassib
60
Thomas Rawls
26
Martavis Bryant
32
Jimmy Garopollo
74
Ronnie Hillman
20
Matt Hazel
199
Taylor Heinke
x
Zac Stacy
104
James Jones
27
Pre-Season Stat Leaders - 2014
QBs
In-Season
Rank
RBs
In-Season
Rank
WRs
In-Season
Rank
Zach Mettenberger
38
Lorenzo Taliaferro
53
Allen Hurns
44
Jimmy Garopollo
54
Henry Josey
x
Justin Hunter
67
Ryan Nassib
65
Joe Banyard
107
Brice Butler
96
Austin Davis
30
Rashad Jennings
29
Robert Woods
48
Ryan Griffin
x
Andre Williams
21
Travis Kelce
8
Pre-Season Stat Leaders - 2013
QBs
In-Season
Rank
RBs
In-Season
Rank
WRs
In-Season
Rank
Pat Devlin
x
Khiry Robinson
80
Marcus Easley
164
Case Keenum
34
Jordan Todman
59
Ted Ginn
53
Matt Simms
51
Joseph Randle
75
Ladarius Green
30
Dominique Davis
61
Christine Michael
113
Charles Hawkins
x
Ryan Mallett
x
David Wilson
93
Josh Gordon
1
Pre-Season Stat Leaders - 2012
QBs
In-Season
Rank
RBs
In-Season
Rank
WRs
In-Season
Rank
Kirk Cousins
39
William Powell
x
Travaris Cadet
129
Nick Foles
34
Rashad Jennings
61
Julio Jones
9
Matt Ryan
5
Nate Eachus
x
Antonio Brown
37
Chase Daniel
60
Alfred Morris
5
Damaris Johnson
113
Ryan Lindley
40
Justin Forsett
64
Joseph Morgan
77
Pre-Season Stat Leaders - 2011
QBs
In-Season
Rank
RBs
In-Season
Rank
WRs
In-Season
Rank
Stephen McGee
54
Kendall Hunter
47
Antonio Brown
24
Richard Bartell
60
Da'Rel Scott
138
Taj Smith
x
Chase Daniel
70
Armond Smith
160
Matthew Slater
153
Chad Henne
38
Ryan Mathews
7
Larry Fitzgerald
5
Matt Moore
23
Jonathan Dwyer
108
Vincent Jackson
10
Pre-Season Stat Leaders - 2010
QBs
In-Season
Rank
RBs
In-Season
Rank
WRs
In-Season
Rank
Charlie Whitehurst
46
Anthony Dixon
71
Victor Cruz
187
Matt Flynn
50
Michael Bennett
136
Matt Willis
170
Stephen McGee
53
Cedric Peerman
144
Adrian Arrington
150
Luke McCown
64
Jon Dwyer
130
Max Komar
141
Tom Brady
6
Jackie Battle
102
Deon Butler
73
---
Steve Schwarz served as the fantasy sports editor of The Sports Network and is the 2014 FSWA Football Writer of the Year.