The playoffs begin in less than a month. Take an honest look at your roster. Are you ready? Can you make it into the playoffs? Can you do any damage once you get there?

If the truthful answer is no, make a plan to improve your team and follow through with it. Remember these words; "For of all sad words of tongue or pen, the saddest are these, 'It might have been!" (John Greenleaf Whittier)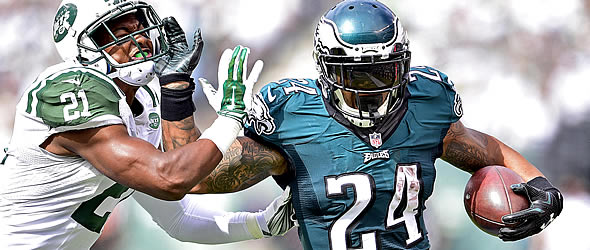 Now is not the time to jump on the Ryan Mathews train. The Eagles running back usage is unpredictable.




Truths



"The truth is you don't know what is going to happen tomorrow. Life is a crazy ride, and nothing is guaranteed." - Eminem



1) Marcus Mariota is the real deal, but …



I touted Mariota last week and will push him again for Week 11 and Week 12, but then the road gets a lot tougher. Mariota will face vulnerable defenses in Indianapolis and Chicago and is a must start in each, but he'll be no good to fantasy owners the following two weeks. He's on bye in Week 13, the last week of the fantasy regular season and in Week 14, the first round of the playoffs he'll face Denver (No. 2 against opposing QBs).

You should have a good backup quarterback in place for those two games or it could be curtains for your championship run. Here are a few options that might still be available and have plus schedules; Alex Smith (Atlanta, Oakland), Brock Osweiler (Green Bay, Indianapolis) and even Jay Cutler (San Francisco, Detroit).



2) The fantasy advantage for backs who can catch the ball is that they still hold value even if their team is behind on the scoreboard.



True. Only three of the top-20 fantasy running backs have 100 yards or less receiving and one of those is LeGarrette Blount, who leads the league in touchdown runs (12) while his Patriots lead the league in average "Time Of Possession Leading" (20:55) (statistic courtesy of Football Outsiders). The average receiving yards of a top-12 running back this season is 236.3 yards.



3) Those fantasy owners who were scared that Devontae Booker had lost his grip on the starting job in Denver can relax.



Booker saw 60-of-84 snaps while backup Kapri Bibbs was on the field for just 18 snaps. Booker amassed 26 touches to Bibbs' seven for 22 yards (3.1 ypc). There is a reason Bibbs was No. 3 or lower on the depth chart to start the season. The Broncos must keep a balanced offense to keep the pressure off their young quarterback therefore Booker should continue to see a heavy workload.



4) If you want to be an elite fantasy receiver you have to score touchdowns.



Yardage is not enough. Of the top-12 fantasy receivers by points-per-game, only one has scored less than four touchdowns this season (Amari Cooper). The top half dozen average 6.3 touchdowns. Receivers like Stefon Diggs, Kenny Britt, Jarvis Landry, Brandon Marshall and Alshon Jeffery (suspended) need to find a way to get into the end zone or their fantasy value will continue to be limited.



5) As with wide receivers, defense/special teams is all about touchdowns.



Want your defense to finish near the top? Pick one that creates points out of turnovers and the kicking game. All ten teams in the top-10 have produced at least three touchdowns so far this season. Pick of the week could be the eighth-ranked Dolphins (5.8 ppg) who play at Los Angeles this Sunday in rookie Jared Goff's expected pro debut.



6) Delanie Walker is a fantasy stud.



Rob Gronkowski, Greg Olsen, Jordan Reed, Tyler Eifert and Jimmy Graham receive a lot more press coverage, but Walker ranks No. 3 in points per game (9.7). Walker finished top-five last season and ranked eighth in 2014, so this isn't a fluke. The Titans have found their quarterback of the future, and of the present, and until they draft/sign an elite wideout, Walker should continue to be a top tight end option.



Lies



"A lie is like a cat: you need to stop it before it gets out the door or it's really hard to catch." - Charles M. Blow

1) Blake Bortles' fantasy value has been improving (22.1 points first six games, 26.5 last three) and should be a reliable option moving forward.

Not so fast. Bortles should have a very good Week 11 against the Detroit Lions (yielding 24.8 points to opposing QBs), but he's not the guy you want come fantasy playoff time. His Week 12-15 opponents are; Buffalo (ranked 13th vs. QBs), Denver (2nd), Minnesota (4th) and Houston (1st). Trading him this week, or next, might realize the most fantasy value in return.



2) The Eagles' Ryan Mathews is back!



Yes, he did posted the second-best day of any fantasy running back in Week 10, but I'm not ready to declare him a "must start." Mathews totaled 21 touches, but Smallwood still saw 13 touches and Sproles 10 touches. Head Coach Doug Pederson was determined to keep the ball away from the Falcons' high-flying offense last weekend, but he's still a disciple of Andy Reid and even after this run-heavy game the Eagles are 55% pass – 45% run this season. There is also his ever-present injury and ball security concerns.



3) The Seahawks backfield belongs to C.J. Prosise moving forward.



Prosise was on the field for 54-of-70 snaps against the Patriots in Week 10 and while some of the disparity between his workload and Christine Michael (11 snaps) was due to Michael's hamstring, the trend had already been heading in the rookie's direction. That said, the expected return of Thomas Rawls in Week 11 should send fantasy owners running from this running-back-by-committee situation even with Michael's release.



4) Tampa Bay tight end Cameron Brate is a viable tight end option.



Not immediately. Brate has posted three consecutive weeks with at least 8.2 points, but if you pick him up you shouldn't start him until playoff time. His recent production was against Oakland, Atlanta and Chicago, easy targets, but he'll face Kansas City (fifth against opposing TEs) and Seattle (fourth) the next two weekends.


---
Steve Schwarz served as the fantasy sports editor of The Sports Network and is the 2014 FSWA Football Writer of the Year.