The second round of the fantasy playoffs is no time to relax. The top seeds, who likely sat out last weekend, will bring their "A" game and you must too, if you want a shot at the title matchup. Don't forget that in addition to the Thursday night contest there is a rare Saturday matchup. It would be a shame if this atypical schedule confused any fantasy owners and left them starting a less-than-best lineup.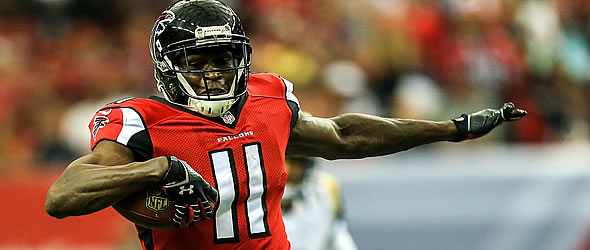 Considering the Falcons host the 49ers, it may be another week on the bench for Julio Jones.

Truths

"Truth never damages a cause that is just." - Mahatma Gandhi

1) There will be a running back scramble on the waiver wire this week.

True. Two key starters were injured this weekend, opening up opportunities for Bilal Powell and Kenneth Farrow (who?). The first quarter Melvin Gordon injury was particularly damaging to fantasy owners as the Chargersí running back had carried many teams to the playoffs after averaging 17.7 FPts/G through Week 13. Farrow, a rookie from Houston, ran for 55 yards and caught six short passes for 23 yards in his absence. Heís the pickup in San Diego. Powell (179 combined yards, 2 TDs last week) was already sharing time with Matt Forte (knee) and is the better fantasy option for Week 15, if heís still available in your league.

2) Is it a mirage or do I see Titletown forming in the distance?

Mirage. Although Green Bay has won three-in-a-row and Aaron Rodgers has thrown seven touchdowns versus zero interceptions over that span, Iím not ready to say ďthe Pack is back.Ē Even three more wins may not be enough as they need to jump over three teams just to grab the final wildcard playoff spot. The issue is they have no running game (Eddie Lacy, who has been out since Game 6, still leads the team in rushing with 360 yards) and their defense rarely shows up on the road (29.1 ppg) with two of the final three games to be played away from Lambeau Field.

3) It's likely to be another weekend without a significant contribution from Atlanta wideout Julio Jones.

True. Although the Falcons tried to disguise Jonesí absence in Week 14 with a questionable tag, he was never expected to play last Sunday versus the Rams after not practicing throughout the week. Atlanta made your starting lineup decision even tougher by not making him inactive until 2 pm on Sunday. In Week 15, the Falcons simply arenít likely to need a lot of help from their gimpy superstar receiver as they face the worst run defense in the NFL - San Francisco. The 49ers have yielded a league-worst 170.7 ypg, 19 rushing touchdowns, 4.9 ypc and 28.2 FPts/G to opposing running backs this season. It should be a busy day for Devonta Freeman and Tevin Coleman and a quiet day as a decoy for Jones. Taylor Gabriel (13.6 FPts/G over the past four games) will be a better receiving option.

4) Ted Ginn Jr., Dontrelle Inman and Malcolm Mitchell are among 20 receivers who are averaging more fantasy points than Mike Evans over the past five weeks.

True. Unfortunately, Evans has seen a significant drop in opportunities. After averaging 12.6 targets per game over the first eight contests, heís seeing just 8.6 targets since Week 10 and been held without a touchdown in four of five games. Teams are going all-out to stop Evans because the Bucs really donít have any other reliable receiving options. They were so desperate that they promoted former Eagles wideout Josh Huff for last Sundayís game.

5) Over the past five games, Denver is NOT the best fantasy defense against opposing quarterbacks, the Broncos are ranked third, behind Detroit and Jacksonville.

This is true. The Lions have held Blake Bortles, Sam Bradford, Drew Brees and Matt Barkley to 15.1 FPts/G. Meanwhile, the Jaguars have held their opponents to 15.6 FPts/G. Also in the top-five over that span are the New York Giants and Tampa Bay Buccaneers. Consider the following quarterbacks very carefully before starting them; Tom Brady, Eli Manning, Dak Prescott and Matthew Stafford.
Lies

"What is too absurd to be believed, is believed, because it is too absurd to be a lie." – Robert Jordan

1) You can't sit Cam Newton on your bench because you drafted him so high.

Now is not the time to let ego get in the way of victories. I sat Newton down last Sunday and the decision earned me four additional fantasy points. The 2015 Bert Bell Award winner has completed less than 50-percent of his passes in four consecutive games and is averaging just 17.6 FPts/G over the span.

2) Baltimore quarterback Joe Flacco and his dink and dunk offense didn't look anything like a top-10 fantasy quarterback Monday night.

In fact, over the past five games Flacco is ranked No. 3 behind only Rodgers and Kirk Cousins, posting 1,504 yards and 11 touchdowns for a 24.4 FPts/G average. Heíll face a faltering Philadelphia defense Sunday and should be considered a must start.

3) Loading up on Kansas City's mediocre passing game is to be avoided at all costs.

Under most circumstances Iíd say Tyreek Hill is the only viable Chiefs option. However, their Week 15 opponent, Tennessee, has allowed the most quarterback (26.9 FPts/G) and wide receiver fantasy points (34.6) in the NFL over the past five games. If your regular starting quarterback is struggling in any way, think Alex Smith. Hill is a must start and if Jeremy Maclin is 100-percent healthy, even he might be worthy of a flex play. Beware Travis Kelce owners (100+ yards in four consecutive games), the Titans have yielded the fourth-fewest TE fantasy points over the same five-game span.

4) When the weather turns cold and ugly it's always important to have an indoor kicker.

Since the middle of November, the four top fantasy placekickers all kick outside in the elements. Not surprisingly, Justin Tucker has accumulated a league-leading 45 points. Behind Tucker is Steve Hauschka (44), Robert Aguayo (43) and Dustin Hopkins (42).

5) Derek Carr has averaged just 19.1 FPts/G over the past five weeks and along with a dislocated finger makes him a tough start in the second round of the fantasy playoffs.

Incorrect. Carr's numbers are distorted by a game against Denver and the horrible effort in freezing cold Kansas City last Thursday night. He'll be just fine in Week 15 facing a Chargers defense he exploited in Week 5 for 317 yards and two scores. The only caveat is if the weather in normally sunny southern California turns cold. Over Carr's last four road games played in sub-50 degree weather, he has completed just 48 percent of his passes for just 604 yards (151 ypg). His average yards per attempt in those conditions is an ugly 4.34 yards per pass. Fortunately, the forecast for Sunday is 61 degrees and sunny.

---
Steve Schwarz served as the fantasy sports editor of The Sports Network and is the 2014 FSWA Football Writer of the Year.