Week 1 is in the books and most fantasy owners are already trying to discover the definitive answer to many questions after just 60 minutes of football. Slow down and be patient. It takes time, sometimes a few games, to sift through the piles of dirt, stones and iron pyrite (fool's gold) before you find the golden nuggets.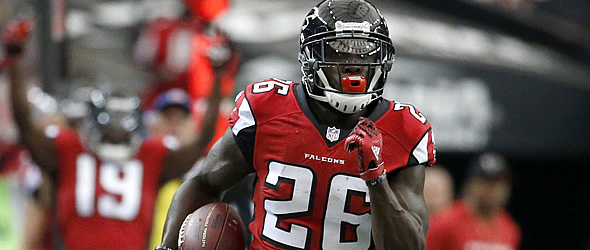 RBBC has reared its ugly head in Atlanta and Devonta Freeman owners are none too pleased.




Truths



"Truth hurts. Maybe not as much as jumping on a bicycle with a seat missing, but it hurts." (LT. Frank Drebin, Naked Gun 2 ½)



1) "We know both these guys are going to be a factor," said Atlanta Falcons coach Dan Quinn. "We're going to utilize them both."



Yes, the ugly rumors of this RBBC materialized on Sunday and Devonta Freeman's high preseason ADP is now likely unreachable. Tevin Coleman was the more effective in Week 1, even participating in the passing game with five catches for 95 yards while Freeman is still going to get the red zone work. This appears to be a full-blown shared situation with no end in sight … barring injury.

2) Will Fuller is a viable fantasy option.

Fuller has talent, we knew that. What we didn't know is how the Texans would use it. The good news for Fuller owners is that Brock Osweiler didn't try to force it into DeAndre Hopkins, instead opting for Fuller. The result was 11 targets to eight for Hopkins. And the advantage of watching games and not just checking box scores is that the targets were in places where Fuller could use his speed and not just as a safety value. Meanwhile, the concern for Hopkins being able to repeat his 2015 performance with a quality receiver across from him is still warranted.

3) Rumors of Jordy Nelson being alive in Green Bay were apparently true.

I was one of those concerned that after not playing at all in the preseason, that Nelson wouldn't be ready for Week 1. He wasn't great, and needed a scramble-play touchdown catch to save the afternoon for fantasy owners, but I was impressed that he was out there for 54-of-64 plays. I'll reserve whether he is all the way back to when he hits the opposition with one of those long lightning bolts, running away from the secondary for a touchdown. In the meantime, Aaron Rodgers, Randall Cobb and Davante Adams owners should feel better about this offense after it struggled in 2015.

4) DeAngelo Williams still has NFL starter talent.

I was one of those guys who thought D-Will's career was over in 2014, but the 33-year-old has shown everyone he has plenty left in the tank. He was fantastic last season as a 10-game starter for Le'Veon Bell (suspension and injury) and he was a fantasy stud Monday night against Washington (26-143-2, 6 receptions for 28 yards). Unless you get overwhelmed with an offer from Bell's fantasy owner, I'd stash him on my bench even after Bell returns from this year's three-game suspension. Given Bell's inability to stay on the field (he's played just 35 of 49 games over his career), Williams still may get another chance to help you later in the season.

5) I've been shouting Drew Brees' name for months and Week 1 is just a preview of things to come.

The Saints have reloaded at receiver over the past few seasons, letting go of veterans like Marques Colston, Kenny Stills, Lance Moore and Robert Meachem for young guys like Brandin Cooks, Willie Snead, Michael Thomas and Coby Fleener. It has taken time, but it appears Brees and his receivers are in sync. Given the Saints weak defense (OK I was being kind how about historically bad), there will probably be many more days like last Sunday 35-34 thriller. Betting the "over" in Saints games is likely going to be profitable for gamblers and a successful strategy for fantasy owners.

Lies

"I don't know which is worse: People who lie, or people who think I'm stupid enough to believe their lies." (Unknown)

1) The Buccaneers passed the ball 54 percent of the time last season (535 passes/455 rushes) and 33 of 61 plays (54.1%) in Week 1.

That doesn't tell the true story. Over the first three quarters when the game was still on the line, the Bucs threw 31 times and ran it just 17 times (64.5%). With a big lead they ran the ball 11-of-13 plays in the fourth quarter. It appears Tampa Bay management has full confidence in second-year QB Jameis Winston and his receivers and fantasy owners should expect a continued increase in production down the road. And Doug Martin's numbers may depend on Tampa Bay playing with the lead more often than in 2015.

2) Melvin Gordon owners should be elated that he finally found his way into the end zone … twice.

Gordon went 217 touches last season without a score. While it's true that he scored twice in the first 16 minutes of the 2016 season and totaled 39 yards at halftime, I'd be more than concerned that Gordon was on the field for just 23 of 73 offensive plays. He did rush 14 times in those 23 plays, but if the defense knows the ball is always going to Gordon when he's out there it's easy to defend (think DeMarco Murray in Philadelphia last season). Danny Woodhead was on the field for 50 plays, rushing a team-high 16 times for 89 yards and targeted seven times in the passing game to zero for Gordon and is the better fantasy option.

3) Jump on the "Wentz Wagon."

Eagles rookie starting quarterback Carson Wentz was much better than anyone could have expected in the season opening win over Cleveland given his lack of preseason work (22-for-37 for 278 yards, 2TDs, 0 INTs in a 29-10 victory), but unless you are in a dynasty league, don't go overboard. He's got a lot still to learn and some tough times ahead of him. The Browns team is fatally young (17 rookies and an average age of 25.08 years-old) and for that reason was forced to play a "vanilla defense."

4) Matthew Stafford and the Detroit pass offense will struggle without Calvin Johnson.

The team may struggle to run the ball behind Ameer Abdullah, but without Megatron they are a much more balanced passing team. Management went out and brought in talented Marvin Jones to add to a team that could already catch the ball with Golden Tate, Eric Ebron, Abdullah and Theo Riddick. The result was a 340-yard, four-touchdown afternoon for Stafford in which he targeted five receivers at least five times. Detroit has a lot of weak pass defenses on their 2016 schedule and you should try to use that to your advantage.

5) After watching a truly ugly Rams game late Monday night you should trade Todd Gurley immediately.

OK, it was a horrible display by the Los Angeles Rams, one that should have the coaching staff looking over their shoulders, but you must always guard against over-reaction based on just one game. Even in a blowout loss, Gurley had 17 carries and three targets. He's going to get the work. Besides, you have never heard me utter the phrase "buy high and sell low." The early portion of the Rams schedule is tough so you are going to have to be patient.


---
Steve Schwarz served as the fantasy sports editor of The Sports Network and is the 2014 FSWA Football Writer of the Year.