Week 7 sees Carolina and Dallas with a bye and added to the likely loss of Ben Roethlisberger, Eddie Lacy, Theo Riddick and maybe Terrelle Pryor makes life a continuing struggle for fantasy owners.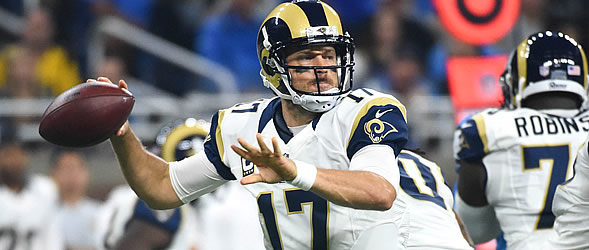 Through 6 weeks, Case Keenum is averaging the same amount of fantasy points (18) as Russell Wilson.




Truths



"Belief in the truth commences with the doubting of all those "truths" we once believed." – Friedrich Nietzsche



1) Case Keenum is much improved and is a viable low-end starter if needed.



He's the yin to Todd Gurley's yang. As Gurley has struggled due to defenses loading the box to stop him (79.8 combined ypg vs. 99.5 last season), Keenum has reaped the benefits. He's averaged a respectable 22.2 fantasy FPts/G over the past four games.



2) The Marcus Mariota "roll" should continue.



True, although he likely won't produce 32.4 FPts/G as he has over the past two weeks. The Titans next five opponents all rank below the NFL mean of 21 fantasy points per game allowed to opposing quarterbacks (Indy x 2, Jacksonville, San Diego, Green Bay).



3) Hunter Henry should be owned and started in almost every league.



The truth and nothing but the truth, so help me god. Henry's numbers have done nothing but improve over the Chargers first five games. With all the injuries to the San Diego receiving corps (Keenan Allen, Danny Woodhead, Steve Johnson, Antonio Gates for two games) they needed another reliable target and found him in the form of their 2016 second-round draft choice. He's out-scored Gates when both were available the past two weeks and is averaging 13.3 fantasy points the last three weeks. That's more than fantasy position leader Greg Olsen averages in 2016 (12.2 FPts/G).



4) Rob Gronkowski is only a great tight end when Tom Brady is his quarterback.



So far the evidence is decidedly in that direction though the sample size when Gronkowski has been on the field without Brady is small. I do know that Brady has thrown all 66 of his NFL touchdown passes and "Gronk" was invisible in the two games he played this season without his future Hall-of-Fame quarterback. Gronkowski caught 16 touchdown passes at Arizona, from only one quarterback too – the immortal Willie Tuitama.



5) LeSean McCoy will lead the NFL in rushing.



McCoy has turned it up a notch this season, but not any better than David Johnson or Ezekiel Elliott. What gives the Buffalo back the advantage is the lack of a competent backup. Johnson gets a breather from Andre Ellington and Alfred Morris (1,613 yards and 13 TDs in 2012) backs up "Zeke," but the Bills have just Mike Gillislee (never rushed for more than 60 yards in a season) and aged Reggie Bush. McCoy is averaging a career-high 5.6 ypc.



Lies



"One of the most striking differences between a cat and a lie is that a cat has only nine lives." – Mark Twain

1) Drew Brees, who ranks second among quarterbacks in fantasy FPts/G at 28.7, is a must start every week.

False. In three home games, he's averaging 36.2 fantasy points, but in two road starts he's averaging just 17.5 FPts/G. His home/road split variation has become more pronounced over the past few seasons. It's time to work your backup into the lineup when Brees leaves the friendly confines of the Mercedes-Benz Superdome.



2) Tony Romo will be healthy and ready to go by his target date – Week 8.



Hahahahahaha. First, he's never been a quick healer. Second, if Dak Prescott (21.2 fantasy FPts/G) continues to play this well, and win (5-1 as starter), the "out" for the Cowboys is that Romo is not 100-percent healthy (which he will never be). Owner/GM Jerry Jones wants to win a Super Bowl more than he wants to save face after signing Romo to that six-year, $108 million contract.



3) Brock Osweiler has turned it around producing two 20-plus fantasy results over the past three games.



Lie. Osweiler, 17.6 fantasy FPts/G, was on his way to a second consecutive disaster, but a big fourth quarter against the Colts saved his, and the Texans' night. He's completing just 59-percent of his passes, has thrown at least one interception in every game this season (8 TD passes, 8 INTs) and hasn't used his best receiver, DeAndre Hopkins, to his fullest. Last season Brian Hoyer completed 60.7-percent of his passes and had a 19-7 TD-INT ratio (19.2 fantasy FPts/G).



4) Jay Ajayi is ready to assume the workhorse running back role.



Despite his 204-yard, two-touchdown performance last weekend, I'm not ready to anoint him "the man." If he was that good the Miami coaching staff wouldn't have been searching all winter for another option. They chose injury-prone and well-over-the-hill Arian Foster as their 2016 opening day starter. They also tried Kenyan Drake. That said, Ajayi should see a majority of the carries for the foreseeable future and be at least a bye-week replacement after posting 32.7 points against Pittsburgh. One swallow does not a summer make.



5) The Packers backfield is quicksand to be avoided.



The fact that James Starks is out and the latest news has Eddie Lacy likely to miss "several" games doesn't mean there is a vacuum with no fantasy options. Think wide receiver Ty Montgomery. The wideout ran the ball 334 times at Stanford (8.6 ypc) and appears to have a chance to make a difference for a couple of weeks. Newly-acquired Knile Davis (Tuesday trade) can't possibly know many plays or protection packages for Aaron Rodgers and there is no way Green Bay risks the health of their MVP quarterback.


---
Steve Schwarz served as the fantasy sports editor of The Sports Network and is the 2014 FSWA Football Writer of the Year.