By simply definition, a "rebound candidate" had a subpar season, but within this answer, there are two types of rebound candidates only one of which will significantly help fantasy owners.

Type One - A quarterback, running back or wide receiver who just had an "off" year, whether due to injury, teammates around him, or simply a string of poor performances. Basically, an "outlier" season. Players in this category will likely still be valued at a high level. Think Cam Newton, who set career lows in QB Rating (75.8), FPts/G (21.2) and completion percentage (52.9) in 2016, Allen Robinson or DeAndre Hopkins.

Type Two - A player who has posted two or more subpar seasons in a row, thereby turning an "outlier" season, into a downward trend. This is where the fantasy bargains are to be had as other fantasy owners ignore this type of player.

This is where we will begin our search.

Quarterback

There are just two quarterbacks eligible to be considered in this category – Robert Griffin III, who finished ninth in 2012 but hasn't been the same since his knee injury and Matt Cassel, who ranked eighth in 2008 as a replacement for Tom Brady in New England. RGIII was cut by the Browns on March 10 and hasn't found a job as of yet. Cassel is the backup for Marcus Mariota in Tennessee.

No current starting quarterbacks were top-12 in 2014 or earlier (a starter in a 12-team fantasy league), and then dropped below that for the past two seasons. Three, Andy Dalton (2016), Ryan Fitzpatrick (2015) and Eli Manning (2014) have successfully been rebound candidates in the past.

Running Backs

Matt Forte – Forte averaged the fewest fantasy points per game since his second year in the league (11.1) and gave way to Bilal Powell over the final four games (who averaged 18.3 FPts/G behind the same offensive line). Forte will turn 32-years-old in December with 2,253 rushing attempts and 517 receptions over a nine-year career seemingly having taken its toll. On Tuesday, Jets OC John Morton said he's planning to use a backfield-by-committee in 2017. Pass.

Jeremy Hill – Hill finished 21st in running back fantasy points last season, but the future, at least in Cincinnati, does not look promising. After a career-high 187.9 fantasy points in 2014 (222-1,124-9), Hill didn't crack 160 fantasy points in either of the next two seasons or 4.0 yards per carry. And that's bad news when you aren't a very good pass receiver. The Bengals spent a second-round pick (No. 48 overall) on Joe Mixon and given the controversy surrounding the rookie they didn't select him to sit him on the bench. Pass on Hill.

Eddie Lacy – In his first two seasons, Lacy averaged 1,158 rushing yards, 12 total touchdowns and 14.3 FPts/G. His last two seasons have been a disaster for fantasy owners as he averaged 559 yards, 2.5 touchdowns and 8.1 FPts/G. He signed to play with Pete Carroll, Russell Wilson and the Seahawks in 2017. Lacy should win the starting spot, but Thomas Rawls and C.J. Prosise will see significant time and will limit Lacy's fantasy upside value.

Bottom line – Stay away from all three backs. That's not unusual for the position. Of the top 20 backs in 2016, none ever established themselves as a top-20 back, dropped out for two straight seasons and returned to the top 20.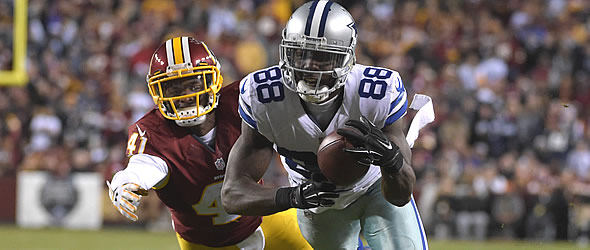 Injuries and a revolving door at QB have landed Dez Bryant outside the top 20 the last two seasons.




Wide Receivers



Dez Bryant – Dez Bryant's issues over the past two seasons have been two-fold. He's been hurt a lot, playing just nine games in 2015 and 13 in 2016 and he wasn't healthy in many of the games in which he did manage to dress. He also had a revolving door at the quarterback position in 2015 (Cassel – 8 games, Brandon Weeden - 6, Tony Romo -4) before Dak Prescott established himself last year. Bryant finished 27th in fantasy points last season despite being just 46th in targets. He didn't even lead the team as Cole Beasley saw a team-high 98 targets suggesting the coaching staff tried to make it easy for their rookie quarterback with more short throws. But Bryant, despite a hairline fracture to his knee in Week 3, did average a career-high 15.9 yards per reception and made game-changing catches in at least five games along with the Packers' playoff game. From Week 8 through Week 16 he posted 39 catches, 646 yards receiving, and seven touchdowns which extrapolates over a 16-game season to 69 catches for 1,148 yards and 12.5 touchdowns. Fans may not think of the soon-to-be 29-year-old as elite anymore, but fantasy owners shouldn't make that mistake.

Alshon Jeffery – The newly-acquired Eagles receiver was 52nd in fantasy points (94.1) a season ago, 39th in FPts/G (7.8) and 49th in targets. As with Bryant, he's suffered from injury concerns and a quarterback carousel. For Jeffery an assortment of soft-tissue injuries have caused him to miss 11 of the last 32 games. He's also been thrown to from the following group of "All-Stars" – Matt Barkley, Brian Hoyer, Jay Cutler and Jimmy Clausen. In 2017 he'll catch passes from second-year QB Carson Wentz. Seems like an upgrade to me. The Philadelphia offense is pass-first as Doug Pederson comes from the Andy Reid coaching tree. Even as a rookie, Wentz threw the ball 607 times. Compare that to the Bears offense which passed it 523 times in 2015 and 559 times last season. He'll be the No. 1 target for Wentz. It will be all about staying on the field for Jeffery. If he can play 15 or 16 games he should be the wide receiver we saw in 2013 and 2014. Jeffery should produce 75 receptions for 1,120 yards and 10 touchdowns. That's about 178 fantasy points or 11.1 FPts/G making him worthy of WR1 status.

Randall Cobb – It was 2014 when Cobb was a fantasy stud, catching 91 balls for 1287 yards and 12 touchdowns. Since then all indicators have fallen. His fantasy points have dropped from 204.4 to 123.9 in 2015 and just 88.3 last season. Yards-per-catch from 14.1 to 10.5 to 10.2. He's now the third wide receiver option for Aaron Rodgers behind Jordy Nelson and Davante Adams. He might even drop to fourth if tight end Martellus Bennett and A-Rod connect. Think of Cobb as a low-end WR2, at best, and more likely a WR3.

Victor Cruz – The Bears signed Cruz to a one-year "show me" contract, but I'm afraid there isn't much left in the wideout's legs. Returning from a torn patellar tendon, Cruz no longer has the play-making ability of the guy who racked up 1,536 yards and nine touchdowns in 2011 and 1,092 yards and 10 scores in 2012. Seeing passes from Mike Glennon or Mitchell Trubisky instead of Eli Manning won't help either. Stay away.

Torrey Smith – Even in his best seasons, Smith barely squeezed his way inside the fantasy top-20. He was 22nd in 2013 and 19th in 2014 when he caught 49 of 92 targets for 767 yards and 11 scores. He then signed a two-year contract to play in "purgatory," I mean San Francisco, but was released for good behavior this past offseason and gets a third chance in Philadelphia. Mostly, Smith is expected to take the top off defenses and provide Jeffery and tight end Zack Ertz room to roam underneath, so I'm not expecting a lot of value from Smith. Think 45 catches for 765 yards and five touchdowns which would rank him 48th last season.



Bottom Line



Unlike running backs, a rebound value seems more likely to happen at the wide receiver position. Julian Edelman was a top-20 in 2013, dropped below the "Mendoza Line" the next two seasons and returned in 2016. Michael Crabtree was a top-20 in 2012, fell off the radar screen in 2013 and 2014 but has been top-20 in both seasons in Oakland with Derek Carr and the Raiders. Bryant and Jeffery are solid candidates to join the club in 2017.

---
Steve Schwarz served as the fantasy sports editor of The Sports Network and is the 2014 FSWA Football Writer of the Year.