If you are still reading this column it's likely you are in your league's playoffs – congratulations. Now is not the time to relax, since it's a one-and-done situation. Playoff waivers are still important, whether you need a player for your lineup or blocking your opponent. Early weather forecasts show no precipitation, though it's going to be below freezing in Buffalo, Cleveland, Pittsburgh and Cincinnati.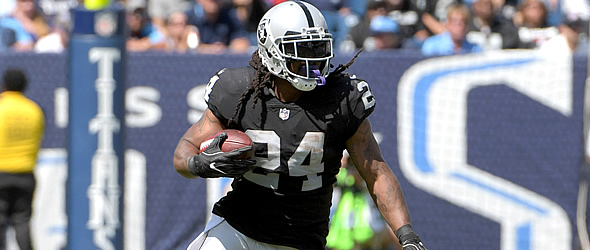 Marshawn Lynch has scored 4 TDs in his last four games and should find success this week against KC.

Truths

"Let the people know the truth and the country is safe." - Abraham Lincoln

1) Russell Wilson has the statistics to back up a claim as 2017 MVP.
He leads all active quarterbacks with 27.3 FPts/G (Only Deshaun Watson, who is out for the season, posted a higher number). He leads all quarterbacks in combined passing and rushing yards (3,688 yards). Heís tied for the lead in combined passing and rushing touchdowns (29). Heís been responsible for 29 of his teamís 33 total touchdowns (87.9%). He must be playing with a sore back from carrying 52 guys for three months.
2) Since throwing five INTs in Week 5 Ben Roethlisberger has averaged 25.0 FPts/G.
Since saying "Maybe I don't have it anymore" after a disastrous game against Jacksonville, Big Ben has righted the ship. The home/away splits are still wide (29.0/20.6), but the next two games are scheduled for Heinz Field (Baltimore, New England) and in Week 16 he has a favorable matchup in Houston.
3) Donít look now but Marshawn Lynch is playing like a top-five running back.
Since his return from a one-game suspension, itís a fact. Lynch has averaged 15.3 FPts/G behind only Alvin Kamara (24.0), Mark Ingram (16.5), and LeíVeon Bell (16.0) and tied with Ezekiel Elliott. Lynch has a couple of decent matchups before the fantasy championship in Week 16 when he would have an unfavorable matchup in Philadelphia.
4) Todd Gurley struggles again top-five run defenses, which makes him a poor play this Sunday, against Philadelphia.
True. Gurley beats up on weaker defenses (as he should), averaging more than double his average against top-five run defenses. Heís posted 10.1 FPts/G in three meeting against the top-five and 20.7 points against the rest of the league. Heíll face the Eagles in Week 14, who rank second in RB fantasy points allowed, behind only Minnesota.
5) Big name running backs are short on production.
Itís true that as the fantasy season headed down the stretch a number of preseason elite backs failed to come through for fantasy owners. These running backs didnít crack the top-20 over the final five weeks of football (average FPts/G); DeMarco Murray (21st), Lamar Miller (22nd), LeSean McCoy (23rd), Melvin Gordon (24th), Leonard Fournette (32nd), Jordan Howard (44th) and Devonta Freeman (59th).
Lies

ďHe who permits himself to tell a lie once, finds it much easier to do it a second and a third time till at length it becomes habitual.Ē - Thomas Jefferson

1) If Aaron Rodgers returns for the final two weeks of the fantasy playoffs, the title is mine.
Maybe, but IF Rodgers returns he doesnít have an easy schedule. He faces Carolina, ranked ninth in QB fantasy points allowed (18.3 FPts/G) and Minnesota ranked third (16.9). Hey, if you have been getting by using a makeshift lineup with the likes of Jacoby Brissett, Brett Hundley and Jimmy Garoppolo then Rodgers is certainly a step up, but donít expect elite totals in two tough matchups.
2) The cream always rises to the top?
If that old saying is true, why are the elite quarterbacks missing from the top of the quarterback rankings over the past five weeks. Behind Wilson, the following rank second through eighth; Ben Roethlisberger, Case Keenum, Josh McCown, Cam Newton, Alex Smith, Carson Wentz and Jared Goff. Philip Rivers and Tom Brady just sneak into the top-10 taking the final two spots. Itís been a topsy-turvy fantasy season for quarterbacks.
3) I noted back in Week 11, ďunless Ben Roethlisberger decides to force the ball to No. 84 through double coverage, Brownís totals could continue to be pedestrian.Ē
I was wrong, really wrong. Roethlisberger has thrown to Brown more over the past three weeks (13.3 targets per game versus 9.25 the previous four games) but it doesnít seemed forced and Brown has shown why heís the best receiver in football posting 414 yards and six scores over that span (25.8 FPts/G). Iím sorry for doubting you Antonio.
4) ďGang Green's tandem of running backs (Matt Forte and Bilal Powell) will be utilized plenty,Ē said writer Tony Williams.
Surprisingly, itís been the passing game that has led the Jets to better-than-expected production. Forte has managed just 325 yards rushing and Powell 502 yards and they have combined for five rushing touchdowns. Thatís better than the Seattle backfield, but it certainly isnít the reason the Jets are 5-7 and averaging 22.2 PPG. Josh McCown has thrown for 2,880 yards, 18 touchdowns against just eight interceptions and, even more surprisingly, has stayed healthy. Meanwhile, Robby Anderson (49-821-7) and Jermaine Kearse (51-677-5) have been viable WR2 options at wideout.
5) JuJu Smith-Schuster is appealing his one-game suspension for the hit on Vontaze Burfict Monday night.
It is not really fantasy related but Ö Are you kidding me? Does he really think he did nothing wrong? Iím tired of bad sportsmanship ruining many of my sporting events. The hit was bad enough, but at least thatís part of the game, the standing over Burfict (not my favorite person by the way) and taunting him is unacceptable. Iím not happy to lose Smith-Schuster from my lineup for a week, but he deserves the suspension. Deal with the consequences like a man and learn from it. You too, Mr. Gronkowski.

---
Steve Schwarz served as the fantasy sports editor of The Sports Network and is the 2014 FSWA Football Writer of the Year.