One week in the books and already fantasy owners are confused. Alex Smith is on pace for 5,888 yards passing and 64 touchdowns. Austin Hooper leads Jesse James in tight end scoring while Rob Gronkowski is ranked 23rd. Kansas Cityís third-round draft selection, Kareem Hunt, looks like Marshall Faulk.

Will Week 2 be more of the same or will we see a return to normalcy?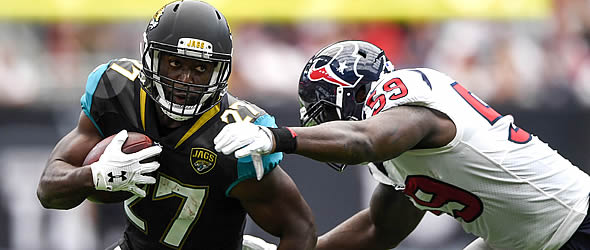 Week 1 gave us confirmation that the Jaguars plan on running the ball as much as possible in 2017.

Truths

"There's a world of difference between truth and facts. Facts can obscure truth." - Maya Angelou

1) Leonard Fournette was the real deal on Sunday.

Iíve partially changed my opinion of Fournette, at least for the short term. Not because he ran for 100 yards, but because he lugged the rock 26 times and along with three targets saw 29 touches. Thatís going to mean great production. Plus, when asked in preseason the optimal number of passes he wanted per game, head coach Doug Marrone replied ďzero.Ē Iím still concerned heís injury prone, so donít fall in love with him and be ready to ďsellĒ at a momentís notice.

2) Adrian Peterson signed with the wrong team.

Sad, but true. OK, New Orleans was probably the only ones offering him U.S. currency. Peterson is stuck in a three-way time share with Mark Ingram and rookie Alvin Kamara. Peterson already appeared to be complaining on the sidelines Monday night. This is never going to work. The Saints should trade ďADĒ to Arizona and go with two backs. Fantasy owners would probably like that solution instead of the RBBC logjam in New Orleans.

3) Nelson Agholor is improved.

Itís sort of a back-handed compliment since he had nowhere to go, but up, after his first two horrific seasons. Still, he looked much more comfortable in the slot in Week 1 against Washington (6-86-1). Having Alshon Jeffery as the No.1 receiver on the outside takes pressure off the third-year receiver. Agholor might end up being a viable WR3, which given his 59 catches for 648 yards and three scores combined over the first two season, is a huge jump. Heís owned in less than 20 percent of Yahoo leagues.

4) C.J. Anderson rushed the ball 20 times Monday night, but that doesnít mean his fantasy owners should be happy.

True. Anderson totaled 81 yards rushing and caught 1-of-3 targets for seven yards, but backup Jamaal Charles looked healthy. Charles rushed 10 times for 40 yards. What is more concerning is Anderson went 0-for-3 inside the 5-yard line and the Broncos gave Charles two tries inside the five as well. Charles also didnít score, but it appears the team is searching for a goal-line option. If Anderson isnít that guy it eats into his upside potential.

5) LeSean McCoy could set a career mark for touches in 2017.

If he doesnít die from exhaustion. McCoyís backup is 31-year-old human bowling ball Mike Tolbert. McCoy also likely has the best hands in the Billsí starting lineup given the wideouts are Jordan Matthews and rookie Zay Jones. In 2013 McCoy saw 366 touches and produced a league-leading 2,146 yards from scrimmage. If he can stay on the field, he could easily lead the league again.
Lies

ďYou know there's no such thing as a complete lie. There's always some truth in there.Ē Ė David Levithanar

1) Alex Smith really can throw deep as shown by his Week 1 performance.

No, no, no. Iím sorry, but Iím not buying the stories of how all summer heís been working on his deep throws. The Chiefs totaled 201 yards in YAC (yards after catch) against the Patriots to inflate Smithís numbers (28-of-35 for 368 yards and 4 TDs). The man has just seven 300-yard games in 142 starts and owns a career 6.8 yards-per-attempt. A couple of long throws doesnít change 11 years of facts.

2) Similar to Smith, Iím not buying the Vikings passing offense I saw against New Orleans.

Yes, Sam Bradford looked good as did Stefon Diggs and Adam Thielen, but it was against the Saints. They finished dead last in yards allowed in 2016 and 31st in 2015. Here is the key stat Ė Since the start of 2016 when Bradford throws the ball 37 times-or-more the team is 0-8. When he throws 36-or-fewer passes they went 8-0. I expect Minnesota to depend on their elite defense and their running game more than going pass-happy. Donít overvalue Bradford, they canít play the Saints every weekend. Selling high would be a smart move.

3) Jared Goff produced his first career 300-yard game and should be considered as a viable low-end fantasy option from here on out.

False. The Colts are awful, particularly in pass defense. They managed just eight interceptions last season (versus 27 touchdowns) and were bottom-10 in sacks. This year doesnít look much better. Iím not ready to say that head coach Sean McVay and OC Matt LaFleur have ďfixedĒ Goff just yet. Sammy Watkins (always hurt), Robert Woods (still unproven) and rookie Cooper Kupp arenít Torry Holt, Isaac Bruce and Az-Zahir Hakim.

4) Continuing on the theme of quarterbacks whose Week 1 statistics lie, is Andy Dalton.

Itís true that his performance against Baltimore on Sunday was dreadful, but itís not the first time heís gone cold. In 2013 he posted back-to-back three interception games, yet he still produced 4,293 yards and 33 touchdowns that season. If his owner is panicking, heís a buy-low candidate.

5) Randall Cobbís healthy return damaged Davante Adamsí fantasy value.

Cobb saw a team-high 13 targets, catching nine of them for 85 yards. Jordy Nelson saw eight targets and Adams seven. However, there were some extenuating circumstances. The Packers were playing Seattle and the Seahawks pass rush was getting in on Aaron Rodgers so he kept looking for the dump off underneath and thatís Cobbís forte. The target totals should be more balanced against the Falcons (ranked 18th with 34 sacks in 2016) and Cincinnati in Week 3 (33 sacks in 2016). You might be able to steal Adams if his fantasy owner watched the game and continuously struggled to find his receiver on the television screen.

---
Steve Schwarz served as the fantasy sports editor of The Sports Network and is the 2014 FSWA Football Writer of the Year.