Week 4 was a tough one for fantasy owners due to multiple injuries around the league. The most significant was Dalvin Cook, who was lost for the season. Also banged up are; Marcus Mariota, Derek Carr, Jordan Matthews, Chris Carson possibly Ty Montgomery and Davante Adams. Add the start of the bye week portion of the NFL schedule and hopefully you are fully prepared for this moment. Off this week are Washington, Denver, Atlanta and New Orleans.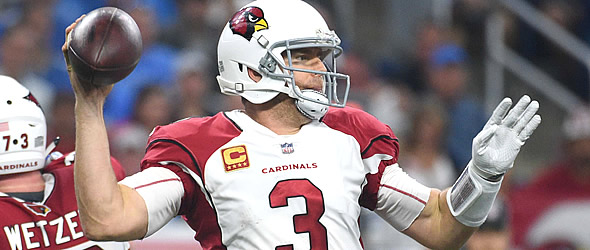 Opponents have completed six touchdown passes in six quarters with DT Fletcher Cox out of the lineup.

Truths

"If you want to see the truth, you must be brave enough to look." Rune Lazulit

1) If Eagles DT Fletcher Cox can't make it for Week 5 against Arizona, you may want to stack the Cardinals passing game.
True. In the first two games this season the Eagles yielded just three touchdown passes, but after Cox was sidelined by a calf injury midway through game No.3, opponents have completed six touchdown passes in six quarters. Arizona is second in passing yards per game (292.3) despite yielding a league-high 17 sacks. If Carson Palmer stays upright, heís likely to put up big numbers against a weakened Eagles defensive front line and questionable secondary.
2) Tom Brady continues on an unbelievable TD-to-INT pace.
Itís not just the yards he produces, but Brady has thrown 10 touchdowns without any of those annoying minuses for interceptions. Over his last 16 games (as we all know he missed the first four games of last season), Brady has thrown 38 touchdowns against just two picks. Heís also thrown for 4,953 yards over that span. His fantasy total of 407.8 fantasy points over the last 16 games (25.48 FPts/G) is second-best to Aaron Rodgers and Brady is No. 1 through the first four games of 2017.
3) Top quarterback play isnít just for cagey veterans.
Sure, Brady and Rodgers lead the way, but rookie Deshaun Watson and second-year starters Dak Prescott and Carson Wentz are all among the top-10 quarterbacks based on fantasy points per game. Watson has averaged 32.9 points over his last two games and is top among running quarterbacks with 148 yards and two scores. Heís for real. Prescott has actually increased his fantasy production this season despite the teamís mediocre 2-2 record, up from 21.2 FPts/G last season to 23.5 this season. Meanwhile, Wentz is throwing a little bit less (on pace for 588 passing attempts), but producing 4.2 additional points per game from 17.5 to 21.7 FPts/G. Shows what he can do with receivers who actually catch the ball and the threat of a running game.
4) Running the football is a young manís game.
True. Through four games, eight of the top-10 fantasy running backs are 25-years-old or less and six of the top-10 are 23-years-old or younger. Last season, just three of the top-10 were over 25-years-old. Current top fantasy backs; Chris Thompson (26), Carlos Hyde (27), C.J. Anderson (26) and Lamar Miller (26) along with yearly elite backs LeSean McCoy (29) and DeMarco Murray (29) have the odds stacked against them.
5) Jordy Nelson may be known as a speedy wideout, but fantasy owners know heís the leagueís favorite wide receiver target in the red zone.
True. Nelson caught 22-of-35 red zone targets for 11 touchdowns in 2016 and has four scores in seven targets this season. By contrast, Larry Fitzgerald scored on just 4-of-20 targets last season and Demaryius Thomas 4-of-23. Although Fitzgerald leads the NFL in red zone targets this season (10) heís again scoring on just 20-percent of them. You want efficient receivers. Think Stefon Diggs (3-of-5) and Chris Hogan (3-of-9). Or Will Fuller who went 2-for-2 in his first game this season.
Lies

ďEveryone is entitled to his own opinion, but not to his own facts.Ē - Daniel Patrick Moynihanill

1) The Eagles, third in the league in rushing yards with 572 yards through four games, have become a ďrun-first team.Ē
Doug Pederson is from the Andy Reid coaching tree, so this will never be true. While the team has improved its running total in each game this season, they still run the ball just 43.8 percent of their plays and the numbers are further skewed by 20 rushes from quarterback Carson Wentz (97 yards). You may like LeGarrette Blount (42-249-1), Wendell Smallwood (29-113-1) and Corey Clement (16-52-1), but itís not likely that any of the three can ever be an RB1 back under Pederson.
2) And speaking of Coach Reid, his Kansas City Chiefs surprising lead the league in rushing (654 yards).
No, they are not a run-first team either. Reidís Chiefs have run 42.6-percent of the time this season which is the second-lowest percentage in his four-and-a-half seasons in Kansas City. Reidís new-found running game (read Kareem Hunt) will be tested over the next four games playing Houston (ranked third in FPts/G to RBs), Pittsburgh (19th), Oakland (15th) and No. 1 Denver.
3) Hunt (25.5 FPts/G) and Todd Gurley (25.4) can keep this scoring pace up all season.
Unlikely. Since 2001, only three running backs have posted 23 FPts/G and the list reads like a Hall-of-Fame ballot. LaDainian Tomlinson (2006), Priest Holmes twice (2003, 2002) and Marshall Faulk (2001) are the only back who have done it over the past 16 seasons.
4) Keenan Allen is still not to be trusted coming off his torn ACL of 2016.
False. He appears completely over the knee injury. In fact, Allen is No. 1 among receivers in YAC (yards-after-catch). That puts him ahead of Antonio Brown and Julio Jones. Ignore the knee, the freak kidney injury of 2015 and the plethora of receivers Philip Rivers could throw to (Tyrell Williams, Travis Benjamin, Mike Williams, Antonio Gates, and Hunter Henry). Allen is fourth among all wideouts in targets this season (40), seventh in receptions (24) and fourth in yards (334). Heíll stay Riversí favorite weapon.
5) Michael Thomas (seventh wideout off the board on Draft Day) continues to be a disappointment.
While Thomas started slowly, the numbers indicate heís getting the hang of being the No. 1 target for Drew Brees and defensive coordinators. His fantasy production has gone from an ugly 4.5 points Opening Day to more than 14 points in each of his last two games. Targets are consistent and heís scored the past two weeks. So while he is ranked 13th in FPts/G, heís climbing the charts. Over the next four weeks he doesnít face a top-10 opponent (based on WR fantasy points allowed) and has two great matchups with Chicago (26th) and Tampa Bay (32nd). Perhaps someone needs help with the Saints on bye and will offer you Thomas for a reasonable price.


---
Steve Schwarz served as the fantasy sports editor of The Sports Network and is the 2014 FSWA Football Writer of the Year.