I spend the majority of my bankroll in cash games and multipliers with the goal of slowly and steadily building up my pot, with the occasional entry in million dollar GPP's in hopes of hitting on a golden ticket of riches.

Considering the fact that I am writing this column and not driving down the pacific coast highway in a new Porsche, one can easily figure out that I have yet to hit the big payday.

Although the dream of fantasy millions seems all but unattainable and that Porsche will need to be earned the old fashion way, I feel confident in my conservative strategy of bankroll building using the following strategy that I call fantasy layering.

Each week I try to identify two to three foundation wide receivers or running backs that will give me a high floor and high celling of production regardless of cost. The goal is to find a foundation player at a discount, but like in the case of Todd Gurley in Week 10 or Antonio Brown in Week 9, I feel confident paying even the highest of salary for a consistent performer with a great matchup.

Once those two to three foundation players have been selected, I create three fantasy teams with alternate surrounding casts and enter them in multiplier games, typically $10 multipliers that pay out $100.

With the remaining budget, I look to fill my roster with other medium to low cost wide receivers who are target monsters and will benefit from the full point per reception scoring on DraftKings. I also look for home run hitting players who are boom or bust candidates, as I have already built a foundation of core players to give me a solid baseline of points.

For the quarterback position, I fill one roster with the lowest cost and highest upside play, which for this past week was clearly Kirk Cousins. I fill one roster with a medium cost quarterback who has a decent salary considering his recent consistent play, which I chose Derek Carr at home against Minnesota. And for the third and final roster I pick a high priced quarterback who should deliver top tier points, despite forcing me to round out the rest of the team with cheap roster fillers. This past week I chose Aaron Rodgers at home against the Lions.

The goal with this strategy is that investing $30 in three games with a possible payout of $300 will hopefully result in at least one of the three rosters placing in the money. For this to work, you need to have your core players hit their expected production, and the ancillary players on at least one of the three teams to break out.

I won three multipliers using this strategy in Week 9, netting a modest $90 on three and five dollar contests. This week did not pan out as well, as DeAngelo Williams at home against one of the worst run defenses in proved to be a mistake.

The following is a review of one of my lineups using my layering strategy. In this particular case, I placed 792 out of 6810 teams, missing the $100 payout by only three points.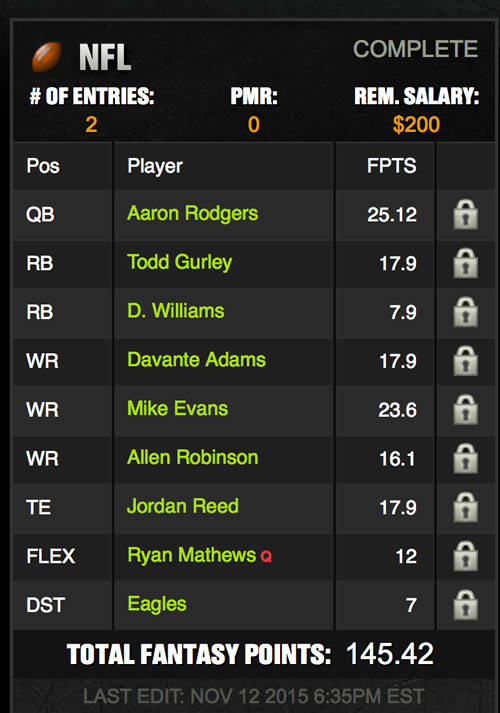 Quarterback: Aaron Rodgers
Points on DraftKings: 25.12
Grade: B-
For my expensive but no-brainer quarterback play for the week I struggled between Aaron Rodgers at home or Tom Brady on the road against the Giants. Both plays seemed to be safe plays to get at least 20 points, but I opted for Rodgers and the $1,100 savings he afforded me to use on other players. Rodgers did give me top 5 production at the quarterback position and kept me close to the top players in the contest, however, 300 yards and 2 touchdowns was a disappointment considering he had a plus matchup at home against the Lions.
Running backs: Todd Gurley and DeAngelo Williams
Combined points on DraftKings: 25.8
Grade: F
The two core players I selected for all three of my layered lineups were Williams and Gurley, and both players disappointed to the tune of only 25.8 combined points. Gurley was ok with just under 100 total yards and a touchdown for 17.9 points, but Williams killed me with only 7.9 points on 69 total yards and no scores.
My logic on Williams seemed sound as he was playing at home against the leagueís worst run defense and would be relied heavily upon with Landry Jones under center. I thought he would have a high floor based on the fact that Jones would dump down passes to him on a regular basis, even if he didnít manage to rush for 100 yards or get a touchdown.
This play proved to be my downfall and cost me the $100 payout, as I only needed 12 points from him to cash. Cheaper options like LeGarrette Blount, Lamar Miller, and Jonathan Stewart would have been a better play. Heck, even Dexter McCluster would have given me the win. As the old adage goes, hindsight is 20/20.

Wide Receivers: Mike Evans, Davante Adams, and Allen Robinson
Combined Points on DraftKings: 57.6
Grade: A-
In my fantasy layering strategy with a roster of high priced core running backs, it is important to select mid-value wide receivers who are target monsters. The idea is that even if the player does not catch a receiving touchdown, his volume of catches will provide a high floor of production to keep you close to the cash threshold.
My goal here is to get an average of 20 points per player, with the hope that one of the three wide receivers will bust out with a huge game. Adams and Evans failed to score, but their 18 combined catches and 200 receiving yards more than made up for their lack of TD production. Robinson came through with a TD despite his poor volume and receiving yardage. Overall, I canít complain.
Tight End: Jordan Reed
Points on DraftKings: 17.9
Grade: A
With a salary of only $4,600 and a choice matchup at home against the lowly Saints, Reed seemed like a slam dunk this week. His 45.8% draft ownership rate reflects the fact that I was not alone on my assumption. I must admit that although he did come through with 17.9 fantasy points, I thought the majority of his production would come via volume and yards, not touchdowns. Luckily for me two of his three receptions for 29 yards came in the end zone.
Flex: Ryan Mathews
Points on DraftKings: 12
Grade C
At this point in building my lineup I had $3,700 to spend on a flex play and I opted for Mathews over some receiving options based solely on a gut feeling Mathews would score a touchdown for a third-straight week. My gut proved to be right as Mathews vultured a TD from Murray, but Mathews disappointed overall because he left the game early with a concussion.
Defense: Philadelphia
Points on DraftKings: 7
Grade: B-
Philadelphia at home against a struggling Miami team appeared to be the best low-cost defensive play for the week. The Eagles managed four sacks and a safety, but they did not give me a much needed defensive score. In the expensive quarterback lineup finding a defense can be a challenge. In hindsight the Redskins were the top inexpensive play, but I failed to see that based on the fact that Drew Brees had been on fire.
Conclusion
This particular lineup and my other two layered rosters for Week 10 did not pay off because DeAngelo Williams delivered a dud as one of my two foundation players. This is the risk you run when you use this strategy. However, I still almost salvaged the day because of the above average points I received from Aaron Rodgers and the consistent, but not great games from my high volume WRís and TE.
I managed to hit on all three of my layers in the previous week and I hope to continue to cash going forward. It may not be the best way to win the million dollar pot we all dream about and some people may find flaws in the logic, but I believe it can prove to be a solid strategy for bankroll building.