Philadelphia Eagles head coach Doug Pederson has officially taken the crown from Bill Belichick as the most hated coach in fantasy football with his handling of the four-headed monster of running backs.

After rushing the ball 22 times for 77 yards and a score Week 1 against the Browns, Ryan Mathews received 22 carries in his next three games combined, as Wendell Smallwood, Kenjon Barner and Darren Sproles all received more touches.

Despite this fact, Pederson continued to tell reporters that Mathews, and not Sproles, is his lead ball carrier in the backfield.

With Mathews as his supposed lead back, Pederson gave Sproles 28 carries combined in Weeks 7 and 8 against Dallas and New York, while Mathews received a whopping nine total carries.

Pederson would then confirm with reporters after the Giants game that Sproles had passed Mathews on the depth chart, certifying what was already apparent to all Eagles fans and beat writers.

But of course, the tricky Pederson was not done with his shanahnigans (Mike Shanahan was once the most hated head coach in fantasy), as Mathews would receive seven carries alone on the first drive of the game, in route to 19 carries for 107 yards and two touchdowns (2 catches for 30 yards and a two-point conversion added in for good measure.)

Pedersonís deception proved to be a smart move, as the Falcons appeared to be caught off guard by the Eagles newfound power run game, eventually falling 24-15 in what turned out to be a low-scoring game.

As a Mathews owner in a season-long league and a DFS owner heavily invested in Sproles this week, I was dreadfully wrong on two assumptions that proved to be way off.

1) The Falcons entered the game 32nd against the pass, leading me to believe Sproles and Barner would be active in the passing game as the Eagles would look to throw early and often.

2) Matt Ryan and the Falcons would continue their strong play on the road and create a positive game script for Sproles with the Eagles chasing points.

Of course the Eagles chose to shorten the game by running the ball and the positive game script never materialized as Matt Ryan and the Atlanta Falcons struggled to score points.

What can be learned from this mess that I can use on future DFS tickets? The first thing is donít expect game scripts to go a certain way. And second, Doug Peterson is the fantasy devil and start Eagles at your own risk.

On a positive note, I overcame my disappointment in Sproles to place 3201 of out of 38535 teams in DraftKings $300k slant, turning $5 into $25.

The following is a review of where I succeeded where I fell short on the ticket.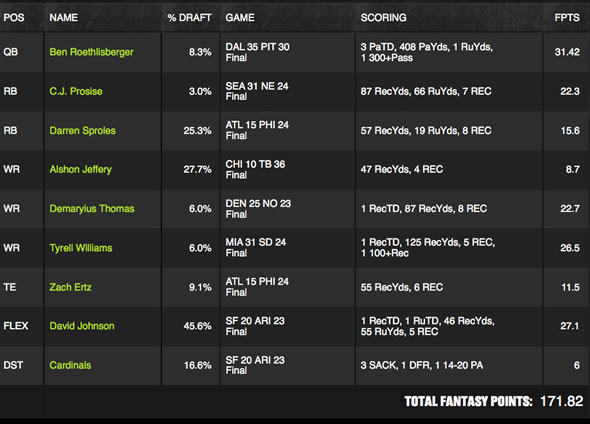 Quarterback: Ben Roethlisberger
DraftKings Points: 31.42
Grade: A+
My two favorite quarterback plays of the week were Big Ben against the Cowboys and Aaron Rodgers on the road against the Titans. Ben was attractive due to his amazing home/road splits, while Rodgers looked like an excellent cash game play due to his high floor and likely high-scoring matchup against the Titans.
For this GPP ticket, I went with Ben due to the fact that he was cheaper and appeared to have a very high ceiling. In his four home games this season (counting Week 10 against Dallas), Ben has 15 of his 20 passing touchdowns, with a completion percentage nearly 20 points higher than on the road.
Add in the fact that the Steelers were embarrassed Week 9 against the Ravens, and you had the makings of a get-well game for the Pittsburgh offense and a huge game for Ben.
Running Backs: C.J. Prosise & Darren Sproles
Combined DraftKings Points: 37.0
Grade: B
For those who have read my column for a while, you know that I am not a big fan of large tournaments and I typically play in head-to-head cash games.
I started building this ticket with a cash game in mind, but felt like it would bode well in a tournament based on what I thought was a high-ceiling collection of players.
At $3,900 and $4,300, Prosise and Sproles looked like inexpensive high volume plays that would be perfect accompaniments to my mid-level wide receivers and expensive flex plays.
I projected that both players would have at least six catches in the game, with a receiving touchdown a strong possibility for both. Neither scored, but my floor proved to be correct and Prosiseís 22.3 points on 147 total yards and seven receptions was a bonus.
Wide Receivers: Alshon Jeffery, Demaryius Thomas and Tyrell Williams
Combined DraftKings Points: 57.9
Grade: B+
Itís interesting when the player you feel will be your top wide receiver proves to be a bust, while a guy you thought might have a decent game proved to be amazing.
This was the case of Jeffery and Williams, as I thought Jeffery on the road against the Bucs with Jay Cutler slinging the ball would be a no-brainer, 100/1 game. Unfortunately, the bad Jay Cutler returned and Jeffery managed to catch only four of his targets for 47 yards and no score.
Williams on the other hand was great, catching five balls for 125 yards and a score against the Dolphins. That is back-to-back touchdowns for Williams, a value play this year that will likely have his salary increased to over $6,000 when he returns from the bye.
Thomas posted his fifth-consecutive doubt-digit target game, but managed to find the end zone against a poor Saints secondary. At $6,700, he seemed like a nice value play with a big upside for tournament play.
Tight End: Zach Ertz vs. Atlanta
DraftKings Points: 11.5
Grade: C+
The negative game script I discussed in my opening affected Ertz as well, limiting the tight end to 55 yards on six catches. On a positive note, that is two weeks in a row where he was a featured part of the passing game (8 and 7 targets respectively), making him a viable option in the next few weeks.
Of course for no apparent reason old man Brent Celek will score two touchdowns and will be Carson Wentzís favorite target next week. Darn Doug Peterson.
Flex: David Johnson vs. San Francisco
DraftKings Points: 27.1
Grade: A
27.1 points from a running back would typically garner an A+ grade on any ticket. But David Johnson managing less than 100 total yards against a 49ers defense that has been awful against the run was not exactly what his owners expected Week 10.
Luckily he managed to get two touchdowns, otherwise there would be a bunch (Johnson was owned in nearly 50% of lineups) of angry DK players out there on Monday.
Defense: Arizona
DraftKings Points:6
Grade: F
As a lifelong 49er fan, I still cannot fathom how the Cardinals nearly lost this game against San Francisco, and the fact that the Cardinals managed only three sacks and zero turnovers was shocking.
My goal was to target the team that I felt had the best opportunity to post a defensive score, yet Colin Kaepernick managed to protect the ball well and the Arizona secondary without the honey badger was terrible.