Week 11 of the NFL season proved to be a wild set of games in which place kickers set an NFL record for missing 12 extra points, three defense/special teams units scored touchdowns, and Russell Wilson scored more receiving fantasy points than most of his wide receivers.

After a few weeks of relatively few injuries, heavily owned players like LeSean McCoy, Giovani Bernard, Ryan Mathews, Darren Sproles, C.J. Prosise, and A.J. Green left their respective games early with significant injuries.

McCoy is likely to return to action this week after undergoing a minor procedure to fix a dislocated thumb, while the other players will either miss multiple weeks of the remainder of the season.

DFS owners who invested heavily in high priced running backs like David Johnson and LeíVeon Bell reaped the rewards of monster games, while marquee wide receivers like Mike Evans, Odell Beckham Jr., and Antonio Brown failed to live up to their lofty salaries despite advantageous matchups.

For this DFS writer, Week 11 proved to be rewarding as Rob Kelleyís three-touchdown game against the Packers helped me secure a come-from-behind victory over my brother in my season-long league of record, while Kirk Cousinsí monster game on Sunday night carried my DFS team to a $50 payday in a DraftKings10x booster.

With this weekís lineup review, I thought it would be helpful to take a closer look at my winning ticket to see where I hit pay dirt, and where I nearly cost myself a chance at cashing.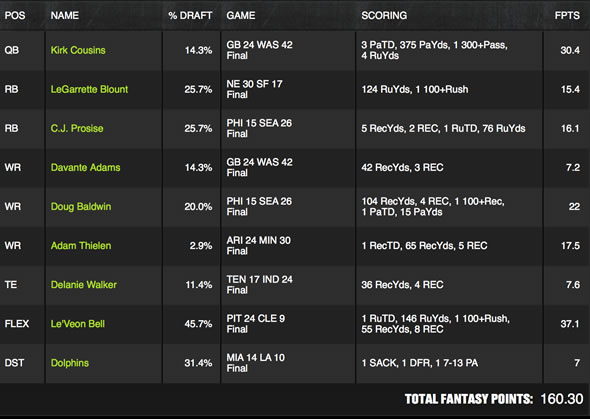 Quarterback: Kirk Cousins
DraftKings Points: 30.4
Grade: A
Cousins delivered his fifth 300-yard game this season to set the Redskins career mark (an indictment to the overall change in the NFLís passing philosophy over the past three years and the lack of quality Redskins QBs over the years).
It was his third 25-point performance in his last four games, making him a solid value play at his surprisingly low $5,800 salary on DK.
With an injury depleted Green Bay secondary, and the likelihood of a positive game script against a Packers offense that would likely score against the Washington defense, Cousins seemed like a no-brainer pick in a tournament game.
Luckily for me only 14% of owners felt this way, opening the door for me to gain a significant advantage over those who went with more heavily owned QBs like Luck and Mariota.
Running Backs: LeGarrette Blount & C.J. Prosise
Combined DraftKings Points: 31.5
Grade: B-
Game flow and injuries proved to be negative contributors to my running back plays this week as the Patriots did not pull away early from the 49ers to allow Blount to dominate the second half, and Prosise left his game early with a significant shoulder injury after rushing for a 76-yard touchdown against the Eagles.
Blount did manage to salvage the day with 124 yards on 19 carries, but his five-game streak of scoring a rushing touchdown came to an end despite the fact that the 49ers had allowed the most rushing touchdowns to opposing RBís.
Prosise looked like a strong $4,200 play and was clearly on pace for a second consecutive 20-point game, but he left early with a broken shoulder and Thomas Rawls carried the load for Seattle.
You canít predict injuries, and sometimes game flow doesnít always work out. At least I received some positive points from my players that allowed me to keep pace with the other top scorers in the tourney.
Wide Receivers: Davante Adams, Doug Baldwin, Adam Thielen
Combined DraftKings Points: 46.7
Grade: B
After splurging on my Tight End and Flex play, I decided to focus my wide receiver budget on mid-level WRs who would likely receive a sizable amount of targets.
This strategy proved to backfire, as Adams and Baldwin both saw their fewest target totals over the past five weeks, with Adams a volume victim due to Jared Cook garnering a surprising 12 targets from Aaron Rodgers, while Baldwin received only five looks as the Seahawks spread the ball around.
A fluky touchdown pass to Wilson on a trick play bailed me out, otherwise Baldwin would have been a bust.
My play of Thielen was predicted on the fact that I correctly assumed that the Cardinals would make it a point of emphasis to shut down Stefon Diggs. I also needed a sub-$4,000 WR to round out my ticket and Thielen appeared to be a nice home run play.
Tight End: Delanie Walker
DraftKings Points: 7.6
Grade: C-
Perhaps my most surprising and disappointing pick of the weekend, Delanie Walker managed a meager four catches for 36 yards in what had the makings of being a big game.
With 20 combined targets in his last two games, including 11 Week 10 against Green Bay, I assumed that Walker would continue to be a focal point of the offense.
The Colts made a point to shut down Walker while other options like Tajae Sharpe continue to become threats in the passing game. Perhaps Walker jumped the shark with his 30-point game last week, and fantasy owners may want to look elsewhere for tight end targets.
Tight End: LeíVeon Bell
DraftKings Points: 37.1
Grade: A+
The poor weather conditions, a quarterback still nursing a sore knee, and a terrible Cleveland defense where three big reasons to consider forking out $8,800 on Bell this week.
Bellís volume in the running game is enough of a reason to pay a hefty price, but when you add in the fact that he is the recipient of double-digit targets every week in the passing game and Big Benís clear-cut number to option, and he becomes nearly two players for the price of one.
Defense: Miami
DraftKings Points: 7
Grade: C-
There are two things that I learned this week with my choice of Miami against Los Angeles. First, it is important to target games where you anticipate a defensive score over ones that you think may just be low scoring.
And second, my logic of targeting a defense playing a rookie QB was flawed, as I should have anticipated a dumbed-down offensive scheme that would not be conducive to creating turnovers.