Over the course of the season I have referenced fantasy points allowed as a way to identify advantageous matchups for players based on the historical data of how certain defensive units fare against individual skill positions.

I have repeatedly mentioned that playing running backs against San Francisco is a smart move, as the 49ers have allowed the most points to opposing tailbacks on the season.

While starting tight ends and wide receivers against the Lions has proven to be a lucrative strategy, with an injury-depleted Detroit secondary giving up the second-most points to opposing tight ends and quarterbacks.

But one thing I failed to mention, is that as the season progresses and defensive units change due to scheme, injuries, and strength of schedule, it is important to filter points against based on the most recent set of data and not the entire season.

For example, the Lions have given up the second-most fantasy points on the season to opposing quarterbacks with 17.9 points per game, with only the Atlanta Falcons allowing more points per game.

If you narrow your search to the last five weeks your outlook on the Lions may not be as bullish, as Detroit has improved their points allowed to only 12.7 points per game, placing them as the 22nd rated pass defense for QB points allowed.

There are a number of factors that go into the improved play of the Lions defense, including a lighter schedule, the return of injured players in the secondary like Darius Slay, and an overall improvement in pressuring the quarterback.

The Lions defense is not the same unit that got torched in September and October, and DFS owners need to make sure the data they are using is pertinent to how teams are currently playing.

The Colts pass defense is another example of why you need to take a closer look of points allowed. On the season, the Colts rank 16th on points allowed to opposing wide receivers, making them a middle of the road defense to target with WRs.

Yet a closer look at just the last five weeks reveals a pass defense that has struggled to stop even mediocre passing games like the Chiefs and Titans, making the Colts a very attractive defense to target over the next few weeks.

To summarize, I highly recommend using stats like fantasy points allowed as one of many tools to discern between possible DFS plays this week. But make sure the data that you are pulling is not deceptive, as you may reach incorrect conclusions based on trends that are no longer applicable.

Here are a few players I am targeting on my DFS lineups this week.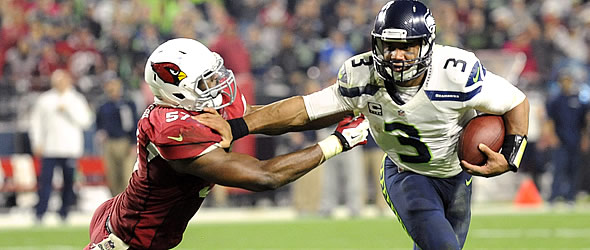 Russell Wilson is showing flashes of his late-season run in 2015. He has 8 TDs in the last three weeks.
Quarterbacks
H2H/Cash - Russell Wilson @ Tampa Bay ($6,700 on DraftKings)
Wilson is clearly making his way back from early season knee and ankle injuries that limited his mobility and the ability to extend plays with his legs.
Three-straight 25 point games against tough opponents like New England and Philadelphia make me confident in the fact that Wilson will once again deliver a 20-point game this week against a Tampa Bay unit that has allowed the fifth-most points to quarterbacks over the past five weeks.
The emergence of Thomas Rawls in the run game could eat into Wilsonís value should Rawls post a multi-touchdown game. However, the threat of Rawls in the play action game should open up deep passes to speedsters like Tyler Lockett and Jermaine Kearse.
Other options to consider - Tyrod Taylor vs. Jacksonville & Drew Brees vs. Los Angeles
GPP - Derek Carr vs. Carolina ($6,100 on DraftKings)
After a rough first four games of the year, capped off by a dismal 39 points allowed to Matt Ryan Week 4, the Panthers have improved their pass defense with changes to their roster and scheme.
Despite allowing just over 1200 passing yards in the last five weeks, the Panthers have been stingy with just six passing touchdowns during that time.
An injury to stud cover linebacker Luck Kuechly will likely set the unit back, opening the door for Carr and the 8-2 Raiders to attack Carolina through the air.
Carr is risky in cash games due to his inconsistent play (four games of less than 20 fantasy points), but his upside of throwing four or five touchdowns makes him a very enticing GPP play.
Other options to consider - Colin Kaepernick @ Miami & Ryan Tannehill vs. San Francisco
Fade - Marcus Mariota @ Chicago ($7,200 on DraftKings)
A candidate for breakout fantasy player of the year, Mariota has been excellent as of late with three straight weeks with at least 21 fantasy points.
A negative game script based on the assumption that Matt Barkley and the Bears offense will struggle to move the ball and create an early Titans blowout makes me a bit nervous to spend $7,200 on young Mariota this week.
He will no doubt have a nice floor, but owners looking for a huge game like we have been accustomed to recently may be disappointed.

Running Backs
H2H/Cash - Jay Ajayi vs San Francisco ($7,600 on DraftKings)
After an impressive string of back-to-back 200-yard games, Ayaji came back to earth with two fairly disappointing road performances against San Diego and Los Angeles.
The primary reason why Ajayi has once again struggled is a string of injuries to his offensive line, that when healthy, is arguably the second best unit behind the Dallas front.
Although the line is still not 100%, and the loss of Pouncey and Albert will continue to limit the Miami offense, the poor 49er run defense should afford Ajayi the ability to reach the century mark and a score on Sunday.
Other options to consider - David Johnson vs. Atlanta and Melvin Gordon vs. Houston
GPP - Rashad Jennings vs. Cleveland ($5,600 on DraftKings)
Iím not particularly fond of Jenningsí talent, but defensive matchup and volume often trump talent, and the volume and opportunity Jennings will receive this week against the Browns is hard to ignore.
If Jennings matches the 25 touches he received last week against the Bears, look for the veteran tailback to reach 20 points once again.
Other options to consider - Rex Burkhead vs. Baltimore & Thomas Rawls vs. TB
Fade - Todd Gurley vs. New Orleans ($5,700 on DraftKings)
My first inclination was to recommend using Gurley as a GPP play due to the fact that he scored his first touchdown in five games last week against Miami, and New Orleans is fifth overall on the season in points allowed to running backs.
But the Saints have been better against the run as of late, allowing only two rushing touchdowns and no 100-yard rushers since Week 6.
A negative game script will likely be in play here as well, with the Saints going up early with their passing attack and the Rams likely forced to abandon the run early than they would like.
Wide Receivers
H2H/Cash - Rishard Matthews vs. Chicago ($5,800 on DraftKings)
With 28 targets over the last three games, including 13 targets last week against the Colts, Rishard Matthews has clearly developed into the top wide receiver threat for Marcus Mariota and the Titans passing game.
Look for Matthews to continue to receive a high volume of work against the 32nd ranked Bears pass defense, as the Titans roll to an easy victory against Chicago.
Jay Cutler will miss this game, forcing the Bears to turn to hapless Matt Barkley at quarterback. Barkley is a dumpster fire waiting to happen and could present a negative game script for the Titans passing game should Tennessee go up to an early lead.
Regardless, Matthews will get enough action to make him a solid cash game play, especially at his discounted price of $5,800.
Other options to consider - Brandon Marshall vs. NE & Michael Crabtree vs. Carolina
GPP - Tyler Boyd vs. Baltimore ($4,000 on DraftKings)
A hamstring injury to A.J. Green opened the door for Boyd to emerge as a starting wide receiver for the Bengals this week against division foe Baltimore.
With Green out early Week 11 against Buffalo, Boyd responded with six catches for 54 yards and a score. It wasnít great, but a nice performance for the first year player from the University of Pittsburgh.
Baltimore has been gashed by opponent passing attacks as of late, as the Giants, Cowboys, and Steelers all managed to post large receiving stats against the Ravens defense in the last four weeks.
The Ravens defense has not been as generous to opposing running backs during that period, leading me to believe that Jeremy Hill will struggle to move the ball on the ground and the Bengals will need to pass to win this game.
Other options to consider - Michael Thomas vs. Los Angeles & John Brown vs. Atlanta
Fade - Tyreek Hill vs. Denver ($4,800 on DraftKings)
It was fun while it lasted. The 13 targets that Hill received against the Panthers appears to be more of a one-game boost in volume due to strategy and not a trend that will continue in the last quarter of the season.
The Broncos are fresh off the bye week and have allowed five receiving touchdowns on the season. Avoid all Chiefs receivers this game, but running backs and tight ends might have some value in cash games.
Tight Ends
H2H/Cash - Greg Olsen @ Oakland ($5,800 on DraftKings)
Olsen has been the forgotten man in the Panthers passing game over the past three games, with single-digit fantasy performances against the Saints and Chiefs.
Both the Chiefs and Saints are surprisingly good at limiting opposing tight ends to touchdowns and catches, with the former giving up a mere two touchdown passes to tight ends on the season.
The Raiders are nowhere near as solid against the tight end, leading me to believe that this will be a rebound game for Olsen, one of the most consistent fantasy performers over the past three seasons.
Other options to consider - Travis Kelce vs. Denver & Antonio Gates @ Houston
GPP - Dennis Pitta vs. Cincinnati ($4,000 on DraftKings)
This one is the definition of a home run play, as Pitta has not topped double digits since Week 5 against Washington and he has yet to score a touchdown this season.
The Bengals have given up the second-most points to opposing tight ends over the last five weeks, including nearly 200 yards and a score to Jordan Reed and Vernon Davis Week 8.
If there was ever a week to start Pitta, it would be this week at home against a reeling Bengals team. This is the definition of a GPP play, as Pitta may crash and burn. But as a calculated risk that could come up big, Pitta is a nice option for a tight end with a high ceiling.
Other options to consider - Will Tye vs. Cleveland & Gary Barnidge vs. NYG
Fade -Tyler Eifert @ Baltimore ($4,800 on DraftKings)
Fantasy owners who go along with the narrative that Eifert will be the main passing threat for the Bengals now that A.J. Green is out may be disappointed, as Baltimore has been one of the best teams at limiting opposing tight ends.
Only one tight end has caught a touchdown against the Ravens this season, with only one tight end topping the 50-yard plateau.

Defensive Play of the Week
Bills vs. Jags ($3,800 on DraftKings)
Although the Bills rank in the middle of the pack in terms of total defense, they are tied with the Seahawks for the most sacks this season at 31, and they get to play the turnover machine in Blake Bortles this week at home.
The Jags are second in interceptions allowed and third in fumbles lost, giving me hope that the Bills for force numerous turnovers this week against the lowly Jags.