One of my least favorite trends in sports media over the past decade is the rise of argumentative shows like First Take, Undisputed, and Speak for Yourself with Colin Cowherd. Iím not sure why people enjoy watching any of these talking heads blabber on about sports, politics, and other world events, and I cringe when someone retweets one of their attention-seeking quotes.

Despite my disdain for these shows, especially Colin Cowherdís, I must give Cowherd credit for something he mentioned years ago on his radio show and has repeated more than once on Fox. He introduced the concept of betting against your favorite team with the goal of hedging your bet. If your favorite team wins, then you are happy that your squad walked away with a W. If your team loses, at least you made some money to make you feel better about the loss.

Iím not a betting person, so I have never been able to put this concept to work against my beloved Giants or 49ers. But in DFS, I have found this to be a useful strategy when I am going up against someone with a choice matchup in my season-long fantasy league. For example, my opponent is starting Chris Carson against me in my league of record in what appears to be a solid matchup against the Colts at home. To help ease my pain in the event of Carson going off on Sunday Night Football, I will add him in more than a few tickets to help offset my frustration. If he plays well, perhaps he will help me make a little money. And if he struggles, Iím just out a few bucks, and my league of record team may post a win.

It may not work for everyone, but I have used this strategy with much success over the past two seasons. Give it a try and see how it works out for you, as hedging your bet in a game of high unpredictability like fantasy football is not the worst thing in the world.

Here are a few DFS plays I am targeting this week: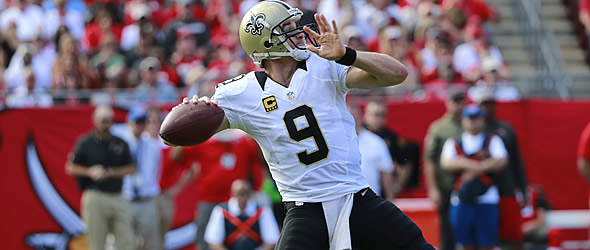 Drew Brees rolled up 339 yards and 3 touchdowns in his previous trip to London ('08 against SD).
Quarterbacks
H2H/Cash - Drew Brees at Miami (London) ($7,200 on DraftKings)
I crashed and burned with my recommendation of fading Brees last week against a Panthers team in which the venerable quarterback had struggled against on the road. I will not make that same mistake on Brees with the Saints heading across the pond to take on a Miami defense that made Josh McCown look like a viable quarterback.
With six touchdowns and zero interceptions on the season and 20-plus games in his last two contests, Brees is a lock for another 20-point game against a Dolphins defense that struggled in the preseason and allowed 250 yards and a touchdown last week to McCown.
I feel comfortable starting Brees based on the fact that he has experience with traveling to London and the issues that come with the time change and jet lag (339/3/0 in his single game at Wembley). The Saints made a smart move traveling to London early to get acclimated, while the Dolphins waited until later in the week.
Other options to consider - Russell Wilson vs. Indy & Dak Prescott vs. LA Rams
GPP - Trevor Siemian vs. Oakland ($5,200 on DraftKings)
At first, I wanted to go with Jay Cutler against the Saints in what could be a shootout, but I am concerned about the Dolphins ability to adjust to playing in London after spending most of the young season on the road.
Siemian has been gold so far at home this season with two games of at least 23.5 fantasy points. The Raiders rank 5th in points allowed to opposing quarterbacks, and the Oakland offense looks out of sync in what could be a lopsided game in Denverís favor.
Other options to consider - Andy Dalton @ Cleveland & Case Keenum vs. Detroit
Fade - Deshaun Watson vs. Tennessee ($5,100 on DraftKings)
Iíll avoid the easy calls of Big Ben or Derek Carr here and go with someone who will be a trendy pick this week after scoring 25.14 FPts in Week 3 on the road against the Patriots. Rookie Deshaun Watson played well, with the first 300-yard game of his young career and two passing touchdowns. That was against a Patriots defense that ranks first in points allowed to opposing quarterbacks, with a league-worst eight TD passes in three games. Watson had all the time in the world against the Patriots, but will not find the defense as easy to read with Dick Lebeauís complete blitz schemes.
Running Backs
H2H/Cash - LeSean McCoy @ Atlanta ($8,400 on DraftKings)
Shady is an expensive play this week considering the fact that he failed to top 14 fantasy points in his last two games. Although he will cost you a fortune, he will pay dividends against a Falcons team that gets torched by running backs in the passing game. McCoy leads his team in targets through three games and should once again this week in what could be a rough game for Buffalo.
Other options to consider - Ezekiel Elliott vs. Rams & Melvin Gordon vs. Eagles
GPP - Christian McCaffrey @ New England ($6,800 on DraftKings)
Bill Belichick is well known for setting up a game plan to stop his opponentís best player, leading some to believe that he will look to limit running back Christian McCaffrey in the passing game. But the honest truth is the Patriots do not have linebackers capable of guarding McCaffrey in man coverage, and the first round pick out of Stanford is excellent at finding soft spots underneath in zone coverage. Five catches is the floor for McCaffrey, with the upside of 10 and scoring his first NFL touchdown.
Other options to consider - Chris Carson vs. Indy & Joe Mixon @ Cleveland
Fade - Marshawn Lynch @ Denver ($5,000 on DraftKings)
The Raiders struggled mightily to move the ball last week on the road against the Redskins and will likely find it equally difficult to score points against divisional foe Denver. Lynch is not receiving enough touches to be a viable start, especially in games in which the Raiders will likely be playing from behind.
Wide Receivers
H2H/Cash - Larry Fitzgerald vs. San Francisco ($6,100 on DraftKings)
Old reliable is an excellent source of targets at a relative discount compared to players like Mike Evans and Stefon Diggs, and Fitz has a much more attractive home matchup against a poor San Francisco secondary. Fitz is a no-brainer start in cash games as his 34 targets over the first three games is second only to DeAndre Hopkins and Antonio Brown, and the Niners have allowed the 12th-most fantasy points to opposing wideouts.
Other options to consider - Emmanuel Sanders vs. Oakland & A.J. Green vs. Cleveland
GPP - Travis Benjamin vs. Philadelphia ($3,900 on DraftKings)
An injury-depleted Eagle defense will have their hands full with a Chargers team looking for their first win. Sterling Shepard, Odell Beckham Jr. and Brandon Marshall all got into the act last week against the birds, leading me to believe that Chargers wide receivers will find success this week.
At just $3,900, there are no other wide receivers with more upside for the cost that Travis Benjamin, a player that has either scored or posted 100-yards in two of his three games. He is a great home run play for GPP in a game that could be very high scoring.
Other options to consider - Sterling Shepard vs. Tampa Bay & Marqise Lee @ NY Jets
Fade - Mike Evans vs. NY Giants ($7,400 on DraftKings)
A contrarian play for owners anticipating that the Bucs will feed Evans after his post-game rant about being open Week 3 against Rhodes, Evans is someone I am not touching in DFS based on the fact that his salary is not worth the risk. Janoris Jenkins will shadow Evans and limit his catches as Jameis Winston attacks the Giants with passes to Cameron Brate and DeSean Jackson.
Tight End

H2H/Cash - Jared Cook vs. Denver ($3,400 on DraftKings)
Cook is averaging 5.5 targets per game and continues to be active in the Raider offense, while the wide receiving tandem of Michael Crabtree and Amari Cooper will be blanked by Aquib Talib and Chris Harris. I doubt the Raiders will have much success in this game, and it they do, it will likely be with Cook.
Other options to consider - Jason Witten vs. Rams & Charles Clay @ Atlanta
GPP - Ryan Griffin vs. Tennessee ($3,500 on DraftKings)
As the sole tight end option for the Texans, Ryan Griffin returned from a concussion Week 2 to post an impressive 6/61/1 line against the Patriots. Both the Raiders and Seahawks found success passing to the tight end against the Titans, making Griffin a nice option with a low projected ownership percentage.
Other options to consider - Austin Seferian-Jenkins vs. Jags & Jesse James @ Baltimore
Fade - Kyle Rudolph vs. Detroit ($4,100 on DraftKings)
Three or fewer targets in two of his three games, including a one-reception for four-yard stinker last week against the Bucs has been a shocking start to the season for Rudolph, last season's leader in targets and receptions at the tight end position. At $4,100, I need to see a few solid games before I would start inserting Rudolph into any of my lineups.

Defense & Special Teams
Denver vs. Oakland ($3,000 on DraftKings)
With only three turnovers on the season and one double-digit point game in three weeks, the Broncos have fallen out of favor as a top DST option. Look for that to change this week against a Raiders team that is struggling on both sides of the ball. Von Miller will eat and log a few sacks, and Derek Carr will continue his recent streak of throwing INTs.