QB Eli Manning
(2016 QB Rank – No.23, 19.0 FPts/G)
With a talented wide receiving corps led by Odell Beckham Jr. and Sterling Shepard, it is somewhat surprising that Eli Manning finished well out of fantasy relevancy as the No.23 quarterback in fantasy points per game last season. Although he managed to top the 4,000-yard plateau for the third consecutive season, he was nine off his touchdown mark from 2016, resulting in four fewer fantasy points per game.
The addition of Brandon Marshall to the passing game will no doubt help Manning in the red zone, as Marshall's size and body control near the goal line will give Manning a second weapon alongside OBJ. First round draft pick Evan Engram should also provide a spark on passes over the middle, with Engram's size and speed creating a mismatch for tight ends looking to cover the quicker Engram, who by some accounts looks more like a slot receiver that a true tight end.
A positive regression to his TD average of 33 under Ben McAdoo is not out of the question for Manning, assuming that Marshall provides a red zone spark and Manning can keep his interception number close to 15. But with the sheer number of viable fantasy quarterbacks, Manning will be more of a streaming option for most owners in 2017.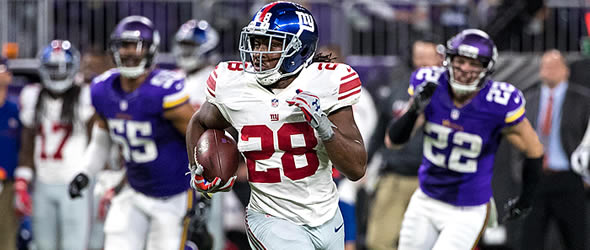 Perkins has a golden opportunity to make a fantasy splash but will need to impress early in the season.
RB Paul Perkins
(2016 RB Rank - No.75, 4.8 FPts/G)
Second-year back Paul Perkins enters camp as the favorite to start the 2017 season for the Giants, assuming he can fend off journeyman Shaun Draughn, veteran Orleans Darkwa, and rookies Wayne Gallman and Khalid Abdullah.
As a rookie, Perkins averaged 4.1 yards per carry on 112 touches on the ground, with 15 receptions for 162 yards. The former fifth-round pick from UCLA showed promise, but he did not run away with the job as evident by the fact that he failed to score a TD in 13 games, and the Giants are not heavily invested in him when it comes to draft capital or salary cap issues. Despite these knocks, Perkins is the favorite to receive 200-plus carries in an offense that finished 8th overall just two seasons ago when they ran the ball more effectively, and Manning threw for 35 touchdowns.
RB Shane Vereen
(2016 RB Rank - No.62, 6.2 FPts/G)
The oft-injured Vereen has been a disappointing, yet consistent member of the Giants since joining the team in 2015. The former Patriot averaged 6.2 fantasy points per game in each of his two years with the G-men, with 2016 being an injury-shortened campaign in which he managed to play in just five games.
He is the clear third-down back and passing option for Manning out of the backfield, with a defined role that makes him much more valuable in PPR formats than standard leagues. With no more than four touchdowns in any of his six NFL seasons, including his best year as a pro in 2013, Vereen is a fringe play for PPR owners in deep leagues.
WR Odell Beckham Jr.
(2016 WR Rank - No.5, 12.5 FPts/G)
Despite posting career highs in targets (169) and catches (101), Beckham finished 2016 with his fewest touchdowns (10), lowest catch percentage (59.8%), and lowest fantasy points per game in his three-year career, yet still finished as the No.5 WR in fantasy football.
A positive regression to a career average catch percentage of 65 percent would result in a more efficient OBJ in the red zone, and a likely increase in touchdown catches. The addition of Marshall and Engram will no doubt reduce the number of targets for Beckham unless Manning decides to set a career high in pass attempts. But fewer targets may not be a bad thing for Beckham owners, as more quality targets, especially in the red zone, would make him more of an effective scoring weapon while hopefully keeping him healthy for a full 16-game season.
I wrote extensively in my Brandon Marshall piece that the addition of Marshall to the passing game has a wide spectrum of possibilities for Beckham, with the most positive being an increase in fantasy production due to a decrease of double and triple coverage schemes from opposing defenses. The negative end of the spectrum could be a disgruntled OBJ causing turmoil on the field and in the locker room, which would have a direct adverse effect on his production.
WR Brandon Marshall
(2016 WR Rank - No.61, 6.4 FPts/G)
To say that the 2016 season for Marshall was a disappointment would be a vast understatement, as the former first-round fantasy stud posted career lows (not counting rookie season or injury shortened 2014) in catches, yards, touchdowns, and fantasy points per game. He managed to convert less than half of the 129 targets thrown his way by a collection of subpar Jets quarterbacks in route to four consecutive sub-50 yard, zero touchdown games to close out his career in the green and white.
Changing to the Giants and Eli Manning will certainly be an improvement over the garbage he dealt with as a Jet, and one could argue that Manning, even in his accelerated age, is the best QB Marshall has ever played with in his ten-year NFL career. But Marshall has always been a volume receiver with over 100 targets in all but his rookie season, and the chance of getting 100-plus targets as the second or third option with the Giants will be a strong order.
To be fantasy viable Marshall will need to be a regular red zone threat for Manning and score at least eight receiving touchdowns in 2016 to overcome the loss of yardage and catches.
WR Sterling Shepard
(2016 WR Rank - No.47, 7.5 FPts/G)
Shepard appears to be the primary loser in the New York passing game with the addition of Brandon Marshall, as his 105 targets as a rookie in 2016 will be quite difficult to replicate in 2017. This is unfortunate for Shepard because he was a more efficient pass catcher than Odell Beckham Jr. (61.9% catch percentage compared to 59.5 for OBJ), and he averaged the same number of fantasy points per game as DeAndre Hopkins and Willie Snead.
Perhaps the first round selection of tight end Evan Engram will be the biggest hit to Shepard, with Engram likely to take away slot routes across the middle. For this reason, Shepard is a fringe draft pick in anything other than large 12 and 14 team leagues, but would have significant value should Marshall or Beckham Jr. get injured.
TE Evan Engram
(2016 TE Rank - N/A, Rookie)
The Giants were viewed to be a landing spot for one of the three top tight ends in the 207 NFL draft. But the one that they selected, Evan Engram, was not the type of player many analysts expected, considering Engram is more of a hybrid tight end that has quite a bit of progress to make as a blocker. Despite the question marks and head-scratching surrounding this pick, there is no doubting the talent as a pass catching tight end and his measurables at the combine were impressive (4.42 40-yard dash 36.0-inch vertical). It remains to be seen how much volume he will receive in his rookie season, and the addition of Brandon Marshall will certainly eat into his red zone looks.